Trio of Canes Tabbed to All-ACC Academic Team
CORAL GABLES, Fla. – Following strong performances in the classroom and on the court, three Hurricanes were tabbed to the All-ACC Academic Team, as announced by the league Tuesday afternoon.
Graduate students Kelsey Marshall and Destiny Harden, as well as freshman Ja'Leah Williams earned the honor from the Atlantic Coast Conference, marking just the third time in program history that three Hurricanes made the cut in the same season and first since 2017-18. This is the second league academic honor for Marshall and Harden and first for Williams.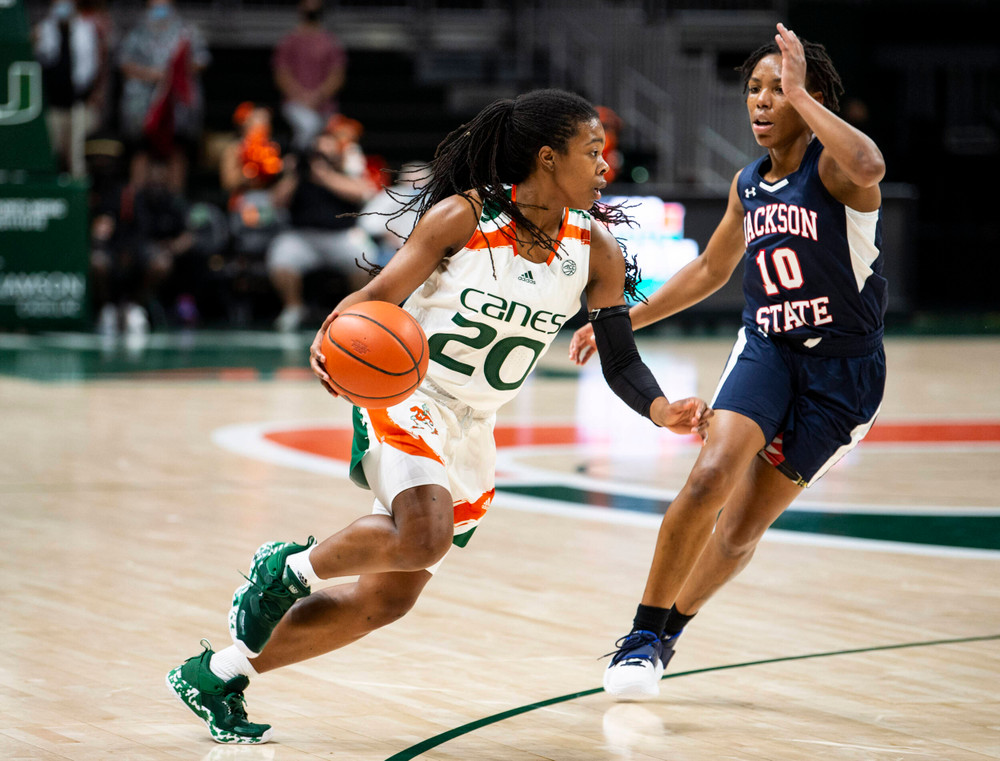 Kelsey Marshall
Marshall is pursuing a master's degree in finance with the goal of becoming a financial advisor for athletes upon graduation. She has been named to the AD's Honor Roll (3.2+) three times and has been part of the Book Buster's Club (3.0+) seven times. Marshall has earned a spot on the ACC Honor Roll every season since she came to Miami and was tabbed to the All-ACC Academic Team in 2021.
The Davie, Fla., native has also excelled athletically, becoming Miami's all-time leader in 3-pointers made and games played. She ranks tenth in program history in scoring with 1,599 career points and has tallied 82 double digit games and 13 20-point games as a Hurricane. This season, Marshall led the team in scoring at 13.7 points per game and earned All-ACC Honorable Mention status.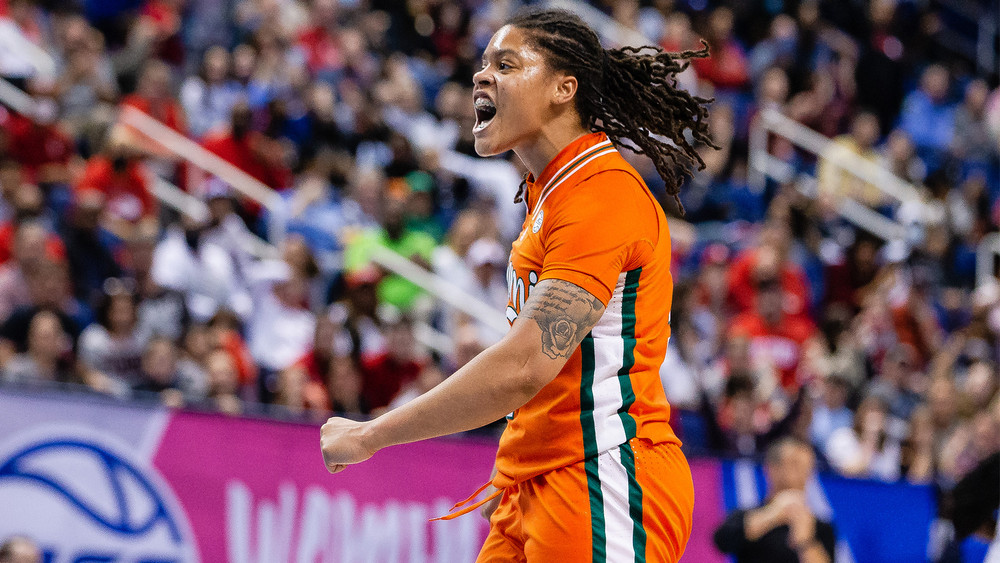 Destiny Harden
Harden is currently studying for a master's degree in Business Administration. She has been named to the AD's Honor Roll twice, the Book Buster's Club three times and the ACC Honor Roll once throughout her four years at Miami. Harden was also named to the All-ACC Academic team in 2021 with an impressive career GPA of 3.42.
The forward has been a three-year starter for Miami and was second on the team in scoring this season, averaging 7.7 points per game. Harden was also second in rebounding with 4.2 boards per contest. The Chicago native notched ten double-digit outings in 2021-22 and posted a double-double against No. 4 Louisville in the ACC Tournament with 27 points and 10 rebounds.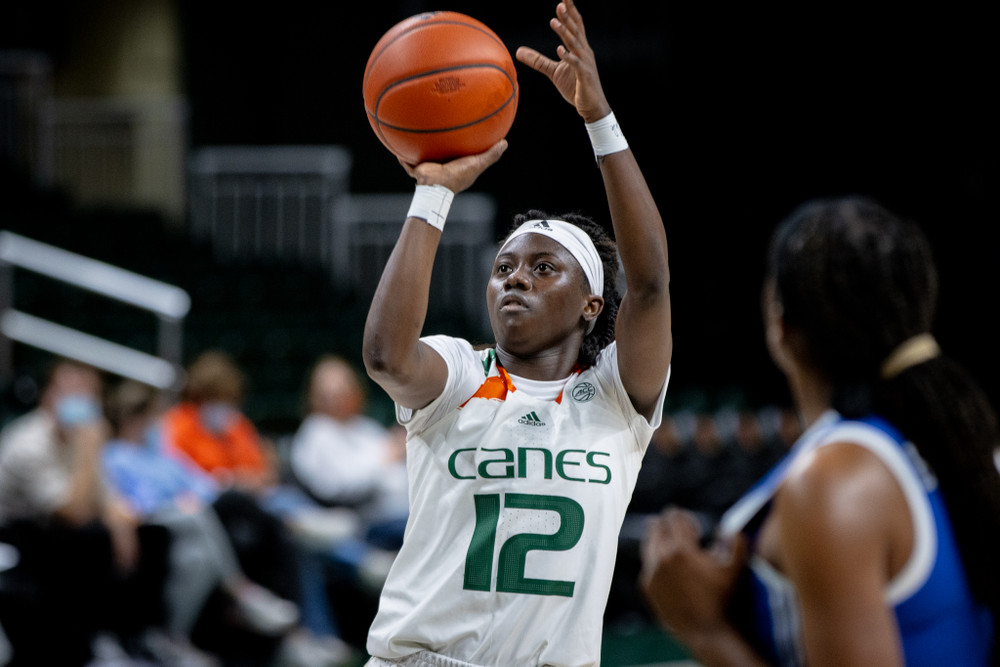 Ja'Leah Williams
Freshman Ja'Leah Williams hit the books hard during her first year at Miami, earning a spot in the Book Busters Club and a 3.34 GPA in the fall.
Williams made her presence felt on the court, becoming the fifth Hurricane in program history to earn a spot on the ACC All-Freshman Team. She ranked in the top five among league freshmen in scoring, rebounding, steals, and assists and was fourth in the ACC in steals averaging 1.9 per game.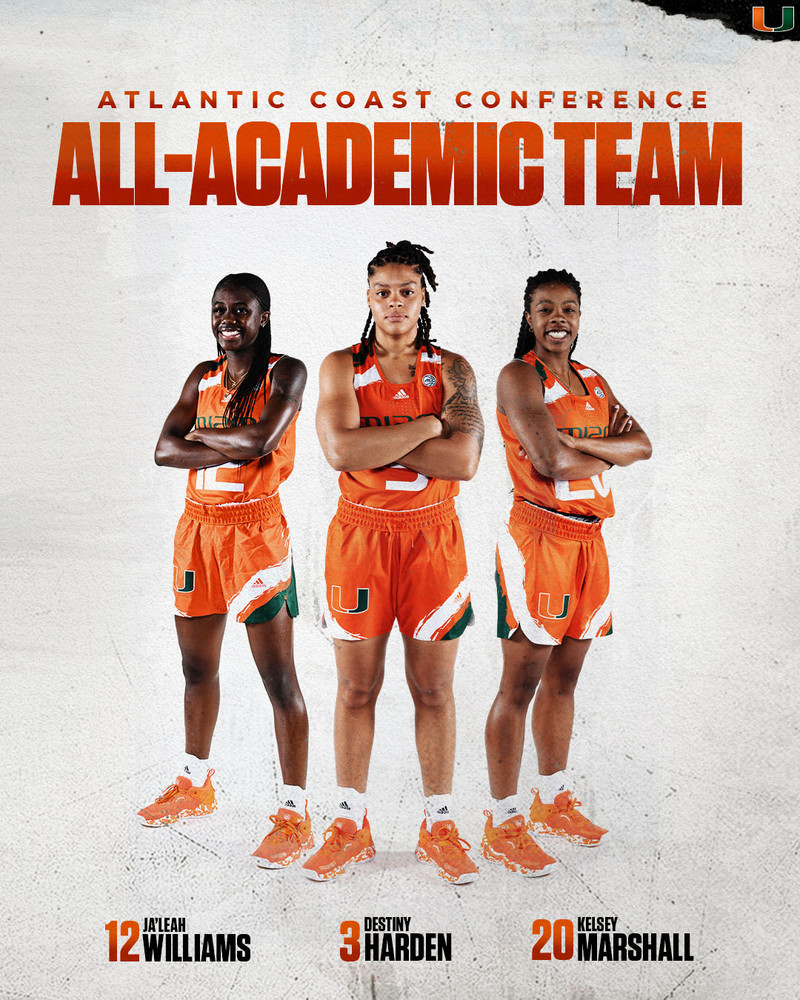 Minimum academic requirements for selection to the All-ACC Academic Team are a 3.0 grade point average for the previous semester and a 3.0 cumulative average during one's academic career. Athletic achievements during the most recent season are also considered in selecting the All-ACC Academic Team.