Conference Competition Continues
CORAL GABLES, Fla. – After a quick respite from the gauntlet of ACC play, the University of Miami women's team resumes league action this weekend.
The Hurricanes notched a 6-1 victory over No. 58 Columbia last Friday at Hard Rock Stadium in Miami Gardens, Fla., as part of the Miami Open. Now, they are set to face No. 44 Notre Dame and Louisville in a span of three days.
While the shift from non-conference competition to league play is certainly a notable one, it is not a particularly important factor for eighth-ranked Miami (13-3, 7-2 ACC) this late in the spring.
"I think, at this point in the season, a match is a match. Obviously, we have to be ready," Miami head coach Paige Yaroshuk-Tews said. "We're going to be look at our first indoor ACC match of the season against a solid indoor team. So, we 've got to be ready to go. A match is a match. We've got to get two clean weekends heading into the ACC tournament."
Indeed, the Hurricanes' contest Friday at 3:30 p.m. in Notre Dame, Ind., will be its first time playing a league foe on an indoor court in 2022.
The Miami coaching staff is certainly aware of some of the differences necessary for the team to succeed in the change of venue. However, the Hurricanes are playing well enough right now—they are 11-2 in their last 13 matches—that the surface is not a major focus.
They key, instead, is for Miami to go out and play the way it has been over the past several weeks, while also being cognizant of some of the minor adjustments it must make.
"I think we're playing confident tennis. At the end of the day, tennis is tennis," Yaroshuk-Tews shared. "We've been doing some different drills in practice this week to kind of get ready to take the ball early, get ready to be efficient with our swings, shortening up our swings a little bit. And then, just understanding that we have to use our strengths. We have to move forward. We have to serve big. We have to take it to a team that likes to kind of step up and slap and come in after the ball. We just have to stay calm and not let them spook us and just know that, again, tennis is tennis. We've got to stay calm and composed, and figure it out as the match goes on."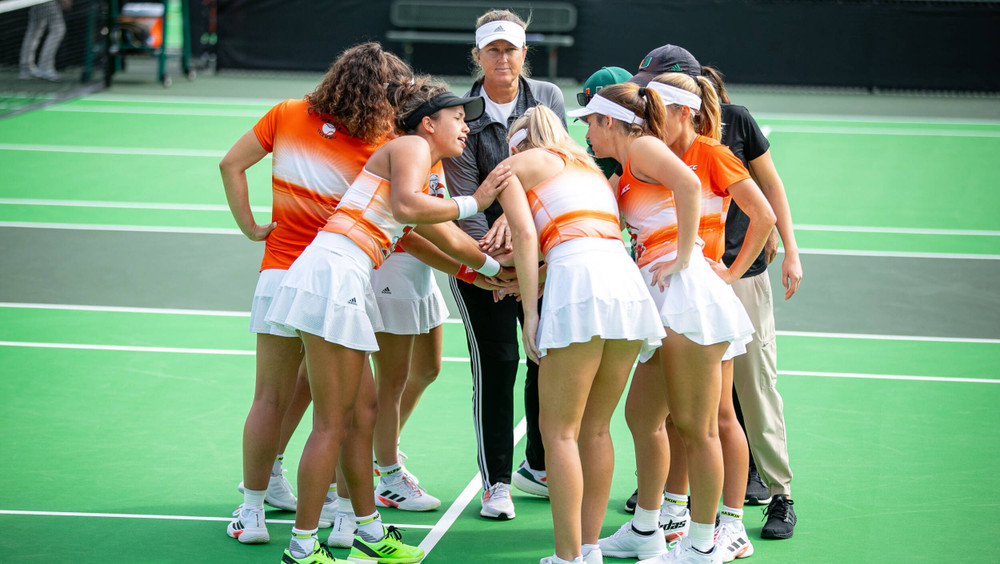 The Fighting Irish head into Friday's affair at 11-8 (4-5 ACC) on the season after winning three of their past four matches.
Notre Dame has one ranked singles player in Page Freeman at No. 90 and one ranked doubles pair, with Freeman and Maria Olivia Castedo at No. 41.
Miami is 15-11 all-time versus the Fighting Irish, including 2-5 on the road and 11-1 in the last 12 matchups. Most recently, it earned a 4-1 victory on April 22, 2021, in the second round of the ACC Championship in Rome, Ga.
This time around, the Hurricanes must be ready for an impressive doubles lineup that plays a dissimilar style to their own.
"They're a good doubles team. They play correct doubles. They do what good doubles teams are supposed to do," Yaroshuk-Tews said. "I think we have [a lot of] firepower. We don't always do what is so mainstream, but I think that we're very athletic. We've been serving big and playing big in the big moments. They play correct doubles; we play more untraditional doubles. They move forward. They want to try to get us to commit the unforced error just by the move alone.
"We've got stay composed, we've got to make them volley, we've got to be looking to put balls down, getting them to hit up and to finish the point," the two-time ITA Southeast Region Coach of the Year continued. "And in singles, kind of the same thing. They are very athletic, kind of very feisty and they like to move forward."
Two days after facing the Fighting Irish, Miami will be in Louisville, Ky., for its final road affair of the regular season. It is slated to face the Cardinals Sunday at noon.
Louisville is 8-10 (0-9 ACC) on the season and has dropped four matches in a row. It does not have any ranked individuals or pairs.
The Hurricanes are 7-0 all-time against the Cardinals, including 4-0 on the road. Miami logged a 6-1 home victory on March 21, 2021, in the most recent matchup.
Nonetheless, Yaroshuk-Tews knows her team needs to be locked in for an opponent looking to pull off an upset in its final home match of the season, while also looking to improve as a unit.
"I think that you could always develop as a team. I'm always looking to get these girls better. "So … regardless of what the opponents look like, we can always work on ourselves. That's something we are working on and them mentality we're trying to have. We've got a lot of work to do on ourselves; we are far from perfect."
One player, though, who has been close to perfect of late is fourth-year junior Daevenia Achong.
The Geleen, Netherlands, native, is on a 12-match winning streak that includes six victories over ranked foes, including three in the top 25. She is ranked No. 28 nationally, the highest mark of her career.
For Achong, this spring has been a culmination of all the hard work she has put in and all the flashes of brilliance she has shown in the past. Now, it is all clicking and she has clearly become on the best players in arguably the top conference in the country.
"She's always had glimpses of greatness, even in seasons and matches and weekends. Maybe sometimes it's been as small as two games and sometimes as large as four matches in a row. Her issue has always been consistency," Yaroshuk-Tews shared. "So, Daev is just doing an unbelievable of being disciplined and consistent and relentless. She's had some moments where she wants to make the wrong move, like in big moments where she wants to take a step back. And I've looked at her and I'm like, 'Look, step up. Step up and hit. Step up and play aggressive. Step up and stay true to your game in the hard moments.' And the kid has listened and she's seeing that it has worked.
"I think she's kind of taken her arms around this group of girls; this is her team," Yaroshuk-Tews added. "She's a veteran on this team. She knows we're relying on her and it's so fun to see. It's so fun to watch. I mean, she makes me look like such a good coach when she is doing all the work."
Along with Achong, Miami enters the weekend with two other ranked singles players, as fifth-year senior Eden Richardson places No. 48 nationally and sophomore Isabella Pfennig checks in at No. 74.
Additionally, Achong and Richardson hold the No. 20 spot in doubles, followed by third-year sophomores Diana Khodan and Maya Tahan at No. 65.
Live video for Miami's meeting with Notre Dame will be available HERE, with live stats HERE. Live stats for the Hurricanes' matchup with Louisville can be found HERE.
To keep up with the University of Miami women's tennis team on social media, follow @CanesWTennis on Twitter, Instagram and Facebook.