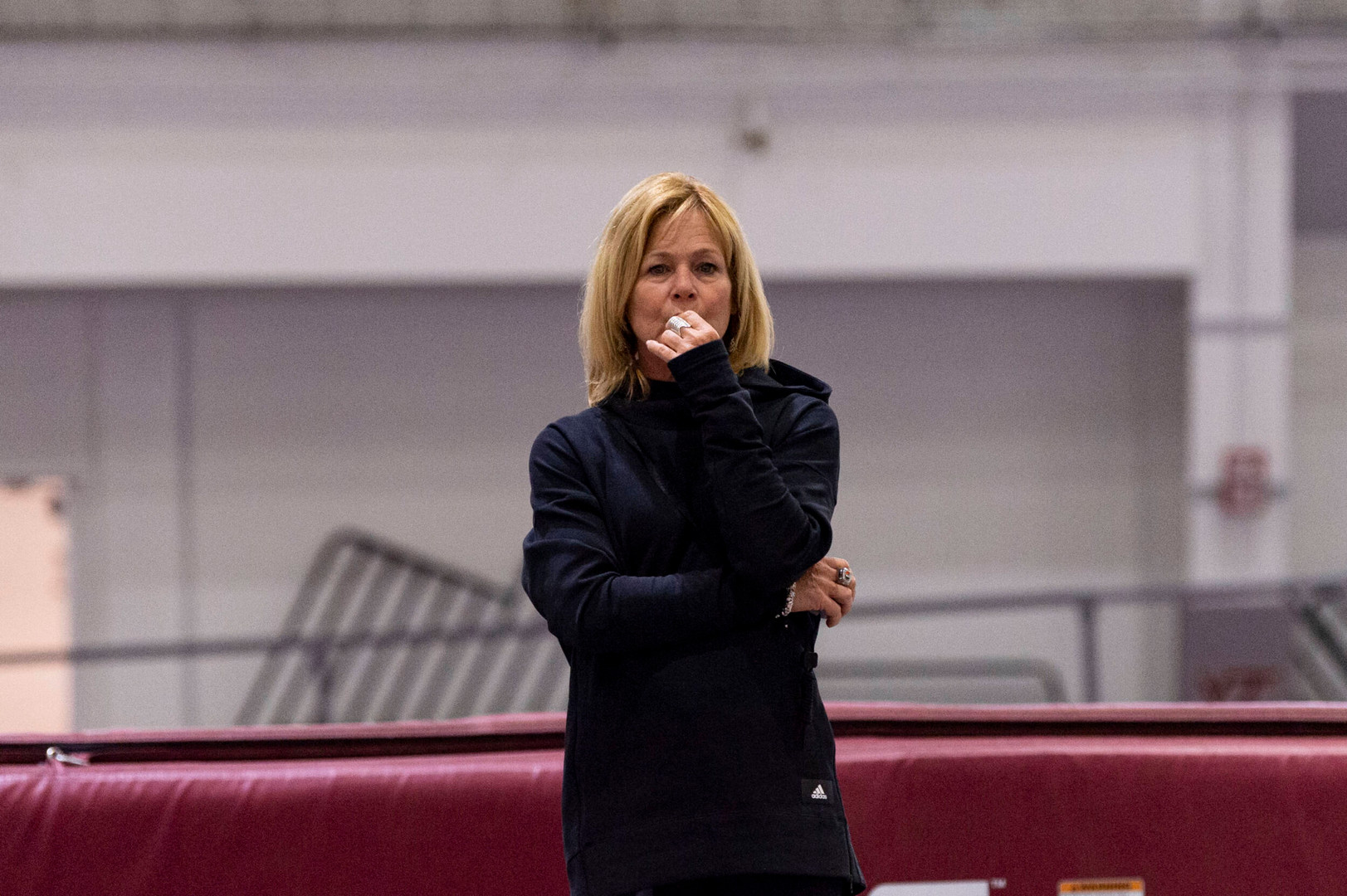 EDITOR'S NOTE: This story is part of our Together 4 Her series. Launched in conjunction with the 50th anniversary of Title IX legislation, Together 4 Her is a year-round initiative by UM Athletics that showcases accomplishments of women from around the university while supporting gender equality on and off the field of play. For more information click here.
CORAL GABLES, Fla. – DeMarcus Van Dyke was convinced his track days were long over.
He'd come to Miami to play football, to continue the legacy set by so many gridiron greats. As far as he was concerned, his sprinting career had ended in high school and that was fine by him.
Except Amy Deem had other ideas.
The director of Miami's track and field program knew Van Dyke was fast. Knew he'd been a state champion in high school. She believed she could help make him even faster – and that would be a boon not only to her track team, but for Miami's football team, too.
Eventually, she talked Van Dyke into joining the track team.
He's had no regrets since.
"I got here and we talked about it, but I was still on the fence. She's got that warm voice, though. She's nice. She was all 'Hi, DeMarcus,' when she saw me, so I eventually went out to track and every meet, she always put that positive energy in me," said Van Dyke, a former cornerback at Miami. "I was always kind of hesitant, like I said, but we talked about it and it helped me out so much."
Deem's hunch that Van Dyke would succeed on the football field and the track proved right.
Van Dyke went on to set school records as part of Miami's 4×100 relay team, all while totaling 80 tackles, defending 10 passes and making three interceptions on the football field.
When his Hurricanes career ended, he posted a time of 4.28 seconds in the 40-yard dash at the 2011 NFL Scouting Combine – a number that still resonates at Miami and captured the attention of the then-Oakland Raiders, who drafted Van Dyke in the third round.
To this day, the six-year NFL veteran credits Deem with helping make his professional career happen – and he is far from the only Hurricane who has been impacted by Deem's vision.
Michelle Atherley arrived at Miami as a transfer from Auburn not knowing what to expect.
But she knew Deem would push her to be at her best. She wasn't wrong.
At Miami, Atherley won the 2019 NCAA Pentathlon Championship. She was named the ACC Women's Field Performer of the Year twice. In 2018, she helped lead the Hurricanes to the ACC Outdoor Track and Field Championship and she left Miami as a six-time All-American.
Deem, she says, helped her achieve all of that and more.
"She's great. She does a really good job of building relationships with all of her students and her athletes, no matter the gender," Atherley said of her coach. "That high-caliber competition that she brings to the table, no matter where we go, is really important. I think her ability to lead and assess the track and field world with her vast experience is unmatched. You can't really find that anywhere else."
Atherley and Van Dyke are just two of the hundreds of student-athletes who've come through Miami's track and field program during Deem's remarkable 33-year career with the Hurricanes.
During her time in Coral Gables, Deem has coached 18 national champions. Miami has also combined to win 115 individual ACC championships and eight team championships under her guidance.
She has also worked with multiple future Olympians and future NFL stars and in 2008, was promoted to her current position, becoming at the time just the sixth woman in the nation to lead both the men's and women's track and cross country programs at a Division I school.
She is a member of the UM Sports Hall of Fame, coached the 2012 Olympic women's track and field team and has made the Hurricanes a perennial championship contender.
Given that she landed at Miami almost by accident, it has been an incredible run, one that will continue, with Deem and Miami agreeing to a five-year contract extension earlier this month.
"I drove 15, 16 hours, came down here for a 6-week internship and never left," Deem smiled.
A former track athlete at Ohio University whose own career ended because of injuries, Deem was in pursuit of a master's degree when she initially came to Miami, partly because a friend who worked in the athletic department informed Deem of an available internship.
Deem landed that internship in Miami's compliance department, volunteered as an assistant coach with the track team during her free time and eventually found herself with the opportunity of a lifetime when, at the end of her internship, a full-time position as women's track coach opened.
For Deem, it was a no-brainer. For Miami, it turned out to be the start of something special.
Before Deem took over the women's program in 1990, no Hurricane had ever recorded an NCAA qualifying mark. Today, Miami has produced more than 140 All-Americans.
There have been conference titles in both the Big East and ACC, with Deem earning the ACC's Coach of the Year distinction eight times.
And though she's been afforded opportunities to coach elsewhere, Deem has chosen to stay at Miami, driven to find ways to take the Hurricanes to the next level.
"I always feel like I haven't finished the job here," Deem said of her three-decades long career at Miami. "I love the University. I love the balance of academics and athletics. I love that it's a small private school in a metropolitan area. To me, you have the best of both worlds. But more than anything, I just feel like I haven't done everything that I want to do here. I feel like there's always another championship to win. And I really see us turning the corner on the men's side…To me, there's just a lot that I want to accomplish, so that's my biggest driving force.
"And there's the fact that I just really have a love and a passion for this University and this community."
Deem, a native of West Virginia, credits her father Jim with helping instill that drive in her.
As a child, she swam, played tennis and soon enough, started running track. There was a simple rule: no matter how tough things got in a given season, you had to finish what you started.
It didn't take long for Deem to show she could more than keep up with the boys in her neighborhood and eventually, a track career was born.
Today, that career has taken her all over the world, helped her forge lifelong bonds with the athletes she's coached and has helped give her experiences she could never have imagined.
"To be in the Olympic village and watch LeBron [James] and all of them come into the McDonald's there is something," Deem laughed. "Everything was normal there until USA Basketball walked in…Just getting to stay in the village was a highlight for me."
As exhilarating as her Olympic experience was, though, Deem says it's her day-to-day work with her student-athletes at Miami that has helped make her career so rewarding.
Seeing them succeed on the track, win championships, earn their degrees is, quite simply, what keeps her going.
"Clearly, I like to win. But I got into coaching to make a difference. I think in today's world, that gets lost a little bit," Deem said. "But I wanted to be a teacher and a high school coach. I never envisioned traveling the world, coaching a world championship team or coaching an Olympic team. The highlight of my career is seeing the young people, their families, their kids just the growth and seeing them live their lives, knowing you had a little bit of a part of that…
"The day-to-day stuff, watching young people grow and improve, that's really what sustains me. I love being on the track every day. I love practice. I love watching people try to figure things out, get better, and learn. That's where my passion is."