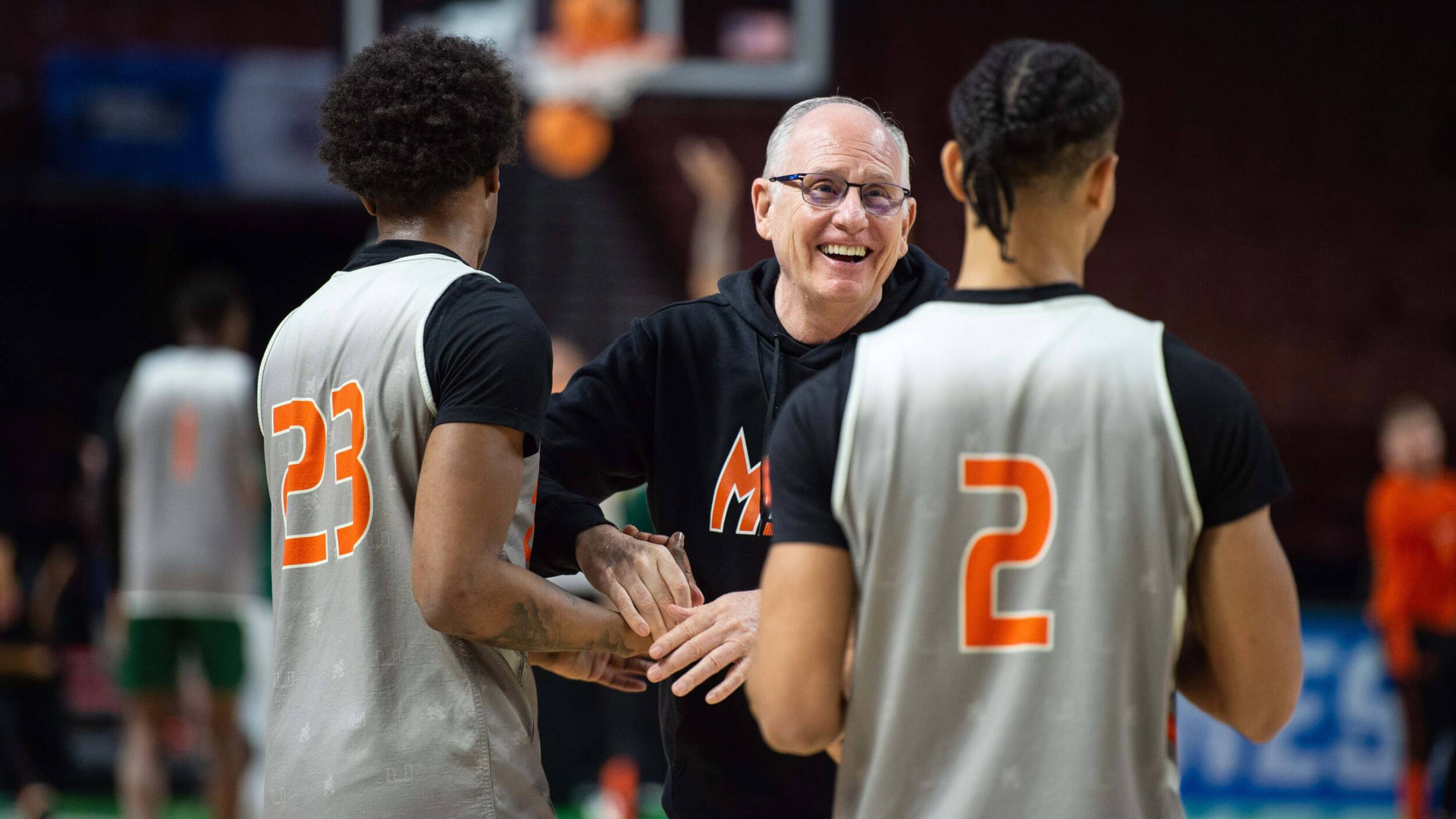 CORAL GABLES, Fla. – Small ball. The University of Miami men's basketball team is all in on it.
Folks who weren't aware? Well, they should be now.
Miami (25-10, 14-6 ACC) ran up and down the court, forcing turnovers and driving to the rim, all weekend long in Greenville, S.C. That, of course, is where the No. 10-seeded Hurricanes pulled two upsets to earn the fourth NCAA Sweet 16 berth in program history, including the third in the last decade.
Led by a starting lineup with an average height of just under 6-foot-5, Miami took down seventh-seeded and No. 21/22-ranked USC, 68-66, and then drilled second-seeded and No. 8/7-ranked Auburn, 79-61. It dished out 33 assists and committed seven turnovers at one end, while forcing 31 turnovers and notching 22 steals at the other end.
It was a prime example of what the Hurricanes have been quietly—despite its strong resume, Miami has not been ranked all year—building all season long.
"Our players have really bought into a brand-new system of play that started back in the summer," Miami head coach Jim Larrañaga said. "We're running an entirely new offense than we did in previous years and they all had to learn it, adapt to it and figure out how to best take advantage of it. Along with that, they had to do the same thing defensively. And as we've gotten better and better at it, we've been able to be more and more successful. This weekend was, perhaps, the best two consecutive games that we've played with basically the same strategy. It worked very, very well in both games."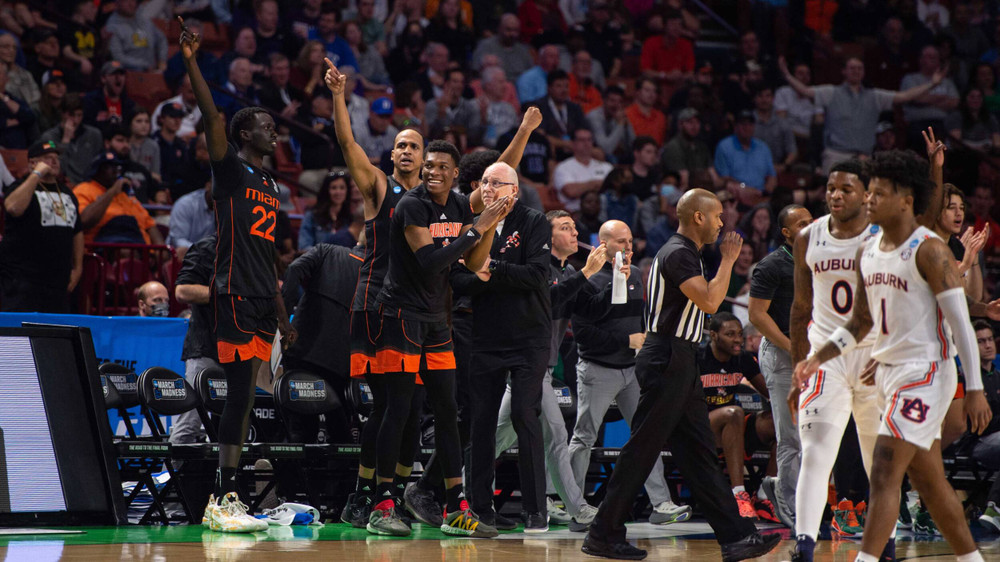 Although some might not have noticed the Hurricanes' thrilling, successful style of play this season, it actually began to gel many months ago.
Following a 4-3 start to the season, Miami is 21-7 in its last 28 games. That stretch began right around the time the offense began to click, although the defense did take some more time to get into its current form.
"I'd say, from an offensive standpoint, it was definitely the Penn State/Clemson week where Sam Waardenburg and Charlie Moore kind of orchestrated our offense by playing so well together," Larrañaga shared. "Charlie was handling the ball and giving it to Sam [and he was then] giving it back to Charlie; the two of them were getting the other guys involved. From a defensive standpoint, that took a little bit longer. We were scrambling, but only about 10 percent of the time. We've continued to increase that throughout the season. I'd say our home games against Florida State and Syracuse were the real turning points."
Miami had its full arsenal, at both ends of the floor, on display in the victory over Auburn. The 18-point triumph is the second-largest by a No. 10-seed over a No. 2-seed in NCAA Tournament history, per ESPN's Chris Fallica.
It was Moore, of course, who led the way for the Hurricanes. The consummate floor general, he put up 15 points, a career-high nine rebounds, eight assists and three steals, while committing two turnovers in 36-plus minutes of action. He shot 4-of-8 from the floor, 2-of-3 beyond the arc and 5-of-7 from the line.
Although his fellow backcourt stars surely added to the cause, as did an outstanding defensive display from the Miami frontcourt, it is Moore who navigated the Hurricanes past the Tigers and into the Sweet 16. Like the unit as a whole, his play versus Auburn was the result of his growth within Miami's scheme this season.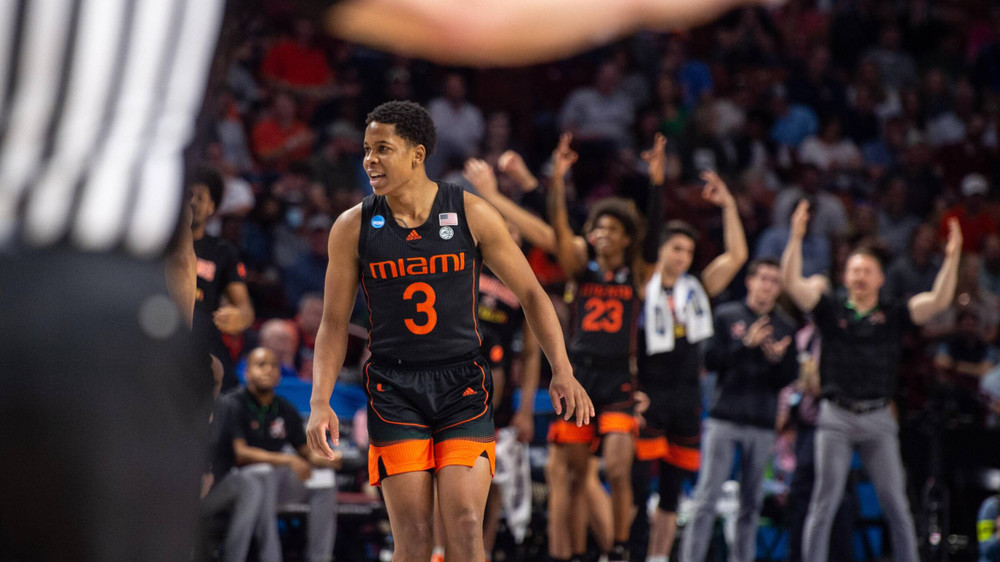 "Charlie had to learn an entirely new system, but then quarterback it. The other guys were learning it and making their own adjustments, but Charlie had to be sure he got everybody involved," Larrañaga said. "When you quarterback a team, you're calling the plays and you're sharing the ball. He has two great backcourt teammates in Isaiah Wong and Kam McGusty, who both can really score. Charlie just kept getting them the ball and Sam just kept getting them the ball."
Moore's reward for his tremendous performance is not just a trip to the Sweet 16, but the opportunity to play the second weekend of the NCAA Tournament in his hometown of Chicago.
There, at the United Center, the Hurricanes face No. 11-seeded Iowa State in a clash of double-digit seeds Friday at 9:59 p.m. ET. It is the fourth 10/11 matchup in NCAA Tournament history, all of which have come in the last 12 years.
As it readies for one of the biggest games in program history, there are some elements of preparation that will be particularly key for Miami.
"First, we need to rest. It was a grueling weekend followed by a flight home that got [us back to campus at 3] o'clock in the morning. So, we need rest," Larrañaga said. "And we need to prepare differently for our next opponent because they are so different than the teams we played. The two teams we played were very, very big. Now we're playing a team that is much different offensively because they really move the ball a lot. And defensively, they're one of the top five teams in the country at the defensive end of the floor. We're going to have to make some adjustments as to how we prepare for them."
Iowa State's starting lineup is nearly identical in height to Miami's, checking in at just one total inch taller. That is, assuredly, quite different from the opening fives for USC and Auburn.
It is imperative Miami understands what will and will not work versus the Cyclones, as well as what it will need to deal with on the defensive end of the court.
"The coaching staff will break down all the videos from Iowa State's previous games and we will present a concise view of what Iowa State is all about, what their defense is about and why they've been so successful defensively," Larrañaga said. "And then we'll do the same offensively, with the idea that [we want to figure out] how we best utilize the strengths of our defense against a team that moves the ball so well and so effectively."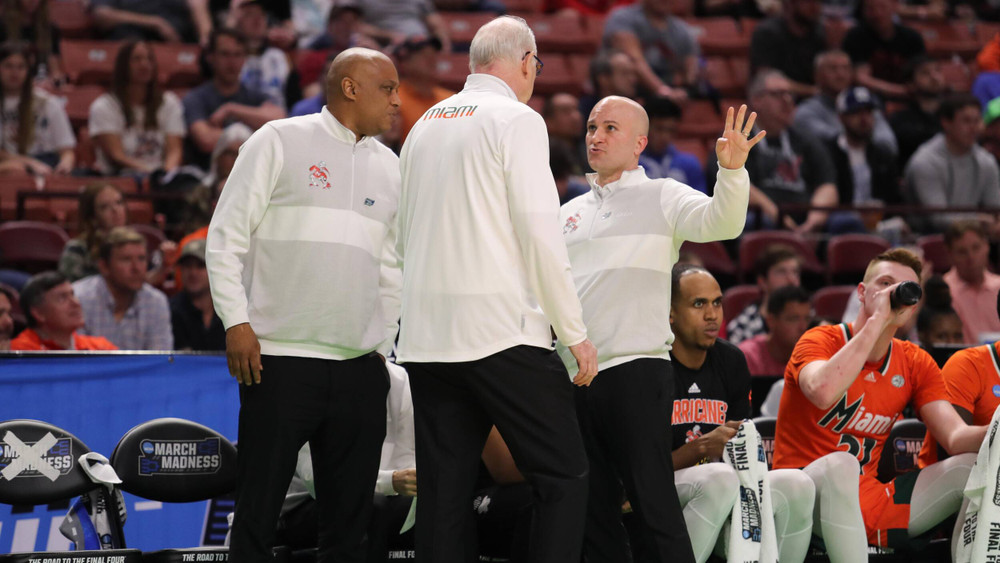 The Cyclones enter the Sweet 16 at 22-12 (7-11 B12) on the season. They upset sixth-seeded LSU and third-seeded Wisconsin to advance to Chicago.
Iowa State has as many wins this year as it had losses in 2020-21, as head coach TJ Otzelberger inherited a team that went 2-22 last season. A big reason for the turnaround is the team's toughness.
"They're about as physical a team as you'll see in college basketball and they protect the paint about as well as you can," Larrañaga remarked.
As much as the Hurricanes can evaluate film and prepare for the Cyclones, the primary attention will remain the same.
That, of course, means continuing to do what Miami does best.
"As I've mentioned for our previous games, we can't look at this [strictly] as a game against Iowa State and focus all our attention on what they do," Larrañaga shared. "We've got to be more prepared to do what we need to do. And that is force turnovers, rebound, share the ball, get assists and not turn it over. [We need to] play our game and make adjustments during the game."
One other thing Larrañaga wants his team to do is simply enjoy the moment. His message to his players before going to Greenville was to have as much fun playing basketball as they have ever had in their lives.
Now that the Hurricanes have moved on to the Sweet 16, that is only amplified even more.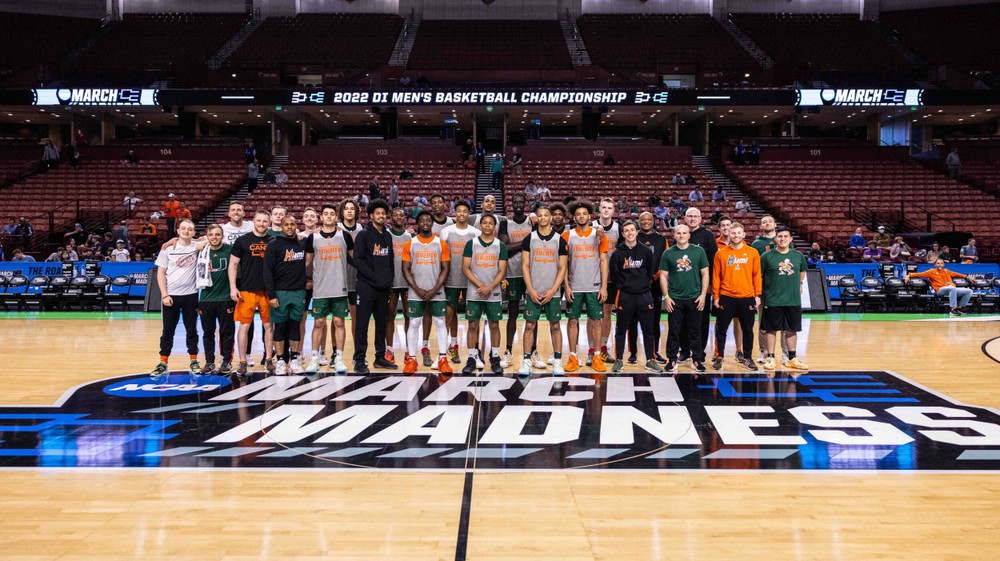 "We've got to multiply that. The further you go, the more fun you have to have," the two-time ACC Coach of the Year said. "These things don't come along every year and sometimes it's once in your lifetime. So, you've got to really enjoy it."
Miami enters the weekend at 10-10 all-time in the NCAA Tournament, including a superb 6-4 during Larrañaga's tenure. Including NIT action, the program is 21-22 all-time in postseason play, with an excellent 11-6 under Larrañaga.
The Hurricanes' matchup with Iowa State will be televised live on TBS HERE, with Kevin Harlan, Dan Bonner, Reggie Miller and Dana Jacobson on the call. Joe Zagacki will have the radio broadcast on AM 560 Sports WQAM HERE, while Kevin Kugler and Robbie Hummel will call the game for Westwood One HERE. In addition, live stats can be found HERE.
The winner of Friday's affair will take the court Sunday against top-seeded Kansas or fourth-seeded Providence with a spot in the Final Four on the line. The game time and TV designation will be announced at a later time.
To keep up with the University of Miami men's basketball team on social media, follow @CanesHoops on Twitter, Instagram and Facebook.