On the Road to the Old Dominion State
CORAL GABLES, Fla. – Few things are sweeter in college athletics than winning a rivalry showdown.
The University of Miami women's tennis team did just that last Friday when it rolled to a 6-1 victory over No. 61 Florida State, 6-1, at the Neil Schiff Tennis Center.
No. 10 Miami (9-2, 4-1 ACC) improved to 37-9 all-time against the Seminoles with the decision, including 16-2 at home. The most impressive element of this particular triumph in the series was the Hurricanes' ability to overcome some struggles on the way.
That is part of what has allowed Miami to be so successful throughout the first half of its 2022 campaign, not just against Florida State.
"I think, honestly, in doubles, we didn't play our best tennis and we didn't have our best energy. But we were able to win both courts and I think that's very important, to sometimes not play your best tennis and be able to win," Miami associate head coach Alex Santos said. "I think that shows a lot about resiliency and just, obviously, quality. Part of that [is because] in singles, we are being competitive on every single court. On some courts, we are able to get the win. Some courts are pretty straightforward and some courts are a little closer and sometimes we lose. But we have been in every single match on every single court and I think this past weekend was another example of that."
Following the victory over the Seminoles, Miami ascended into the top 10 of the ITA national rankings. It is the first time since 2016, when the program finished the year at No. 10, Miami has reached that mark.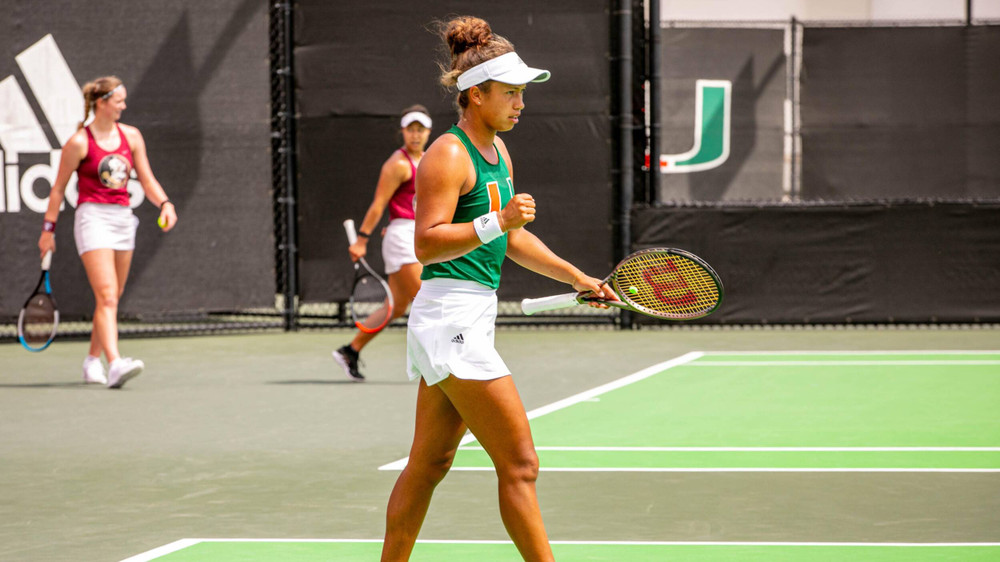 The Hurricanes placed No. 24 in the first two polls of the season, but since vaulted 14 spots in under two months, including 11 in the last month alone.
Although the team's ranking is impressive and reflective of what it has accomplished thus far, it is not indicative of what may or may not happen the rest of the way. Santos, a long-tenured college coach, knows the team must remain focused.
"I think what the top-10 [ranking] says about this group is that, so far, the girls have been having a very good season and have been beating teams that have high rankings. Honestly, the two matches that we lost were close ones against great teams," the Oeiras, Portugal, native shared. "That's where we are [based off the past], but everything is about the present. Who knows what will happen tomorrow and what type of match we will play this upcoming Friday. It all comes down to staying in the moment. We have been showing our best version on a daily basis and we have to continue doing that. Everything can change."
That affair on Friday will be at the Burrows-Burleson Tennis Center in Blacksburg, Va., where Miami plays Virginia Tech at 3 p.m.
The Hokies enter the weekend with a 5-8 (1-3 ACC) record on the year and they do not have any ranked singles players or doubles pairs.
Miami owns a 24-1 all-time record against Virginia Tech, including a 9-1 ledger on the road. Most recently, the Hurricanes took a 7-0 decision on April 2, 2021, in Coral Gables.
While the Hokies' record this season may not be eye-popping, the ACC is so good from top to bottom that teams must expect a hard-fought matchup each and every time out, especially on the road.
"They will be playing on their home court and they will, obviously, be motivated to bring their best version and try to beat us. So, we'll have to bring our 'A' game," Santos shared. "I think, right now, we have four teams in the top 10 in our conference. That just shows that it's a very conference, you cannot take any team lightly and you have to bring your 'A' game if you want to have a chance to succeed."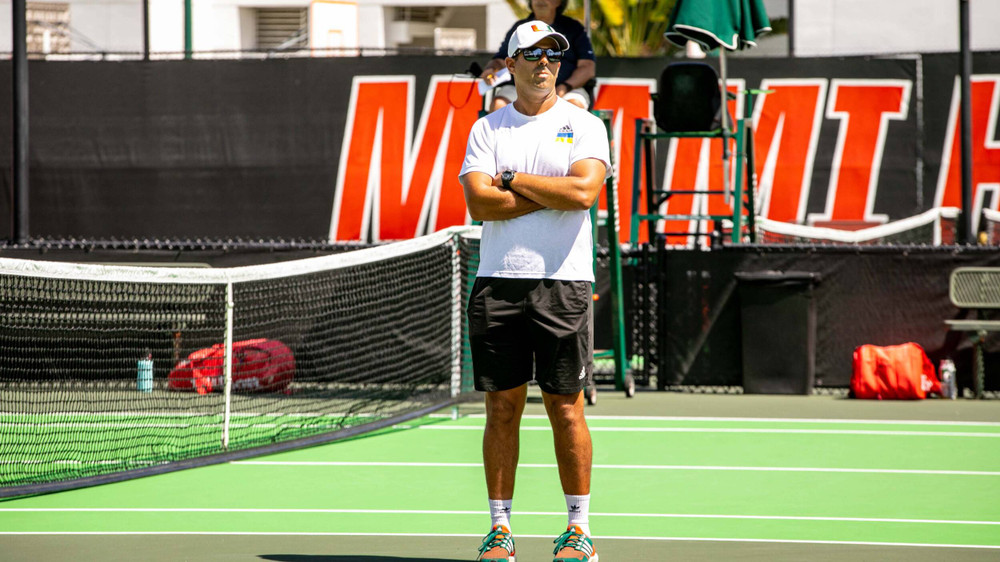 Following its contest against the Hokies, Miami heads to the Boar's Head Sports Club in Charlottesville, Va., to play No. 11 Virginia in top-15 showdown Sunday at 11 a.m.
The Cavaliers sport a superb 10-3 (2-2 ACC) ledger on the season and are coming off an NCAA Sweet 16 berth last season. They also have three ranked singles players, all in the top 50, and four ranked doubles tandems.
Emma Navarro, the reigning national champion, places fifth, while Natasha Subhash is No. 26 and Elaine Chervinsky is No. 50. In doubles, Navarro and Amber O'Dell hold the No. 11 spot, followed by Melodie Collard and Hibah Shaikh at No. 26, then by Collard and Navarro at No. 51. O'Dell and Sofia Munera round out the group at No. 73.
The Hurricanes are 19-6 all-time versus Virginia, including 5-3 in road contests. In the most recent affair, Miami took a 4-3 decision on April 4, 2021, against the then-eighth-ranked Cavaliers in Coral Gables.
Miami has already played five matches against top-20 teams this season and knows what to expect when it takes the court against Virginia.
"Another battle [against] another amazing team that obviously wants to solidify their position in that elite group, which I think in college tennis would be the top 16. Everybody wants to host NCAAs," Santos said. "So, UVA will be very good top to bottom and try to take it from us right in doubles. [They will play] with energy and momentum and use that home-court advantage."
The Hurricanes head up to the Old Dominion State with three ranked singles players in fourth-year junior Daevenia Achong, fifth-year senior Eden Richardson and sophomore Isabella Pfennig. They check in at No. 56, No. 58 and No. 112, respectively.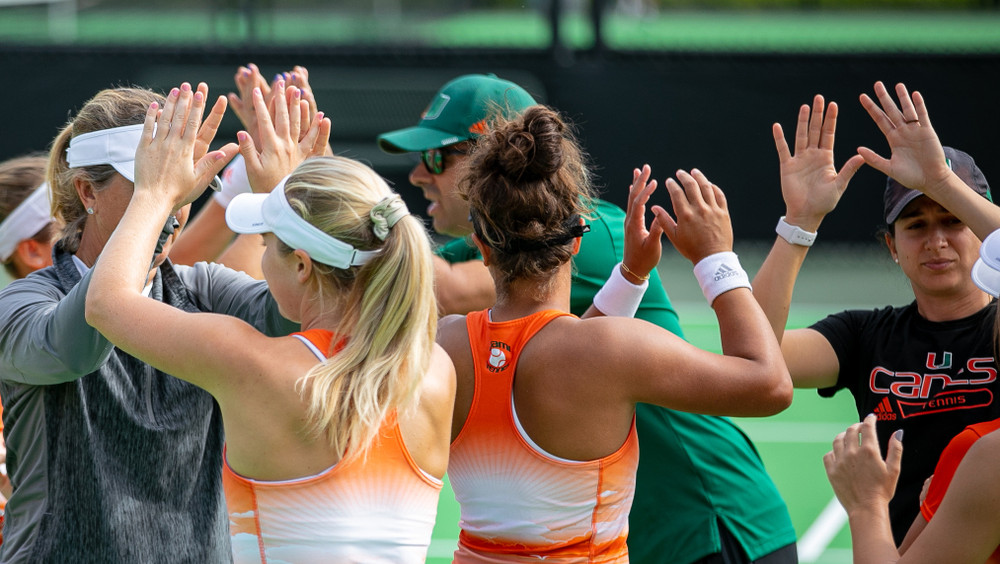 In doubles, Miami sports two ranked doubles. Achong and Richardson place No. 16, while third-year sophomores Diana Khodan and Maya Tahan hold the No. 72 spot.
Live video for Miami's matchup with the Hokies can be found HERE, while live stats will be available HERE. Live video for its outing versus the Cavaliers can be found HERE, while live stats will be available HERE
To keep up with the University of Miami women's tennis team on social media, follow @CanesWTennis on Twitter, Instagram and Facebook.