Two Top-15 Tests in the Tar Heel State
CORAL GABLES, Fla. – The University of Miami women's tennis team started ACC play with a pair of victories this past weekend at the Neil Schiff Tennis Center.
No. 14 Miami earned a hard-fought 4-3 victory over Georgia Tech, then ranked No. 47 and now No. 37, Friday night in its conference opener. Two days later, it turned in a dominant 6-1 victory over Clemson.
The decisions moved the Hurricanes to 4-0 on their homestand and upped their winning streak to five in a row.
"I think we came out strong and got our first two ACC matches," fourth-year junior Daevenia Achong said. "I think we all played good tennis and in the moments we needed play as [well as possible], we found a way to figure it out and to win points and to stay tough there and just stay out there. So, I think we are off to a good start."
Achong individually had a stellar weekend for Miami. She won a pair of singles matches at the No. 2 spot and split two doubles outings at the No. 1 position.
Ranked No. 67 in singles and, alongside fifth-year Eden Richardson, No. 40 in doubles, Achong played a key role in both of the team's victories.
"I think I just went out there and played my own tennis, played on my terms," Achong shared. "Obviously, Friday was a tough match, but I stayed in there and figured it out and just found a way to win."
The Hurricanes certainly needed her point Friday against the Yellow Jackets. Although they held a 3-1 lead when she clinched a narrow third set, 6-4, Miami (7-1, 2-0 ACC) trailed on both other remaining courts and eventually dropped both those matches.
Without Achong pulling through after dropping the first two games of the final set, Miami would have come up short against Georgia Tech.
The Geleen, Netherlands, native knew her team was counting on her to tally the fourth point, but feels any player could step up on any given night. Friday, it just so happened to be her.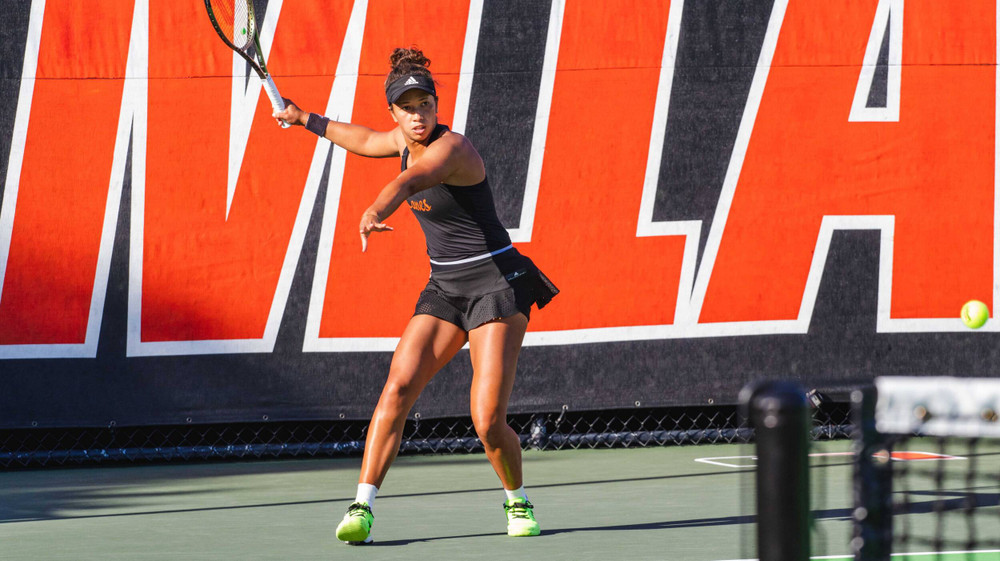 "I think everybody wants to bring in their point. But there are times when you look at the scoreboard and you're like, 'Okay, we really need my point today,'" Achong said. "At the end of the day, it came down to me, but any other day it could come down to Audrey or Eden. But I think everybody knows that their point very important. I think that nobody took points off and I think that's a very big thing."
Miami will look to continue that same team-wide principle as it heads into its next weekend of play, as it has two difficult matchups on the horizon.
The Hurricanes, who feature two other ranked singles players in Richardson at No. 81 and sophomore Isabella Pfennig at No. 85, will play a pair of top-15 foes in North Carolina.
First, Miami will meet No. 15 Wake Forest to begin the weekend, with action slated for 5 p.m. in Winston-Salem, N.C. The Hurricanes, who have a second ranked doubles duo in third-year sophomores Diana Khodan and Maya Tahan, are 22-1 all-time versus the Demon Deacons, including 9-0 on the road.
Miami has 18 consecutive wins over Wake Forest, dating back to March 11, 2004. In the most recent meeting, it earned a 7-0 decision over then-No. 26 Wake Forest on March 26, 2021.
That, however, will not matter when the two teams face of Friday evening. The Demon Deacons, who have yet to begin ACC play, are 8-3 on the season. They boast two ranked singles players in No. 44 Carolyn Campana and No. 84 Cassie Wooten.
Wake Forest's lone ranked doubles tandem is top-10 in the nation, as Anna Brylin and Brooke Killingsworth place sixth on the ITA list.
Miami will also have a difficult task Sunday when it plays second-ranked NC State at the J.W. Isenhour Tennis Center in Raleigh, N.C.
The Wolfpack is 11-1 heading into league play, with its lone loss to top-ranked North Carolina in non-conference action. It has four singles players in the ITA's top 125 in ninth-ranked Jaeda Daniel, No. 20 Alana Smith, No. 24 Abigail Rencheli and No. 112 Nell Miller.
NC State also has three ranked doubles pairs, led by Daniel and Miller at No. 16. Daniel and Smith place No. 47, while Rencheli and Amelia Racjeki check in at No. 51.
Miami is 17-2 all-time versus NC State, including 7-1 on the road, but both setbacks have come in the last three years as the Wolfpack has ascended to national prominence.
"I think we just need to go out there and come out aggressive. We've been practicing well and playing well," Achong said. "Obviously, it's two good opponents and two good opportunities ahead of us. So, I think as long as we just do our thing and just play aggressive tennis, play Miami tennis, be relentless and be tough, it [will work out]."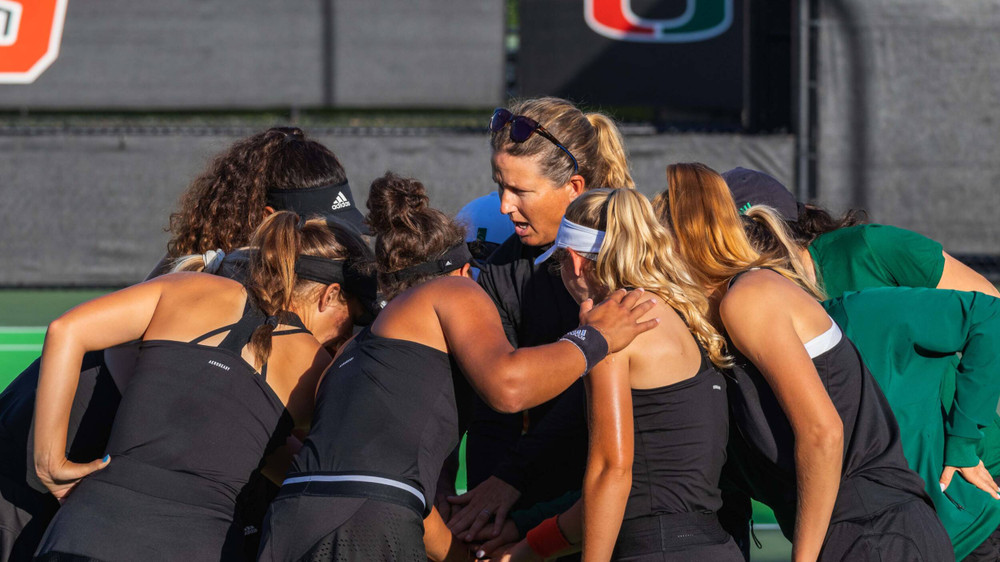 The Hurricanes have not played away from home since Jan. 29, when they logged a 4-1 win over Kansas in Waco, Texas. That triumph jumpstarted their current winning streak.
Although it has been over two weeks since Miami played at a venue other than the Neil Schiff Tennis Center, Achong does not expect the team's approach to change much, if at all.
"I don't think it's any different from when you play at home. I think you just need to do the same things as when you're home," she shared. "Nothing really needs to change. Obviously, you're playing at a different facility, different courts. Maybe you have some fans cheering against you, but that doesn't change anything from who we are and what we should do on the tennis court."
One positive of a road trip, though, is the ability for further team bonding.
This is assuredly a tight-knit team, but four days away together can make a group grow even stronger.
"We've been trusting each other a lot on the court," Achong said. "You look left, you look right and you're like, 'Okay, everybody is fighting to get in their points.' It takes a little bit of pressure off of each other. So, I think that team bonding [element of a road trip] is very important."
Live video for the Hurricanes' matchup with Wake Forest will be available HERE, while live stats can be found HERE. When Miami takes on NC State, live video will be available HERE, with live stats HERE.
To keep up with the University of Miami women's tennis team on social media, follow @CanesWTennis on Twitter, Instagram and Facebook.