Miami Duo Earns All-ACC Honors
CORAL GABLES, Fla. – A pair of Hurricanes collected regular season Atlantic Coast Conference honors on Tuesday as the league announced its league-wide awards voted on by the ACC coaches and the Blue Ribbon Panel.
University of Miami freshman Ja'Leah Williams was named to the ACC All-Freshman Team and graduate student Kelsey Marshall earned All-ACC Team honorable mention for the 2021-22 season.
Williams exploded onto the college basketball scene this season, averaging 7.6 points and 4.3 rebounds per game, good for second on the Hurricanes in both categories. She ranks in the top five among ACC freshman in steals (first), rebounding (third), scoring (fourth) and assists (fourth), one of just two league rookies to do so.
The Pompano Beach, Fla., native has started 22 of 28 games played and has totaled eight double-digit outings as a freshman this season. She earned ACC Freshman of the Week honors on Feb. 21 after averaging 8.3 points, 5.0 rebounds and 3.0 assists in Miami's three wins that week.
Williams becomes just the fifth Hurricane to earn ACC All-Freshman Team honors, joining the likes current assistant coach Shenise Johnson, current teammates Mykea Gray and Kelsey Marshall and 2017 graduate Adrienne Motley.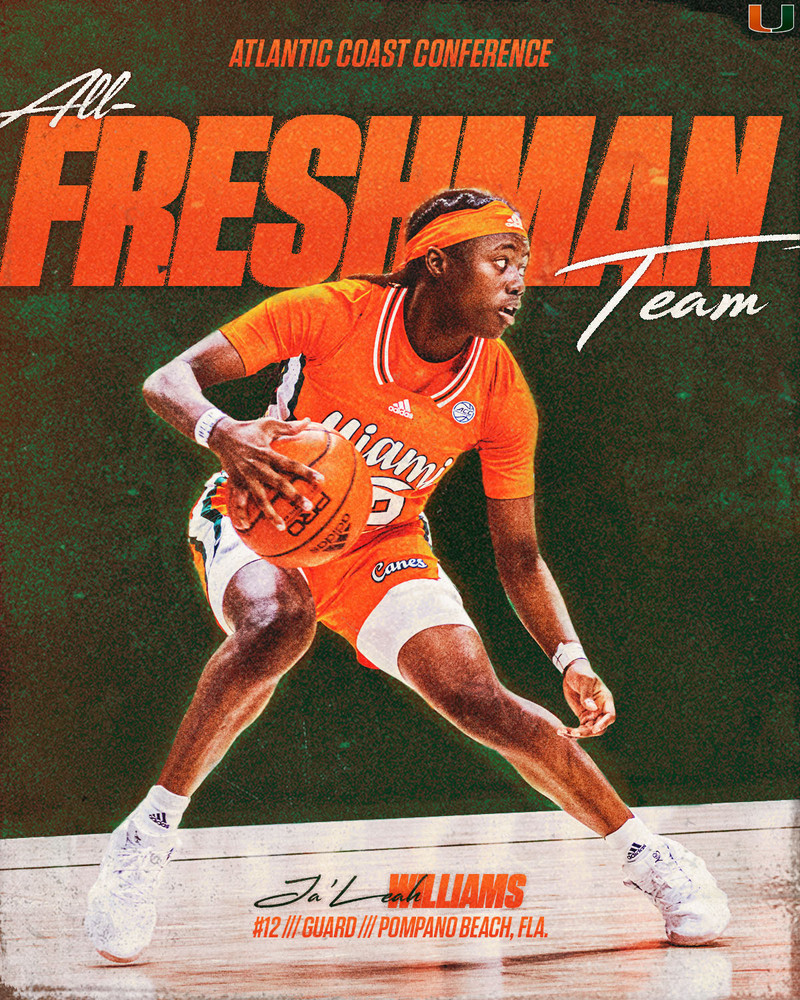 From ACC All-Freshman Team in 2018 to All-ACC Team honorable mention in 2022, Marshall closes out a five-year career at Miami among the league's best. The Davie, Fla., native leads the Hurricanes in scoring this season, averaging 14.1 points per game, good for ninth in the league.
Marshall finished the regular season sitting in the top 15 among league players in four statistical categories including 3-point field goals per game (third), 3-point field goal percentage (fifth), scoring (ninth) and steals (12th). The guard is Miami's all-time leader in 3-pointers made (313) and is one of just two active ACC players to reach the 300 career 3-pointers mark.
Williams and Marshall are the second Hurricane duo to earn All-Freshman and All-ACC honors, respectively, in the same season. The first group to do so was Mykea Gray and Kelsey Marshall (All-Freshman Team) and Erykah Davenport (All-ACC Second Team) in 2017-18.
The Hurricanes are set to participate in the 45th annual ACC Women's Basketball Tournament in Greensboro, N.C., beginning on March 3. No. 7 Miami will face the winner of No. 10 Duke vs. No. 15 Pittsburgh at 6 p.m. on Thursday. The game will air on Bally Sports.