Miami Sweeps Liberty For Fourth Straight Victory
CORAL GABLES, Fla. – The University of Miami men's tennis team secured its fourth-straight win, and second in as many days, on Saturday when it dominated the Liberty Flames (3-5), 7-0, at the Neil Schiff Tennis Center.
Saturday's win marked the fourth time this season that the Hurricanes (9-1) have swept their opponent. In its nine wins this season, Miami has only conceded five total matches.
Doubles play opened with a decisive 6-2 win by the third doubles pair of graduate student Dan Martin and freshman Martin Katz. The second doubles duo of fourth-year junior Juan Martin Jalif and Oren Vasser secured the doubles point in a hard-fought match, defeating Liberty's Rafael Marques Da Silva and Nicaise Muamba, 6-4.
On court one, Benjamin Hannestad and Franco Aubone were climbing back from a two-set deficit when the doubles point was clinched.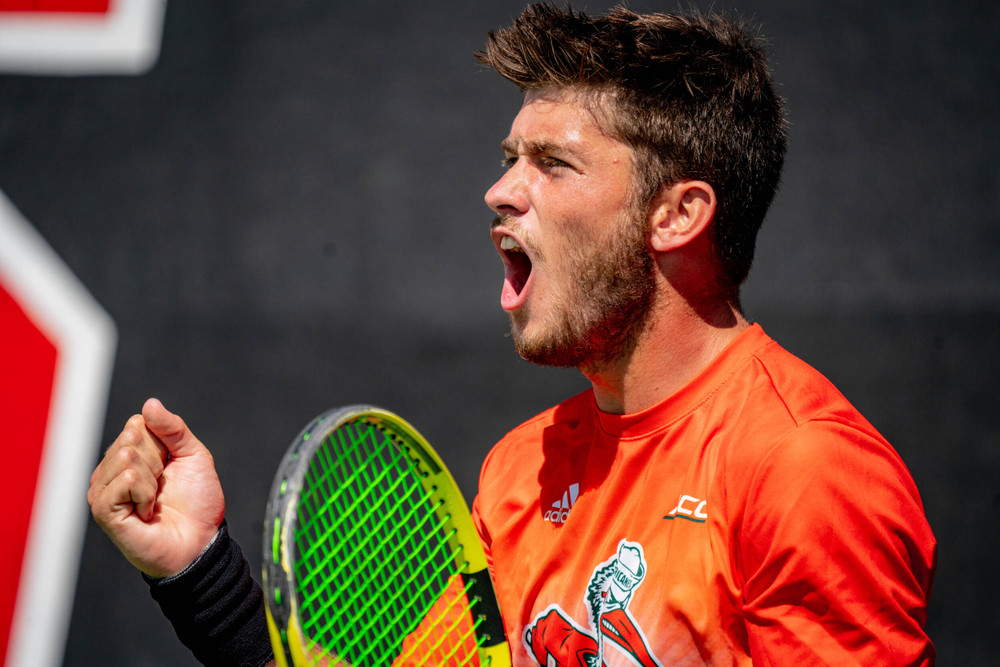 Hannestad carried his momentum into singles play, quickly tallying the first singles point for the Hurricanes, winning in two sets against Da Silva, 6-2, 6-2. Katz definitively defeated Deji Thomas-Smith, 6-0, 6-4, at fifth singles to give Miami a 3-1 lead. With the win, the freshman moves to an impressive 9-1 record on the season.
Vasser continued his winning ways in singles action, clinching the match with a 6-2, 6-1 victory against Christiaan Worst.
Playing the match out, Martin added a fifth point to Miami's ledge, posting a 6-3, 6-2 win in the top spot.
The 117th-ranked singles player in the nation, graduate student Dan Martin added a fifth point on court one, posting a 6-3, 6-2 win. Freshman Casper Christensen then came up with a 6-4, 6-4 win against Thando Longwe-Smit to stay undefeated in spring singles action this season at 5-0.
The final match of the day was a battle until the end, with fifth-year senior Bojan Jankulovski ultimately defeating Liberty's Josh Wilson 6-7 (7-5), 7-6 (7-5), 10-8 after a back-and-forth tiebreak. Jankulovski's seventh point maintained the team's unbeaten streak on the day.
The Hurricanes are back in action on March 4 when they open ACC play against the No. 8 Wake Forest Demon Deacons. The match is slated to start at 4 p.m. at the Neil Schiff Tennis Center.