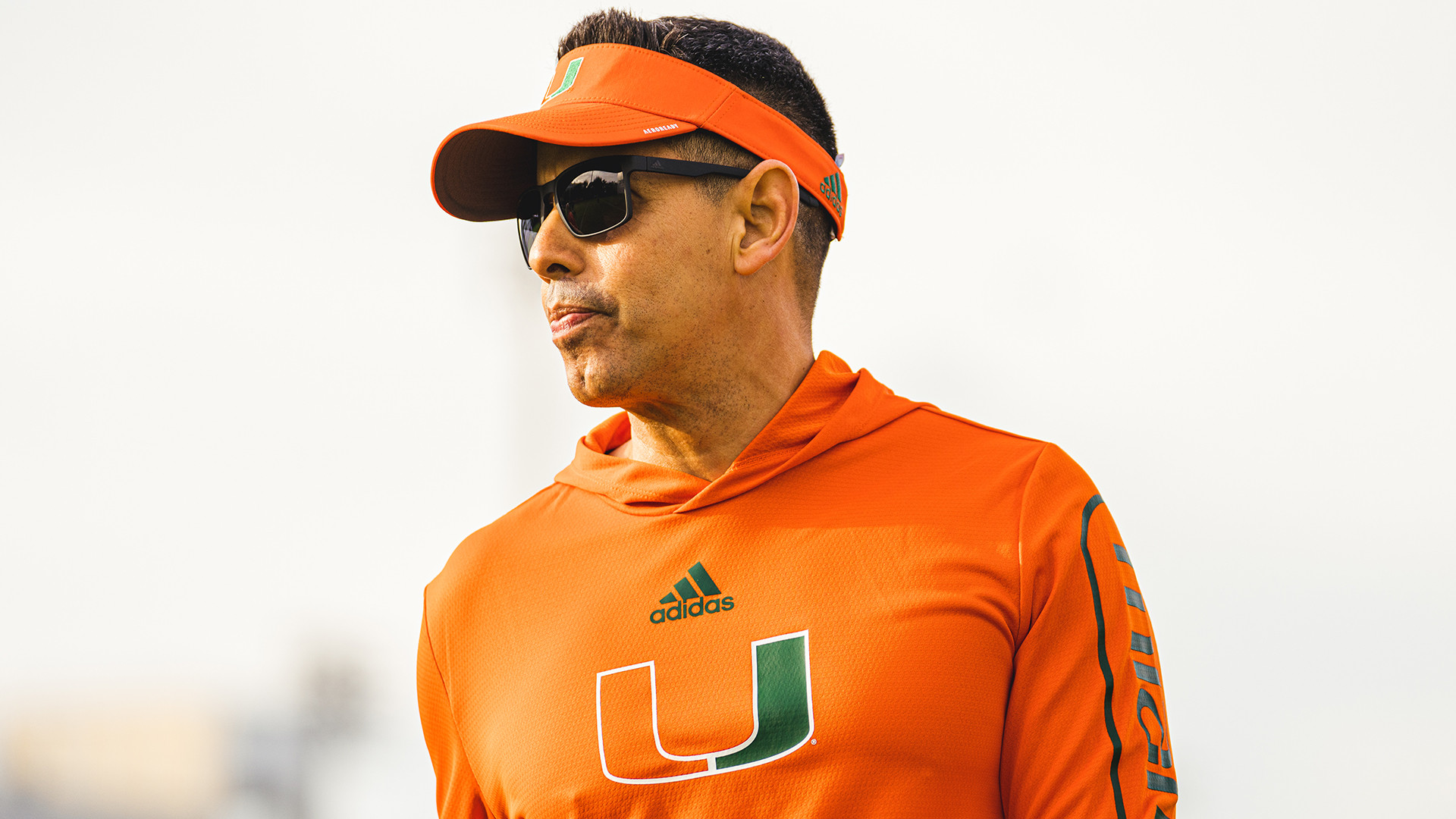 CORAL GABLES, Fla. – On his first day out on the Greentree Practice Fields, Frank Ponce paused.
He looked down at the orange and green "U" on his shirt, took in the scene around him and briefly let himself savor a dream that had finally become a reality.
He was back home, coaching at the school he'd grown up cheering, ready to make a difference.
Then Ponce, Miami's new quarterbacks coach and passing game coordinator took a breath and jumped right into the work of helping prepare his players for the season that awaits.
"I'm standing out there and I was actually talking to some of the guys and I said 'This is surreal. Someone pinch me and wake me up from this dream,'" Ponce said with a broad smile. "I'm enjoying it. Even just my first day out there was fun. To see the kids working as hard as they're working and seeing them become a better football team each and every day, watching them grow. I'm excited about our future."
The Hurricanes are plenty excited to have Ponce back in Miami, too.
The coach grew up in South Florida and played football at Miami Senior High. He graduated from FIU and coached high school football at several programs in Miami-Dade County for 14 years before joining head coach Mario Cristobal's staff at FIU in 2007 as the Panthers' wide receivers coach.
There, he mentored former Panthers and current Indianapolis Colts receiver T.Y. Hilton – along with six of the top receivers in FIU history.
Stops at Appalachian State, where he served as quarterbacks coach and co-offensive coordinator, and Louisville, where he coached quarterbacks and coordinated the Cardinals' passing game, followed. Last fall, Ponce returned to Appalachian State for a second stint with the Mountaineers, this time taking over as their offensive coordinator in addition to being their quarterbacks coach.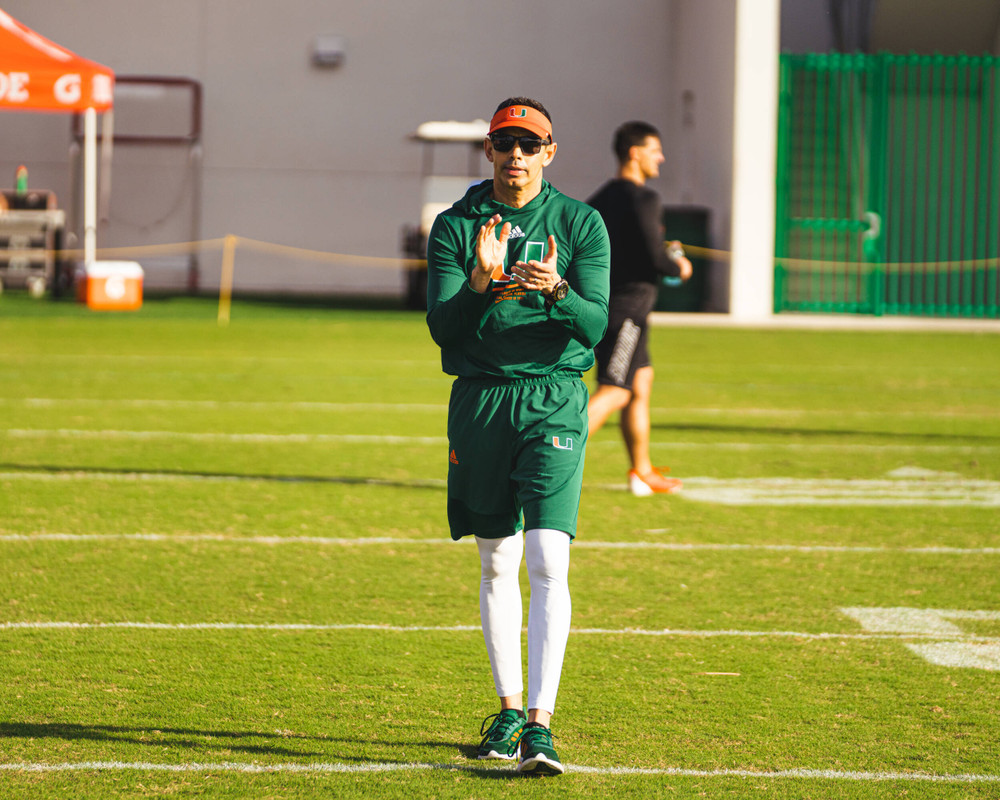 Under his guidance, Mountaineers quarterback Chase Brice set a single-season school record with 3,337 passing yards and Appalachian State running back Nate Noel topped the 1,000-yard mark. The Mountaineers averaged 34.5 points per game, posted a 10-win regular season and won the Sun Belt's East Division title.
Now, Ponce and Cristobal are reunited, this time at Miami and Ponce is charged with leading a quarterbacks room filled with talented signal callers, including reigning ACC Rookie of the Year Tyler Van Dyke, sophomore Jake Garcia and freshman Jacurri Brown, who signed with Miami in December as four-star prospect.
Ponce – who during his first stint with Appalachian State was named the Sun Belt's top recruiter – is familiar with each of Miami's quarterbacks, particularly Van Dyke, because of the recruiting process.
And he believes that knowledge – along with what he's already seen from his players – will only help as the Hurricanes get closer to the start of spring football and eventually, Miami's Sept. 3 opener against Bethune-Cookman.
"I still consider [Miami] QBU. It's still Quarterback U and that is going to continue. We have a great group of kids at quarterback and I'm excited just watching them and talking to them," Ponce said. "They're wonderful kids and obviously, they're great football players. So I'm excited about the possibilities that this can be Quarterback U like it used to be in the 80s, 90s and all the way into the early 2000s…
"I'm excited about [Van Dyke] and the rest of the group. He's a guy that when I got to know him a little bit, you could tell already there was a maturity level that is not common at that age…His football knowledge is there. He's a student of the game and he just wants to continue to always get better and ask questions. He does a lot of film study and just from talking to him and finding out from other coaches who have been around him already, all of that is a positive. That's exactly what you want in a quarterback."
The coach has already made an impression on Van Dyke, too.
"We've already had some meetings and I love the way he teaches and the way he goes about everything," said Van Dyke, who threw for 2,931 yards and 25 touchdowns last fall. "I can't wait to keep building our relationship and understanding my thoughts and his thoughts on the game."
But the opportunity to coach in his hometown, with the Hurricanes, and mentor quarterbacks like Van Dyke aren't the only reasons Ponce is excited to start this chapter at Miami.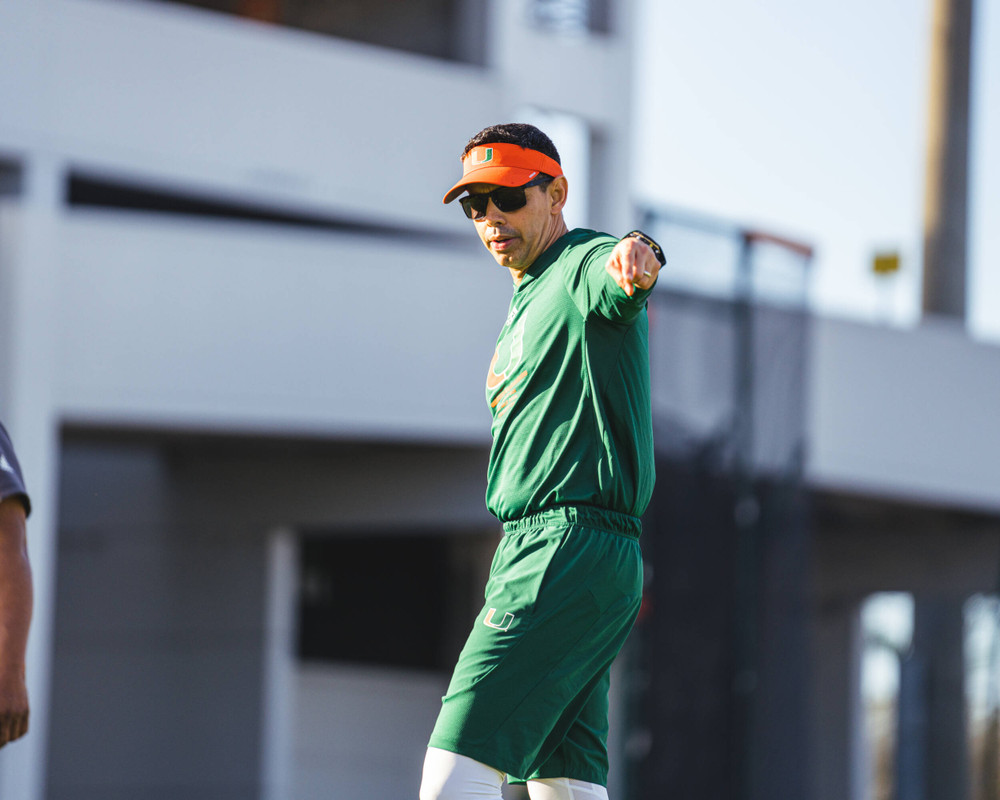 The coach, who was born in Nicaragua, has always taken pride in representing his heritage in college football and knows he, Cristobal and Hurricanes offensive line coach Alex Mirabal can serve as an inspiration to young Hispanic coaches hoping to find their way in the game, too.
At Miami, Ponce says, he and his fellow coaches can make a tremendous impact.
"I'm extremely proud of that and there's a pride and respect for the job that we are doing and that I've been able to do and the success that I've had," Ponce said. "I'm not only doing it for myself. I'm doing it for the next generation that's coming up. I have so many Hispanic coaches, young coaches, that reach out and say 'Seeing you gives me hope.' That's all you can ask for. When I was growing up, we didn't see any [Hispanic coaches]. We've had to fight, but we're here now…a handful. Our coach here is one of them. We're excited. I'm excited to carry that torch for the next generation and I'm sure Coach Cristobal is as well and Coach Mirabal. We're truly excited about that part."
Because of all that, Ponce expects his first time on the sidelines at Hard Rock Stadium as a Hurricane will be especially memorable.
When he shared with his mother the news he was returning to Miami and joining the Hurricanes, she cried tears of happiness. And the coach says he'd like to help create more memories like that for his family – and for the players who'll now become his Hurricanes family.
"I'm going to give everything I have for this University, for Coach Cristobal, this program and most importantly, for our players, for the kids I work with and have direct contact with every single day," Ponce said. "That's what I'm going to do. I'm definitely going to give every ounce I have in me to be the best coach that I can be and [give] the best guidance to our players. If I can do that, I'm going to be happy."