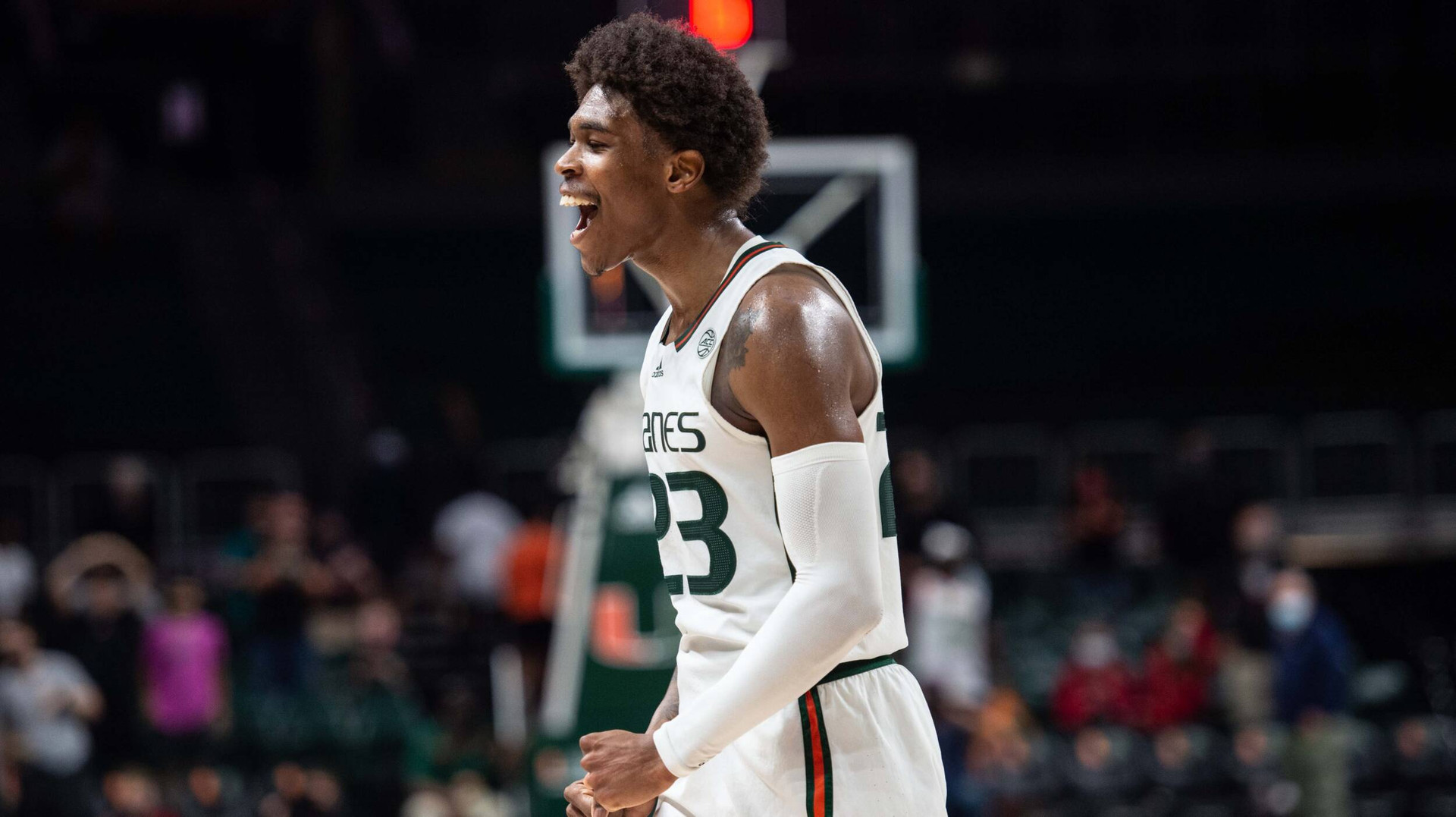 CORAL GABLES, Fla. – The University of Miami men's basketball team turned in one of its finest performances of the season Tuesday night in the Steel City.
The Hurricanes cruised to a commanding 85-64 victory over Pittsburgh at the Petersen Events Center. Miami jumped out to a 14-2 edge, never relinquished the lead at any point, upped its margin to 20 by halftime and extended its advantage as high as 30 in the second half.
The 21-point final margin was Miami's third-largest of the season, including its biggest on the road and second-largest in ACC play.
It can be difficult for a team to remain locked in from start to finish after taking such a large lead. However, Miami had no such problems on the way to claiming its 20th win of the season.
"I would just say [that is because of] our togetherness, our energy and playing for each other," sixth-year redshirt senior guard Kameron McGusty said. "We're having fun out there, throwing alley-oops, dunking and playing good defense. Just, the energy is contagious. It's kind of what has put us over the edge this year."
Miami (20-8, 12-5 ACC) excelled offensively versus the Panthers, shooting a blistering 55.2 percent (32-of-58) from the floor, including 45.0 percent (9-of-20) from beyond the arc.
McGusty and fellow sixth-year redshirt senior guard Charlie Moore each tallied 19 points, shooting a combined 14-of-23 from the floor. Fourth-year junior guard Jordan Miller scored 12 points on 6-of-8 shooting and sixth-year redshirt senior forward Sam Waardenburg added 12 points on 4-of-5 shooting.
The Hurricanes, who have just one reserve averaging over 3.0 points per game, also logged a 19-5 margin in bench points. McGusty cited the aforementioned togetherness, paired with an excellent opening, as reasons why the team's offense clicked in the road win.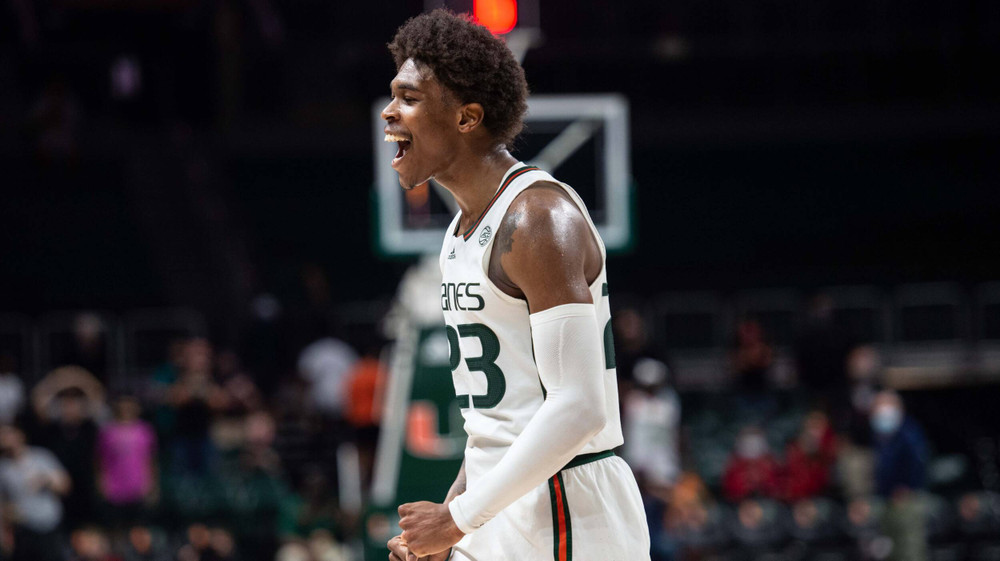 "I feel like just the way we started the game [set the tone]. I drove to the lane, threw an easy pass and Charlie hit a three," the ACC's fifth-leading scorer said. "He came down in transition the next possession looking for me. I shot it and missed it, but it was just [an example of how], like I said, we're just playing for each other and playing together. We're at that point in the season where we've kind of got our mojo. We know each other's game. We make each other better. Just little things like that have been helping us all season."
In addition to its impressive offensive display against the Panthers, Miami also turned in an excellent defensive showing.
The Hurricanes recorded 12 steals and forced a season-best 20 turnovers. That led to a 30-13 advantage in points off giveaways, including a spectacular 19-0 mark in the first half alone.
Tuesday marked the 12th time this season Miami has tallied double-digit steals, including the ninth in the last 14 outings. Moore, Miller and McGusty rank one-two-three in the ACC in steals in league play, with all three also in the top four overall.
The ability to take the ball away from their opponent and then put it in the hoop at the other end is something the Hurricanes pride themselves on.
"We know that, in order for us to be successful, we've got to turn people over a little bit more," McGusty shared. "We've got to be a little bit more scrappy. We've got to play a little bit harder. We're undersized, so that's part of our identity and what we do."
Miami will need to hone in on that skill in its next outing, as it faces a Virginia Tech team that ranks No. 26 in KenPom's offensive efficiency metric. Action is slated for Saturday at 3 p.m. at the Watsco Center.
McGusty knows slowing down the Hokies, who are 7-1 in their last eight games, will be no easy task. Redshirt senior forward Keve Aluma, the team's leading scorer at 15.7 points per game, paired with numerous guards who can connect on 3-pointers with quick releases is a difficult combination.
"All their guards can shoot the ball at a high level. Running them off the line and just making it difficult for Aluma [is vital]," McGusty remarked. "We can't let him get comfortable. If he is comfortable, he is going to be able to catch the ball and either spray it out to one of his guards or back us down and get to his little jump hook.
"It's not going to be easy," he added, "but the defense is kind of what has propelled us and what we've been leaning on and what has taken us to this level so far. So, we've just got to keep trusting in our defense and put it all together for 40 minutes."
The first matchup between the two teams was a thrilling one, as Miami earned a 78-75 road triumph Jan. 26 at Cassell Coliseum in Blacksburg, Va. Moore banked in a half-court shot at the buzzer to earn the road win.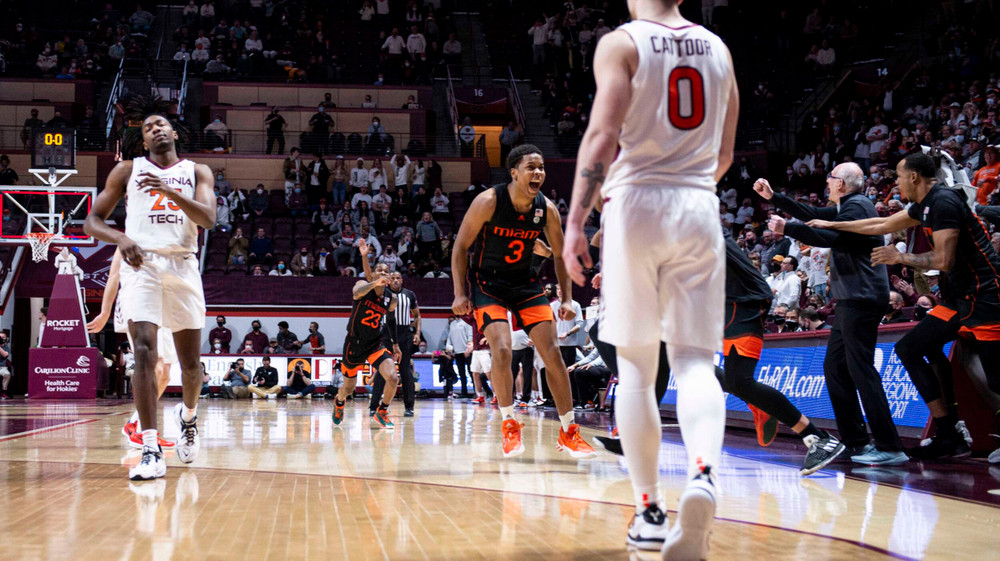 It is since that game that the Hokies have won seven of eight, upping their season ledger from 10-10 to 17-11 (9-8 ACC).
"After the game, we had all agreed that they were a lot better than what their record showed," McGusty said. "So, we have a lot of respect for Virginia Tech as a team and we've just got to come home and defend our home court. We haven't won a game at home since Georgia Tech. So we're looking to get back in that win column at home and send all the seniors and our fans out on a good note going into the conference and, hopefully, NCAA tournaments."
Saturday will be a special day at the Watsco Center, with Miami set to recognize McGusty, Moore, Waardenburg, fifth-year redshirt junior forward Deng Gak and sixth-year redshirt senior center Rodney Miller Jr.
The five have a combined 29 seasons of collegiate experience, including 22 at The U.
McGusty, in his fourth year at Miami, knows Saturday's home finale will be a "very emotional" one as he nears the end of a long and impressive collegiate career.
"Four years ago when I got here, man, I was broken. I lost my confidence at my last school. Nothing went as planned. And just to be able to get another chance to be able to rewrite my story, it's just been a blessing," McGusty shared. "And the way everything has gone—coming here, I'm thinking, 'As soon as I get here, everything is going to be back to normal.' I get hurt. We have injuries two seasons in a row. And now, just to finally see the light at the end of the tunnel from a team standpoint and an individual standpoint, it's just a blessing.
"The University of Miami means so much to me, just the relationships I've built, the stuff I've been through, the person it has made me and the player it has made me," McGusty continued. "I wouldn't change anything. So, it's definitely going to mean a lot to me playing on this floor for the last time."
As McGusty reflects back on his college tenure, he has life lessons he knows will prepare him for the future, after he leaves Coral Gables.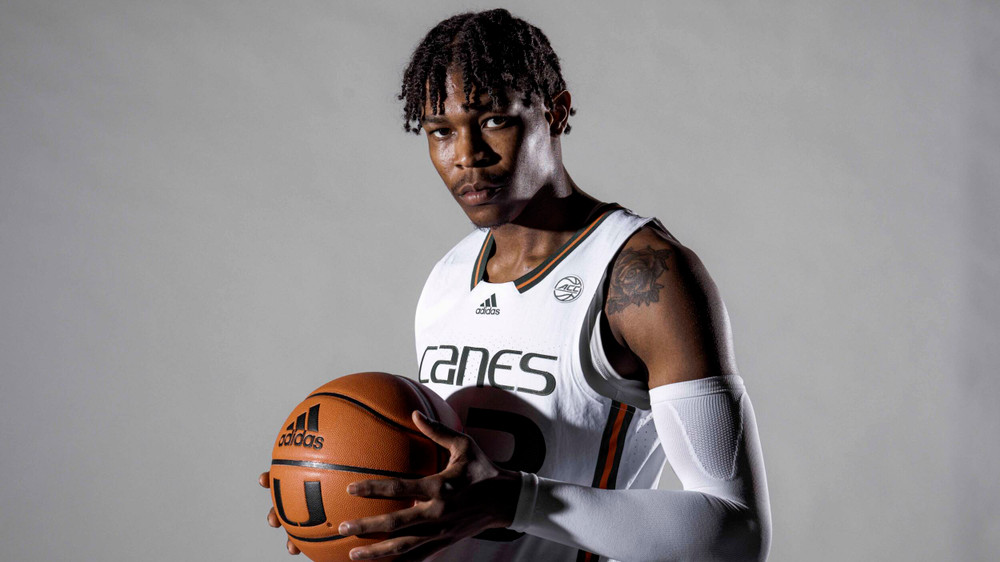 That applies not just to his basketball career, but even more so off it. Some of what he has learned even ties in to a consistent message from his head coach at The U, Jim Larrañaga.
"Just to never give up and always believe in yourself. Coming into college, I would've never imagined I'd be in college for six years and [playing a] fifth year at the University of Miami," McGusty shared. "So many things can happen. Coach L always says life is 10 percent what happens to you and 90 percent how you react to it. That's what my college career has been the last six years with the trials and tribulations, being able to react and stay strong throughout everything. It has been a blessing."
McGusty, though, knows a storybook ending is far from guaranteed and coming away with a Senior Day victory will not be easy.
Although Miami is 25-19 all-time against Virginia Tech, including 12-6 at home and 15-9 under Larrañaga, the last four games have all been fantastic matchups.
Two of them went to overtime, including one to three extra periods. Another ended with Moore's buzzer-beater and yet another featured a two-point final margin.
The four games, with two going to each team, were decided by just 16 combined points, seven of which were in the triple-overtime affair.
"My whole career, the times we've played against them, it has always … come down to the wire, whether it was overtime, a last-second shot or [Isaiah Wong]—his freshman year, my junior year—hitting that one-legged floater, I guess you could say, to seal the deal," McGusty said. "It's always a back-and-forth dog fight. So, I look forward to it. They're one of the more fun teams, in my opinion, to play against."
With a surely passionate pregame ceremony followed by a matchup of two teams in the top half of the ACC that continuously play exhilarating head-to-head games, Saturday could be exciting from start to finish.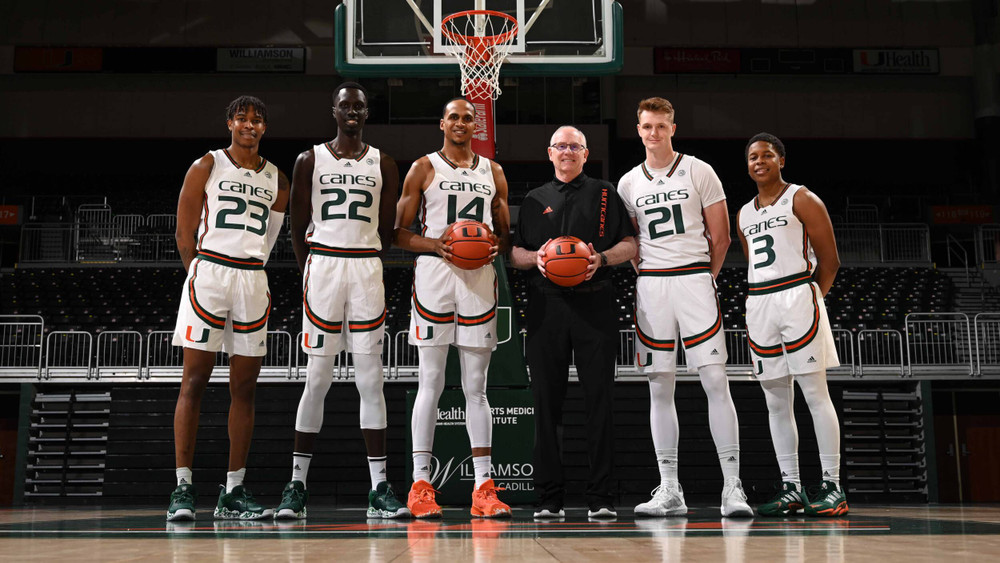 In addition to honoring its five senior players, the Hurricanes will also recognize eight managers before the game. The list includes co-head managers Henry Adams and Harrison Miller, as well as Isi Beraja, Ben Blackburn, Jake Cellar, Deven Connors, Ben Schuster and Aidan Shanahan.
Miami's home finale will be televised live on RSN—that is Bally Sports Sun locally—with Tom Werme and Brian Oliver on the call. A full affiliate is available HERE and it can also be seen on WatchESPN, subject to blackout, HERE.
Joe Zagacki will have the radio broadcast on AM 560 Sports WQAM HERE. Action can also be heard on 90.5 FM WVUM HERE and in Spanish on WMYM 990 AM HERE. In addition, live stats will be available HERE.
Following their matchup with Virginia Tech, the Hurricanes hit the road for back-to-back away games to cap the regular season, first traveling to Chestnut Hill, Mass., where they play Wednesday at 9 p.m. against Boston College, live on ACC Network from Silvio O. Conte Forum.
Single-game tickets for 2021-22 Miami men's basketball games are still on sale and can be purchased HERE or by calling the ticket office at 1-800-GO-CANES. For more details, dial that number or email canestix@miami.edu.
To keep up with the University of Miami men's basketball team on social media, follow @CanesHoops on Twitter, Instagram and Facebook.