MBB Rolls to 85-64 Road Win at Pittsburgh
PITTSBURGH – The University of Miami men's basketball team recorded a dominant wire-to-wire 85-64 victory Tuesday night against Pittsburgh at the Petersen Events Center.
Miami (20-8, 12-5 ACC) grabbed an early 12-point advantage, led by 20 points at halftime and upped its margin as high as 30 in the second frame, en route to clinching its first 20-win season since 2017-18. The triumph also moved head coach Jim Larrañaga into a tie for first place on the program's all-time wins list.
Sixth-year redshirt senior guards Kameron McGusty and Charlie Moore scored a co-team-high 19 points for the Hurricanes, who improved to 8-2 in true road contests this season.
"Well, I thought [keeping our feet on the pedal] was the whole key. When you get a lead, it's very easy for the players to let up," Larrañaga said. "They play the score instead of the game, but we didn't do that tonight. I think maybe that is because of the Virginia game where we had a 10-point lead [in the second half]. We thought we were in control and Virginia quickly came out and took over. So, tonight we didn't let Pitt do that."
The Hurricanes raced out to a 14-2 lead after just 3:33, making six of their first eight shots and forcing four turnovers at the other end, which they converted into nine points. Pittsburgh (11-18, 6-12 ACC) then scored 10 straight points in 98 seconds, with the first eight from graduate student forward Mouhamadou Gueye, to make it 14-12 with 14:22 on the clock.
After that burst by the home team, Miami regained control and steadily rebuilt the lead. The Hurricanes eventually closed the half on a 16-5 run in the final 5:01, including an 8-0 mark in the last 1:29. That upped the advantage all the way to 20, 47-27, at the intermission.
Miami shot 59.4 percent (19-of-32) in the session, its best first-half mark of the season, and forced 11 turnovers while committing just three, leading to an astounding 19-0 edge in points off giveaways. Moore, who ended the frame with a buzzer-beating jump-shot, and McGusty combined for 27 first-half points, tallying 14 and 13, respectively.
"I think everything we were trying to do worked successfully," Larrañaga said of his team's first-half performance. "Sometimes you come into a game with a good game plan and it works, everything is clicking, offensively and defensively. Sometimes you go into a game and you have a game plan, but the other team is very well prepared for what they think you're going to do and they are able to take advantage. But tonight, we were able to force turnovers and get into the open court. We were able to shoot the ball well and we had a number of assists early in the game that led to open shots."
The Hurricanes scored 10 of the first 14 points after the break, quickly upping their edge to 26, 57-31, with 17:19 remaining. Miami eventually stretched its lead to 30, 80-50, on a 3-pointer by McGusty with 4:58 to play.
That proved to be the largest margin of the night for the Hurricanes, as Pittsburgh then countered with 12 straight points in 2:44 to cut the deficit under 20 for the first time all half. Soon thereafter, a 3-pointer by freshman guard Bensley Joseph ended the scoring and gave Miami its second ACC win of the season by 20-plus points.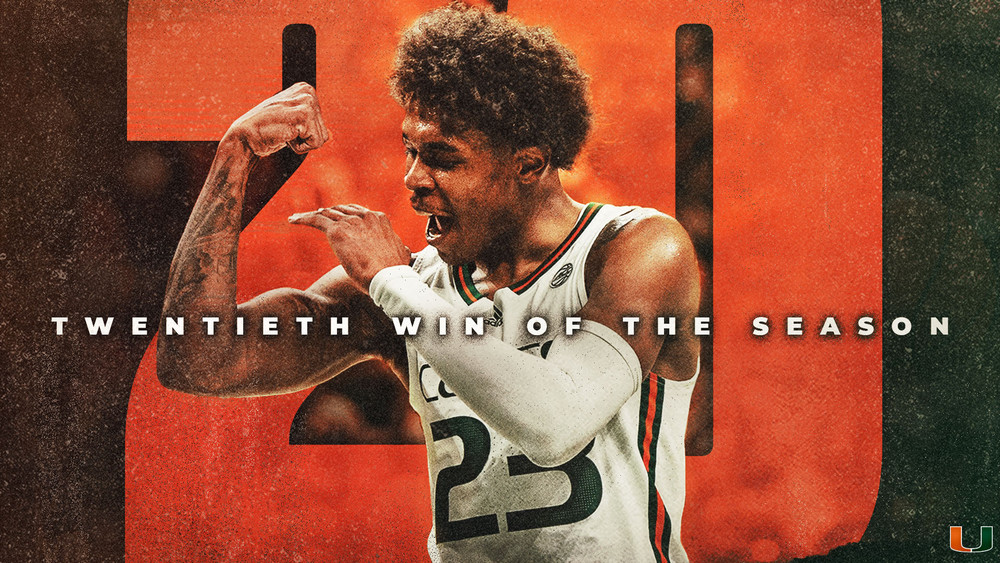 Moore's 19 points came on a stellar 7-of-10 clip from the field and he tallied a game-best five assists. McGusty scored his 19 points on a 7-of-13 mark, including a 3-of-5 ledger from deep, adding four rebounds, four assists and a co-game-high three steals.
Fourth-year junior guard Jordan Miller tallied 12 points on 6-of-8 shooting, as well as logged five rebounds and a co-game-high three steals. Sixth-year redshirt senior forward Sam Waardenburg also scored 12 points, including nine in the second half. Third-year sophomore forward Anthony Walker added seven points and a team-best six rebounds.
Pittsburgh sophomore forward John Hugley paced all players with 20 points, shooting 7-of-9 from the field and 6-of-9 at the stripe. He also grabbed a game-best seven rebounds.
Senior guard Jamarius Burton scored 12 points for the Panthers, but Miami held him to 4-of-11 shooting. Gueye finished with 11 points and sophomore guard Femi Odukale chipped in 10.
Miami ended the night shooting 55.2 percent (32-of-58) from the floor, including 45.0 percent (9-of-20) beyond the arc. It also notched a 75.0 percent clip (12-of-16) at the line.
Meanwhile, Pittsburgh registered 48.1 percent (25-of-52), 29.4 percent (5-of-17) and 52.9 percent (9-of-17) marks, respectively.
Miami logged 12 steals and, for the first time this season, forced 20 turnovers, leading to a 30-13 edge in points off giveaways. In addition, the Hurricanes had a 19-5 cushion in bench points and a 44-30 margin in paint points.
Miami now returns home to Coral Gables, Fla., where it hosts Virginia Tech on Senior Day, Saturday at 3 p.m. at the Watsco Center, live on RSN.
To keep up with the University of Miami men's basketball team on social media, follow @CanesHoops on Twitter, Instagram and Facebook.
MIAMI HURRICANES POSTGAME NOTES
– The Hurricanes moved to 25-20 all-time against Pittsburgh, including 9-10 on the road and 9-3 in Larrañaga's tenure.
– Larrañaga, who entered the game with the ninth-most victories of any active Division I coach, is now 690-472 in 38 years as a head coach, including 220-138 in 11 seasons at Miami.
– With 220 victories at Miami, Larrañaga tied Bruce Hale (1954-67) for the program's all-time wins record.
– Now owning 103 victories in ACC regular season play, Larrañaga tied Norman Sloan for No. 12 on the all-time list.
– For the 20th time this season, Miami used a starting lineup of McGusty, J. Miller, Moore, Waardenburg and third-year sophomore guard Isaiah Wong.
– Moore now has 57 steals in 2021-22, passing Steven Edwards (1992-93) to enter the top 10 on Miami's single-season leaderboard, placing co-ninth, alongside John Salmons (2001-02 and 2000-01).
– With 76 assists in ACC action this year, Moore entered the top three on the program's ACC-only single-season list, passing Anthony Harris (2004-05) for third place.
– With 59 steals in ACC action in his career, McGusty passed Guillermo Diaz (2004-06) to reach the top three on the program's all-time list, checking in at co-third, alongside Davon Reed (2013-17).
– McGusty now has 291 points in ACC competition in 2021-22, jumping from No. 11 to sixth on the program's ACC-only single-season list, passing Robert Hite (2005-06), Sheldon McClellan (2015-16), Chris Lykes (2018-19), Davon Reed (2016-17) and Rion Brown (2013-14).
– With 100 made field goals in ACC play this season, McGusty moved past Chris Lykes (2018-19), Davon Reed (2016-17), Kenny Kadji (2012-13), Jack McClinton (2007-08) and Robert Hite (2005-06), from No. 11 all the way up to co-fourth, alongside Rion Brown (2013-14) and Guillermo Diaz (2005-06) on the Hurricanes' ACC-only single-season leaderboard, becoming the sixth player in program history to reach triple digits.
– McGusty now has 35 steals in ACC competition this year, moving past Guillermo Diaz (2004-05) into second place on the program's ACC-only single-season list, behind only Moore, who has 38 this season.
– Miami clinched its 19th 20-win campaign in program history, including its seventh in Larrañaga's 11 years at the helm.
– In reaching 20 wins in 28 games, Miami tied the 11th-fastest mark in its history, becoming the 14th Hurricane team to get there in fewer than 29 contests.
– The Hurricanes improved to 19-2 this season when scoring 65-plus points, including 17-2 when scoring 70-plus.
– Tuesday marked the 12th time this season the Hurricanes have posted double-digit steals, including the ninth in the last 14 outings.
– The previous top mark for giveaways by a Miami foe this season was 19 by Syracuse on 1/5/22.
– The last time Miami shot 50-plus percent in both halves was 1/26/22 at Virginia Tech.
– In the opening 3:33, during which the Hurricanes grabbed the early 14-2 edge, all five Miami starters made a field goal.
– Tuesday marked the second time this season Miami has led by 20-plus points at halftime in ACC play, alongside its 1/18/22 outing versus North Carolina when it held a 49-22 edge at the break.
– The Hurricanes' previous best first-half field-goal clip this season was a 59.3 percent mark (16-of-27) versus Wake Forest on 1/1/22.
– The first-half 59.4 percent mark tied for the fifth-best ledger in any half by the Hurricanes this season, including the sole fifth-best in ACC play.
– The 21-point margin of victory is the third-largest of the season for Miami, behind the 28-point win, 85-57, over North Carolina on 1/18/22 and the 27-point triumph, 86-59, against Florida A&M on 11/21/21.
– Waardenburg, who reached 75 made 3-pointers at Miami, tallied double-digit points for the 22nd time, including the 10th this year.
– Moore, who surpassed 550 made field goals in his career, scored in double figures for the 76th time, including the 19th this season.
– Moore recorded his 47th five-assist performance, including his 10th in 2021-22.
– McGusty, who eclipsed 300 made free throws and 1,700 points as a collegian, scored double-digit points for the 89th time, including the 61st as a Hurricane and 26th this year.
– J. Miller, who moved past 3,000 minutes played in his career, scored double-figure points for the 61st time, including the 11th this year.
– Freshman guard Wooga Poplar played an ACC-only career-high 16 minutes and grabbed five boards, one shy of his top mark and one off the team lead.