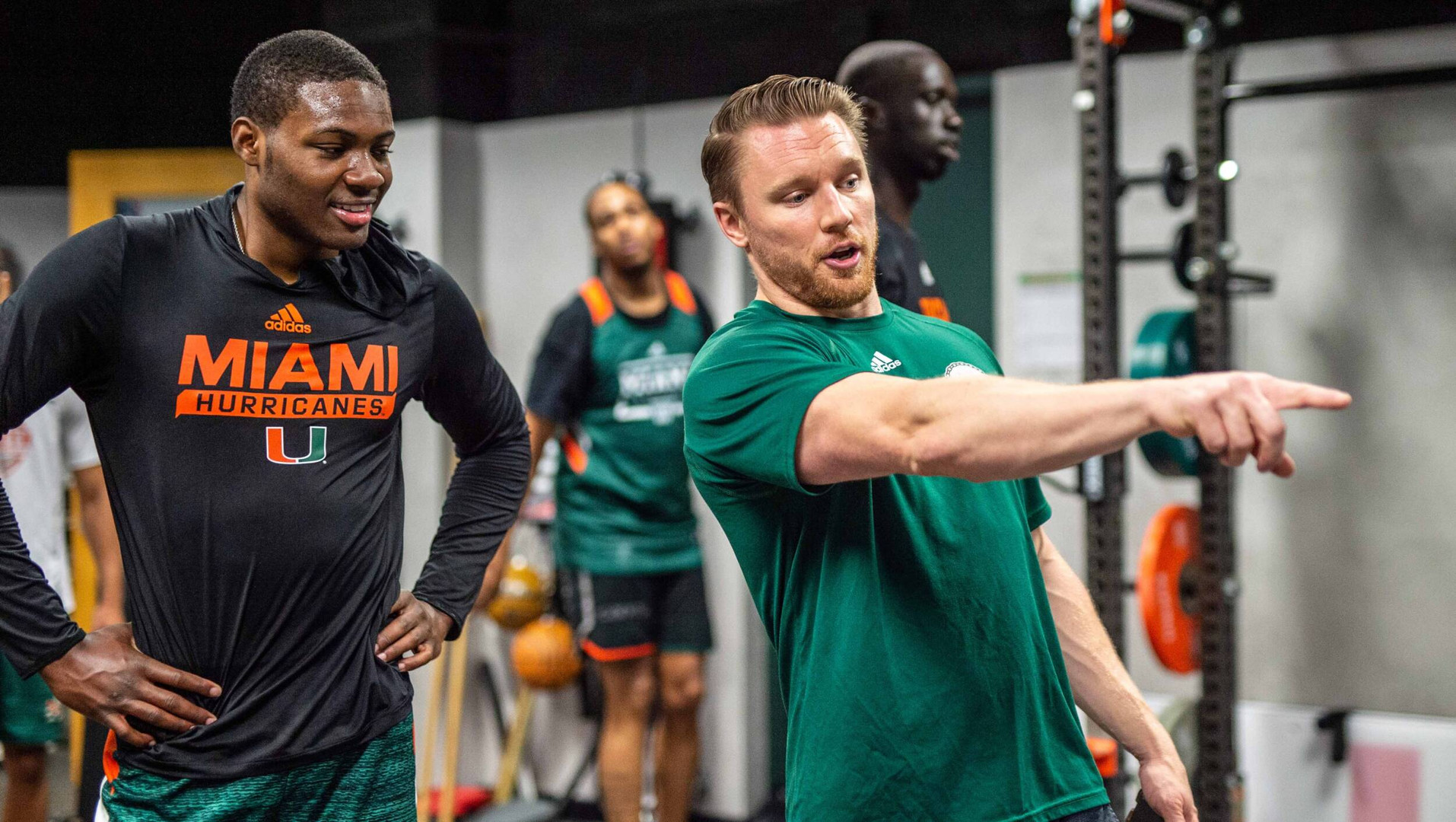 CORAL GABLES, Fla. – Nearly all season long, the University of Miami men's basketball team has excelled in late-game situations.
The Hurricanes have consistently fended off opponents' late runs and, as evidenced by their 10 wins when trailing in the second half, churned out comebacks of their own.
Miami (19-7, 11-4 ACC) turned in its most recent such display Wednesday night in a 70-63 victory over Louisville at the KFC Yum! Center, the program's first road triumph over the Cardinals.
Louisville trimmed a 12-point deficit down to three. Then, after the Hurricanes pushed their edge back up to 10 with just 3:31 left, the Cardinals cut it to three once again, with 1:10 to go.
Miami, though, ended the game on a 6-2 run in the final 35 seconds, once again holding strong to earn a conference win, this time in front of 12,065 fans. While lifting and conditioning certainly play a part in the team's ability to close out games, the players' mindset is the most important element.
"It really starts with us just having competitive guys. I can say we did different conditioning protocols in the fall here or late in the summer, but it really boils down to our guys wanting to win," Miami strength & conditioning coach Phil Baier said. "So, that's first and foremost where you see this energy. But from my end of things, it [is really about] the guys making sure they are continuing their habits, they are continuing their routines. They are believing if I say, 'Hey, we should do this stretch' or 'We should hydrate with this' or 'We should eat this and it's going to show up later in the season or later in games and that's going to be what fuels you to perform.' We have a great group of guys who trust us—myself, [athletic trainer] Sam Johnson and Nate Diaz, our nutritionist—in terms of us providing a service and providing supplies for them to be successful."
Miami's entire starting lineup played 31-plus minutes at Louisville, but still had the energy—both physically and mentally—to stem the home team's tide and earn the win.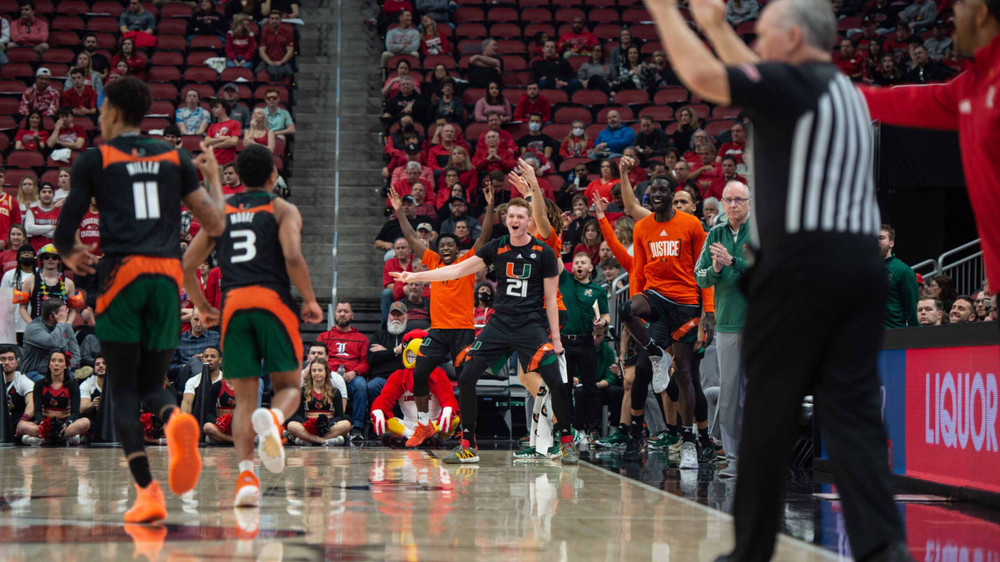 Third-year sophomore guard Isaiah Wong and sixth-year redshirt senior guard Charlie Moore co-led the Hurricanes with 15 points apiece. Wong, who converted a critical four-point play with 3:31 remaining, pulled down a co-season-high eight rebounds. Moore, who hit three 3-pointers in the first five minutes, added five assists and a co-game-best three steals.
Sixth-year redshirt senior guard Kameron McGusty, whose elbow jump-shot with 34.4 seconds left upped the edge from three to five, totaled 14 points and a season-best six assists. Fourth-year junior guard Jordan Miller, in his second game back from a right leg injury, added 10 points on 5-of-6 shooting to go along with seven rebounds.
Sixth-year redshirt senior forward Sam Waardenburg chipped in eight points to go along with a game- and season-high nine rebounds, as well as a career-high-tying three blocked shots.
All of those players—as well, of course, as Miami's valuable reserves—need to be able to keep up that same level of late-game effort as the season progresses. That can assuredly be difficult as the schedule inches towards late February and beyond.
Baier, in his third year at The U, knows it is imperative to keep players' bodies in the right condition as the end of a campaign approaches.
"Staying fresh late in the season is really all based upon the foundation you lay in the offseason and the habits you've built," he shared. "You train extremely hard in the offseason, you practice, you develop your skill work and you develop these routines that have led you to, hopefully, the success you've experienced right now. And it becomes a challenge, at times, to maintain these routines as the schedule [gets deeper] or as expectations increase. So, right now, we really focus on training twice a week.
"We focus on making sure guys are getting eight hours of sleep and drinking half their body weight in ounces of water," Baier continued. "And then, we try to provide them with as many opportunities to fuel/eat as possible. The main goal is to replicate that every single day, whether it is a lift day with practice, whether it's a lift day by itself, whether it's just a practice day or, obviously, a game day."
An added element that can make late-season preparation even more difficult is when players must prepare for a game on short rest. That is the case now for the Hurricanes.
Miami, just two-and-a-half days after getting back to campus following the victory in the Derby City, will take the court once again. It is slated to host Virginia Saturday at 5 p.m. at the Watsco Center.
When readying for such a quick turnaround, it is imperative the entire staff is on the same page about how to handle it. Beyond that, alterations must be made for different players based off their workload in games.
And, of course, making sure the players put the right food and drink in their body becomes of added importance.
"We give them hydration supplements. We'll add calories or recovery to their fueling through smoothies and different meals or editing menus to kind of make sure they're picking correct options," Baier said. "On my side of things in particular, we'll do different stretch routines. We have utilized yoga in the past. We'll make sure we structure our practice properly so it's not taxing them too much, but we are still getting out and moving and making sure we're not just being completely stationary. It's really a staff-wide approach. I'm not going to come in and have our starters—our high-minute guys—do conditioning, but they're going to need to move. Our middle- and low-minute guys are going to come in and do some work to make sure they are staying on the right track."
Miami has already played Virginia this season, dropping a 71-58 road decision Feb. 5 at John Paul Jones Arena in Charlottesville, Va. It is the team's lone ACC loss by greater than four points.
The Hurricanes logged 13 steals, including seven from Miller to tie a program record in ACC play, but still came up short. Virginia shot 60 percent (30-of-50) from the floor, good for the highest mark by a Miami foe in over four years.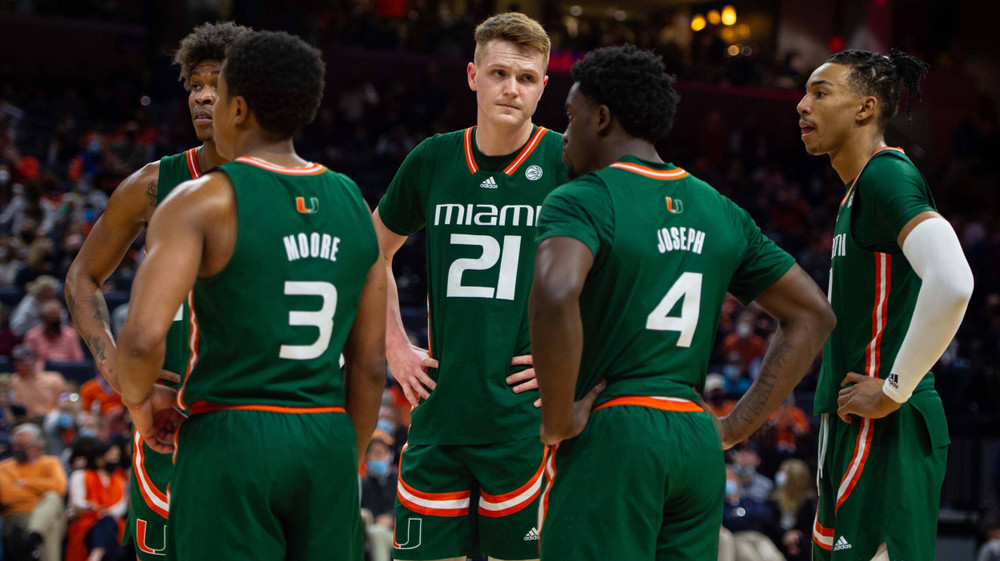 "Obviously, the last game versus Virginia, we're going to take and we're going to learn from it," Baier said. "Hopefully, Saturday we put out a great product, compete our tails off and come out on the right end."
Miami is 12-14 all-time against Virginia, including 7-3 at home and 3-10 under 11th-year head coach Jim Larrañaga.
The Cavaliers, according to KenPom, play at the slowest adjusted temp of any team in the nation. The website lists their average possession length among the three longest both offensively and defensively.
That, despite the familiarity from the matchup two weeks ago, is a different type of opponent to get ready for than most others Miami faces in ACC. The Hurricanes need to be prepared for a measured, grind-it-out contest where they must lock in on their sets, at both ends of the floor, for extended periods of time.
Baier does not change his physical approach for the players much for such a game. He does, however, address the mental element with them.
"It's going to be a little bit more of a mindset. I'll talk to guys about how, in the offseason, you only get four days a week to train and you've got to take advantage of every opportunity," Baier said. "This team is going to slow the game down. This goes back to what we talked about in the offseason and continue to train in-season here; you've got to take advantage of every opportunity because in this game, there are going to be fewer of them. They're going to slow it down. Those are really more one-on-one conversations. So, we may need to be smarter. We may need to be more aggressive. We may need to carry a more physical mindset to what we're doing."
This outing will be Miami's 27th of the season, matching the total it played during the entirety of the COVID-shortened 2020-21 campaign.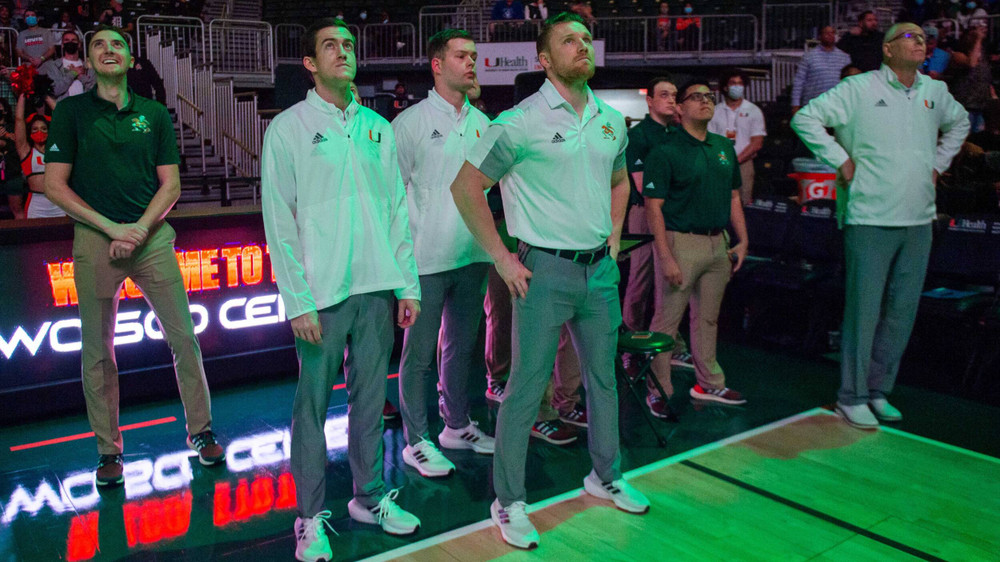 The Hurricanes still have several games beyond Saturday this season and have all their goals still within reach. They enter the stretch run of the season seeking to keep up their strong play and add to their stellar win total, while not looking beyond the game right in front of them.
Miami, according to Baier, also has the ideal mentality, on multiple fronts, going into the last quarter of conference play.
"Man, I think we're in a great spot. We've got experienced, competitive dudes who really trust this staff," he shared. "That goes all the way from Coach L down through our assistants to me to Sam to Nate. They trust the program we're putting in front of them and they know that we have their best interests in mind.
"From a mindset standpoint, they're really looking at it one game at a time," he continued. "But, in terms of the stretch run, I think everybody is excited. I think everybody is going to continue doing what we're doing and continue to prepare the right way and [that gives us the opportunity to] compete for a championship in March. That's what it's about."
Saturday's contest is also Miami's fifth annual #Fight4Literacy game. In Florida, nearly 30 percent of fourth-grade students cannot read at even a basic level. Less than 38 percent are considered proficient. These statistics are critical.
Illiteracy costs our nation's health care system hundreds of billions of dollars per year and indicates future rates of poverty and crime. But, in partnership with Coaching for Literacy, the Miami men's basketball team hopes to change those statistics in Miami-Dade through its fifth #Fight4Literacy game presented by International Paper.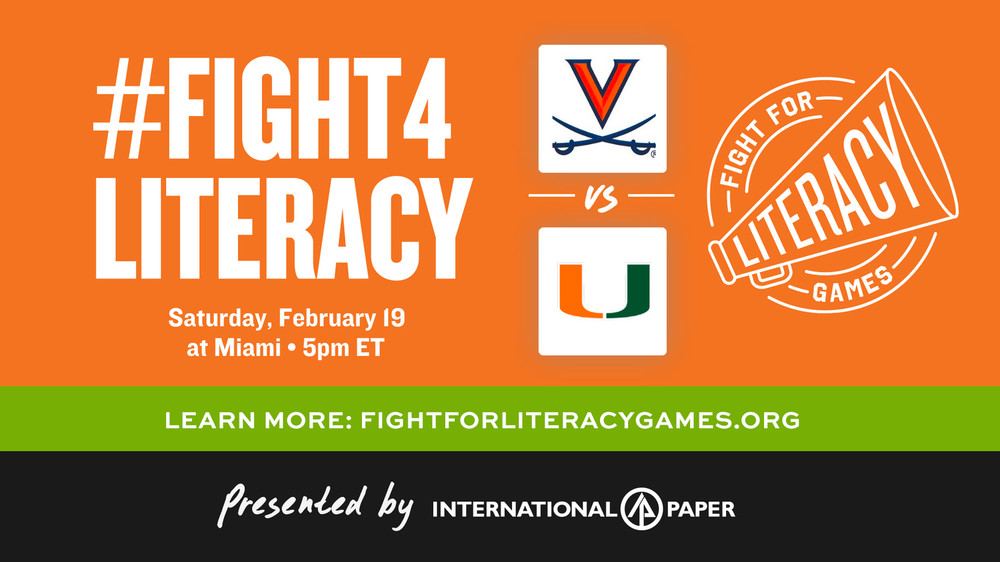 Larrañaga and his staff will wear green lapel pins and wristbands to raise awareness for literacy. Fans are invited to make a donation in support of local programs. One hundred percent of funds generated at the game will stay in Miami-Dade through grant partnerships with CARE Elementary. Since 2013, Coaching for Literacy has granted more than $730,000 to local literacy partners to fund initiatives like mentoring, after-school programs and providing age-appropriate books for children.
The Hurricanes' game against Virginia will be televised live on ACC Network HERE, with Jay Alter and Jordan Cornette on the call. Joe Zagacki will have the radio broadcast on AM 560 Sports WQAM HERE. Action can also be heard on 90.5 FM WVUM's Mixlr channel HERE and in Spanish on WMYM 990 AM HERE. In addition, live stats can be found HERE.
Following their matchup with the Cavaliers, the Hurricanes head to Pittsburgh, where they play at the Petersen Events Center at 8 p.m. against Pittsburgh, live on ACC Network, in their first Tuesday game in five weeks.
Single-game tickets for 2021-22 Miami men's basketball games are still on sale and can be purchased HERE or by calling the ticket office at 1-800-GO-CANES. For more details, dial that number or email canestix@miami.edu.
To keep up with the University of Miami men's basketball team on social media, follow @CanesHoops on Twitter, Instagram and Facebook.