MBB Drops 71-58 Decision at Virginia
CHARLOTTESVILLE, Va. – The University of Miami men's basketball team fell, 71-58, Saturday night against Virginia on the road at John Paul Jones Arena.
One of the best long-range shooting teams in its league, Miami (16-7, 8-4 ACC) struggled from deep in the setback, while the Cavaliers shot a blistering 53.3 percent (8-of-15) beyond the arc in the win. Sixth-year redshirt senior guard Kameron McGusty scored a team-high 21 points for the Hurricanes, who have dropped back-to-back contests for the first time all season.
"Well, when you play Virginia, one of the key statistics is—because they pack the lane—that you've got to make threes," Miami head coach Jim Larrañaga said. "We were 2-of-12 in the first half and we only made two more in the second half. That kind of was the difference in the game. We needed to shoot the ball better."
Virginia (14-9, 8-5 ACC) went on a 14-4 run midway through the first half, during which it held the Hurricanes without a point for 4:47, to build a 21-14 edge with 7:38 on the clock.
Shortly thereafter, following a 0-of-10 start from 3-point range, Miami made back-to-back shots from long range to trim its deficit to four. The Cavaliers, however, scored the final five points of the half, with junior guard Armaan Franklin's buzzer-beating 3-pointer giving them a then-game-high nine-point edge, 35-26, at the break.
Despite its slow start from deep, Miami did make 10 of its first 14 shots inside the arc to stay in the game. However, Virginia went 5-of-7 (71.4 percent) from deep at the other end and got 15 first-half points from Franklin, who shot 6-of-9 overall through 20 minutes.
The Cavaliers posted a stretch of six consecutive field goals early in the second half, during which they went up, 48-34, with 14:09 remaining. McGusty responded soon after with back-to-back 3-pointers to pull Miami within 10, but Virginia then went on a 7-0 run to go up by a then-game-best 17 points, 57-40, with 10:04 on the clock.
The Hurricanes got no closer than 13 the rest of the way, while the Cavaliers upped their edge as high as 21 in the home win. The 13-point setback was Miami's first by greater than four in ACC play this season.
McGusty's 21 points came on an exceptional 9-of-13 clip from the field. The Katy, Texas, native went 3-of-5 from 3-point range, while the rest of the team shot just 1-of-12. In addition, with his first basket of the night, McGusty surpassed 1,000 points as a Hurricane.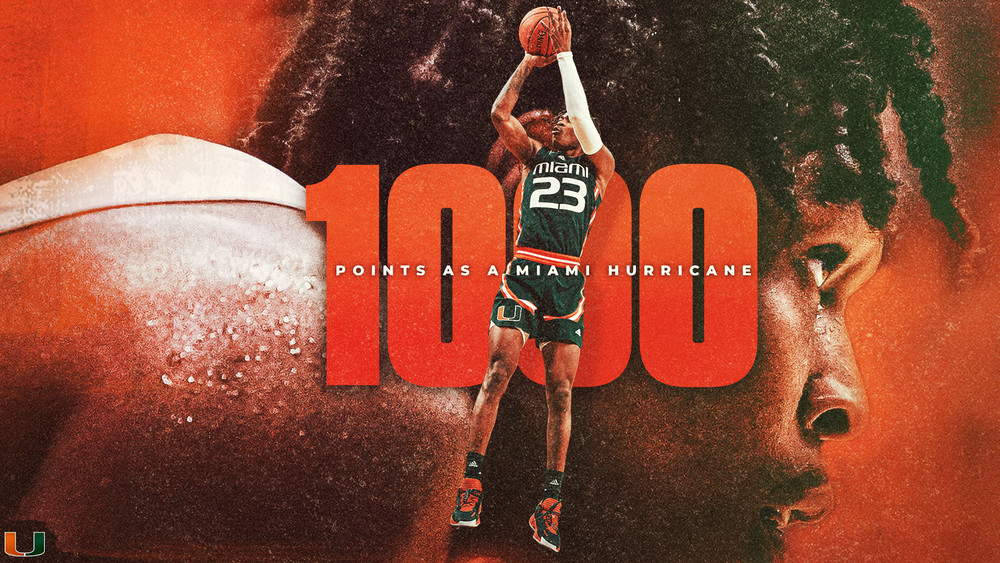 Fellow sixth-year redshirt senior guard Charlie Moore scored 17 points on 8-of-13 shooting for Miami. Meanwhile, fourth-year junior guard Jordan Miller tallied a career-high seven steals, including four in the first eight minutes, to tie the program record in ACC play and match the second-highest total in school history. The figure also tied the John Paul Jones Arena record and set a new top mark by a visiting player. A native of nearby Middleburg, Va., Miller also dished out a co-team-high four assists to double his season high.
Franklin paced all scorers with 22 points for Virginia, as he finished 8-of-16 from the floor, as well as added four assists and four steals. Senior forward Jayden Gardner tallied 12 points, a game-high seven rebounds and four assists.
Senior guard Kihei Clark scored 11 points in the win, while sophomore guard Reece Beekman registered nine points and a game-best 10 assists.
Although the Hurricanes, who notched a season-low point total, shot a strong 54.0 percent (27-of-50) from the floor, Virginia posted a dazzling 60.0 percent clip (30-of-50), good for the best mark by a Miami opponent in over four years.
Neither team attempted a free throw in the first 36 minutes and the Hurricanes, for the first time ever in ACC play, ended the night with zero makes or attempts from the line.
Up next for the Hurricanes is a home matchup with Georgia Tech Wednesday at 7 p.m., live on RSN from the Watsco Center in Coral Gables, Fla.
To keep up with the University of Miami men's basketball team on social media, follow @CanesHoops on Twitter, Instagram and Facebook.
MIAMI HURRICANES POSTGAME NOTES
– The Hurricanes moved to 12-14 all-time against Virginia, including 4-9 on the road and 3-10 in Larrañaga's tenure.
– Larrañaga, who entered the game with the ninth-most victories of any active Division I coach, is now 686-471 in 38 years as a head coach, including 216-137 in 11 seasons at Miami.
– For the 17th time this season, Miami used a starting lineup of McGusty, J. Miller, Moore, sixth-year redshirt senior forward Sam Waardenburg and third-year sophomore guard Isaiah Wong.
– Now with 30 steals in ACC play this season, Moore moved from fourth up to co-third, alongside Anthony Lawrence II (2017-18), on Miami's ACC-only single-season list.
– McGusty, who reached 1,000 points on a jump-shot with 16:56 on the first-half clock, is the 43rd Hurricane to reach quadruple figures, including the 28th to do so in three or fewer seasons and the 12th to do so under Larrañaga.
– J. Miller's seven steals tied for the most ever by a Miami player in an ACC contest, matching the mark Moore set on 1/8/22 at second-ranked Duke.
– J. Miller is just the fourth player in program history to notch seven-plus steals in a game, joining Moore, Jerome Scott (nine on 3/4/91 versus FIU) and Vernon Jennings (seven on 1/5/00 versus West Virginia).
– J. Miller is the third Hurricane during the ACC era (since 2004-05) to record five steals in a half, including the second this season, as Moore did so in the first session on 1/8/22 at second-ranked Duke.
– Just five times in program history has a Miami player logged six-plus steals in an ACC game, with three of them coming this season, including J. Miller doing so twice, as he notched six on 1/5/22 versus Syracuse.
– Before J. Miller broke the mark Saturday, the record for most steals by an opposing player at John Paul Jones Arena was six by Georgia Tech's Jose Alvarado on 1/23/21.
– The only other player to post seven steals in a game at John Paul Jones Arena is Virginia's Sean Singletary, who did so on 2/24/08.
– Miami finished with just 19 rebounds, its second-fewest ever in ACC play, trailing only the 16 it recorded against Duke on 1/4/07.
– This is the second time in 2021-22 a Division I team took zero free throws in a game, with Miami joining Merrimack (11/21/21 at Virginia Tech) on the list.
– The only other time the Hurricanes did not make multiple free throws in an ACC affair was on 1/30/21 at Wake Forest.
– For the third consecutive game, Miami did not force more turnovers than it lost, as each team logged 13 giveaways, with that mark tying for the Hurricanes' second-most this year.
– This is the first time all season Miami lost when shooting 50-plus percent, as it was previously 6-0, and it is just the 10th time in Larrañaga's tenure the Hurricanes lost when making at least half their shots, as they were previously 86-9.
– The Hurricanes' 58 points tied for their most in a road game at Virginia during Tony Bennett's 13-year tenure as head coach, matching the mark set on 1/12/16.
– The two starting point guards Saturday night, Miami's Moore and Virginia's Clark, have now combined for 201 collegiate starts across 256 outings.
– The last time a Miami opponent shot 60 percent from the field was on 1/27/18 when Florida State went 33-of-55 in Tallahassee, Fla.
– Prior to Saturday, the Hurricanes had won seven consecutive games when allowing 70-plus points.
– The Cavaliers are the first team to shoot over 50 percent in both halves against the Hurricanes since Wake Forest on 1/1/22.
– Virginia recorded 11 steals, tied with Georgia Tech on 1/29/22 for the most by any Miami foe this season.
– Beekman's 10 assists tied for the top mark by a Miami foe this season, matching the number by No. 10/9 Alabama's JD Davison on 11/28/21 in Kissimmee, Fla.
– In addition to eclipsing 1,000 points in his Miami tenure, McGusty also moved past 1,600 total points in his entire college career.
– McGusty, whose nine made field goals matched the ACC high he set on 3/5/21 against Boston College, registered his 22nd 20-point showing, including his 16th at Miami and his ninth this season.
– McGusty tallied double-digit points for the 84th time, including the 56th as a Hurricane and the 21st this year.
– Moore scored in double figures for the 72nd time, including the 15th in 2021-22.
– Waardenburg reached 200 made field goals as a collegian.
– Third-year sophomore forward Anthony Walker, who reached 50 steals at Miami, tied a career high with four assists, doubling his season high, in just 12 minutes of action.
– Freshman guard Bensley Joseph recorded multiple steals for the first time and notched his first blocked shot.