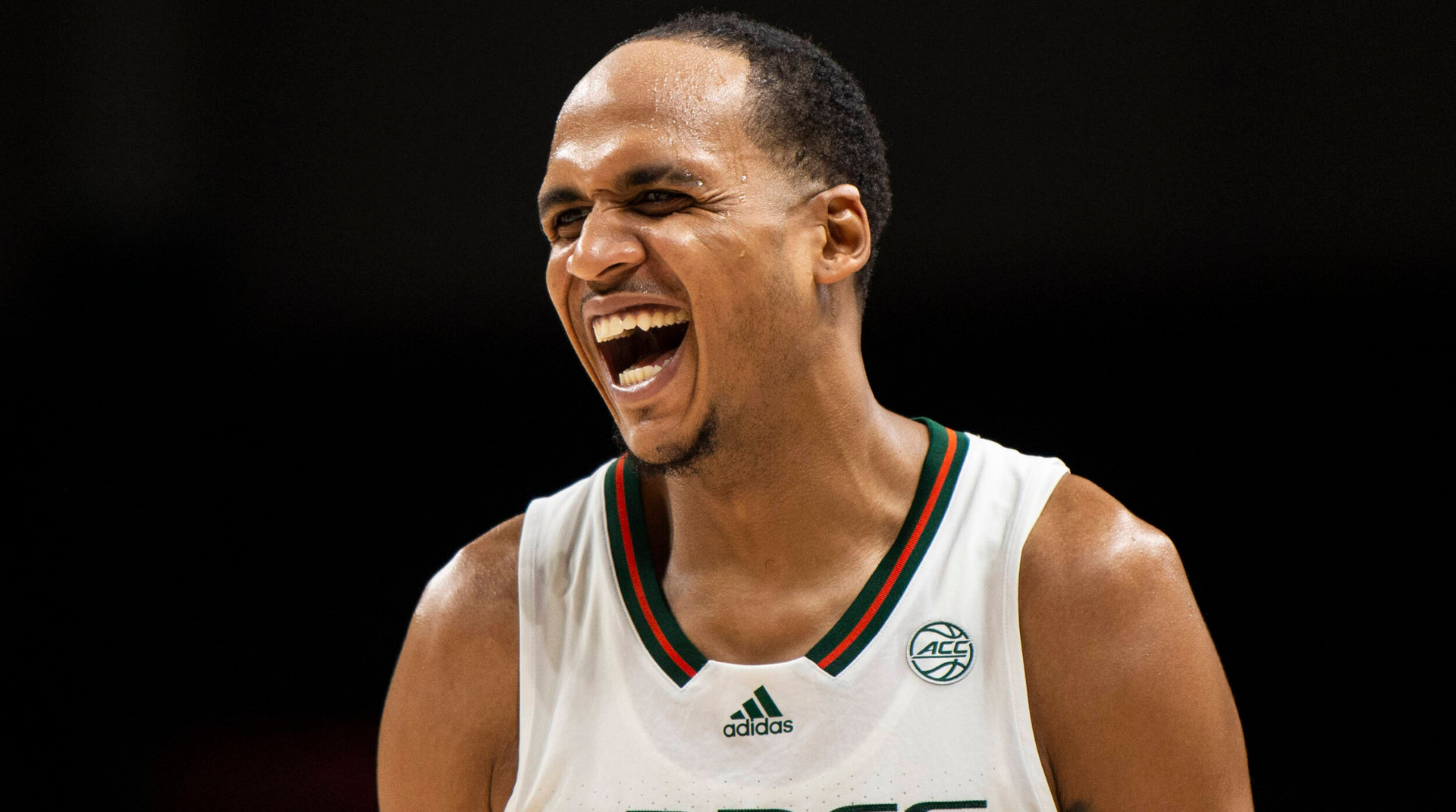 CORAL GABLES, Fla. – The University of Miami men's basketball team picked up a 12th win in its last 14 outings Saturday afternoon at Georgia Tech.
Miami (16-5, 8-2 ACC) led by 19 points with under 14 minutes left, but the Yellow Jackets, behind an 11-0 run, battled back to pull within six points down the stretch. It was a 65-59 game with 3:53, coming out of the final media timeout.
From there, the Hurricanes outscored the home team by an 8-3 margin to earn an 11-point win, 73-62, at McCamish Pavilion in Atlanta. It showed, once again, that this experienced Miami team does not collapse in any situation.
"Like [head coach Jim Larrañaga] says, basketball is a game of runs. We know they're going to make their runs and it's just one of those things we've got to hold off and persevere [against] and be resilient about," sixth-year redshirt senior Rodney Miller Jr., said. "But, what Coach L has been saying for the past several games, he's like, 'You guys have had tremendous poise down the stretch.' And to speak on that, we have. I feel like that's what has been key in us winning. We've been really poised in the last … four minutes of the games. I feel like that has really helped us come out on top.
"I think that is credited to a lot of the seniors on the team," Miller continued. "We've been in close-game situations multiple times so we've been able to handle it."
Sixth-year redshirt senior guard Kameron McGusty paced Miami with a game-high 20 points, including 16 in the final 21 minutes, in front of his former teammate, NBA All-Star Trae Young. Fourth-year junior guard Jordan Miller posted 13 points and eight rebounds, while sixth-year redshirt senior guard Charlie Moore totaled 12 points and eclipsed 1,500 total in his career.
The Hurricanes' triumph at Georgia Tech was their fifth in six tries on the road. They are one of just 14 teams in the nation to win five-plus road games without losing multiple such outings.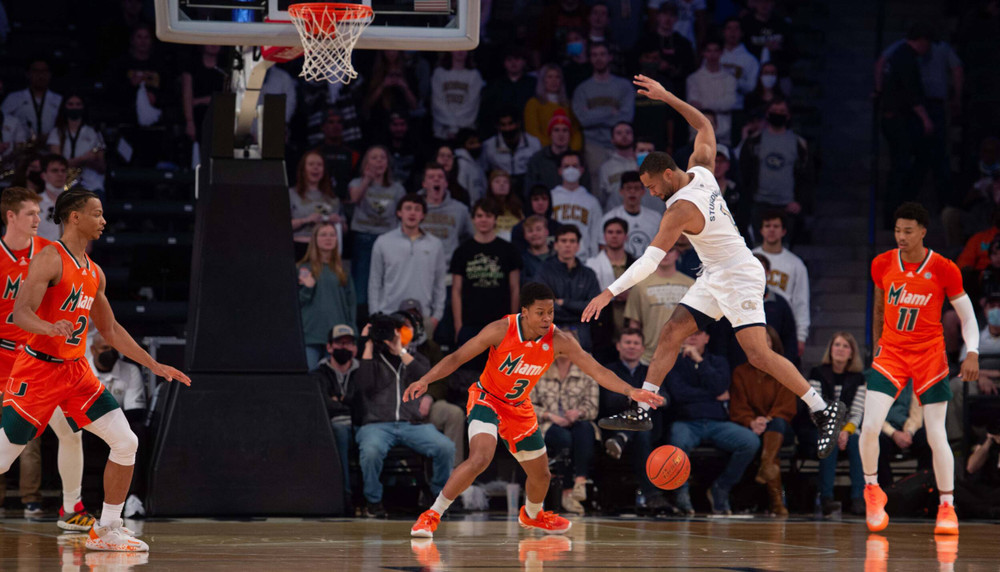 Last week, Miami won two road tilts in the span of just four days. Before knocking off the Yellow Jackets, the Hurricanes won at Virginia Tech, 78-75, on a half-court buzzer-beater by Moore.
To Miller, a sixth-year redshirt senior center, the Hurricanes' ability to take teams down in their home gyms ties in to their confidence in late-game situations.
"It's just a credit to our resilience because road games are the toughest, but a lot of us, we actually turn it into … something we look forward to," Miller said. "We definitely accept and embrace the challenge, especially at places like Cameron Indoor or at Virginia Tech. We know we're going to have great games and you need to put your best foot forward. I feel like that's when we really play our best basketball; we really step up to the plate."
As much as the Hurricanes enjoy going on the road and silencing an opposing crowd, they also love playing in front of their home fans. For the first time in 11 days—since the sell-out against Florida State—they will do just that Wednesday night.
Miami is slated to play Notre Dame at 7 p.m. at the Watsco Center, in a matchup of two teams in the top three of the ACC standings.
"I feel like this crowd has probably been the best it's been since I've ever been here," Miller said. "The fans really need to understand how important a home-court advantage is to us; it's amazing how much it helps us win the game. So, I'm super excited. I love being in the Watsco seats and listening to the fans go crazy. We definitely need all the support we can get. It's a big chance for us, so we definitely need all the energy we can get."
Miami is 12-14 all-time versus Notre Dame, including 6-6 at home and 5-6 in Larrañaga's tenure. Most recently, the Fighting Irish earned a 71-61 home victory on Feb. 14, 2021.
The Fighting Irish, who plays ninth-ranked Duke on their home court Monday night, are currently 14-6 (7-2 ACC) on the season. They are 10-1 in their last 11 games, with the lone loss by six points at Virginia Tech.
Notre Dame owns a victory over Kentucky, currently ranked fifth in the country, and is top-40 in the nation in offensive efficiency, per KenPom. The Fighting Irish are led by fourth-year junior guard Dane Goodwin, who is shooting 50.0 percent from 3-point range and averaging 15.4 points per game.
"They shoot the ball well. So, just like all the other games, we're going to have to put our best foot forward and we're going to have to prepare," Miller shared. "Coach L says, 'Hey, how do you guys feel about playing an early game, a late game or this type of game?' And it doesn't really matter because the way we prepare, we're going to be prepared regardless, whatever the time, where [the game is or whatever] the location.
"The coaching staff does an amazing job with preparations and scouts, and they make sure we're definitely ready and prepared for every game," Miller added. "So, I'm super excited to compete against Notre Dame."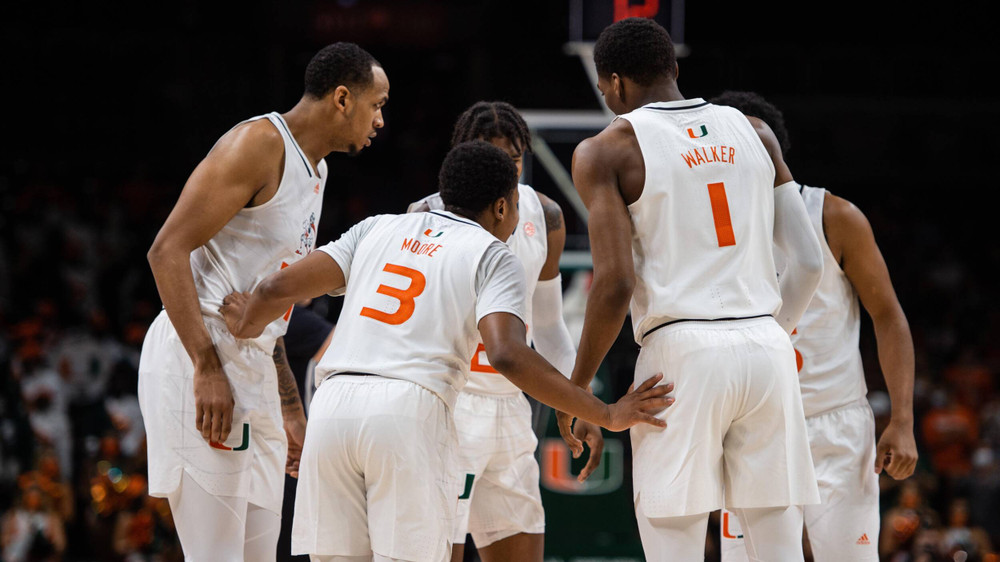 The Hurricanes and Fighting Irish actually have quite a few similarities on the hardwood. Both shoot efficiently from the field, rarely turn the ball over and do not crash the offensive glass much.
Virginia Tech head coach Mike Young even described the Hurricanes as "Notre Dame on steroids" after last week's walk-off matchup in Blacksburg, Va.
After several games against teams that play quite different from Miami, this contest will be the opposite. Miller knows effort becomes that much more important when alike teams face off.
"A lot of times you'll see teams beating other teams and it's purely due to matchups. Every game is different because the matchups are different. So, when you go up against a team that's similar to your play style, one of the top things you need to do is just outwork them," the Laurelton, N.Y., native said. "[You need to] be relentless on the court and just play harder than them. Basketball [games are] a sprint, a race. You've got to outwork your opponent, especially when [there are] similarities in the play style. But, just like what Coach L has been saying, we've just got to be prepared, know their personnel, know what they want to do and take that away from them."
Despite being currently tied atop the ACC in the loss column with two setbacks apiece, both Miami (No. 12) and Notre Dame (eighth) were picked to finish in the bottom half of the league in the preseason poll.
Nonetheless, both teams have proven doubters wrong through 20-plus games. Each is receiving votes in the national polls and Wednesday's showdown is a key one at the midpoint of the ACC season.
Miller, much like his teammates, is enjoying the season thus far and doing what he can, even when he is not in the game, to help the Hurricanes continue stacking victories.
"Honestly, it's really easy to have fun when you're winning, especially with your brothers. I feel like this team is so supportive and it's just a great group of guys we've got here together," he said. "We're working really hard. Right now, we've just got to stick to it, put our heads down and just keep going. And I feel like [there is something] I can provide to this team that's simple that nobody has to ask for and that's energy. That's what I'm going to bring. I'm going to help any way I can and just keep helping this team, being a leader on and off the court. That's what I'm going to do. I'm having fun with it. We're loving it, we're enjoying it and the fans are into it. We're just going to ride this out."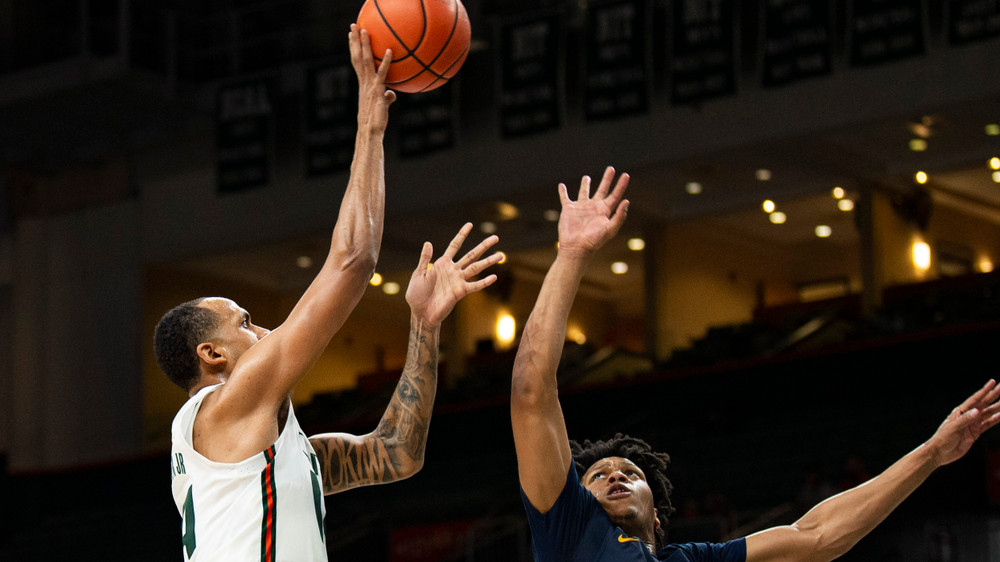 Miami's meeting with the Fighting Irish will be televised live on RSN—that is Bally Sports Sun locally—with Tom Werme and Mike Gminski on the call. A full affiliate is available HERE and it can also be seen on WatchESPN, subject to blackout, HERE.
Joe Zagacki and Danny Rabinowitz will have the radio broadcast on AM 560 Sports WQAM HERE. Action can also be heard on 90.5 FM WVUM HERE and in Spanish on WMYM 990 AM HERE. In addition, live stats can be found HERE.
After playing Notre Dame, the Hurricanes travel to Charlottesville, Va., where they meet Virginia Saturday at 5 p.m., live on ACC Network from John Paul Jones Arena.
Single-game tickets for 2021-22 Miami men's basketball games are still on sale and can be purchased HERE or by calling the ticket office at 1-800-GO-CANES. For more details, dial that number or email canestix@miami.edu.
To keep up with the University of Miami men's basketball team on social media, follow @CanesHoops on Twitter, Instagram and Facebook.