Miami Finds Focus For Florida State
CORAL GABLES, Fla. – Focus. That was the emphasis for the University of Miami women's basketball team during the day between their loss to Duke and their next game at Florida State.
The Hurricanes fell short of an upset of the Blue Devils, 58-49, and one of the reasons was due to a lack of focus, according to head coach Katie Meier.
"I don't think we were tough and focused. It was a lack of focus on the details and we're not scoring enough to blow off the details of our offense," Meier said. "The players need to step up and play a heck of a lot better than we're playing right now because we have a lot of difficult games ahead of us and these kinds of performances aren't going to get us wins."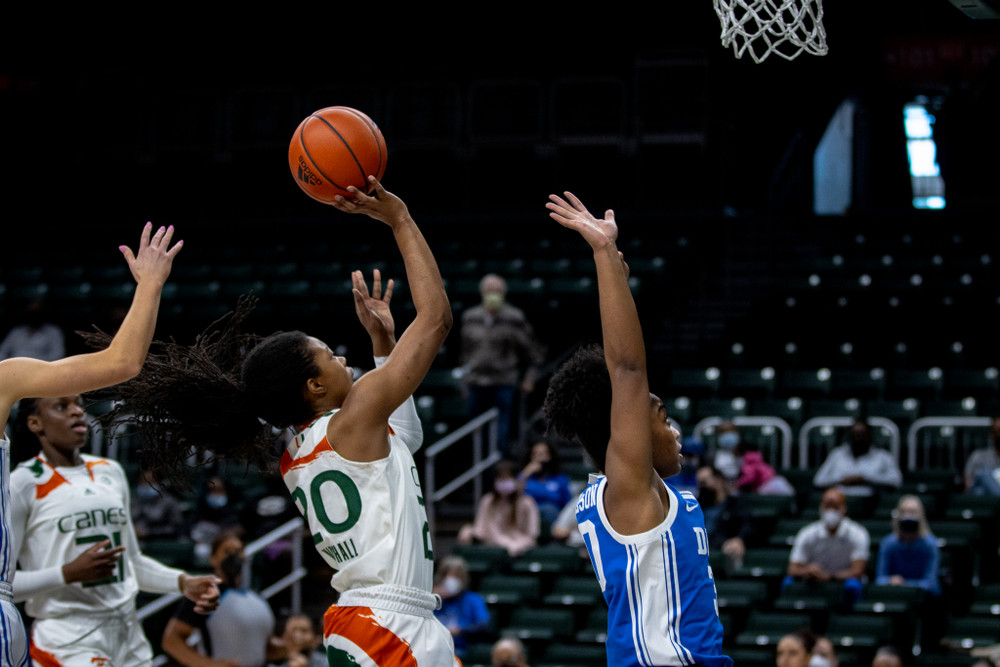 Two players who did maintain focus and toughness throughout the game were graduate students Maeva Djaldi-Tabdi and Kelsey Marshall. Between the two of them, Djaldi-Tabdi and Marshall accounted for 34 of Miami's 49 points, over 70 percent of the Canes' scoring.
Djaldi-Tabdi poured in a career-high 19 points, while Marshall added 15 points for her 11th double-digit game of the season.
"I saw a lot of leadership from Kelsey and Maeva and I though they played their guts out, while their teammates honestly let them down," Meier said. "I'm really proud of them."
Over the last four games, Djaldi-Tabdi is averaging 12.3 points per game, having scored in double-figures in three of the four contests. She currently ranks second on the team in scoring (7.8), sitting only behind Marshall (13.8).
"After practice, Maeva has been putting up a lot of extra reps and is becoming a lot more confident in herself and in the system," Marshall said. "I think that is why she has been playing so well, recently."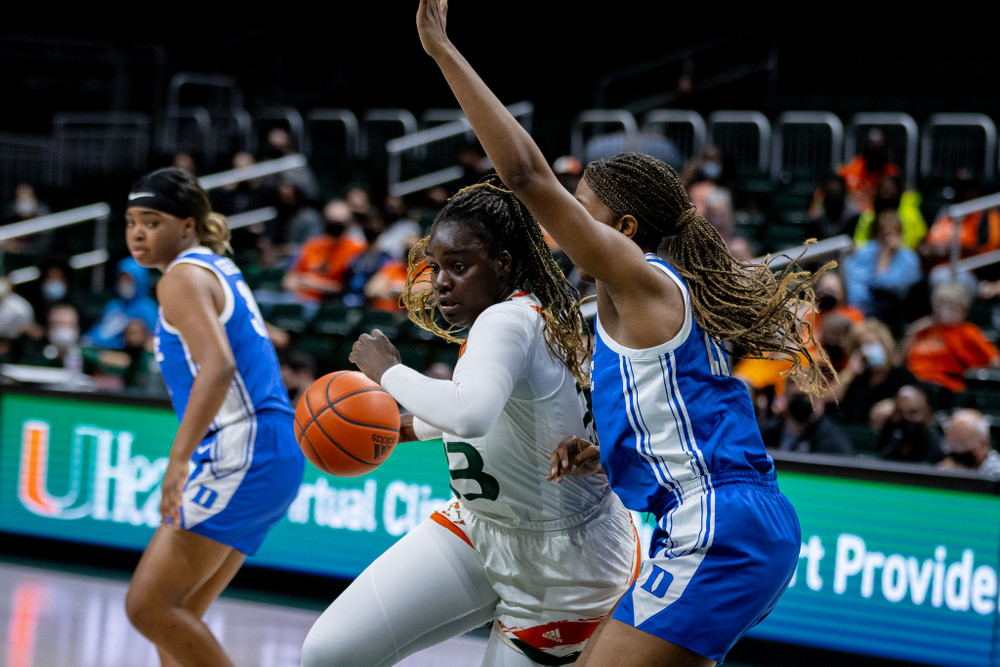 With a matchup with long-time rival Florida State, just a day away, the Canes must quickly regroup and, more importantly, refocus on the task ahead.
"We need to come to the next game focused and be ready for FSU, which is a big game for us," Marshall said. "It's important that we are mentally focused and ready to compete."
Thursday's matchup will be the 65th all-time meeting between the two programs, dating back to the 1974-75 season. Florida State holds the 48-16 edge in the series, with a 22-4 mark when playing in Tallahassee, Fla.
Tipoff is slated for 8 p.m. and the game will air on RSN. Fans can also listen to the game on WVUM 90.5