Williams, Canes Carry Confidence Into Duke
CORAL GABLES, Fla. – The University of Miami women's basketball team rides a two-game winning streak into Tuesday's game against the No. 21 Duke Blue Devils, highlighted by its first win over a ranked opponent since 2019.
The Hurricanes downed No. 15/16 Georgia Tech on Sunday to finally earn a top-25 win after coming so close in three other games this season.
"I told the team pregame, 'At the end of this game, we are going to be dancing around in the locker room because you will have played the hardest you've played all year,'" head coach Katie Meier said.
And Meier was right. The Canes defense played with grit and determination, limiting the Yellow Jackets to 28.6 percent shooting from the field, their lowest mark of the season. Miami's defense was impenetrable in the fourth quarter, holding Georgia Tech to just four points and forcing seven turnovers in the final 10 minutes.
"I don't know that anyone has played as hard, with the size disadvantage that we had, of any team I've coached than this team tonight on the defensive end," Meier said. "I love my team and we really deserved that win."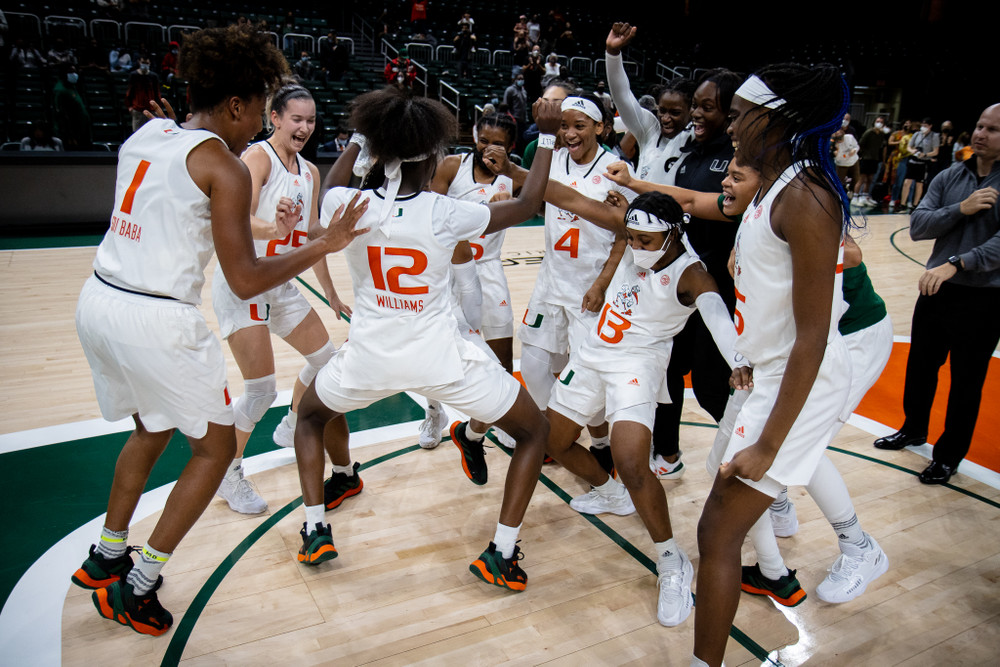 Aside of the consistency of Miami's defense, the emergence of freshman Ja'Leah Williams as a Miami gamer was the tale of the contest.
A Miami 'Gamer' is a player who gets stops and makes shots in big-time games, according to Meier. Williams proved she can do both on Sunday. The guard not only put in the game-winning layup against Georgia Tech, but she also recorded four steals and a team-best six rebounds to bolster Miami's defense.
"My confidence comes from my love of the game," Williams said. "I just go out there and play my best, no matter the points or how many rebounds or steals I get. I just know my team needs me and I just want to be there no matter if I score any points or anything. I just love them."
Williams currently ranks third in the ACC in steals per game at 2.4 and sits in the top six among ACC freshmen in three statistical categories – steals per game (1st – 2.4), assists per game (6th – 1.7) and rebounds per game (6th – 3.7).
In her first year with the program, Williams has already developed a love for not only Miami, but also for her head coach.
"I think it was important to get this win [over Georgia Tech], not only for the team but also for Coach Katie [Meier]," Williams said. "I feel like we let her down sometimes because we put in the work and were so close. I felt like we just needed to push harder for her so she could be happy because she deserves happiness. She has a great team and we have her back."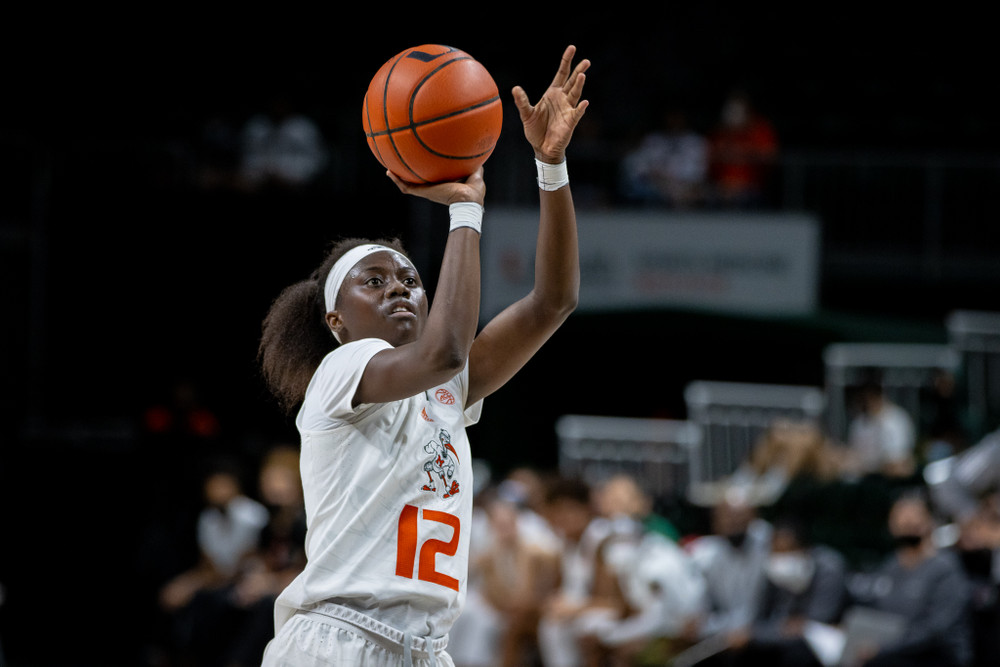 The respect is mutual as Meier recognizes how special it is to have a freshman willing to compete every play at both practice and games.
"Ja'Leah is just an incredible competitor. I remember the very first workout where she was on defense and Kelsey Marshall, the fifth-year captain, had the ball at the top ready to start a defense drill and Ja'Leah just walked right up to her and went pop, and stole the ball for a full-court layup like she was saying, 'Hey, I'm here, too,'" Meier said. "She turned around and just laughed. She wasn't backing down to anyone and had some guts. I knew we had a special one and she hasn't let me down since. She's a lot of fun to coach."
Williams and the Canes have the opportunity to post back-to-back wins over top-25 teams for the first time since 2012 on Tuesday. The game is slated to tipoff at 2 p.m. and will air on ACC Network.
Single-game and season tickets for the 2021-22 women's basketball season are on sale now and can be purchased here.