Miami Hosts No. 15/16 Georgia Tech Sunday
CORAL GABLES, Fla. – The University of Miami basketball team is in the midst of a challenging two-week stretch, playing five games in 11 days, including two match-ups against top-25 teams.
"You are going to be playing top-25 teams if you are in the ACC; there won't be a week that goes by that you won't," Meier said. "I love my team in big games. I think we play really well against top-25 opponents."
Miami enters Sunday game against No. 15/16 Georgia Tech coming off its first ACC win, a 69-60 road victory at Clemson.
"We desperately needed a win and needed some breakout performances to put it all together," Meier said.
One of those breakout performances came from freshman Jasmyne Roberts, who finished the night with seven points, seven rebounds and three steals. The forward led all Canes in rebounding, setting a new career high at seven.
More importantly, Roberts made the hustle plays that define a true Miami basketball player. She dove for loose balls on the ground and hit the glass hard every shot.
"There is no greater compliment than being needed and there is no greater feeling than coming through when someone says, 'I need you' and I think of someone like Jasmyne Roberts who was just incredible," Meier said. "She hustled and battled and came through for us. It was Jasmyne's grit that really lifted our team today."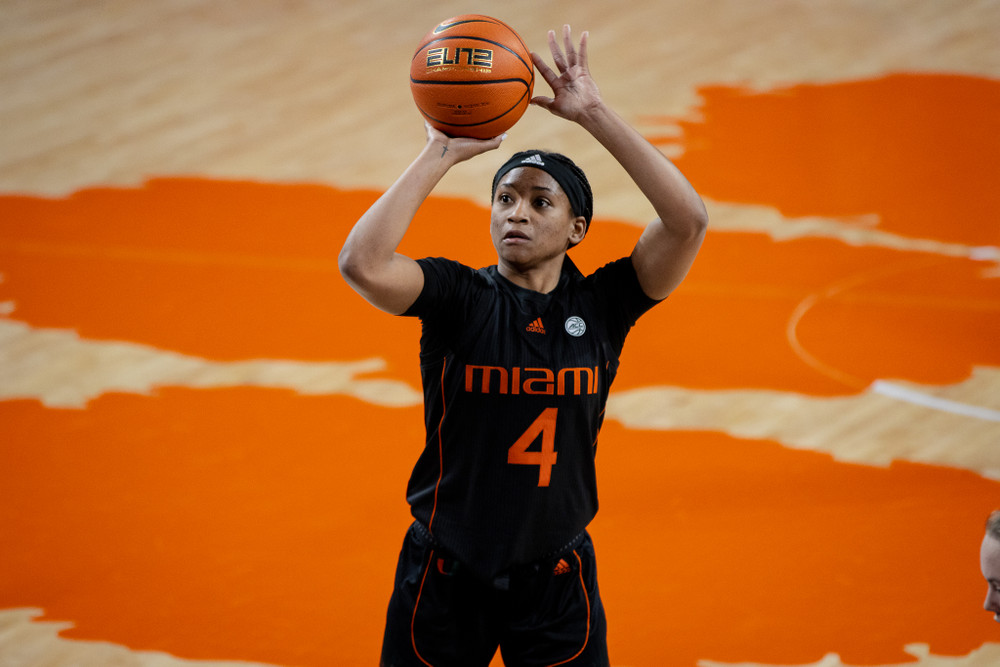 As a team, the Canes boasted their best shooting night of the season on Thursday, knocking down 52.6 percent of their shots against Clemson. Four Miami players shot better than 50 percent in the game, including two who knocked down 80-plus percent of their shots (Lola Pendande – 7-of-8, Destiny Harden – 4-of-5).
Harden looked like her old self on Thursday, recording 10 points in just 14 minutes of action. Seven of those 10 points came in the second half against Clemson as Harden was a perfect 3-of-3 from the field in the final 20 minutes.
The all-time series between the Canes and the Yellow Jackets is currently tied at 17 games each. When playing at the Watsco Center, Miami holds a 10-6 edge over Georgia Tech and has won four of its last five games against the Yellow Jackets at home.
Georgia Tech sits at 13-3 on the season and holds a 4-1 record in conference play. The Yellow Jackets enter Sunday's contest on a three-game winning streak, most recently defeating Florida State, 68-64.
Sunday's game is set for a 2 p.m. tipoff and will air on ACC Network with Jenn Hildreth and Tamika Catchings on the call. Fans can also listen to the game on WVUM 90.5.
Single-game and season tickets for the 2021-22 women's basketball season are on sale now and can be purchased here.