Miami Takes Down Clemson for First ACC Win
CLEMSON, S.C. – The University of Miami women's basketball team earned its first ACC win of the season on Thursday when it downed the Clemson Tigers (6-10, 0-5 ACC), 69-60, at Littlejohn Coliseum. Three Canes scored in double-figures, paced by junior Lola Pendande at 16 points.
"I'm really proud of this team," head coach Katie Meier said. "It was a game of adjustments. We won a big-time game and stayed composed, so I'm really happy with the outcome."
The Hurricanes (8-5, 1-2 ACC) shot a season-best 52.6 percent from the field, knocking down 30-of-57 shots. Four Canes shot better than 50 percent from the field, including Pendande who hit 7-of-8 (.875) in the game.
For the sixth time this season, Miami forced its opponent into 20-plus turnovers, pressuring Clemson to turn the ball over 21 times. The Canes capitalized on the extra offensive opportunities, tallying 30 points off turnovers.
Graduate students Maeva Djaldi-Tabdi and Destiny Harden joined Pendande in double-figures with 13 and 10, respectively, while freshman Jasmyne Roberts led the Canes on the boards, hauling in seven rebounds in the contest.
"There is no greater compliment than being needed and there is no greater feeling than coming through when someone says, 'I need you,'" Meier said. "In this game, I think of [Jasmyne] Roberts, who was just incredible. She hustled and battled and came through."
It was an offensive show to start the game as both teams shot better than 50 percent in the first quarter. Five different players scored in the frame for the Canes, paced by Pendande who tallied five in the first quarter. While the team's traded baskets for much of the quarter, Clemson's Amari Robinson knocked down a jumper as time expired in the frame to put the Tigers ahead, 18-16.
The second quarter featured four lead changes as the teams continued to battle it out in Littlejohn Coliseum. Miami retook the lead at the 6:36 mark of the second quarter when senior Karla Erjavec drained a 3-point shot to make it 21-20 in favor of the Canes. With three minutes left before halftime, Roberts sparked a 9-2 run for Miami, accounting for seven of the nine points in the final minutes of the first half.
Miami came out of the locker room aggressive on offense, embarking on a 13-4 run to start the third quarter. The Canes found their success in the paint, tallying 16 of their 27 points inside in the third. As a team, Miami shot 63.2 percent from the field in the frame, with three Canes tallying perfect shooting percentages in the third – Harden (3-of-3), Pendande (2-of-2) and Kelsey Marshall (1-of-1).
Pendande added four points in the fourth quarter to bring her game total to 16, while freshman Ja'Leah Williams tallied four points of her own en route to Miami's 69-60 victory over Clemson.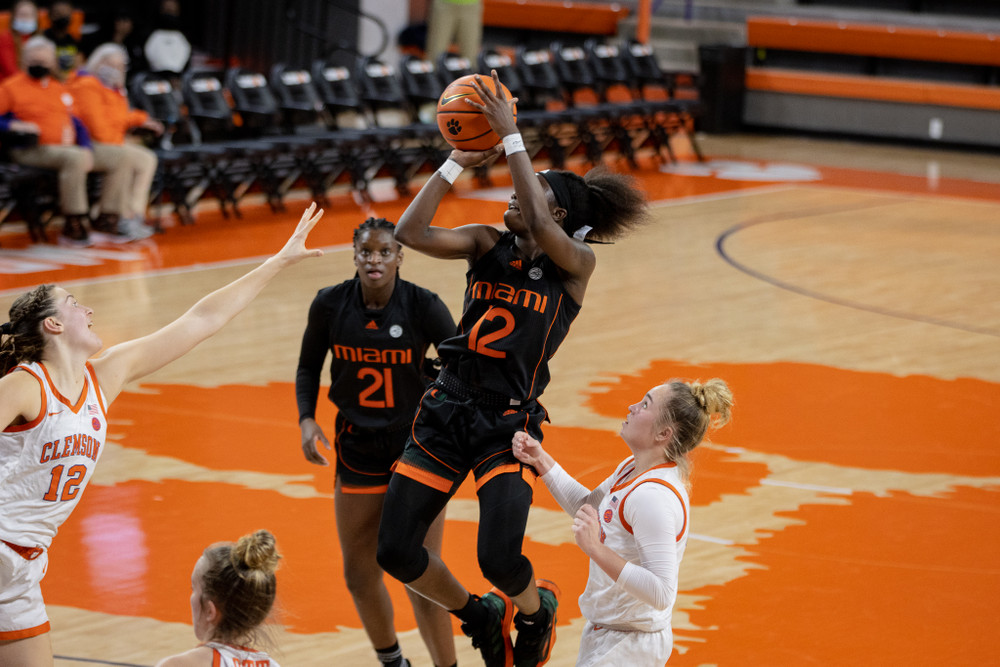 Miami returns home for two games in three days, taking on No. 15/16 Georgia Tech on Sunday and No. 16/21 Duke on Tuesday. Both games will tipoff at 2 p.m. with Sunday's game airing on ACC Network and Tuesday's game streaming on ACC Network Extra.
Single-game and season tickets for the 2021-22 women's basketball season are on sale now and can be purchased here.