Canes Clash With Tigers On Thursday
CORAL GABLES, Fla. – The University of Miami women's basketball team is in the heart of its 2021-22 schedule, currently sitting at 7-5 on the season and seeking its first ACC victory.
The Hurricanes have faced some of the toughest competition in the nation this season, including three top-10 teams in No. 4/6 Indiana, No. 8 Maryland and No. 5/4 NC State. Miami was competitive in all three games, holding each of those teams under their respective scoring averages.
Most recently, the Canes hung with the Wolfpack for 35 minutes before falling to NC State, 76-64. Miami outrebounded NC State, 38-28, becoming just the third team to win the battle on the boards against NC State this season alongside No. 1 South Carolina and No. 15/14 Georgia.
"That was a great basketball and I think we got a heck of a lot better in a day since the last time we played," head coach Katie Meier said. "I love my team in big games. I think we play really well against top-five opponents and there are going to be a lot of wins ahead for us when we get back on track and really get in our flow."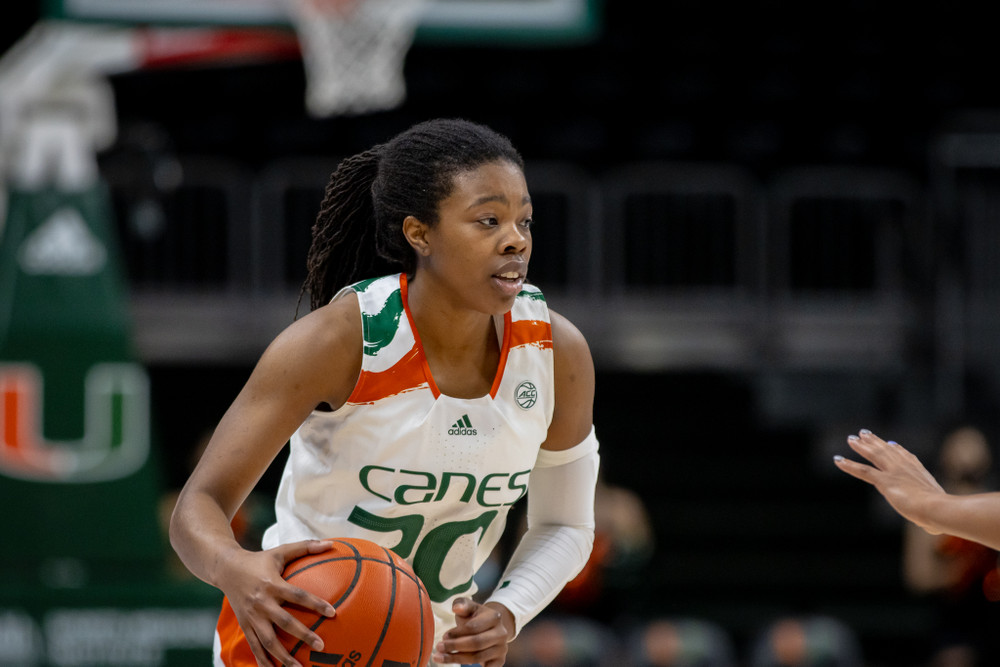 A huge part of the Canes success on both defense and offense has been the play of freshman Ja'Leah Williams. The Pompano Beach, Fla., native earned a spot in the starting lineup on Nov. Nov. 27 and has not looked back.
Over the last five games, Williams is averaging 12.0 points, 4.2 rebounds, 3.0 assists and 2.1 steals. She has tallied four double-digit scoring efforts this season and currently ranks fourth in the ACC in steals per game (2.3).
"We have a star in the making in Ja'Leah Williams. She is very competitive has made some great plays and some great assists," Meier said. "She shares the ball really well and has had great shifts. The [game against NC State] I would say, was a breakout performance for her."
Alongside Williams, graduate student Kelsey Marshall has consistently led the Canes in scoring this season, averaging 14.5 points per game, good for seventh in the ACC. Marshall made history on Sunday against NC State becoming Miami's all-time 3-point leader with 274 made threes in her career.
Marshall is proud of not only her achievement, but also of how her team has continued to compete against top teams in the nation.
"We try our best to hold teams to under their average on the season," Marshall said. "I think we do a really good job of not giving teams what they want and that is how we can compete with these top-five teams in the country."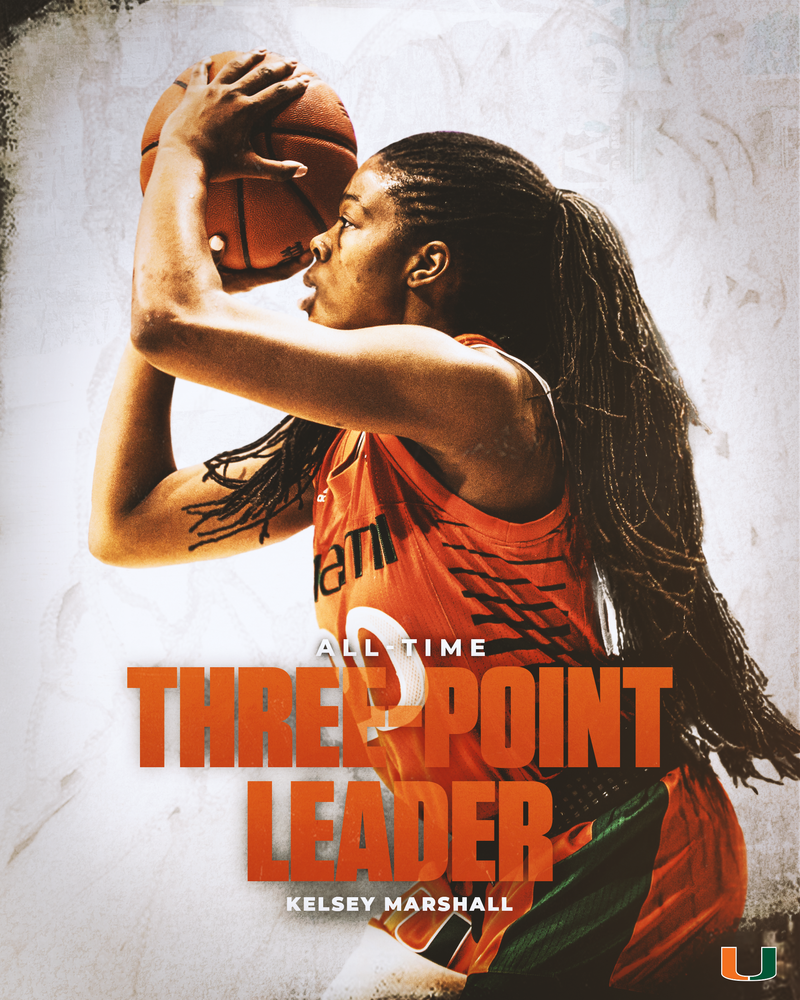 Two of the players with the most experience playing against top-25 teams are graduate student Destiny Harden and senior Mykea Gray, both of whom had an exceptional game on Sunday, according to Meier.
"I almost got choked up in the locker room because of Mykea and Destiny and the way they played," Meier said. "They are giving it their all and, when they are in the lineup, they make us a really good offensive team."
Gray is coming back from an ACL injury that kept her off the court for the entire 2020-21 season, while Harden missed the first 10 games of the season due to a lower body injury. Having Gray and Harden feeling like themselves will be a huge asset to the Canes as they head to Clemson, S.C., on Thursday to take on the Clemson Tigers.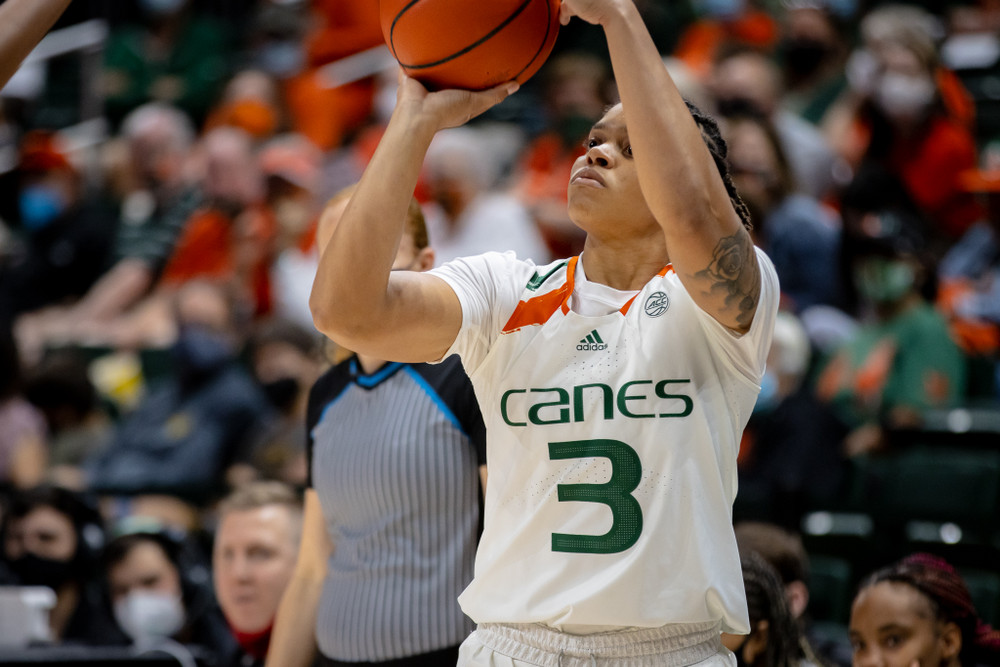 Miami and Clemson have met 23 times in program history with 21 of the 23 meetings coming since the Canes joined the ACC prior to the 2004-05 season. Miami holds the 15-8 series advantage, including an 15-5 mark in ACC play. The Canes have won seven of the last 10 meetings and are 8-2 when playing in Clemson, S.C.
Both Miami and Clemson enter Thursday's contest seeking their first ACC win of the season.
"We are a team that does not give up or back down to any type of competition," Marshall said. "We don't care if it is the No. 1 team in the ACC or the bottom team in the ACC, we are always going to come out every game competing and giving our all. There are a lot of games left for us and I think there are a lot of capable wins and we are ready and excited for it."
Thursday's game will tipoff at 7 p.m. and will air on ACC Network Extra.