It was April 2021, and Max Flory remembers feeling skeptical.
Sure, he hadn't performed all that well at the NCAA Swimming & Diving Championships the prior month. But he had battled a few nagging injuries and two separate bouts with COVID-19 over the course of the season.
Going to see a sport psychologist?
Seriously?
After a heartfelt conversation with University of Miami longtime diving coach Randy Ableman, however, Flory acquiesced.
"I wasn't someone who believed in sport psychology," Flory said. "But I went into it with a fresh mindset. It was clear that something completely needed to change. I didn't just go in thinking, 'This is nonsense.'
"I went in thinking, 'I'm going to listen to this guy and take the advice he has to give me and try it out.'"
Flory had enjoyed an impressive start to the 2021 calendar year, after all, pulling in two silver medals at the Atlantic Coast Conference Swimming & Diving Championships in late February and delivering a strong performance at the Zone B qualifying meet to earn a trip to his first-ever NCAA Championships in March.
It was there where things unraveled, as the uber-talented Flory missed out on a top-16 finish in both the 3-meter springboard and 10-meter platform, failing to earn All-America honors in either event.
"It went horribly," Flory said.
Ableman and Flory met after the season for a heart-to-heart conversation.
"My head wasn't in the game. It didn't feel like I was fully prepared," he recalled. "I wasn't there mentally like I usually am. My freshman year, I was in a groove and it felt like I lost that. Most of the year, I feel like I lost my fire."
Ableman had an idea.
Fast forward eight months, and Flory credits University of Miami sports psychologist Dr. Eric Goldstein as a major factor in his seismic turnaround.
Goldstein has worked with countless athletes since arriving in Miami as the athletics department's first-ever full-time sport psychologist in 2018.
"So many athletes think, 'My problem is not mental. It's physical.' Maybe I tend to move my arm to quickly to the left when I throw, I tend to lift my head up too quickly if I'm running. My answer is, 'I understand. We can sure use psychology to fix technical and mechanical problems.'
If a head coach keeps telling an athlete to keep their head down, and they're not keeping it down after 17 times of telling them, what's getting in the way?

-Dr. Eric Goldstein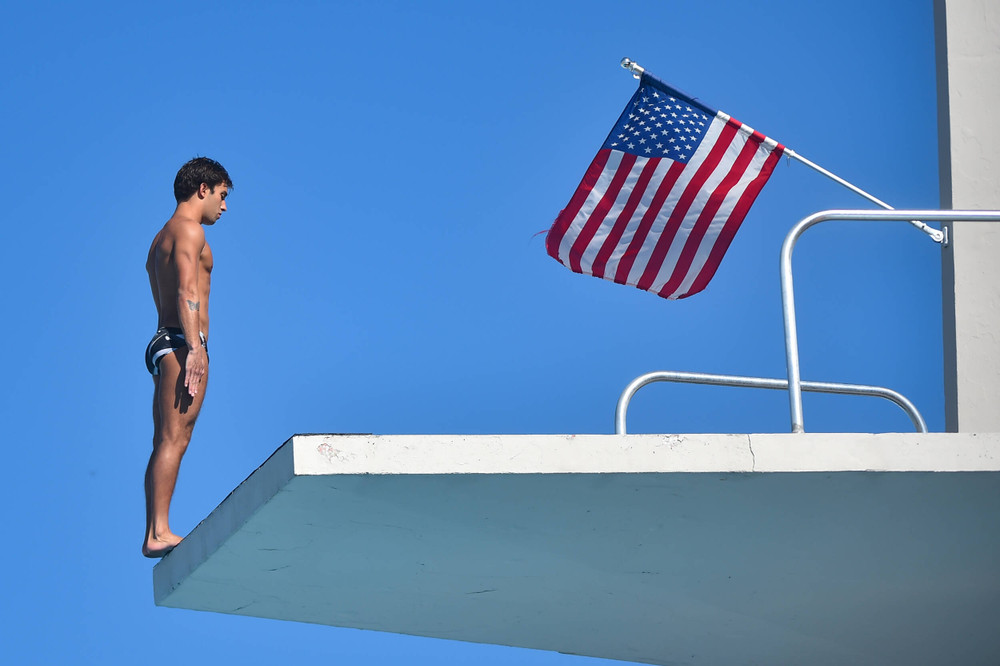 Ableman said Goldstein has made a remarkable impact during his time with the Hurricanes.
"He has helped so many of our divers here at UM," Ableman said. "I've never sent a diver to him that he didn't help on some level. Oftentimes, it has been tremendous. Max is one of those that has made a big difference."
Goldstein said receiving a phone call like the one he got from Ableman makes his job much easier.
"Coach buy-in is important. For many athletes, there's still a stigma," Goldstein said. "Even if it's for performance, oftentimes, their worry is, 'What if the coach knows I'm going to the sport psychologist? Will he or she see me as weak, or that I can't overcome this on my own? Will this affect my perception in the coaches' eyes? Will it affect my playing time?'
"Even though people talk about the mental game, they don't really understand what it really means until they really work at it and say, 'Oh my gosh. This really makes a difference.'"
Flory said he felt the impact of his conversations with Goldstein almost immediately during summer workouts.
"I spent the whole summer learning some new dives that were going to be a pivotal point in developing the difficulty of my list, which allowed me to be competitive at a higher level," Flory said. "Coming into the fall, I continued to work with all the resources we have at the school. I work with Dr. Goldstein, work with Randy, work with our nutritionists, work with our weights coach, do recovery stuff. Now, it feels like every day counts."
Ableman witnessed a personal investment from Flory like never before.
"Just with his willingness to do extra things in practice and come up with his own ideas of things he needs to work on more," Ableman said. "It's very refreshing to have a kid that's taking ownership of his career like that. It was a 180-degree turn. It started with him saying all the right things, but what meant a lot to me is he started doing all the right things in practice."
Flory carried his new mentality into the fall as he began final preparations for the U.S. Winter National Championships in Bloomington, Ind., with teammate Zach Cooper in December.
The Fairfax, Va., native was slated to team up with Cooper to compete in the 10-meter synchronized event with a spot in the 2022 FINA World Championships representing Team USA in Fukuoka, Japan on the line.
"We talked about it in training leading up to it – our goal was to win that event and get the Worlds team spot," Flory said. "I hadn't qualified for a U.S. international competition since 2018. To get back on the day international stage competing for USA was incredible but doing it alongside Coop, the whole competition was amazing."
Flory and Cooper were underdogs against Purdue's Jordan Rzepka and Tyler Downs, who represented USA at the 2021 Olympics.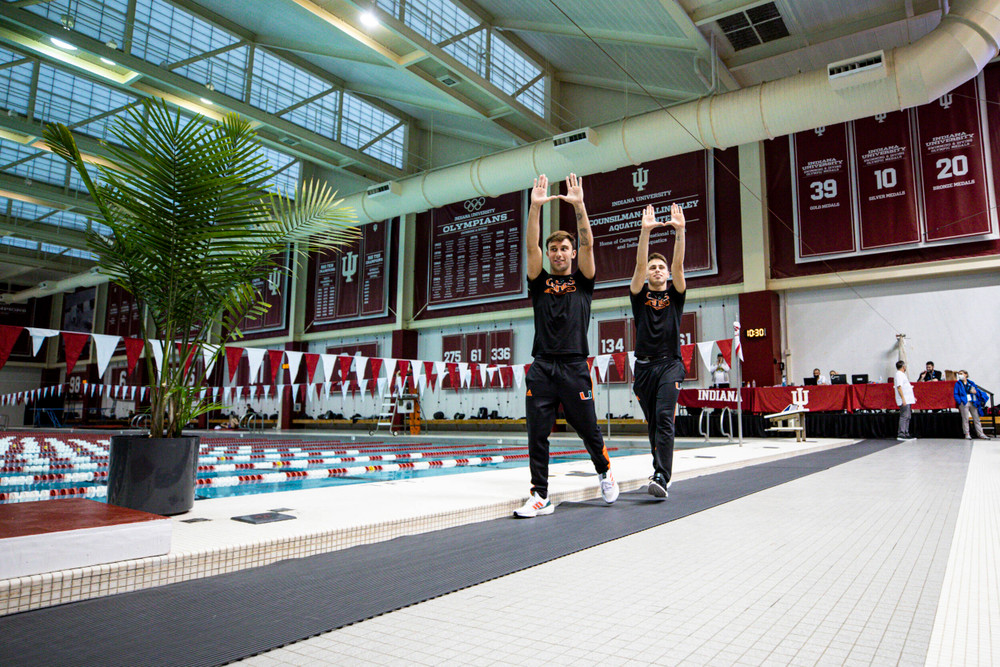 In a back-and-forth affair and in need of 70-plus points on their final dive to emerge victorious, the Miami duo attempted a 4.5-somersault tuck – one of the hardest dives possible on the platform  – for the chance of glory.
"Very few guys have that dive in their list in the United States," Ableman said. "But to be world-class, you have to have that dive."
Ableman was anxious.
"I was quietly optimistic, but I was nervous. It was a big moment for them," he said. "Once I saw the takeoff and how fast they were spinning, I knew they were going to have a great chance to hit it as long as they were confident and explosive coming out of the somersault, which they were."
Flory felt confident.
"I was up there and knew it was going to happen," Flory said. "We did the dive and I hit mine, and I could tell Coop hit his. The crowd was clapping and we were sitting and waiting for the scores to come up."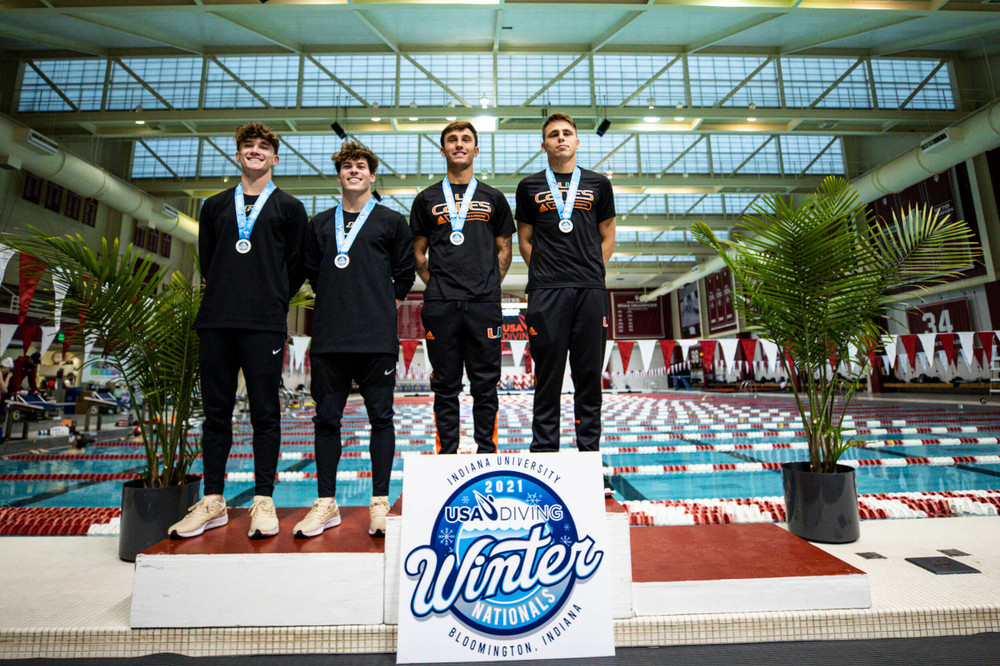 75 points.
Gold.
"The best feeling ever," Flory said.
Ableman was ecstatic for the duo.
"It came down to a bit of a risky dive with all the chips on the line," Ableman said. "To be able to come through, nothing feels better than that."
Flory has enjoyed the fruits of his labor: hours of practice, tweaking his approach, extra work in the weight room and strategizing with the school's nutritionist.
But he keeps coming back to those conversations with Goldstein.
"I really gave it a proper effort and saw it through, and it ended up completely changing my diving. Not just in competition, but in practice, which ended up helping me improve so much and helped make it fun again. Losing isn't fun. I come into practice and it's like I'm going into a competition, knowing I'm going to do well."
And while he knows his young diver has plenty of room for improvement, Ableman couldn't help but take a moment to reflect on a wild nine-month turnaround for Flory.
"I'm very proud of Max and what he has been able to accomplish since NCAAs," Ableman said. "Part of me knows there's so much work to be done. I'm a grinder, he's a grinder, and we do two workouts a day, five days a week for this. To see all that time and effort pay off and to see how he is with accomplishments, it's very satisfying."