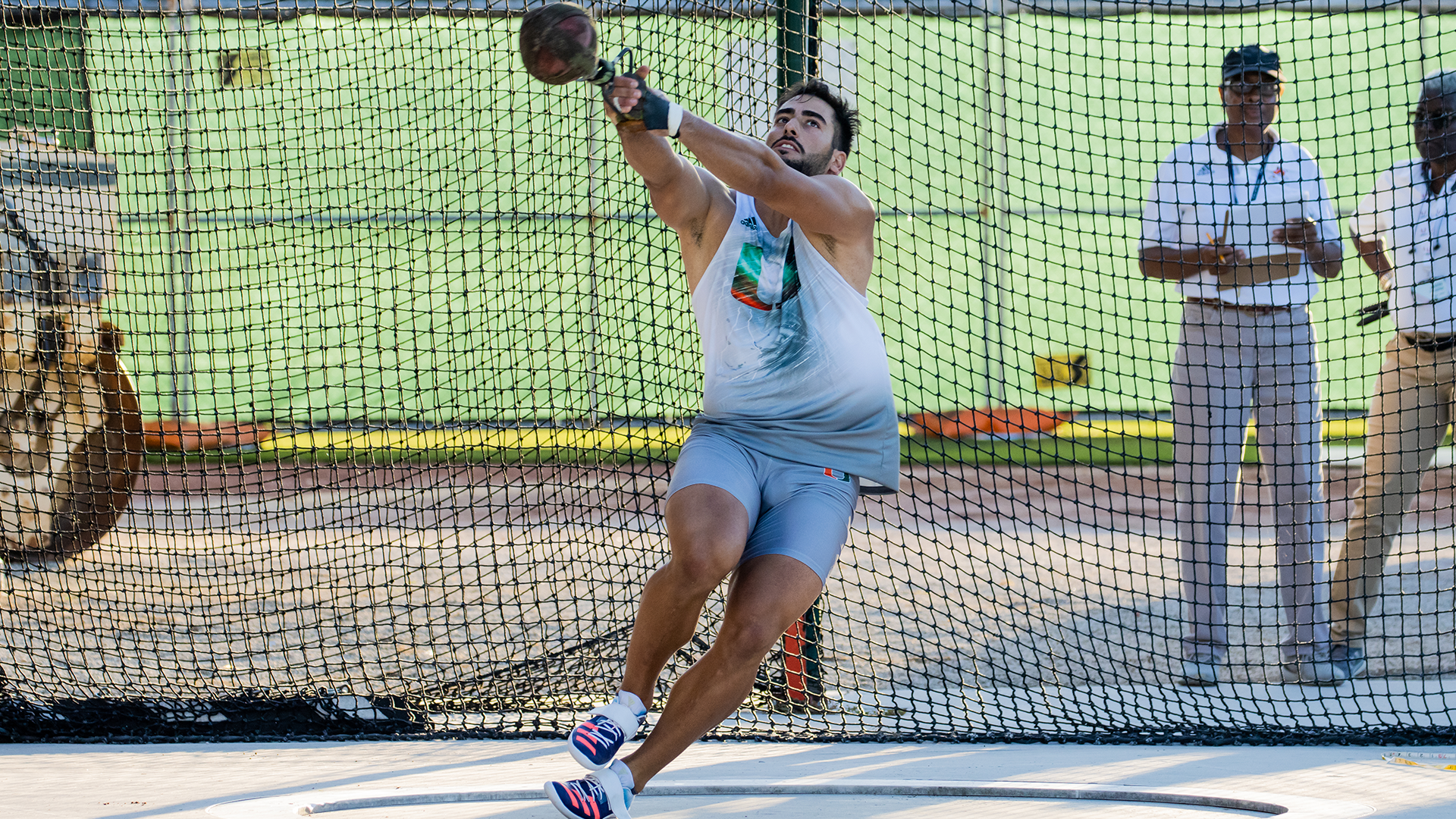 CORAL GABLES, Fla. – Décio Andrade is driven by his love for competition.
While he loves competition, his sights are set on one thing.
The 24-year-old wants to compete at the highest level of track and field.
The Angelo State graduate transfer will get that opportunity when he puts on the University of Miami uniform for his first meet as a Hurricane this week.
For Andrade, the road to get to Miami has been long.
At 12-years old, Andrade followed in the footsteps of his sister, a hammer thrower herself, after beginning his athletic career with soccer and roller hockey. While he grew sick of those activities, there was still motivation to be active.
His choices were tennis or track and field.
"In the beginning it was not my first love, but I always liked to compete against other people," Andrade said. "I liked the adrenaline of the competition and that carried me on for my first few years while I was doing every throw."
Eventually, he had to specify in an event, ultimately selecting hammer throw.
What started as a fun activity quickly became a lifestyle.
A mere four years after his start in throwing, Andrade saw his work turn into national marks.
At 16-years old, his international career began.
In 2013, Andrade made his international debut on the Portuguese National Team at the European Youth Olympic Festival in Ultrecht, Netherlands. He finished ninth in the hammer throw and 17th in the discus.
It was an eye-opening experience.
"That is motivation, it makes you believe," Andrade added. "I was not into it too much, but I got to this level, so I thought, if I put in some work what else can I accomplish.
"It is important to be there because it is motivation to get back. You get addicted to representing your national team. It means a lot."
Just a year later, he was back representing Portugal. This time at the European Youth Olympic Trials in Baku, Azerbaijan, where he would scratch three times.
Although the Camacha, Portugal, native did not qualify, Andrade uses his time at the European Youth Olympic Trials as a learning experience.
Out of high school, Andrade passed on a chance to come to America and attend Florida State.
He was comfortable at home.
Then, the opportunity arose again, this time at Angelo State.
He was ready for more competition.
Andrade became a Division II All-American, an NCAA Division Champion and a Lone Star Conference record holder.
"Having better competition every week is a lot better than having one good competition a year," Andrade added. "By having more competition at the NCAA level, it helps me be better because there are no days off. You always have to be at your best. The more competition you have, the more you are motivated to improve."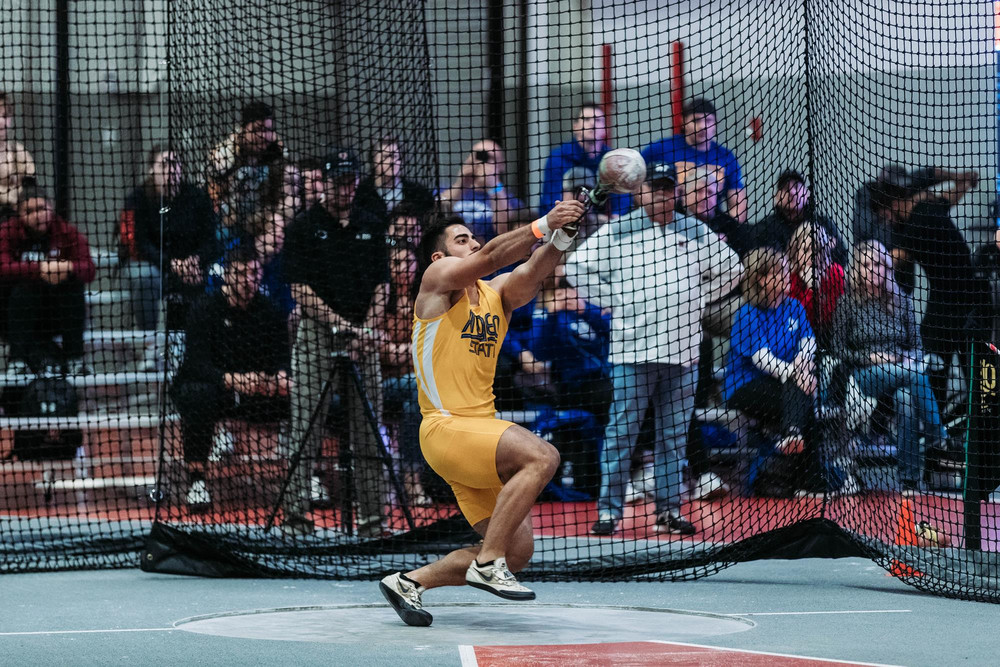 Now, Andrade looks to compete at an even higher level at Miami.
Upon entering the transfer portal, he did not have a specific school in mind. In fact, he waited for schools to contact him.
Miami reached out.
"Seeing Décio throw what he had been throwing for a while and what he had done at the National level both indoors and outdoors, when I saw he had entered the transfer portal, I jumped on the opportunity to get a chance to talk to him," said associate head coach Cory Young, who coaches the throwers. "He is a competitor that has competed well every time."
Despite not competing in a meet yet, Andrade is already making an impact in the 305.
"He has such a great attitude and is such a good influence around the rest of the athletes, not just in the throws group, but around the whole team," Young added. "He has a vested interest in seeing everyone do well and watch. He understands the sport, so he understands what is going on which brings a lot to the table. The maturity he has adds another level of influence to the team. You see the way he carries himself, the way he approaches training and what we do in the weight room helps everybody else."
Coming off a year where he finished as the runner-up at the NCAA Division II National Championships, Andrade is looking to continue his success at The U.
"I want to have more success this season," said Andrade. "My goal here is to do at least what I could have done last year and more. I know Division II is very different from Division I but if I do just as well as I did last year, I will be able to reach a high level. There will be no competition where the win is expected so I will have to work hard to accomplish the higher stage of the podium."
Added Young, "I think he will be able to compete at the indoor national meet. The indoor meet in general, along with the weight, is a very highly contested event. I think he can do well there. The sky is the limit outdoors with the ability here to train the way we do and have weather the way we have it here at Miami."
Andrade and the Hurricanes will open the long awaited 2022 season on Friday at the UAB Blazer Invitational in Birmingham, Ala. Action is scheduled to begin at 11 a.m. (ET).