Perez-Somarriba Earns 2022 NCAA Today's Top 10 Award
CORAL GABLES, Fla. – Although her college career is over, former University of Miami women's tennis star Estela Perez-Somarriba is not done receiving accolades.
The five-time ITA All-American is one of the 2022 NCAA Today's Top 10 Award honorees, as announced Monday afternoon by the NCAA. The award acknowledges 10 select former student-athletes for their successes on the field, in the classroom and in the community.
"Receiving NCAA Today's Top 10 Award is an incredible accomplishment that reflects my dedication and hard work during my college career," Perez-Somarriba said. "It is such an honor to be among this distinguished group. I'm really humbled to join the amazing past winners. I will always be thankful to the NCAA and University of Miami for helping me become the athlete and person I am today."
Perez-Somarriba turned in one of the finest careers in the history of both collegiate tennis and Miami athletics. The seventh three-time NCAA Singles Championship semifinalist ever, she reached the title match twice and claimed the crown in 2019. Her 17 wins in the tournament are tied for the most all-time.
The Madrid native finished the 2020-21 season ranked first in the country and won ITA National Player of the Year, two seasons after claiming the Honda Sport Award. A two-time ACC Player of the Year and four-time First Team All-ACC honoree, Perez-Somarriba went 165-26 in singles as a collegian, good for the second-most wins in ACC history.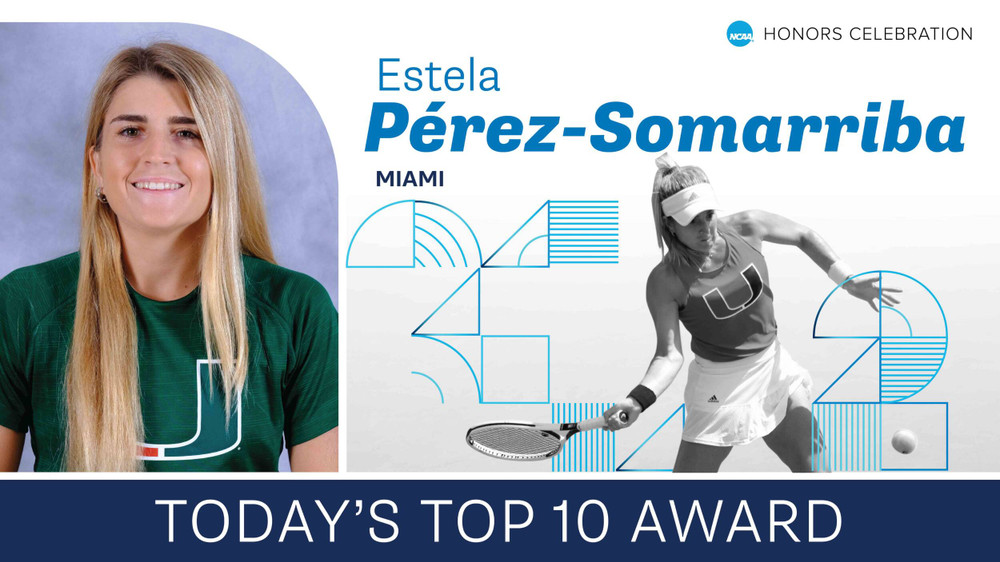 Perez-Somarriba won the ITA Southeast Region Arthur Ashe Sportsmanship and Leadership Award in both 2019 and 2020, then garnered the regional Cissie Leary Sportsmanship in 2021. A team captain and two-year member of Miami's Student-Athlete Advisory Committee, she volunteered with the Special Olympics and Miami Mission Homeless Shelter, as well as at multiple youth tennis clinics.
"Estela's stamp on collegiate athletics will be around for a very long time," Miami head coach Paige Yaroshuk-Tews said. "I'm happy to see the NCAA recognize her in this light."
A summa cum laude graduate from Miami in 2020 with a dazzling 3.935 GPA, Perez-Somarriba majored in economics with a minor in sport administration. She added a master's degree in sport administration in 2021, posting a perfect 4.0 GPA. Perez-Somarriba, who posted a GPA of at least 3.75 in all eight of her undergraduate semesters, twice won ACC Scholar-Athlete of the Year and also received an ACC postgraduate scholarship.
This is the second year in a row a Hurricane made the cut for the award, as former track & field standout Brittny Ellis was a 2021 designee.
Perez-Somarriba and her fellow designees, as well as recipients of other awards, will be recognized Jan. 19 at 7 p.m. the 2021 NCAA Honors Celebration in Indianapolis, during the 2022 NCAA Convention. Additional information can be found HERE.
To keep up with the University of Miami women's tennis team on social media, follow @CanesWTennis on Twitter, Instagram and Facebook.
The image featured in the cover photo is courtesy of the USTA.