Canes Come Up Short Against Demon Deacons
CORAL GABLES, Fla. – From down 19 in the second quarter, the University of Miami women's basketball team battled back to take the Wake Forest Demon Deacons down to the wire, but ultimately fell short, 47-46, Thursday night at the Watsco Center.
Graduate student Kelsey Marshall and freshman Ja'Leah Williams each scored in double-figures, tallying 12 and 10 points, respectively. Junior Moulayna Johnson Sidi Baba dominated the boards, hauling in 10 rebounds for the first double-digit rebounding effort of her career.
The Canes' offense was clicking to start the game as senior Mykea Gray poured in five points in the first six minutes to give Miami a five-point lead. However, Wake Forest's Jewel Spear recorded seven straight points to put the Demon Deacons on top, 17-13, at the end of the first quarter.
Wake Forest kept its foot on the gas in the second, outscoring Miami 10-1 in the first half of the frame. The Canes' defense locked down in the final two minutes of the game, making five defensive stops to spark an 8-0 run for the home team. Miami entered halftime down 11 with momentum on its side.
The Canes continued to dominate on both sides of the ball, putting together a 9-0 run to start the third quarter and cut Wake Forest's lead to two. Marshall knocked down her first three of the game at the 6:28 mark to tie Miami legend Riquna Williams for all-time 3-pointers in Miami program history at 272.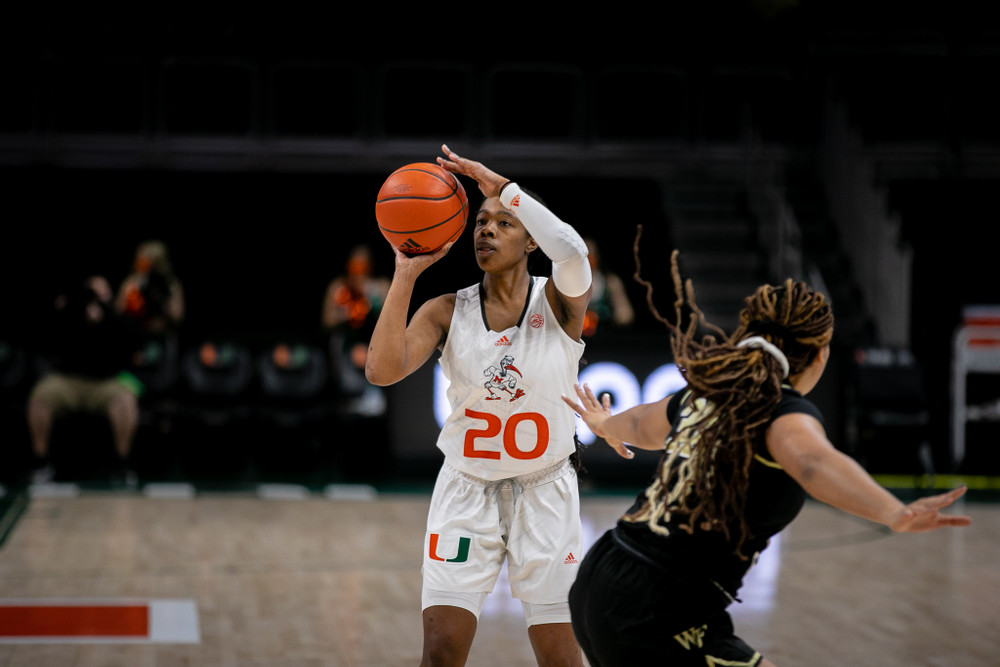 Miami's defense locked down in the second half, holding Wake Forest to just 13 points in the final two quarters. On offense, Williams tallied eight of her 10 points in the second half, finishing second on the team in scoring on the night.
Down one with 12 seconds to go, Miami had the opportunity to put up the game winner, but ultimately could not convert the contested layup, falling to Wake Forest, 47-46.
The Canes must gather and regroup as they are set to host No. 3/2 Louisville on Sunday at the Watsco Center. Tipoff is set for 12 p.m. and the game will air on ACC Network.
Single-game and season tickets for the 2021-22 women's basketball season are on sale now and can be purchased here.