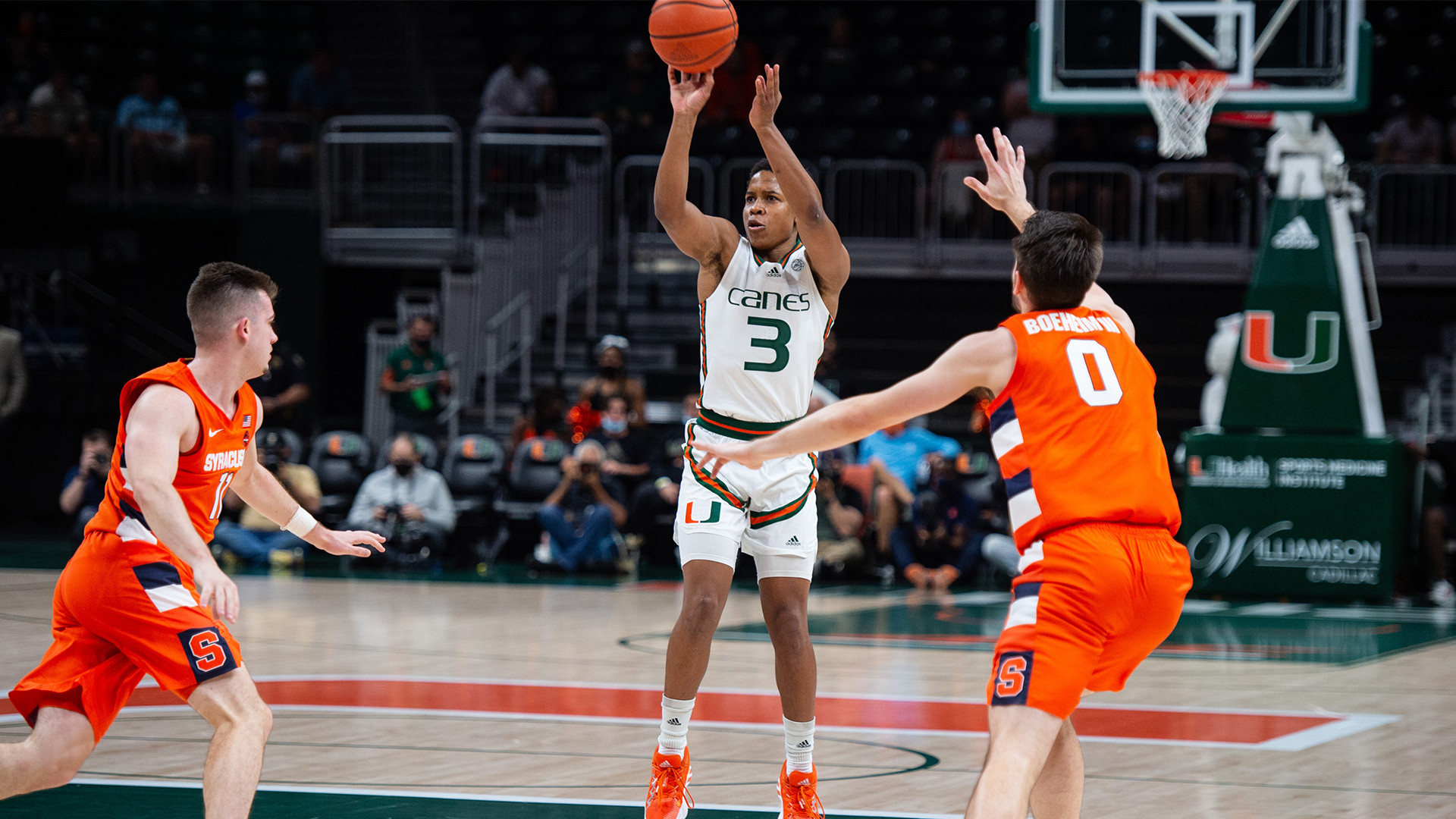 CORAL GABLES, Fla. – Jim Larrañaga wouldn't exactly call himself a football expert.
But the Hurricanes men's basketball coach knows enough about the game to know exactly who Tom Brady is and what the seven-time Super Bowl champion and three-time NFL MVP has accomplished in his remarkable 22-year career.
So on Wednesday night, after Miami rallied from an 18-point first-half deficit and used a 58-point second half to edge Syracuse and pick up an 88-87 win, Larrañaga couldn't help but draw a parallel between Brady and one of the players that made the Hurricanes' comeback possible.
"He's like our Tom Brady. I don't know anything about football, except Tom Brady is a great quarterback and he gets all of his team to function as a team, whether it's his running backs or his receivers,"  Larrañaga said. "That's what Charlie [Moore] is doing. It's been contagious."
Against the Orange, Moore – a 5-foot-11 sixth-year redshirt senior guard – did a little bit of everything.
He scored a season-high 25 points. He was 6-of-10 from 3-point range. He had six assists and five rebounds. He had a steal. A block – and became the first player in the nation to post that stat line against a Division I opponent this season.
Just as importantly, when the Hurricanes needed a calm voice to help them stay strong after a tough first half, Moore delivered.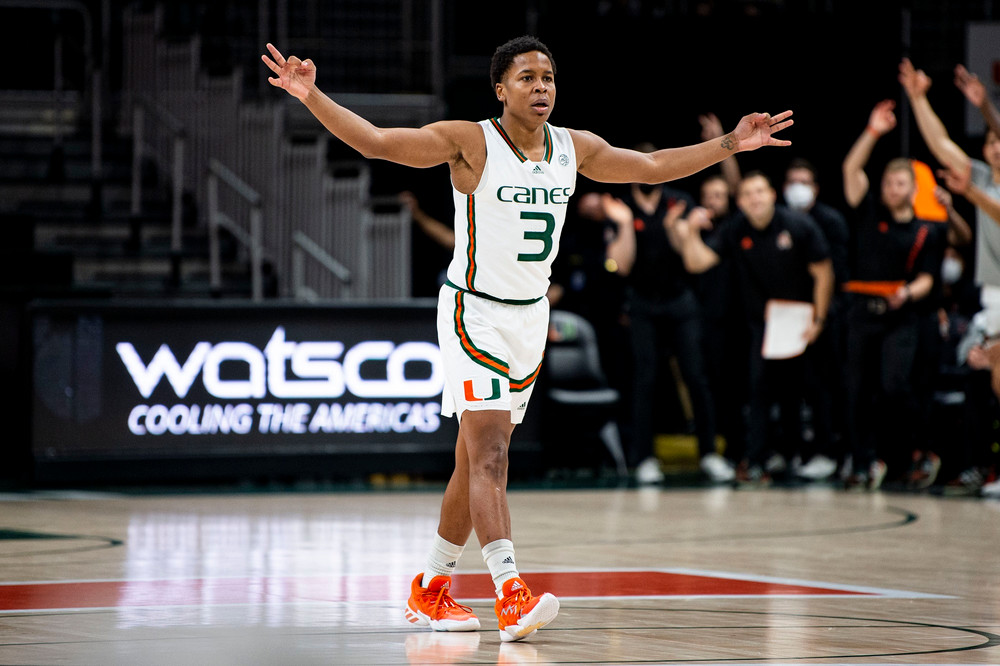 "Charlie's great…He knows his role and tonight, he knew we had to hit some threes against the zone and he did an amazing job of that," Hurricanes forward Sam Waardenburg said. "It's something he does in practice all the time. It feels like he's got limitless range…He's been amazing for us and he's a great leader as well. Through the tough times in the first half and when we were building that lead and whatnot in the second half, he was constantly talking, making sure we were locked in, not giving up. He just did an amazing job for us tonight and so far in this stretch as well."
That leadership, that poise, that experience – all of those are things Larrañaga hoped Moore would bring to Miami when he arrived as a graduate transfer last summer.
And through the Hurricanes' first 15 games, Moore has delivered.
The guard is one of three Hurricanes averaging double figures (12.0 ppg) along with Kam McGusty (18.3 ppg) and Isaiah Wong (16.3 ppg). He has a team-high 58 assists, which ranks sixth in the ACC. And his skill on the defensive side of the floor has made a difference too, with Moore totaling a team-high 25 steals. That's third-most among ACC players.
All of that has helped the Hurricanes win eight straight and start conference play with a 4-0 mark for only the second time in program history.
It's the kind of start to the season Moore says he was hoping for when he transferred to Miami after two seasons at DePaul, two at Kansas and his freshman campaign at Cal.
"That was one of the main reasons I wanted to come here, to win. I've been a part of different programs, but winning is very important to me," Moore said. "Winning solves a lot of problems. It gets the whole team in situations to help them succeed, now and later on down the line in life. That's why I think we're just playing so hard, trusting each other, just trying to win."
Being compared to one of the most successful quarterbacks of all time doesn't hurt either.
"That's an honor from Coach L," Moore continued with a smile. "He's a legendary coach. He's seen guards for many, many years. For him to call me our Tom Brady out there, I'm happy. I feel like I'm doing my job. But I've got to continue doing my job and stay humble to help my teammates come out with the win."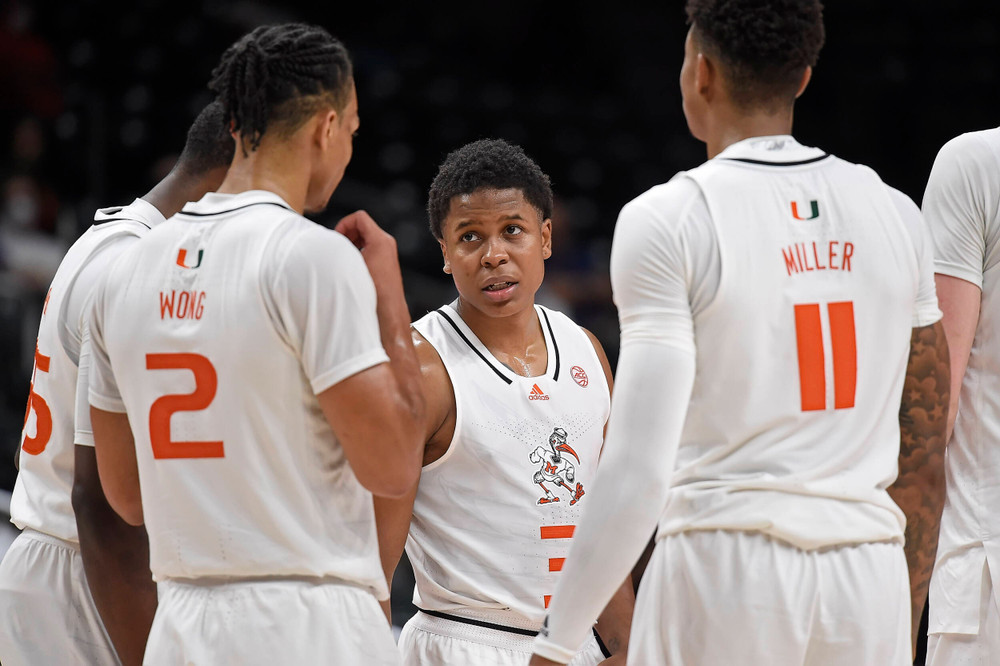 With Miami (12-3, 4-0 ACC) set to take on second-ranked Duke at Cameron Indoor Stadium on Saturday and matchups against ACC foes including North Carolina, Florida State, Virginia, Louisville and Notre Dame all looming on the schedule, Moore knows there is still plenty of work to do, both for him personally and the Hurricanes as a whole.
He wants to continue being a leader, both on and off the floor. And he wants to make sure the Hurricanes continue pressing forward, even when things get tough – as they did during the first half against Syracuse.
"I think we've just got confidence in ourselves. We believe in each other. We believe in the team and we believe in the coaching staff," Moore said of the resiliency the Hurricanes showed against the Orange, who held a 14-point lead at the half and then pulled within four twice in the game's final seconds after Miami took the lead. "It makes it easy to go out there and just keep playing our game. Basically, we'll figure it out as long as we're playing hard on the defensive end and executing on the offensive end. We're doing our jobs, so eventually, something good will happen."