W. Tennis Inks Nikolenko for January 2022
CORAL GABLES, Fla. – University of Miami head women's tennis coach Paige Yaroshuk-Tews announced Tuesday the signing of Tatyana Nikolenko.
A native of Oskemen, Kazakhstan, Nikolenko will join the Hurricanes in January, in advance of the 2022 spring campaign.
"We believe Tatyana's outlook on tennis and her future is very much aligned with ours," Yaroshuk-Tews said. "It will be fun to see her blossom in an environment that has no ceilings."
Nikolenko comes to Coral Gables following a superb ITF Juniors career, during which she ascended as high as No. 53 in the world in January 2021. She is still among the top-ranked players internationally, holding the No. 135 spot on the list.
A 5-foot-7 right-hander, Nikolenko is also No. 1,507 in the WTA singles rankings and No. 1,665 in the WTA doubles rankings.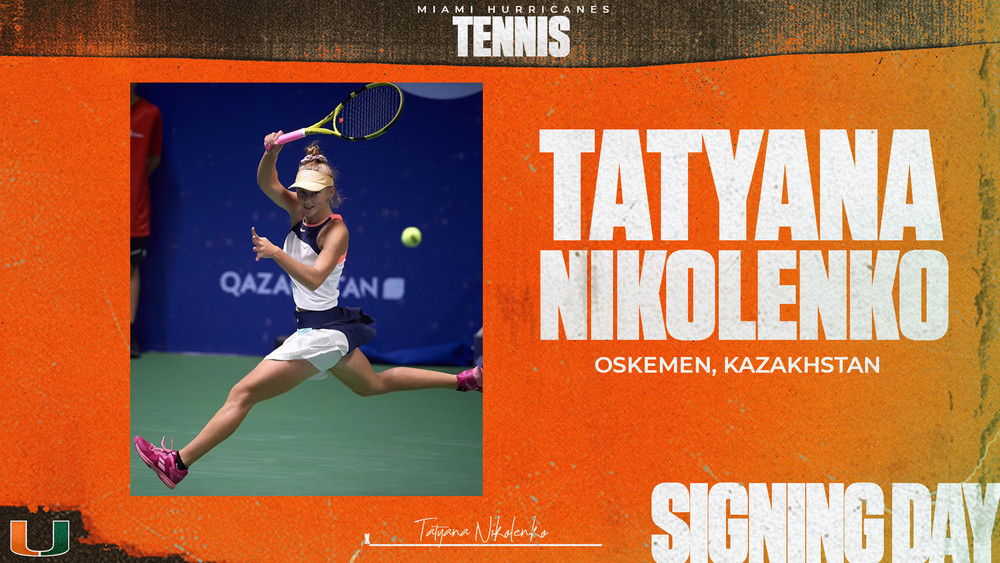 The Shkola Zerde graduate competed in both the Wimbledon Junior Championships and the US Open Junior Championships in 2021.
Nikolenko owns at least five amateur titles, including claiming a J3 crown in Nur-Sultan, Kazakhstan, in December 2020. More recently, she earned a J2 trophy in Shymkent, Kazakhstan, in October 2021.
A well-regarded prospect, Nikolenko committed to Miami over offers from FIU, Georgia, Iowa State, Oklahoma, USF, Texas A&M and VCU.
Nikolenko will be the first player from Kazakhstan to play for Yaroshuk-Tews during her 25th season as head coach. She will represent the 29th different country from which Yaroshuk-Tews has coached a player.
To keep up with the University of Miami women's tennis team on social media, follow @CanesWTennis on Twitter, Instagram and Facebook.