Canes Host Colonials, Seek Third Straight Win
CORAL GABLES, Fla. – The University of Miami women's basketball looks to extend its win streak to three games on Sunday when it hosts the Robert Morris Colonials at 1 p.m. at the Watsco Center.
The Hurricanes are coming off back-to-back wins in the 38th annual Miami Holiday Classic, scoring their most points of the season in a 78-65 win over Arkansas-Pine Bluff on Monday.
"We are sharing the ball really well and moving without the ball a little better," head coach Katie Meier said. "We're showing that we compete at a high level and that we can win."
The Canes tallied a season-best 20 assists against the Golden Lions, the most by a Miami team since Dec. 20, 2018, against Vanderbilt (24). Freshman Ja'Leah Williams led all Canes with a career-high seven assists in the contest.
Williams has been a spark for Miami since earning a starting spot, averaging 10.5 points on 54.4 percent shooting. She's posted double-digits in two straight games and is leading all freshmen in scoring (6.2), rebounding (3.4) and steals this season (2.6).
"Ja'Leah is an amazing young lady," Meier said. "She is showing signs of triple-double potential. If she's hitting the pull-up [jumper] and hitting the three like she has been, she is going to be really special."
In addition to lifting the Canes on offense, Williams is a menace on defense ranking second in the ACC in steals (23) and steals per game (2.6).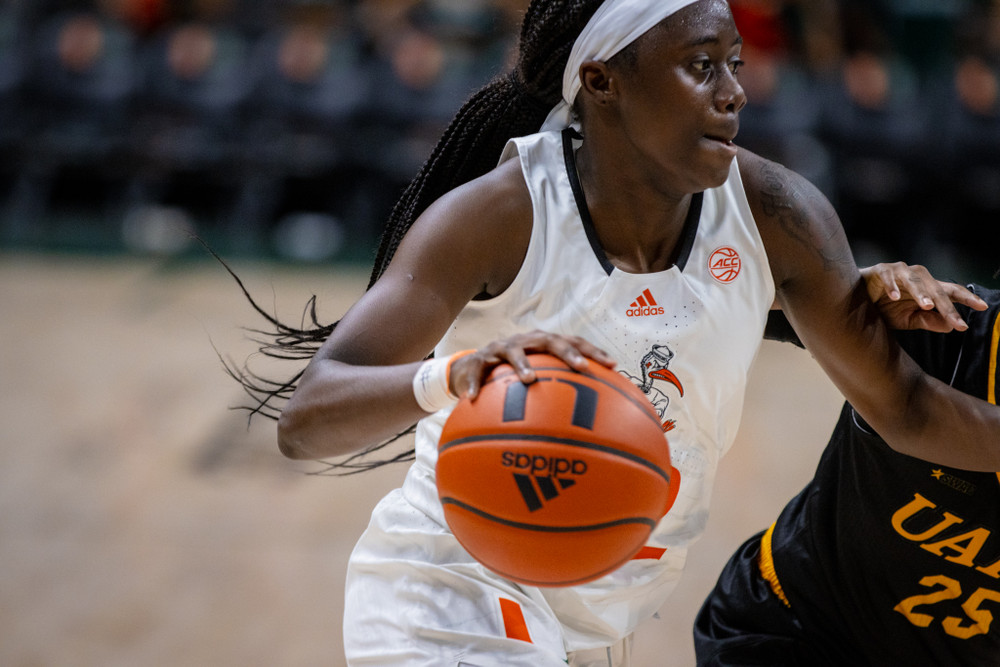 Williams and the Canes are locked in on Sunday's battle against Robert Morris, their final game before the start of ACC play.
The only meeting between the two schools came almost 40 years ago on Jan. 3, 1983. The Canes came out on top, 56-45, in the showdown. Miami is a perfect 8-0 all-time against teams from the Northeast Conference.
Sunday's game has the potential to be extra special for graduate student Kelsey Marshall as she is just three 3-pointers away from becoming the all-time leader in 3-pointers at Miami. Marshall is averaging 4.7 threes per game over the last three contests and is at 270 in her career, just two behind Cane great Riquna Williams (272).
The game will air on ACC Network Extra with Kyle Sielaff and Tamara James on the call. Fans can also listen to the game on WVUM 90.5.
Single-game and season tickets for the 2021-22 women's basketball season are on sale now and can be purchased here.