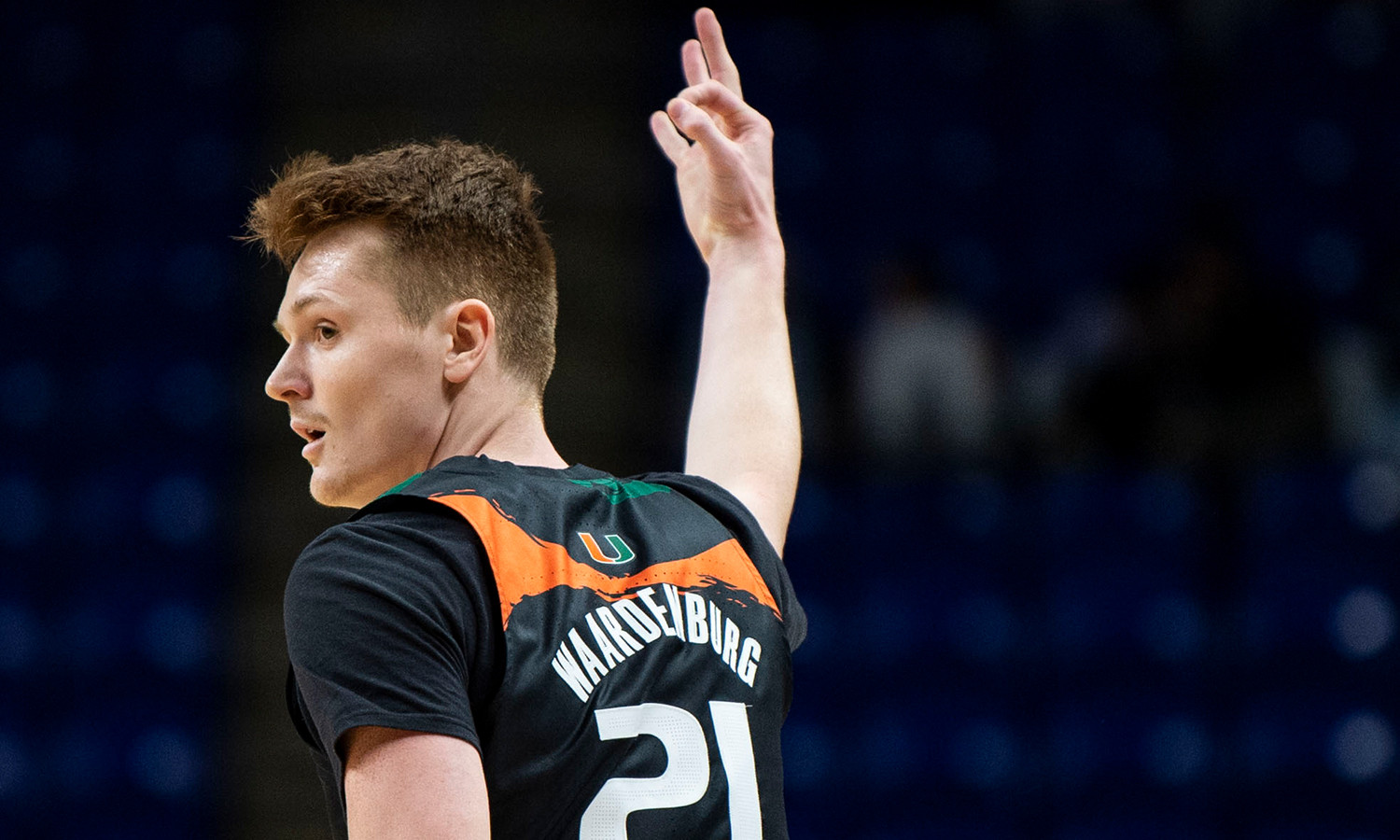 CORAL GABLES, Fla. – It has been, for Sam Waardenburg, a very, very good week.
And that's meant it's been a very, very good week for the Hurricanes, too.
Waardenburg, a sixth-year redshirt senior forward, had a career-high 14 points in Miami's 63-58 road win over Penn State on Wednesday. He followed that by posting another career-high – this time of 18 points – in the Hurricanes' 80-75 comeback win over Clemson on Saturday afternoon at the Watsco Center.
He's playing some of the best basketball of his career and given what he endured last year when he was sidelined with a foot injury, that isn't something Waardenburg takes for granted.
"It's been really good. It's so great to be back on the court every game," Waardenburg said. "But yeah, it's been a really fun week. The team's playing well together and when we do that, it's fun. A win like [Saturday's], fighting back, that's the most fun you can have on the court."
For Waardenburg, part of that fun now comes from being one of Miami's go-to options.
His knowledge of the Hurricanes' system, ability to score, defend and get his teammates involved means he's more than earned the trust of Hurricanes head coach Jim Larrañaga.
He's also become a catalyst to help run Miami's offense in key situations – like when the Hurricanes needed to find a way to rally against the Tigers in Saturday's ACC opener.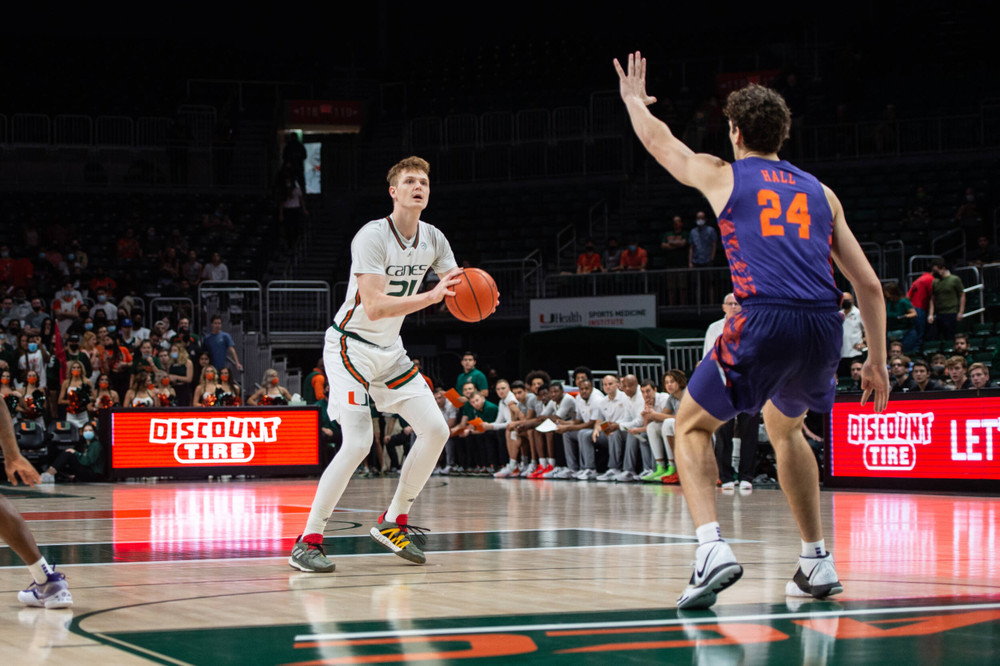 Miami (6-3) trailed by nine with five minutes remaining, but closed the game on a 19-5 run to clinch its conference opener.
Waardenburg had five straight points and a steal during that stretch to help the Hurricanes close the gap. Along with his 18 points and the steal, he finished with three rebounds, three assists, and two blocks.
"Sam had a fantastic game. He's been playing fantastic. And if you've noticed, we've been putting the ball in his hands a lot more, putting the ball in his hands at the top of the key," Larrañaga said. "He can make that 3-pointer. That stretches the defense…Our guards can use him as a ball screener and create opportunities for themselves.
"Sam can score it. He got some assists, but one of the big keys, he's a very active defender. He guards ball screens very well. He can guard big guys. He can switch off to smaller guys…He's a key component to our strategy and has been since the season began."
Waardenburg, undoubtedly, takes his responsibility as one of Miami's floor generals seriously. He gained a new appreciation not only for the game, but for coaching, while sidelined last year.
With guidance from former Hurricanes assistant coach Adam Fisher, who is now at Penn State, he began scouting some of Miami's opponents and put together reports on what he saw during games.
As the season progressed, Waardenburg said he developed a better understanding of what Miami's coaches and support staff do on a daily basis to get the Hurricanes ready to play.
And all of that knowledge, he says, has helped him perform the way he has through Miami's first nine games in which he's averaged 8.3 points and 3.8 rebounds, while totaling 18 assists, nine blocks and five steals.
"Coach L always talks about how as players we don't always look at the game from a coach's perspective, but me being out for the whole year, I kind of wanted to be around the coaches and whatnot," Waardenburg said. "I spent a lot of time with Coach Fisher last year. He gave me assignments. I had to do reports after games. And just through that, I started to look at the game from a coach's perspective a bit more. From there, building that IQ on the floor, you just kind of soak in a different part of the game that you don't really see when you're a player and you're out on the court. You don't get to see everything. That's probably what I learned the most – seeing it from a different angle, understanding if I'm facing this side of the court, I kind of actually know what's happening on the other side of the court in my head as well. Those little things have just helped me improve my game."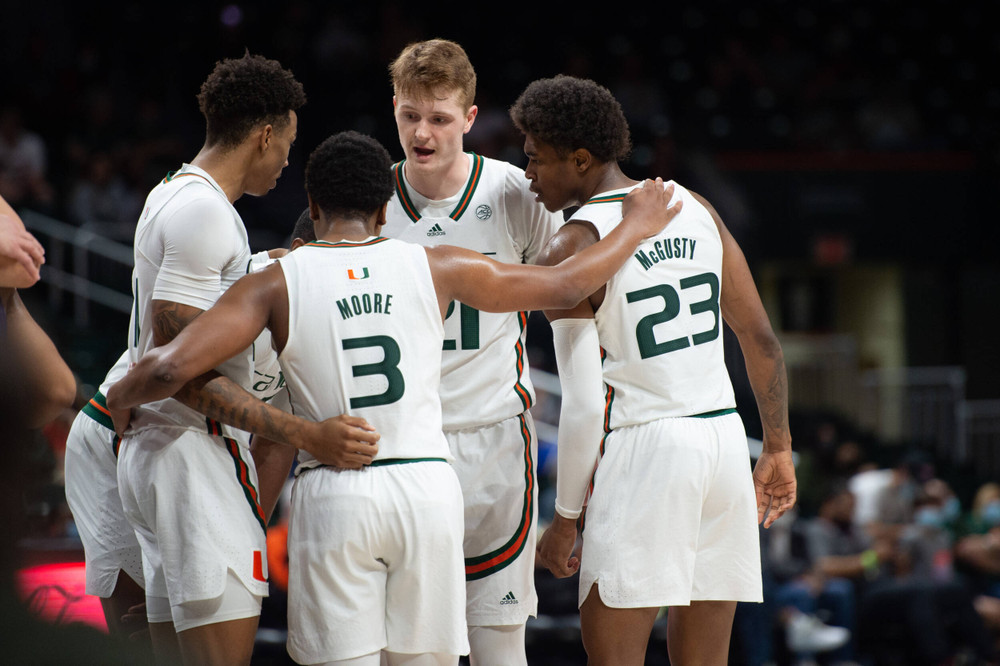 As to how he's felt physically since his injury, Waardenburg says every passing day gets better. He's keenly aware of the need to take care of his body, get the necessary treatment and do what he must to continue strengthening his foot.
He credits Miami's athletic trainers and strength and conditioning staff for helping prepare him for the rigors of the season that still await and he's confident things will only continue getting better – for him and the Hurricanes moving forward.
"It's felt good this week, so that's been good," he said with a laugh. "I've always loved winning and it's been special, making that decision to come back. It starts with all the guys in the locker room. They create such a fun environment and it makes you want to come in every day and get better. They put all their trust in me and I put all my trust in them. It's just been amazing. They're always on me to shoot the ball, shoot the ball, so I've been able to get a few looks the last few games and those have gone down.
"Going forward, we're going to continue to work as a team, put trust in one another and hopefully, get some more wins."