Canes Host Tulane, UAPB in Miami Holiday Classic
CORAL GABLES, Fla. – The University of Miami women's basketball team returns home to the Watsco Center for its first home game in 17 days when it hosts the Tulane Green Wave (6-2) in the second game of the 38th annual Miami Holiday Classic.
Since 1980, a variation of the Miami Holiday Classic has taken place every year except four (1998-99, 2015-16, 2017-18, 2020-21). Miami is 59-27 overall in Miami Holiday Classic games and 21-5 under head coach Katie Meier. Last time the Canes hosted the Classic, Miami posted a pair of wins over UNC Asheville and Washington State in December 2019.
The Canes enter the Classic with something to prove after taking two straight top-10 opponents down to the final minutes, dropping a 53-51 decision against No. 4/6 Indiana and falling to No. 8 Maryland, 82-74.
"We have a very tough schedule for a team that really has seven new players," head coach Katie Meier said. "Games like this is why I coach. I love these games. I love playing top-10 teams. We probably don't have the street cred right now to be playing this schedule but, after this schedule, people are going to start talking about Miami a little bit because I think we showed up."
For the second straight game, graduate student Kelsey Marshall put up a 20-spot, pouring in 24 points to lead all Canes. Three other Canes scored in double-figures – graduate student Maeva Djaldi-Tabdi (13), senior Karla Erjavec (13) and freshman Lashae Dwyer (11).
Dwyer's 11 points marks her first career double-digit outing, while fellow freshman Ja'Leah Williams tallied a team-best four steals in the game.
"We saw some breakout performances and I think [everyone] is going to remember Ja'Leah Williams and Lashae Dwyer," Meier said."
Miami is the only ACC school with two players in the top five in the league for steals (Dwyer – T-2nd, Williams – T-4th). Dwyer ranks second in the ACC in both total steals (17) and steals per game (2.4).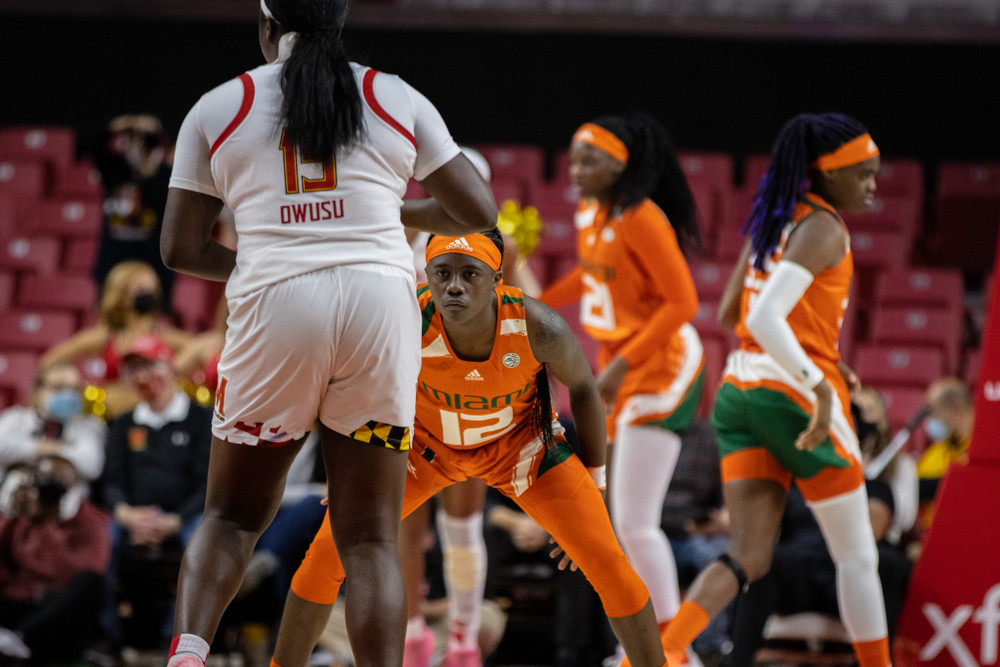 Both Tulane and Miami are coming off single-digit losses entering Sunday's contest as Tulane fell to Arkansas-Pine Bluff, 79-74, in the opening game of the Miami Holiday Classic.
Miami is 1-3 all-time against Tulane, with a majority of the meetings occurring before 2000. The last time the Canes and the Green Waves played, Tulane came out on top, 70-65, on Dec. 19, 2014. When playing at home, Miami is 1-1 against the Green Wave.
Tulane is a familiar team for a couple Miami coaches as both head coach Katie Meier and assistant coach Beth Dunkenberger served as assistant coaches for the Green Wave. Meier was there from 1994-2001 as an assistant coach (1994-99) and associate head coach (1999-01), while Dunkenberger worked at Tulane from 2011-20.
Tipoff on Sunday is set for 2 p.m. and the game will air on ACC Network Extra. Fans can also listen to the game on WVUM 90.5.
Single-game and season tickets for the 2021-22 women's basketball season are on sale now and can be purchased here.