Miami Set To Face Second Straight Top-10 Team
CORAL GABLES, Fla. – The University of Miami women's basketball team is ready to take on its second straight top-10 opponent on Thursday when it heads to College Park, Md., to square-off with the No. 8/8 Maryland Terrapins. This will be the third time in program history that Miami has faced back-to-back top 10 teams.
The Canes took No. 4/6 Indiana down to the last shot on Nov. 27, falling short of the Hoosiers, 53-51. But the performance was encouraging for head coach Katie Meier, who is especially pleased with Miami's defensive play so far.
"It comes down to the fact that we held an incredible team about 25 points below their season average," Meier said. "It's necessary right now for us to compete and I was really proud of their effort."
Graduate student Kelsey Marshall leads the Canes in scoring this season, averaging 13.0 points per game. She totaled 20 points against Indiana for the ninth 20-point outing of her career and first of the season.
"[Kelsey] was demanding from her team and that's what we needed," Meier said. "We needed her to step up and be a leader and she's doing a heck of a job with it."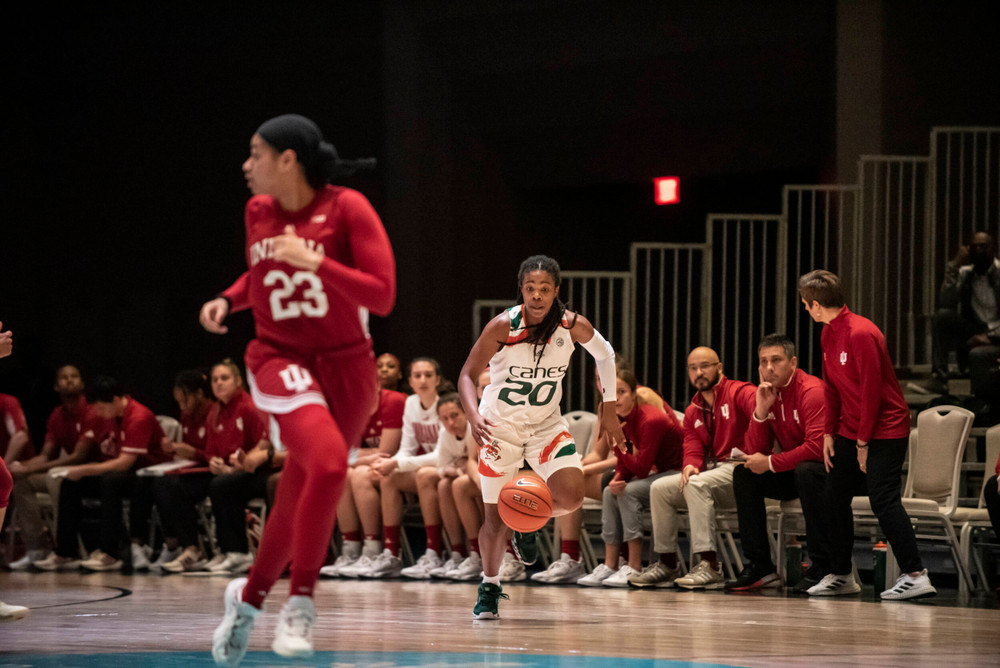 The Canes look to carry their strong defensive presence into Thursday's game to contain a high-scoring Maryland offense that is averaging 84.8 points per game this season.
However, Miami has played lockdown defense this season, holding its opponents to just 51.7 points per game, good for 26th in the nation. The Canes have forced 20-plus turnovers in four straight games and have tallied double-digit points off turnovers in five of the six games played this season.
"When you play the BCS teams and still keep them in the 50s, that means we are doing something really special on the defensive end," Meier said. "It shows the amount of effort we're playing with and the team defense mentality."
Miami's history with Maryland is long as the teams faced off as members of the ACC from 2004-2014. The Canes are 5-11 all-time against the Terrapins and 2-4 when playing in College Park, Md. Six of the 16 games have been decided by single-digits and three have been one-possession contests.
Thursday's game will tipoff at 8 p.m. at the Xfinity Center and will air on the Big Ten Network. Fans can also listen to the game on WVUM 90.5.