Thanksgiving Tournament Time
CORAL GABLES, Fla. – After a one-year hiatus due to a COVID-19 cancelation, the University of Miami men's basketball team is once again set to compete in an in-season tournament.
For the ninth time in Jim Larrañaga's 11 years at the helm, the Hurricanes will take part in an eight-team event. This time, it is the ESPN Events Invitational at the ESPN Wide World of Sports' HP Field House in Kissimmee, Fla.
The Hurricanes open competition Thursday at noon against Dayton to tip off the tournament, then play again Friday and Sunday, both versus to-be-determined opponents. Miami's focus heading up the turnpike is on just one game, though.
"Well, the preparation, really, is not about playing three teams. It's about playing Dayton on Thursday and being well-prepared," Larrañaga said. "…We won't start preparing for our next opponent until after the game on Thursday, when we know who we'll be playing."
While the game planning for Friday's matchup—it will be against Kansas or North Texas at 11 a.m., 1 p.m. or 1:30 p.m.—may not begin until one day beforehand, the physical planning is already underway.
Miami (3-1) opened the season with four games in 13 days, a far more normal schedule than what an in-season tournament provides. Thus, to get ready for such a vast difference in game frequency, some changes are needed.
"We shortened practice today. We'll shorten it tomorrow," Larrañaga shared. "Hopefully we're in good enough shape and have enough depth that our guys feel comfortable that they're [physically ready] to play three games in four days."
One benefit Miami does have as it faces that type of test is indeed the luxury of good depth, something it has not had over the last few injury-plagued seasons.
After going three-and-a-half seasons without ever playing even 10 scholarship guys in a game, the Hurricanes have done so in each of the past three games. That includes going 11 deep in two of those contests, something that only happened six times in Larrañaga's first 10 years total.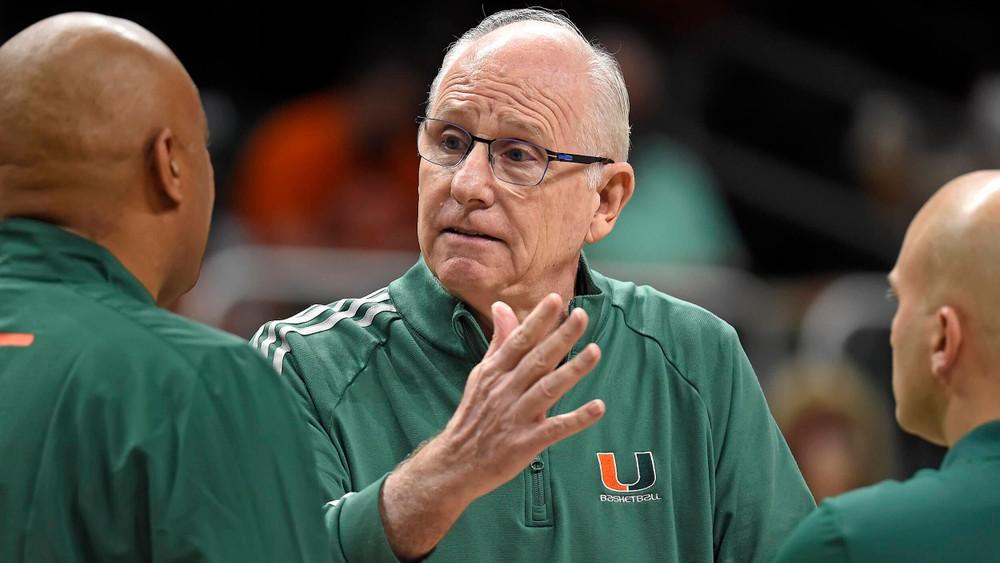 "Well, I think, when you have a very good starting five, it's vitally important to give the starters quality rest," Larrañaga said. "The only way you can do that is if you have a good bench, guys you're confident you can put in and they'll play well. Right now, we feel like we can go 11 or 12 deep."
Nine different Hurricanes recorded at least one basket in Miami's last game, an 86-59 throttling of Florida A&M Sunday night at the Watsco Center.
After each of Miami's first three games were decided by 10 points or fewer, this one was quite the opposite. It led for 15-plus points for the final 23 minutes and built its cushion as high as 30 points.
It was the way the Hurricanes carried over their strong opening 20 minutes into the second frame that encouraged their head coach.
"I like that we put two good halves together," Larrañaga remarked. "We've been defending very well in the first half, not quite as well in the second half, but we were still able to score the ball at a high rate. Scoring 86 points, it was a well-balanced offensive attack."
The performance on the offensive end was, as usual, guided by Miami's three-headed backcourt attack of third-year sophomore guard Isaiah Wong, Kameron McGusty and fellow sixth-year senior guard Charlie Moore.
McGusty, Miami's leading scorer on the season at 19.0 points per game, finished with 14 points on 6-of-11 shooting, while Wong tallied 19 points on an efficient 8-of-11 clip.
Moore, though, stole the show. In his fourth game as a Hurricane, the Chicago native broke out with a 20-point performance that included a 5-of-7 display from 3-point range. He added four assists and three steals, while committing just two turnovers.
"Charlie is our catalyst, both on offense and defense. I think he's doing a very good job with on-ball defense," Larrañaga said. "I think, on offense, the other players like him because he's a very willing passer. But for us to truly be successful, he also has to be a double-digit scorer and stretch the defense out with some good 3-point shooting."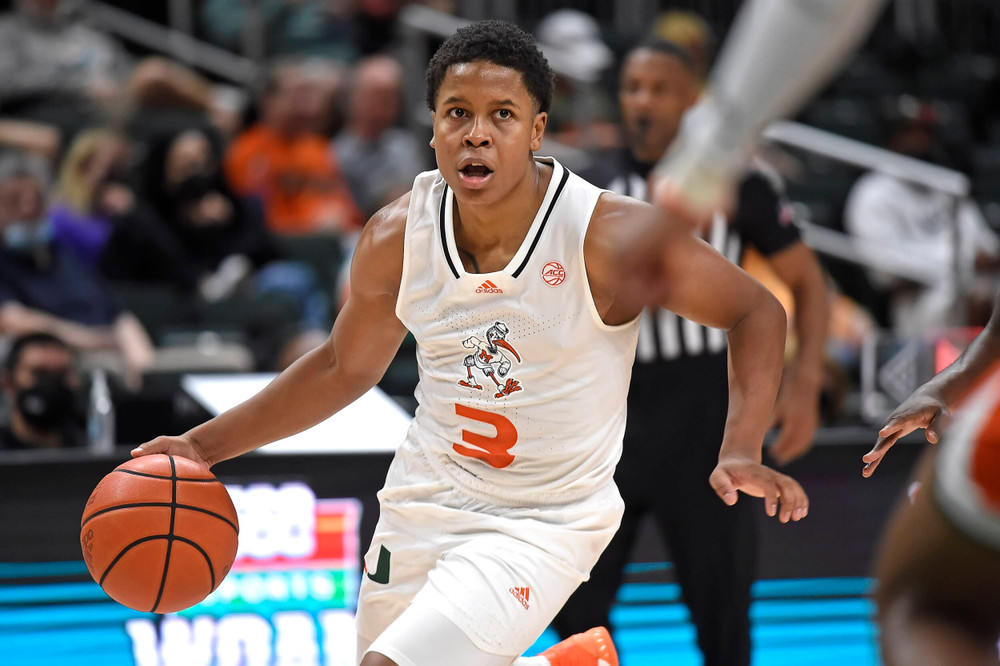 The 5-foot-11, 180-pounder will look to do just that when the Hurricanes take the court on Thanksgiving Day against Dayton, which enters the tournament at 1-3 on the season.
Coming off a solid 14-10 (9-6) campaign, the Flyers were picked fifth in the Atlantic 10 preseason poll. In 2019-20, they went 29-2 (18-0) and ended the year on a 20-game winning streak before the cancelation of the season.
Dayton is under the direction of fifth-year head coach Anthony Grant, whom Larrañaga has faced six times, going all the way back to 2006 when both were in the CAA.
"My experience of coaching against Anthony Grant started when George Mason played Virginia Commonwealth," Larrañaga shared. "My staff was very familiar with the style of offense and defense that he learned from Billy Donovan at Florida. So, that familiarity helps you in preparation since it has repeated itself over the last 15 years."
Larrañaga's George Mason staff at that time included Chris Caputo, now Miami's associate head coach all these years later. Meanwhile, Larrañaga and Donovan are both Providence College alumni, while Grant hails from Miami.
Despite all the connections, familiarities and history between the two staffs, this is a game that will, of course, be played on the hardwood by the particular players on the 2021-22 rosters for these coaches.
This group of Flyers presents some difficult matchups for the Hurricanes to contend with, on both ends of the floor.
"Dayton plays multiple defenses. They're a team that can pressure full-court for 40 minutes or they can pack in their man-to-man," Larrañaga said. "They'll play a little 2-3 zone. They ice ball screens. They're a very versatile defensive team. And then on offense, they really like to pound it inside. They're bigger than us and they have a very deep team, as well."
After playing Dayton, Miami will have initially its usual postgame routine. Then, in the evening, things will be a bit different.
Rather than a normal team dinner, the Hurricanes will head out for a Thanksgiving meal together. While away from their blood relatives, they will celebrate the holiday with their chosen family at The U.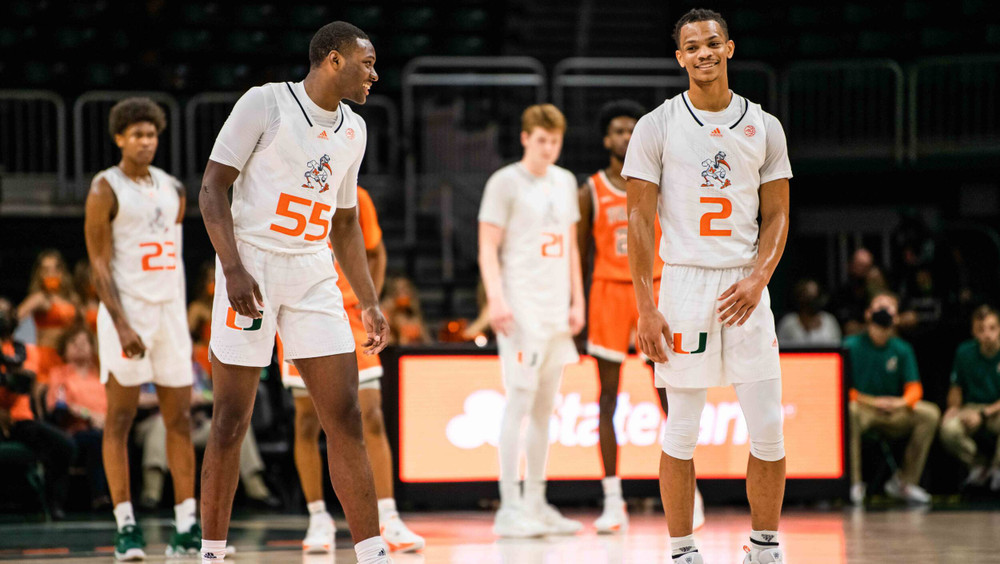 Two days later, on their tournament off-day, they will follow that up by visiting Disney World to enjoy another fun, team-bonding experience.
"I think any time you go on the road as a team, as a program, you want to develop off-the-court chemistry," Larrañaga said. "The holidays are a perfect time because you get to spend more than just a day or two [together], but almost a full week."
Thursday's tournament-opening matchup will be televised live on ESPN2 HERE, with Jon Sciambi and Chris Spatola on the call. Joe Zagacki will have the radio broadcast on AM 560 Sports WQAM HERE, while live can be found HERE.
Sciambi is a familiar name to Miami fans, as he previously worked for the then-Florida Marlins, AM 790 WAXY and the aforementioned AM 560 WQAM, the latter alongside Zagacki from 1992-94.
Following its appearance in the ESPN Events Invitational, Miami will head to University Park, Pa., where it meets Penn State Dec. 2 at 9:15 p.m., live on ESPNU in the Big Ten/ACC Challenge Presented by Continental Tire.
To keep up with the University of Miami men's basketball team on social media, follow @CanesHoops on Twitter, Instagram and Facebook.