Takeways from Miami's Game at Florida State
TALLAHASSEE, Fla. – The Miami-Florida State rivalry is one defined by big hits, memorable plays, last-second heroics and more than a few heartbreaking moments for both teams.
The latest matchup between the two proved no different. Unfortunately for Miami, it was the Hurricanes who found themselves on the wrong side of the scoreboard Saturday afternoon.
The Hurricanes rallied back from a 17-point deficit, but in the end, couldn't hang on to a fourth-quarter lead as Florida State scored a go-ahead touchdown with 26 seconds left that proved the difference in an emotional 31-28 win for the Seminoles.
"Proud of the way our team fought, coming back, the way we played in the second half. Guys just battled and battled, but you have to give them credit – they battled too," Hurricanes head coach Manny Diaz said. "Obviously, they made the crucial play on 4th-and-long and they found one more play than we did to win the game. There's a lot of hurt in that locker room."
Before the Hurricanes (5-5, 3-3 ACC) turn their attention to the final home game of the season next week, here, some of what players and coaches said they could take from their tough afternoon in Tallahassee.
1. This time, the close game didn't go Miami's way
Ahead of Saturday's game against Florida State, the Hurricanes had played in five straight conference games decided by four points or less.
Miami fell in the first two of those five, but bounced back to beat two top-20 teams in North Carolina State and Pittsburgh and last week, notched a win over Georgia Tech.
In the days before their matchup with Florida State, more than a few Hurricanes said they expected the Seminoles would test them and likely play Miami close.
That expectation proved true. Unfortunately, though, in the game's final two minutes it was Florida State that made the big plays to win.
On their final possession, the Seminoles converted on a 4th-and-14 play that three plays later led to the game-winning score. Florida State opened that same drive with a 59-yard pass play that put the Seminoles in Miami territory.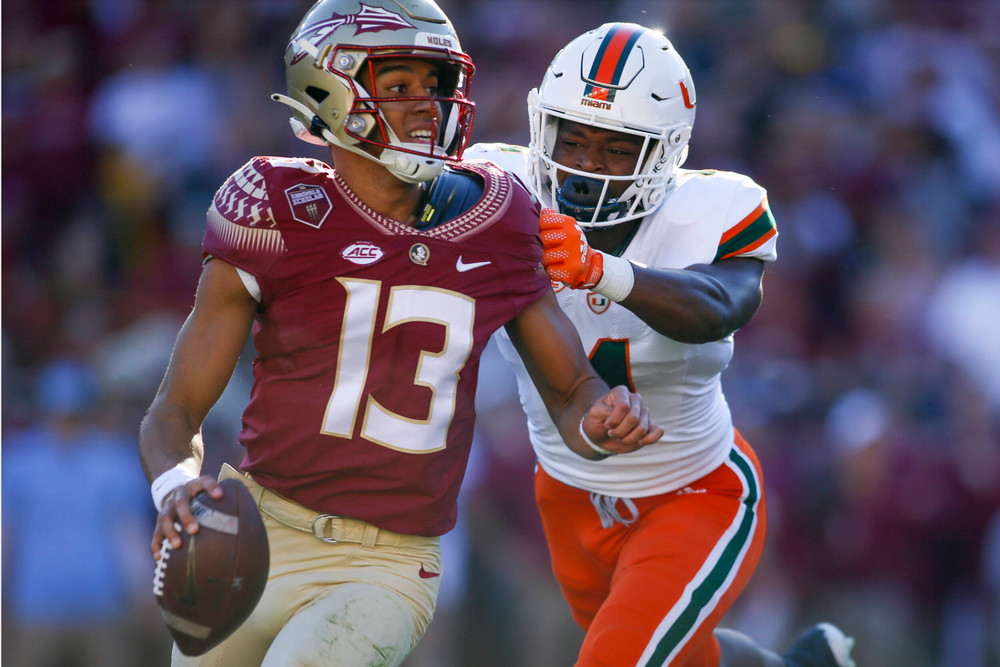 All of that proved too much for Miami to overcome at that point in the game.
"They beat us one-on-one in man coverage, which they hadn't really been able to do much of," Diaz said of the long pass play. "They made a play. Threw a fade to the slot, and we got the guy on the ground, still had a chance to defend the red zone and ultimately had a chance to win the game on fourth down and we just couldn't get it done."
2. Another slow start takes its toll
In their first two conference games against Virginia and North Carolina, the Hurricanes found themselves having to rally back from early deficits. And while they fought hard in the second halves of both games, they came up short.
Miami seemed to have fixed those issues, though, against North Carolina State, Pittsburgh and Georgia Tech, outscoring those three opponents 42-20 in the first quarters of those games.
But on Saturday, it was Florida State that came out fast and Miami that found itself scrambling to put together a comeback.
The Seminoles scored on their opening possession and forced three first-quarter Miami turnovers.
Their lead eventually grew to 17-0 before the Hurricanes managed their first score, a 5-yard touchdown catch by Key'Shawn Smith from Tyler Van Dyke with 3:35 left in the half.
While Miami would eventually come back to take a lead in the second half, the Hurricanes know their slow start proved costly, especially in a rivalry game.
"I think we definitely hurt ourselves in the beginning with turning the ball over and whatnot…so, we had to do better on that part," tight end Will Mallory said. "But I'm really proud of the guys and how we came back, how we fought back. It's kind of been a trend this year. We battle to the end. Unfortunately, it didn't go our way this time. But, credit to Florida State. They're a really good team, really talented team…This one does sting."
Added Van Dyke, "We have to get faster starts so we don't put ourselves in these situations and having to come back in multiple games this year. We have to start faster. That's how it starts."
3. Penalties a problem
Along with the early turnovers, another problem added to Miami's tough start: penalties.
The Hurricanes were penalized 14 times for 105 yards in Saturday's loss with eight of those penalties coming in the game's first quarter. Those eight penalties accounted for 50 yards and more than once, Florida State capitalized on those Miami mistakes.
"It just helped them. It set them on short fields, short down-and-distance situations," Diaz said. "Just guys I think too amped up, too hyped up in an emotional setting, an emotional type of game. Not as disciplined as we needed to be."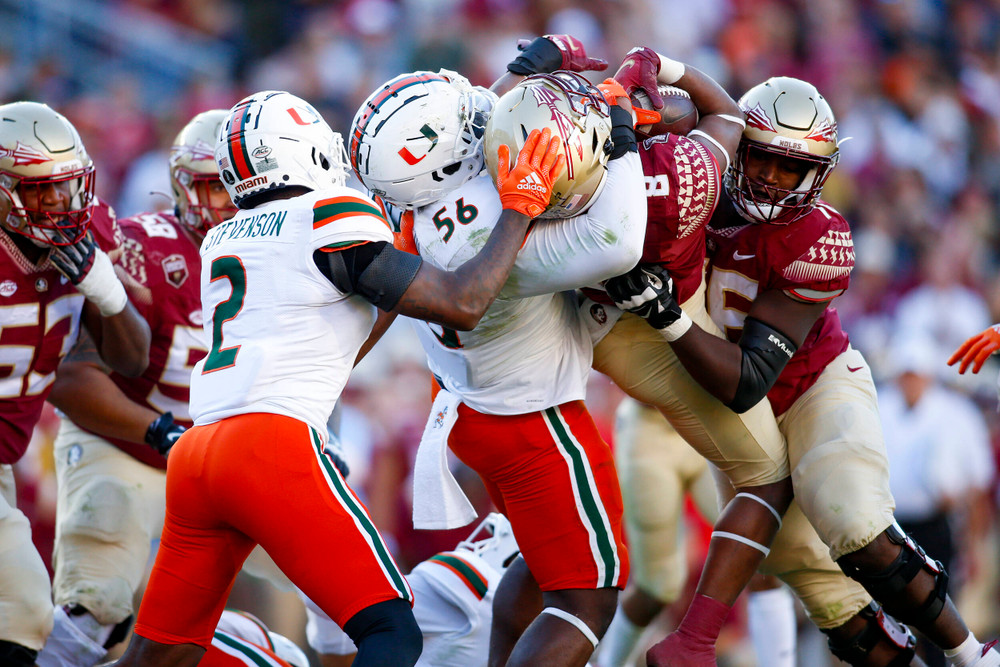 4. Tyler Van Dyke bounced back in the second half
In Miami's three wins over NC State, Pittsburgh and Georgia Tech, Van Dyke was an absolute force.
The second-year freshman completed 79 of his 109 passes during that stretch for 1,140 yards and 10 touchdowns and earned recognition three times as the ACC Rookie of the Week.
But early during his first appearance in the Miami-Florida State rivalry, Van Dyke had his share of struggles.
In the first quarter he was intercepted twice, lost the ball after a sack and completed just 3 of 11 passes for 13 yards.
He'd bounce back and finish the day completing 25 of 47 passes for 316 yards with four touchdowns, but the early ups and downs were a departure from how effective he'd been in recent weeks.
"Tyler's been so impressive, but he hasn't seen the atmosphere he came into today. It's still your first Miami-Florida State game on the road and that was, in the three trips up here now, that was as rowdy of a crowd as we've had to go against," Diaz said. "It took him a while to settle down. It took a lot of guys on our team a while to settle down. He missed some throws. We had some guys deep and we've been hitting our shots over the last few weeks and we didn't hit our shots early.
"What was great about Tyler is that he didn't flinch. Got back in the game, made some big-time plays. That one off the goal line to [Charleston] Rambo was phenomenal, the one he stuck it on to Rambo on the fourth down was great. The stats are one thing, but to me, it's about the way [Van Dyke] grew into the game and the way he played in the second half. Very, very proud of him for again, being a young guy and a rookie on the road in very adverse conditions."
5. Time to get ready for one last home game
As hurt as the Hurricanes were after leaving Doak Campbell on Saturday, there's not much time to lament what happened.
Miami is set to host the final home game of the season on Saturday night when Virginia Tech comes to Hard Rock Stadium. Not only will it be an opportunity for the Hurricanes to secure bowl eligibility with a win, it will be Senior Day.
That means a chance to make sure some of the players who've been at Miami the longest are celebrated properly.
"We have to make sure we regroup, send our seniors and outgoing players with a great win in their last game at Hard Rock Stadium next week," Diaz said.