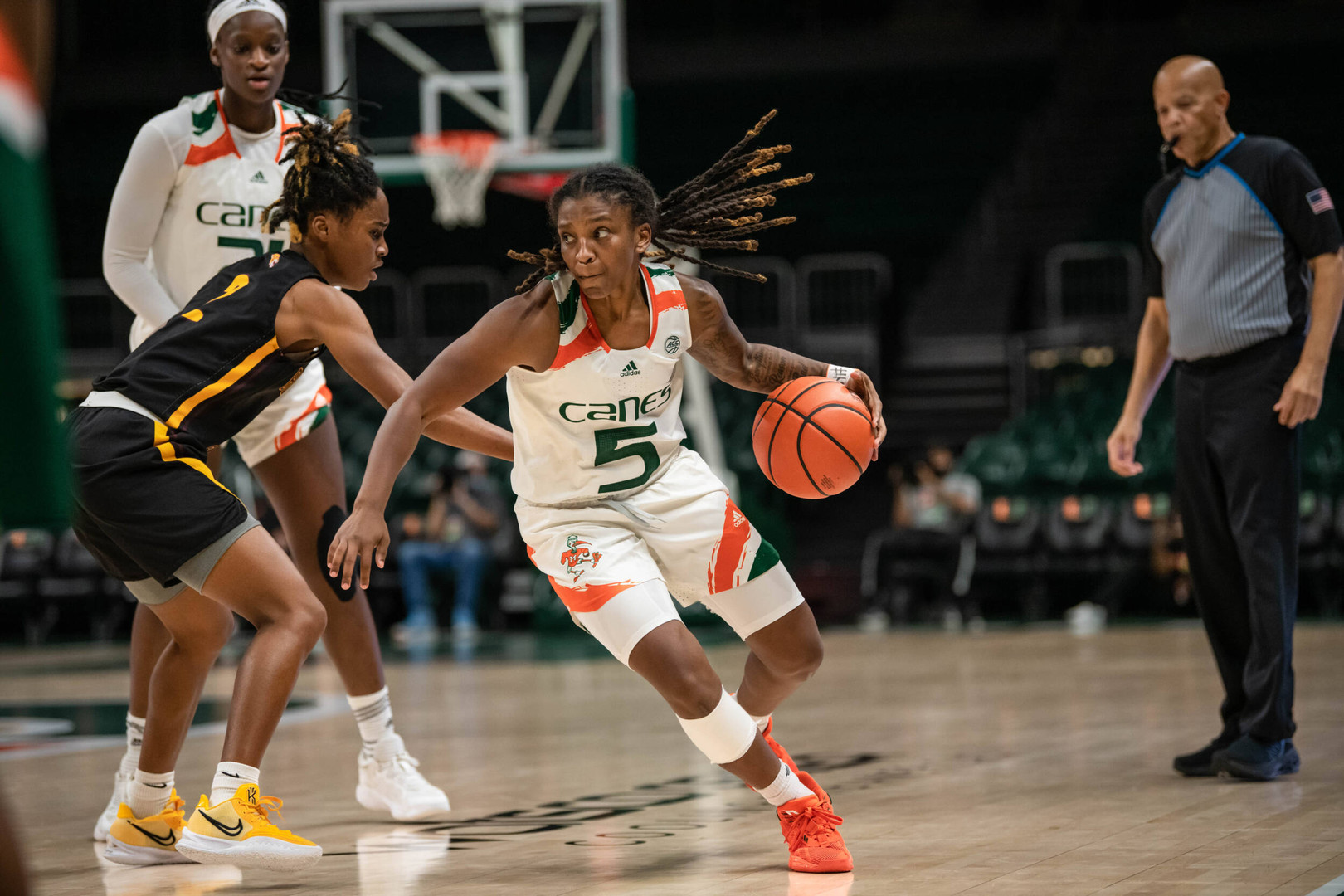 CORAL GABLES, Fla. – The University of Miami women's basketball team moved to 2-0 on the season after defeating the Bethune-Cookman Tigers (1-1), 55-43, Friday night at the Watsco Center.
"Bethune-Cookman came in here fighting hard," head coach Katie Meier said. "We've got to find some go-to players and some go-to sets that we can execute. We're struggling right now. Somebody has got to step up and stand out and, until we clean this up, we have to shorten our rotations until people get in and prove themselves."
Senior Mykea Gray led all scorers on the evening, pouring in 12 points for her first double-digit outing of the season. Graduate student Kelsey Marshall joined her in double-figures, tallying her second straight 10-plus point game with 11 against Bethune-Cookman.
As a team, Miami recorded 51 rebounds for the second consecutive game. Junior Moulayna Johnson Sidi Baba posted nine rebounds to lead the Canes, including three offensive boards. This marked the second straight game Miami has recorded 15 or more offensive rebounds.
"The positive, I thought, was that [Moulayna Johnson] Sidi Baba came in with toughness," Meier said. "She went hard to the basket, she rebounded and that was a real positive. I also thought Mykea Gray started the fourth quarter well on specifically dialed-up plays, to wake her up and give us a little spurt, she was huge."
The Canes played lockdown defense the in the first quarter, holding Bethune-Cookman to just one field goal and 6 percent shooting from the field in the frame. Five different players scored for Miami, paced by senior Karla Erjavec who tallied five of her eight points in the first quarter.
Two more Canes got on the board in the second quarter as graduate student Maeva Djaldi-Tabdi and Johnson Sidi Baba each poured in a bucket. Both the Canes and the Wildcats posted a 10-point second quarter, giving Miami a 25-13 lead heading into halftime.
The Tigers closed the gap in the third quarter, outscoring the Canes 17-14 to make it a single-digit game with 10 minutes to play.
Gray took over in the fourth quarter, racking up six points in the first two minutes to spark an 13-3 run for the Canes. Miami held Bethune-Cookman to a .231 shooting clip in the final frame to close out the 55-43 victory.
The Canes have a quick turnaround as they host the Stetson Hatters on Sunday at 2 p.m. at the Watsco Center.
Single-game and season tickets for the 2021-22 women's basketball season are on sale now and can be purchased here.