Canes Get Comfortable, Look Ahead to Bethune-Cookman
CORAL GABLES, Fla. – Tuesday's victory for the University of Miami basketball team was important not only because head coach Katie Meier became the all-time winningest coach in Miami basketball history, but also because it was the first time this group of Canes truly got to put their talent to the test against a highly-skilled opponent.
"Jackson State had a 15-game winning streak last year and were an NCAA Tournament team last year and we weren't," Meier said. "They were well-coached and gutsy and it was a tough opening game for us as disjointed as we are right now. But we had a real opportunity to make some special plays."
The return of graduate student Kelsey Marshall and senior Mykea Gray was immediately evident on Tuesday as the pair led the Canes to victory. Marshall paced all Miami scorers with 19 points and knocked down five 3-pointers. Gray boasted a six-to-one assist turnover ratio, tying her career high in assists.
For Marshall, she treats every game like another practice to keep her nerves low.
"I try not to panic and just stay cool and ready," Marshall said. "I did that [Tuesday] and was able to hit the three and have a good setup from my teammate Mykea [Gray]."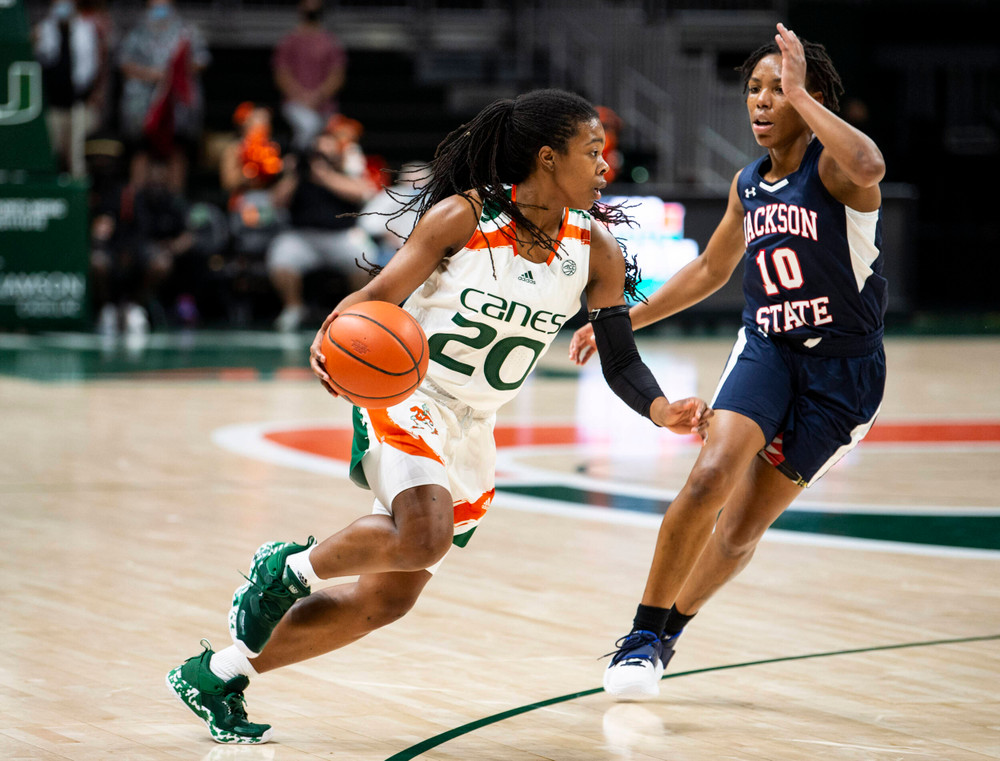 Gray's six assists against Jackson State were an extremely important part of the game, according to Meier.
"The way [Jackson State's] guards heat up the ball, the way they play multiple defenses, the way they come after your, a six-to-one assist turnover ratio is incredible," Meier said. "And that is from a kid who hasn't played in a year, at all. That's the real story of the game that I think people wouldn't see.
Something else the fans might not necessarily notice is the shear amount of newness on the court for the Canes this season. While Miami has a significant number of upperclassmen, there are very few Canes who have played two-plus years for Meier.
"It takes a lot to get chemistry when you have six new players, plus Mykea [Gray] who didn't play last year," Meier said. "I think [the team's] off-court chemistry and the way we run a program like a family really showed."
Two of those new players look to carry their dominance from Tuesday night into Friday's game against Bethune-Cookman as graduate student Maeva Djaldi-Tabdi and junior Lola Pendande each totaled 12 points. Pendande added four blocks and seven rebounds to her stat line, while Djaldi-Tabdi shot 2-fo-5 from beyond the arc as a 6-foot-4 post player.
Miami's height will be incredibly advantageous on Friday as it takes on a Bethune-Cookman team with an average height of 5-foot-eight. With seven players of six-foot, the Canes will look to utilize their posts to best the Wildcats.
Miami and Bethune-Cookman have met 10 times before in program history, with the Canes holding the 9-1 series advantage. Under Meier, Miami is 3-0 against the Wildcats and has averaged a plus-32 scoring margin.
Friday's game will tipoff at 7 p.m. at the Watsco Center and will air on ACC Network Extra with Alex Schwartz and Megan Perry on the call. Fans can also listen to the game on WVUM 90.5.