Canes Sign Top-15 Recruiting Class
CORAL GABLES, Fla. – Head women's basketball coach Katie Meier signed the highest-ranked class of her 17-year tenure with the Hurricanes on Wednesday, inking the seventh-ranked class in the nation according to JR All-Star Basketball and 12th according to ASGR Basketball.
Height and versatility are the defining qualities of the 2022 signing class as Kyla Oldacre and Lazaria "Zee" Spearman come in at 6-foot-6 and 6-foot-4, respectively. Both players rank in the top-30 among the nation's best players and were named to the 2022 Jersey Mike's Naismith High School Trophy Underclassmen Girls Watch List.
"This is a huge day for Miami women's basketball," Meier said. "My staff worked their tails off to sign our top two targets and we got them both. The size, athleticism and presence of the Kyla and Zee combo will secure Miami's spot as one of the nation's top programs."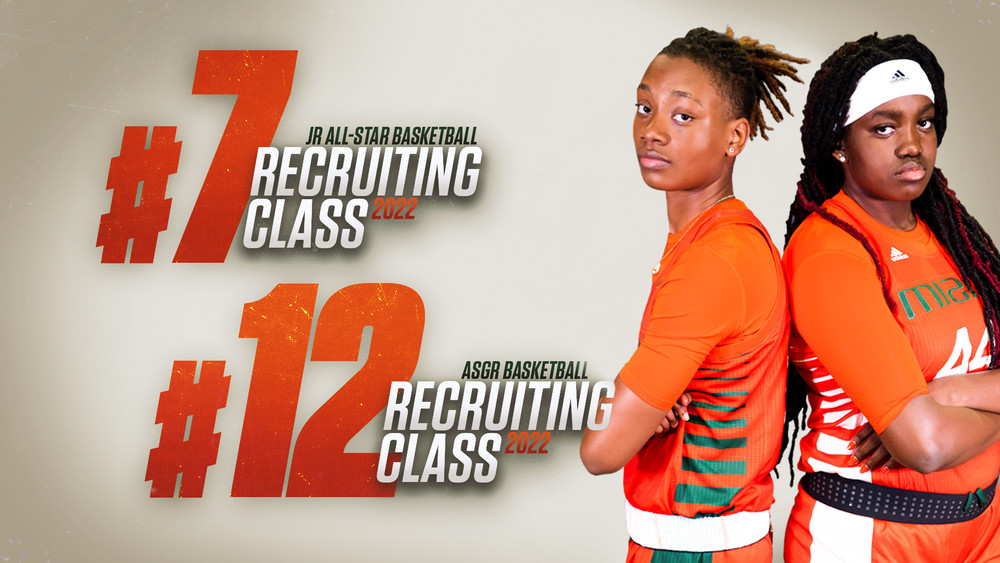 The No. 7 prospect in the nation, according to ProspectsNation.com, and No. 25 according to espnW HoopGurlz, Oldacre is a five-star center who immediately impressed Meier with her size and basketball IQ."
"Every game we watched, she made the right basketball play," Meier said. "She beat people with the pass, she beat people with her scoring in the paint, she beat people with the 3-pointer. She just won a lot of games doing the right thing with the basketball.
Oldacre averaged 14.9 points, 9.1 rebounds and 3.2 blocks as a junior at William Mason High School, but truly exploded onto the basketball scene at Nike Nationals this year. The center totaled four double-digit games, including two 20-point outings in Augusta, Ga.
"Besides what she is able to do and her skillset, Kyla is just an all-around basketball player," Meier said. "She's going to be a star at the University of Miami. We worked very hard and fought off a lot of top programs to sign the best center in the country."
A top recruit in the country, Oldacre chose Miami over offers from Florida State, NC State and Tennessee.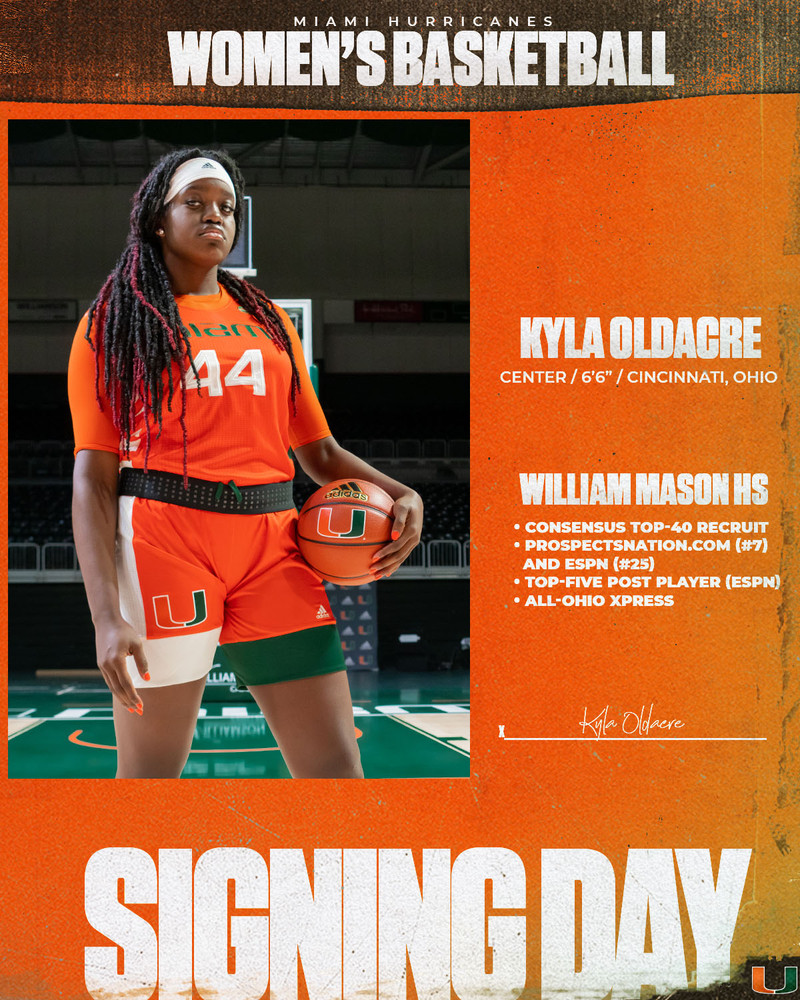 A little closer to home, Spearman, who is a native of Dacula, Ga., is the No. 26 recruit in the country according to ASGR Basketball and the 30th overall player according to espnW HoopGurlz.
"We've known Zee for a long time and it's a very good thing we did because she was the talk of the summer circuit," Meier said. "Everybody in America wanted her and it's because, the minute you see her on the basketball court, you can't keep your eyes off of her."
Spearman is a two-time Gwinnet Daily Post Super Six honoree and the second-best player from Georgia in the 2022 class. The forward averaged 19.9 points, 14.3 rebounds, 3.5 blocks and 2.1 steals as a junior at Dacula High School and earned all-state and all-metro honors.
"Zee is athletic, she can shoot the three and she defends like it's personal," Meier said. "She doesn't concede an inch of the basketball court to anyone. She's a fearless player and a wonderful young lady."
Spearman signed with Miami over offers from Louisville and South Carolina.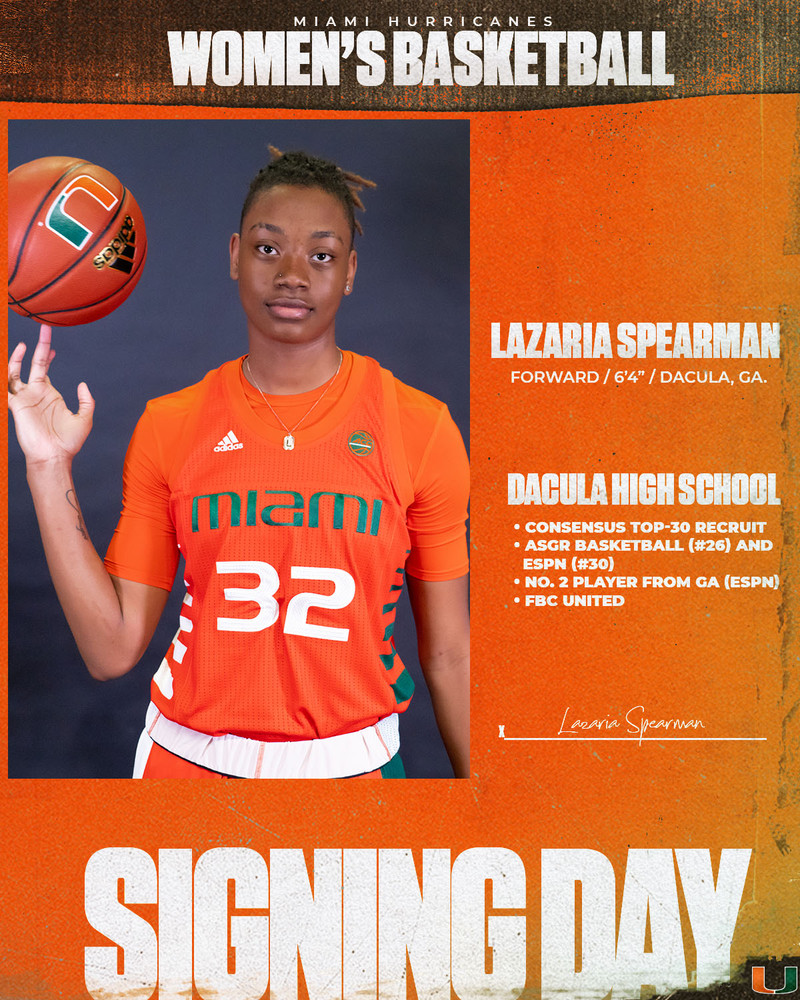 "These are two players that we recruited for over three years and that takes a lot of work. Coach Fitz did a great job with both Kyla and Zee, identifying them early," Meier said." I think what I love the most about them is that the reason they chose Miami is because they appreciated our loyalty to them and they fell in love with not only the place, but more importantly the people. And we feel the same way about them. This is an awesome class for us."
WHAT THEY'RE SAYING ABOUT MIAMI'S RECRUITING CLASS
ESPN's Jason Key:
On Kyla Oldacre…
"Kyla Oldacre is one of the top true posts in the 2022 national class. Oldacre's combination of size, skill, and footwork make her a tough cover in the paint. Oldacre's size and strength in the paint defensively project well for the Hurricanes."
On Lazaria Spearman…
"Lazaria Spearman is an elite, mobile forward who brings supreme athleticism and rebounding to the Hurricanes. Spearman's ability to defend multiple positions and evolving offensive repertoire gives Miami an excellent and versatile player in the class."