Celebrating Meier's Memorable Milestone
CORAL GABLES, Fla. — Katie Meier smiled.
After her team's hard-fought battle in its season opener, all she could do was smile. A normal postgame team huddle at midcourt turned into so much more.
Meier looked at the jumbotron and watched a video of Miami's administrators and coaches congratulating her on becoming the all-time winningest basketball coach in school history,
She was moved to tears.
"I mean, the game was so intense that it hit me and I just wanted my team to pile on me because I just wanted to hide for a second and get my emotions together and they did, thank God, because I just needed to," Meier said.
With the victory, Meier secured her 304th win at Miami, passing UM Sports Hall of Famer Ferne Labati, her predecessor.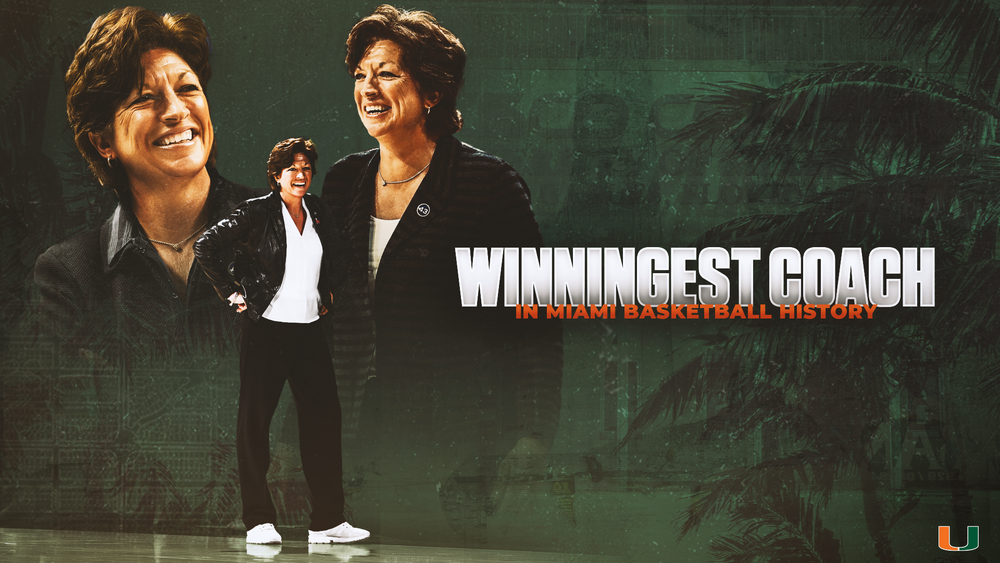 "I've said it before: To have the most anything in school history as a coach, then you've got the most support and somebody's behind the scenes when you're not in the room, making big-time decisions to keep you around or to give you what you think you need to sustain a program and Miami's done that for me," Meier said. "Miami decided to do it the right way in women's basketball. They decided to commit to somebody and make it a real healthy, sustained success and that means a lot to me. And I give it back to all the people who said yes to some of my visions and yes to some of my goals and yes to some of my dreams when I wasn't in the room."
In 17 seasons under Meier, Miami has made 11 postseason appearances, totaled nine 20-wins seasons and earned eight NCAA Tournament bids.
Yet, despite all the victories, Meier's impact is best measured by the growth of her student-athletes.
"She made me from a girl to a woman," said former Miami guard Jessica Thomas, who played under Meier from 2013-2017. "Of course, it was rough my freshman year. But going forward, man, my perspective is totally different because of her."
Said Canes assistant coach Shenise Johnson, who played nine seasons in the WNBA after becoming the highest-draft player in program history, "Being a part of Katie Meier's team is indescribable. She expects a lot out of you, she pushes you. What makes Katie Meier special is her willingness to coach you in life. It's what differentiates her from any other coach in the world. She taught me things about life that are invaluable that I carry with me to this day."
Since the moment Meier arrived at Miami ahead of the 2005-06 season, her plan was to 'blow the roof off,' according to her mom, Phyllis Skolak.
Meier has done that and then some.
She has coached 25 professional players, six All-Americans, five WNBA draft picks and was named the 2013 USA Basketball coach of the year and won national coach-of-the-year recognition from the Associated Press for the 2010-11 season.
"No words can ever truly capture all that Katie Meier has meant to our student-athletes, our women's basketball program and our university," Director of Athletics Blake James said. "She is a winner in every sense of the word and I am honored to work alongside of her."
Meier fell in love with basketball in her childhood driveway in Wheaton, Ill. The youngest of eight, she doesn't remember a time when she wasn't playing basketball with her family.
She developed into a premier three-sport athlete, shining in softball and volleyball as well.
Yet, basketball always had a special place in her heart.
She drew interest from major college programs, including Northwestern, Notre Dame and Duke. Meier ultimately chose Duke, becoming an instant star.
She was tabbed ACC Rookie of the Year and collected Basketball Yearbook Freshman All-America honors in 1986. Meier re-wrote the Duke record books, ranking among the school's all-time career leaders in scoring average (16.2 points per game), steals (232) and free throws made (447). She is fifth on the Blue Devils' all-time scoring list with 1,761 points.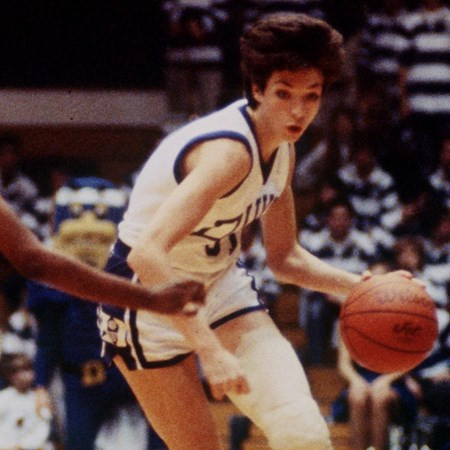 Meier tore her ACL her junior year, forcing her to miss the entire 1988-89 campaign while recovering.
"I was fighting it tooth and nail," she recalled. "I had to make a decision whether to be done playing and move on with my life or spend about 16 months recovering from the reconstructive surgery to play one more year. After I was done, I was like 'I did 16 months of recovery for three, fourth months.' That wasn't enough for me."
Meier returned for her senior season, earning Kodak/WBCA District 2 All-America and All-ACC first team accolades while being named Duke's most valuable player. After receiving a bachelor's degree in English with cum laude honors in 1989, Meier went onto earn a master's degree in teaching English from Duke in 1990.
Following her illustrious collegiate career, Meier went overseas to Belgium to prove she could still play professionally after her injury. However, it was there she found her new love: coaching.
She was asked to coach a group of 13-year-olds, but Meier fought that it wasn't in her contract. After her initial reluctance, she gave in and discovered her passion.
"They were really a special group. When I look at it now, they're still in my life," Meier said. "It was how it all transcended a different language and culture. I was just enamored by how hard I got them to play and how much they were willing to do for this team or for me, it was incredible. I played so hard and dove on the floor. I somehow got this group of young girls who weren't that even familiar with basketball and weren't even sure that they liked it."
Meier returned to the states, landing her first gig as an assistant coach at UNC-Asheville. After five seasons with the Bulldogs, she landed an opportunity at Tulane under legendary coach Lisa Stockton.
Following 12 years as an assistant, Meier was named the head coach at Charlotte in 2001. Committed to a life of teaching, she has maintained her focus of not only serving her players, but also her assistant coaches.
While leading the 49ers, she hired Darrick Gibbs and Amanda Butler, who have both gone onto become successful head coaches in their own right.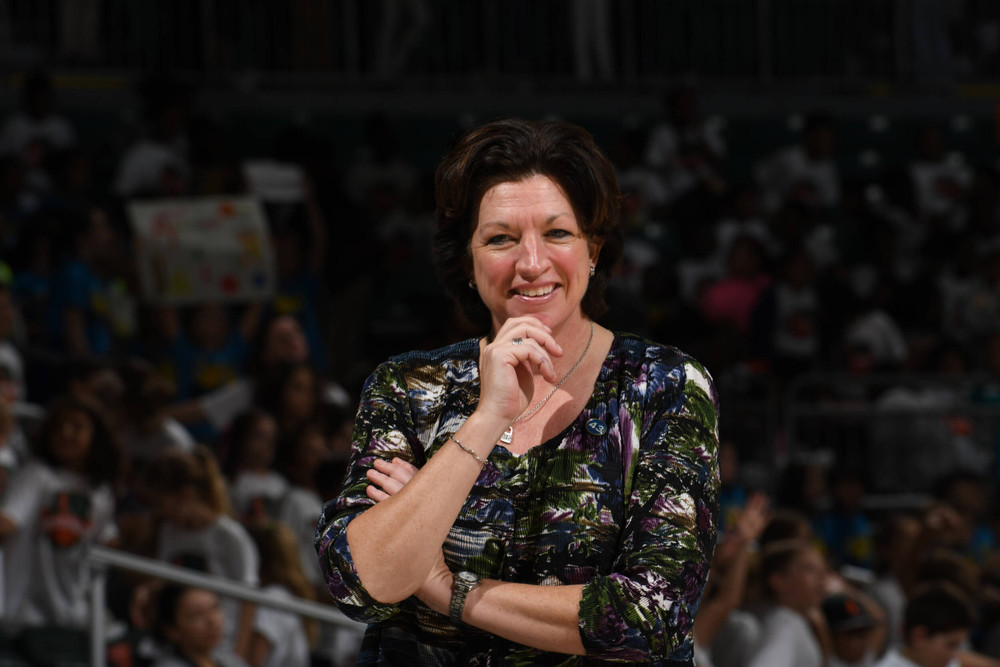 Meier brought Charlotte into national prominence, earning the school's first-ever C-USA regular-season championship and the school's first-ever appearance in the NCAA Tournament.
During her four-year tenure with the 49ers, Meier heard rumblings that Miami could be making a change within its program. Yet, she wasn't so sure that it was the right fit.
"I thought Miami was a huge school. I thought it was a public school. I didn't realize how highly ranked it was academically. I thought it was in the city," Meier said. "The three things that I didn't like about them, people were going, 'you dummy.'"
Meier studied up on everything she knew about then-University of Miami President Donna Shalala and met her for dinner at the Biltmore Hotel.
The two hit it off with Shalala offering Meier the job almost instantaneously.
Yet, Meier didn't forget about her players in Charlotte. She got on an early flight the next morning , spoke to her team and helped the 49ers with the transition, arranging for Butler to be the new head coach.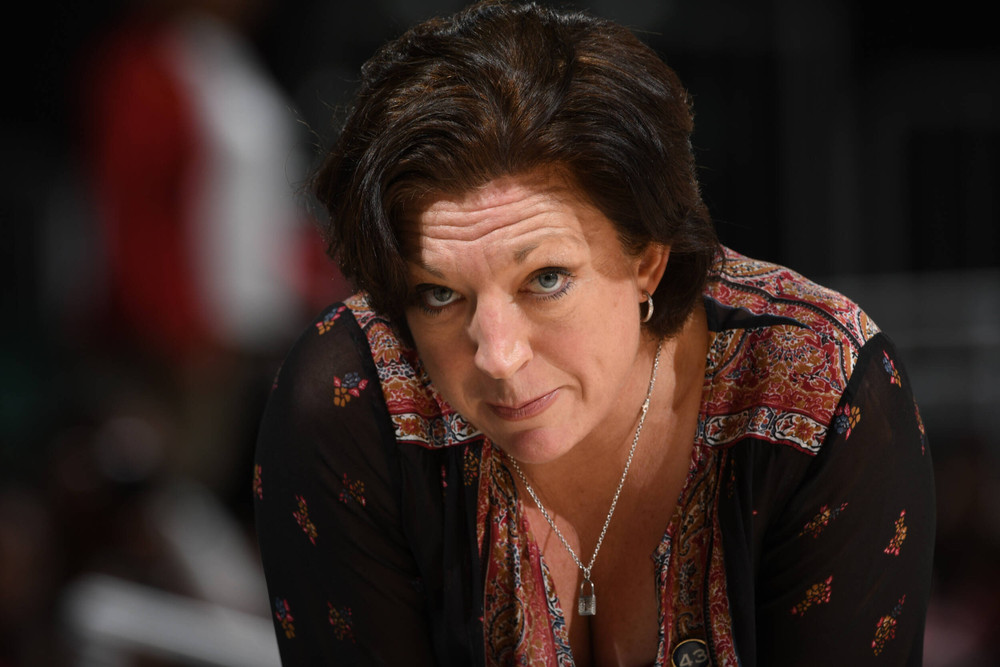 Nearly two decades later with the Hurricanes, Meier's focus and commitment to serving others remains the same.
"The wins and the success on the court speaks for itself, but when you think about it, it's what she's done to develop a program that develops and prepares young people to go on and be successful in life," Deputy Athletic Director Jennifer Strawley said. "This gives us a chance to celebrate someone who has meant so much to our University community. It's certainly historic, but more than that, it's about what she's done for us as a department, for us as an institution, and for so many young women over the course of 17 years. That's what this accomplishment is all about."
And while Miami Tuesday's postgame celebration as a chance to honor Meier, the longtime head coach sees it as an opportunity to recognize the countless young women who have touched her heart over the years.
"The word is impact. I don't care about the wins. I mean, it's nice. I'm really honored. What a big honor. What an amazing basketball program and I'm the one who has the most wins, I get all that. That's really honorable. But, it's the impact," she said. "It's the journey with the student-athletes and through however many years I've been here, I've had some really, really special young ladies that have carried me. They've carried me. It's not me leading them. I've been led by my players. The great ones carried me."