Aubone, Hannestad Win ITA Fall Nationals Consolation Doubles Title
SAN DIEGO, Calif. – The University of Miami men's tennis duo of fourth-year junior Franco Aubone and fifth-year senior Benjamin Hannestad closed out the fall season at the ITA National Fall Championships, taking home the men's doubles consolation title.
Aubone and Hannestad, who are the No. 11 doubles team in the nation, had a slow start to the tournament, falling to Stefanos Savva and Coy Simon of Charlotte, 6-4, 6-4, in the opening round of the main draw on Thursday.
However, the Miami pair used the loss as fuel to dominate the consolation bracket, rattling off four straight victories to win the consolation doubles championship. Three of the four matches were two-set wins for Aubone and Hannestad.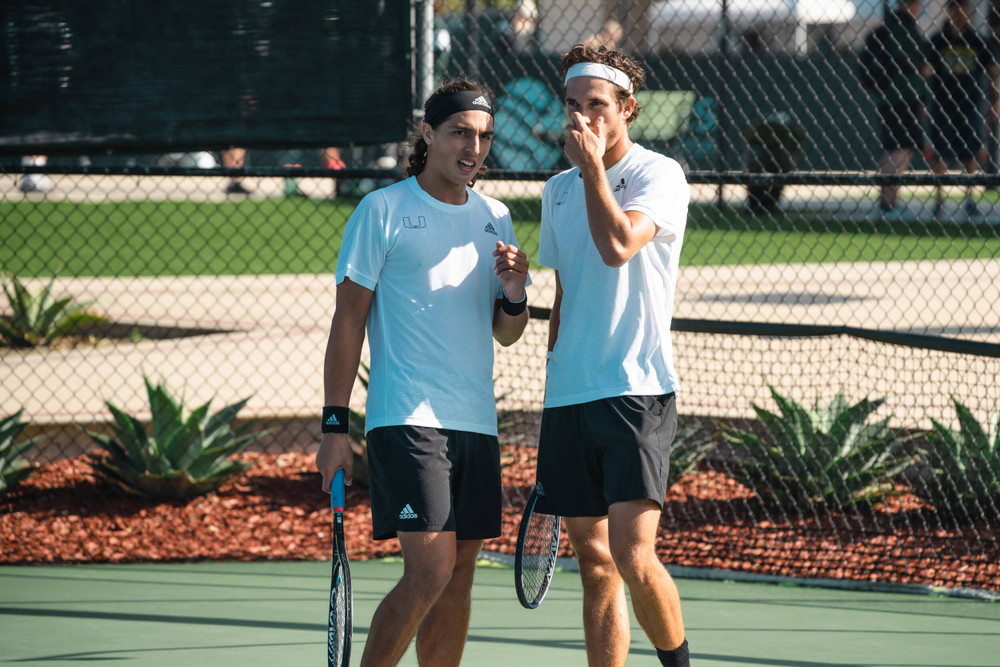 The duo from Miami held off Montana State's doubles pair of Matej Panik and Daan Van Dijk, 6-4, 7-6(4) on Friday to advance to the consolation quarterfinals.
Aubone and Hannestad then went head-to-head with the 21st-ranked team of Pavel Motl and Stijn Slump from Middle Tennessee. Despite facing one of the top doubles teams in the tournament, Aubone and Hannestad easily handed the Middle Tennessee pair a 6-2, 6-4 defeat.
Later on Saturday, the Miami doubles team posted a 7-5, 6-3 decision against Adrien Burdet and Melvin Manuel of Arkansas to earn a spot in the consolation finals.
Sunday's consolation finals match proved to be the toughest for Aubone and Hannestad as the pair dropped the first set, 4-6, to Justin Boulais and James Trotter from Ohio State.
Down but not out, Aubone and Hannestad rally to take set two, 6-3, and force a match tiebreak. The Miami pair used its momentum from the second set to clinch the consolations finals match and title with a 10-7 defeat over the duo from Ohio State in the tiebreak.