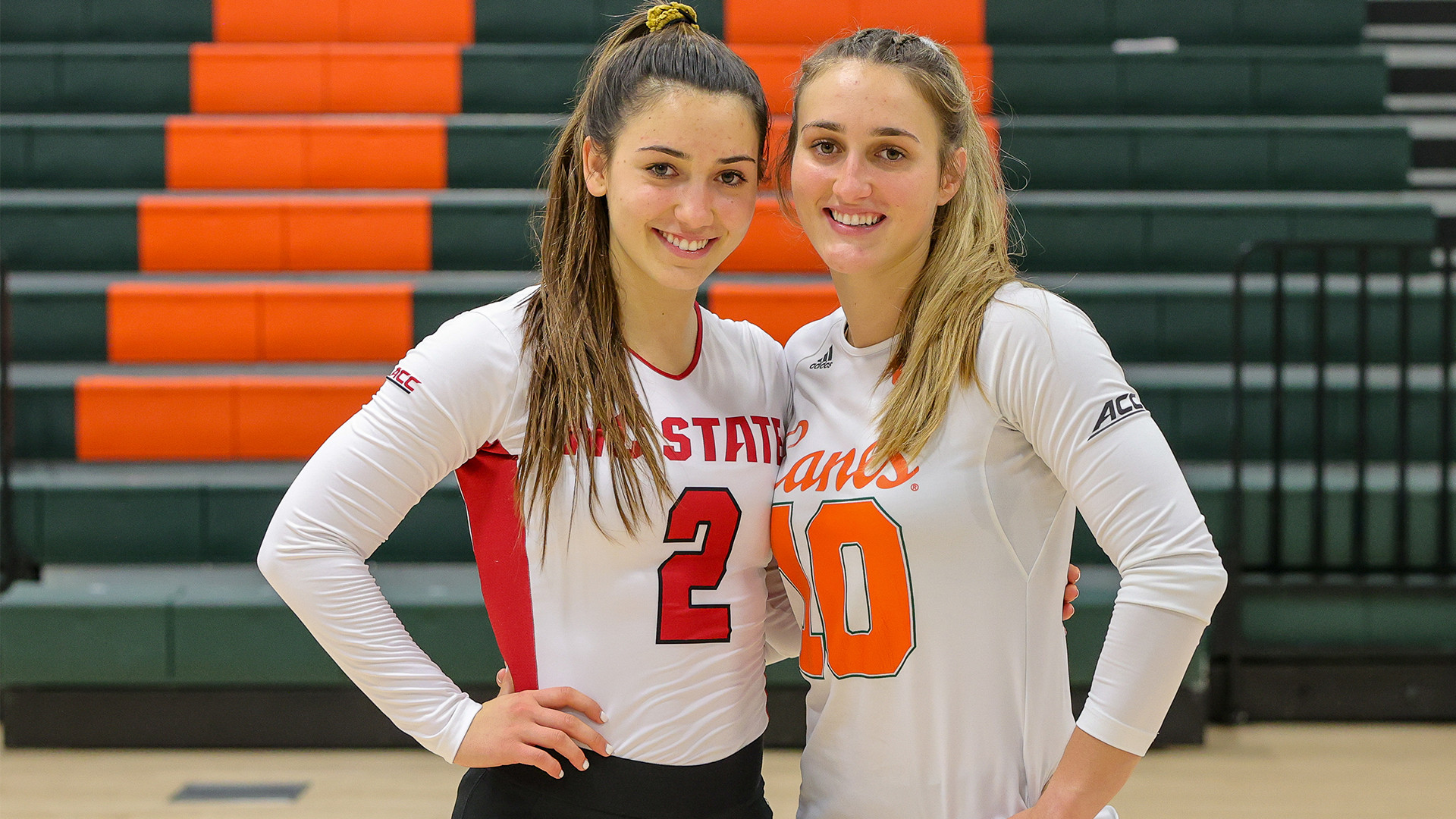 CORAL GABLES, Fla. – It was as surreal a moment as she'd ever experienced on the court.
Still, every time Priscilla Hernandez looked across the net, she couldn't help but feel both a little taken aback and incredibly proud at the sight of her younger sister on the other side.
"It was honestly so many different emotions," the Miami defensive specialist said of last weekend's match against North Carolina State where Hernandez's younger sister Saskia is a defensive specialist. "There were nerves. I was anxious. I didn't want her to do bad, but I also wanted to do well and for my team to succeed, so it was just this back-and-forth battle…It was really hard, honestly."
Hernandez paused before laughing.
"She dug a ball and I was like, 'Are you kidding me?'" she said. "I really wanted us to get the kill, but at the same time, it was an incredible dig."
Ultimately, Hernandez and the Hurricanes picked up the win. When the match was over, the sisters posed for pictures with their family – including older sister Sylvia, who played volleyball at Miami herself from 2014-2017. And both Priscilla and Saskia, who grew up playing together, shared a moment neither of them will forget any time soon.
While Hernandez may have been the one on the court battling through some emotions during Sunday's win over NC State, two of her teammates likely understood just what she was feeling.
Both setter Alanys Viera and defensive specialist Yaidaliz Rosado also grew up in families where volleyball was a passion. And both, like Hernandez, have had sisters play at the highest level.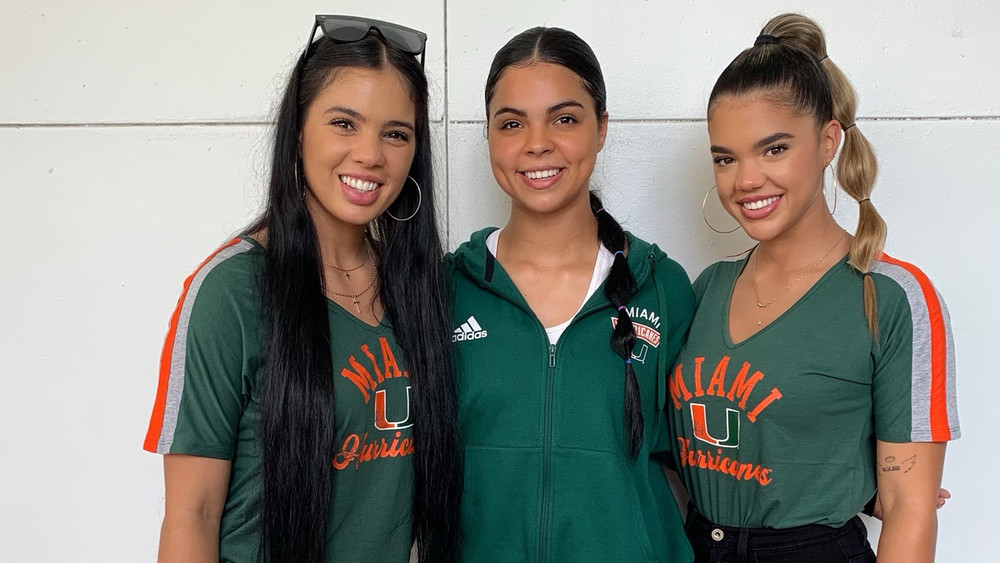 Viera's older sister, Genesis, was a setter at FAU who, in 2016, finished her career with 2,484 assists, good enough for fourth place in school history. Rosado, meanwhile, cheered from a distance in Puerto Rico as her two older sisters Dalianliz and Yavianliz starred at Minnesota and Bradley.
And as the Hurricanes try to build on their best 15-game start since 2017, Hernandez, Viera and Rosado all say the guidance and inspiration they received from their sisters has helped them get to where they are today.
"Both of my sisters started playing volleyball when they were about 4-years-old. I'd see them and as I was growing up, they were always at the volleyball courts and I started practicing with them," Rosado said. "I learned so much from them. They worked so hard and gave me so much advice. I tried to learn from everything they taught me…I always followed them. If they jumped, I jumped."
Added Viera, "I've always said since I was younger that [my sister] is my biggest role model. When I was little, I'd watch her games and I'd mimic everything she did on the court. I'd go to practice the next day and do the exact same things. Everyone was like 'You guys play exactly the same' and I'd say 'Yeah, I copy everything she does.' She loves it, too. She knows that I'm always watching her and kind of growing from her experience."
There's also, Hernandez said, a bit of competitiveness that comes from the younger sister of a talented volleyball player – and that, too, has in turn paid dividends for the Hurricanes (13-2).
"You can tell when someone has an older sibling and they play in front of them. There's a sense of not wanting to let them down. And you don't want people saying 'Oh, her sister is so much better than her,'" Hernandez said. "There's this drive, this mentality of 'I want to be so good.' [Viera and Rosado] train like animals…They train like crazy and they always want to win…When you're in an athletic family or a family who plays many sports, you're always wanting to win."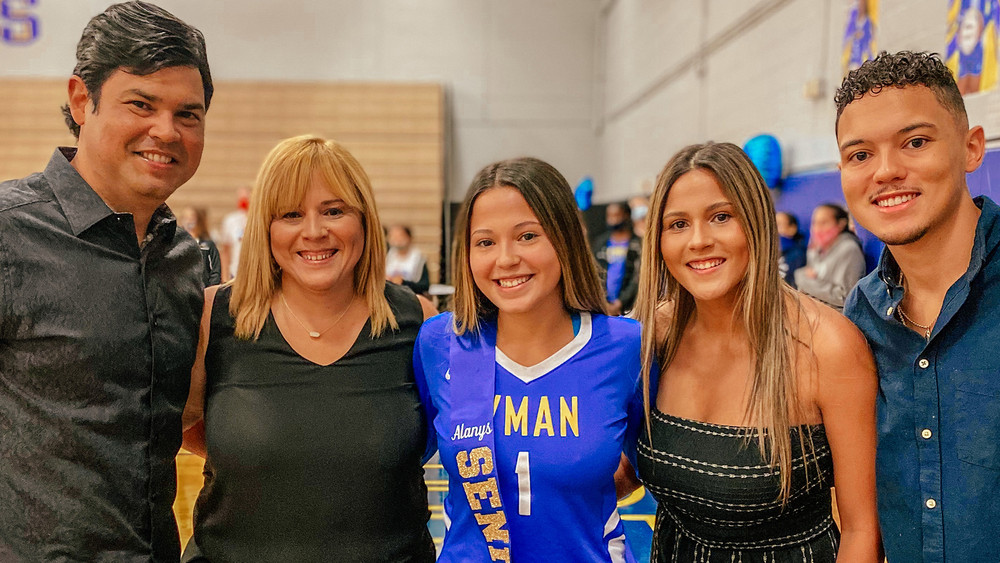 But having older sisters who played the sport isn't the only thing Hernandez, Viera and Rosado have in common.
Along with wanting to represent their families well, the trio is each driven to make their communities proud.
Hernandez is the granddaughter of Cuban immigrants and the daughter of two former Miami Hurricanes athletes, with her father, Henry, playing baseball for the Hurricanes and her mother, Sylvia, running track at The U.
"It means so much," Hernandez said. "I mean, my grandparents came from Cuba with like nothing…My parents met at UM. My dad played at UM, my mom ran track. To be able to live out that legacy…it's a force."
Viera and Rosado, meanwhile, were born in Puerto Rico, where volleyball is incredibly popular. And both understand that playing at Miami and excelling here can inspire generations of players on the island.
That is something neither of them take lightly.
"I'm so proud to represent Puerto Rico anytime I can, especially here in Miami where there are so many people from Puerto Rico," Rosado said. "We've been at some matches and I've had people from Puerto Rico come up to me and say 'I'm here to watch you.' That's happening here and it's very special."
Added Viera, "I feel like we have a lot of great talent in Puerto Rico. A lot of girls are amazing. But there's such a small circle of Puerto Ricans that get to play Division I volleyball. Being able to represent Puerto Rico here in Division I and kind of inspiring others that they can do this and get here by working hard is honestly great. It's an amazing thing."