Takeaways from Miami's Win over Central Connecticut State
MIAMI GARDENS, Fla. – It was the kind of day, the kind of performance the Hurricanes needed.
After a tough three-game stretch in which Miami came up short in losses to Alabama and Michigan State and needed a late field goal to secure a win over Appalachian State, the Hurricanes welcomed Central Connecticut State to Hard Rock Stadium.
And Miami did its exactly what it hoped to do in a dominant 69-0 win over the Blue Devils.
Players and coaches know the Hurricanes still have work to do, especially with ACC play scheduled to begin Thursday against Virginia. But a confidence-building afternoon wasn't something any of them took for granted Saturday, regardless of the opponent they faced.
"Offense is so much about confidence and I think it was obvious for everyone to see that we weren't the same confidence bunch through the first three weeks, offensively, as we were a year ago," Hurricanes head coach Manny Diaz said. "That doesn't mean that it is all fixed today, but there is a good feeling in that locker room. It's a good feeling, not because of the victory or the score or the opponent, [but] because of all the little things that we emphasized this week in practice, the things that we asked them to do…Our energy on the sideline, our enthusiasm for their teammates and for each other. We were excited to play today and that means we are on the right path and our leadership is in the right spot. Our young guys are coming along and are going to continue to contribute to this football team."
Here, more of what the Hurricanes said they could take away from the win over Central Connecticut State:
1. Miami's young quarterbacks stepped up
Last week's game against Michigan State took a physical toll on the Hurricanes, leaving them without one of their leaders, veteran quarterback D'Eriq King.
King, who spent the week nursing a shoulder injury, was on the sideline cheering on his teammates, including freshmen signal callers Tyler Van Dyke and Jake Garcia, both of whom logged significant playing time on Saturday.
And both freshmen played well in King's absence.
Van Dyke, who made the first start of his Miami career, was 10 of 11 for 270 yards with three touchdowns while Garcia was 11 of 14 for 147 yards with two touchdowns.
With King's status still uncertain heading into the ACC schedule, that both freshmen were able to keep the offense moving is encouraging for Miami – and for the quarterbacks themselves.
"It was good to get some in game reps in front of the atmosphere because … I haven't really experienced it. I've gotten some reps last year and then a couple this year until [I got a lot] today," Van Dyke said. "It was good to get out there and get some reps against another team. It's a lot faster out there than it is in practice. I'm prepared, so I'm ready."
Added Garcia, "D'Eriq was definitely in our ear helping us out throughout the week in the film room and today on the field. He was on top of us, helping us see coverages and pressures. It's very helpful to see it through his eyes because he's on the sideline watching. Both Tyler and I were preparing as starters throughout the weeks leading up to this, taking mental reps. Now, it's our turn. We kind of had an idea that we would be playing early on in the week so we went out there and prepared."
2. The rest of Miami's freshmen delivered, too
Van Dyke and Garcia weren't the only freshmen to have an impact Saturday.
Safety James Williams made his first start and recorded his first interception. Running backs Cody Brown and Thaddius Franklin Jr. came up big. Defensive tackle Leonard Taylor recorded a tackle for loss and Miami's trio of freshmen receivers – Romello Brinson, Jacolby George and Brashard Smith – all found their way into the end zone.
Diaz said postgame he believed every scholarship player who dressed Saturday got onto the field and in all, seven Hurricanes scored for the first time in their Miami careers. Now, the freshmen say, it's time to build on the experience.
"It's high expectations because we're at Miami, but at the same time, we're built for this," Williams said. "We were born for this. We're made for this. We already know the ins and outs and the ups and the downs that come with it. We're just ready to work. We just want to play ball."
3. The running game hits its stride
Through their first three games, the Hurricanes – who have been without backs Donald Chaney and Jaylan Knighton – averaged just 105 rushing yards per game.
Saturday against Central Connecticut State, veteran running back Cam Harris totaled 100 yards and two touchdowns by himself. He also scored on an 83-yard catch and run play that pushed the Hurricanes' lead to 49-0 before halftime.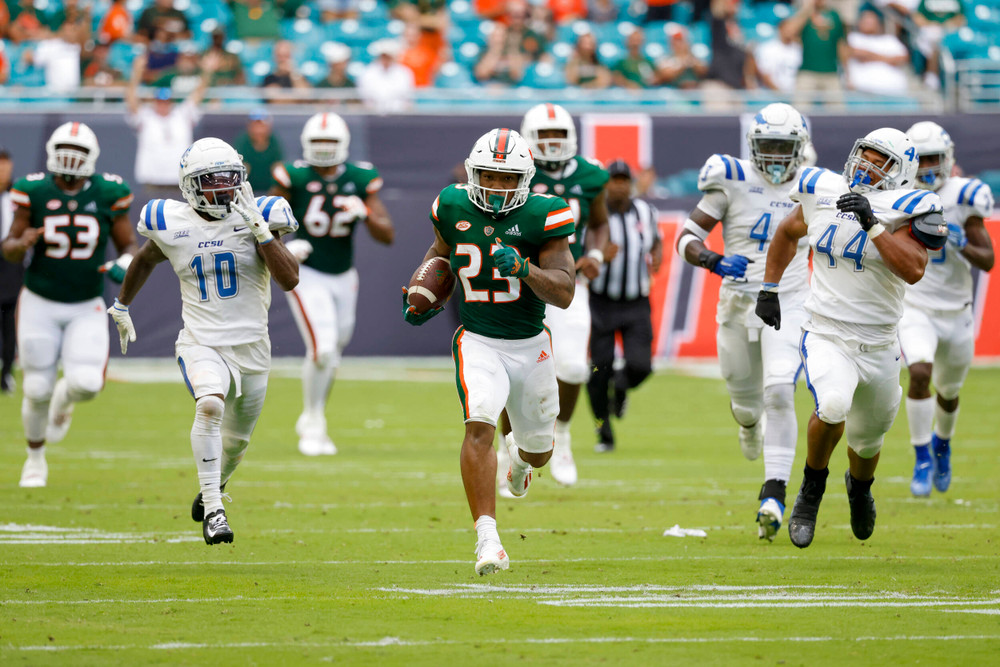 Meanwhile, freshmen Thad Franklin Jr. and Cody Brown added 88 and 77 yards respectively. In all, the Hurricanes totaled 322 yards on the ground.
Again, the Hurricanes know things will get tougher against ACC competition, but being able to get the running game going should provide a boost moving forward.
4. The Three Amigos make a splash
Brinson, George and Smith arrived at Miami with plenty of fanfare and during preseason camp, showed they had the potential to make an impact sooner rather than later.
The trio, affectionately known as "The Three Amigos" by their teammates and coaches, all had a hand in Saturday's win.
Smith finished with five catches for a game-high 91 yards with a touchdown, Brinson had three catches for 25 yards with a spectacular one-handed touchdown grab and George had one catch – a 44-yard touchdown.
Afterward, needless to say, the three were all smiles. So was their roommate, Garcia.
"The Three Amigos, that's what we call ourselves," Smith said. "I feel like we are doing well. We're working. We're trusting the process. That's all we can do."
Added Garcia, "Melo made a great catch for me. That's probably going to be the top play of the year and that's going to be all over TV when we get back home. That's going to be great to see. He's my roommate, so I'm going to be saying 'That's my roommate, that's my roommate!' I got to throw a touchdown to [Romello] and [Jacolby George]. Those are both my roommates and Brashard is my other roommate and Brashard also had a touchdown. He hit the sideline and got going."
5. Williams comes up big in first start
Williams, a former five-star prospect at American Heritage in Broward County, grew up cheering for the Miami Hurricanes and dreaming of wearing orange and green.
On Saturday, he made his first start in orange and green and made the moment count.
The safety became the first one of Miami's freshmen to wear the famed Turnover Chain after a third-quarter interception. He also broke up another pass and finished with three tackles.
Next up: Virginia
Miami opens ACC action against the Virginia Cavaliers at Hard Rock Stadium on Thursday, Sept. 30.
"It's been a dream come true for me. I always wanted to play in a Miami defense. I've been waiting on this since freshman year [of high school]. I've been dying to get out there, dying to get out with this team, dying to start," Williams said. "I finally got my chance and I showed them what I can do."
6. The defense got a shutout – and lots of players helped
Miami's defense has struggled at times during the first quarter of the season, especially on the tackling front and heading into Saturday's game, Diaz stressed getting that fixed was one of the Hurricanes' biggest priorities.
And while, again, no one on the defense thinks the work of improving is finished, the unit did some nice things on Saturday – including keeping the Blue Devils out of the end zone.
Twenty-seven different Miami defenders notched at least one tackle Saturday, Miami totaled five tackles for loss, three sacks and held Central Connecticut State to just 29 rushing yards.
All of that, Diaz said, is something for the Hurricanes to build on moving forward.
"Any time you hold someone without a point, that is a big deal. Understanding that the opponent was outmatched, but still, in terms of us and our responsibility and how we handle our jobs, we were more physical this week," he said. "We ran to the ball and tackled well. There is still a lot to correct, but there is a good feeling for everybody in our locker room heading into ACC play."
7. The offense had a record-breaking day
Saturday's win was one for the record books, with Miami totaling 739 yards of offense. That number bested the previous Hurricane record of 689 yards set in a 49-45 win over UCLA in 1998.
Additionally, the Hurricanes scored on their first seven possessions and their 69 points were fifth-most in school history. The margin of victory was the third largest in program history behind 77-7 and 77-0 wins over Savannah State in 2018 and 2013, respectively.
8. The Hurricanes played a clean game
One of the issues that has proved problematic for Miami in its first three games has been penalties. The Hurricanes have had too many at inopportune moments and have seen drives stall because of that.
On Saturday, though, Miami played a clean game, the Hurricanes getting whistled just three times for 40 yards.
Additionally, Miami didn't turn the ball over and scored touchdowns on five of its six trips to the red zone.
"We had only three penalties and two of those were at the end," Diaz said. "We had very few missed assignments and it was a clean game. With all of the guys we were able to get in there, I thought that was key for us."
9. The upperclassmen were plenty happy for their young teammates
As the lead grew in Saturday's win, a growing number of Hurricanes veterans made their way to the sideline and once there, many were seen excitedly cheering their younger teammates on as they made big plays.
Safety Bubba Bolden, receiver Mike Harley and King were among those providing encouragement and support and that, like everything else on Saturday, was a positive for Miami, with Garcia noting after the win the entire team celebrated together in the locker room.
The day made many of the veterans smile for other reasons, too.
"Time flies. I remember my first time [against] Savannah State when all of us went out there and the older guys were supporting guys and being there for us," redshirt sophomore striker Gilbert Frierson said. "It brings back memories. We tell them all the time 'College goes by faster than high school.' It was a great experience seeing all of them out there having fun and playing together."
10. Time to focus on the ACC
The Hurricanes won't get much time to celebrate Saturday's record-breaking win.
With a Thursday night game against Coastal Division foe Virginia awaiting, Miami will have to prepare on a short week and Diaz expects the turnaround will be tight, with coaches and players expected back in the facility earlier than usual on this particular Sunday.
After that game, the Hurricanes will have an off week before their conference schedule intensifies with October matchups against North Carolina, NC State and Pittsburgh looming.
"The week gets condensed…You would [normally] spend a lot of time digesting today's film and making corrections. You would have a correction field out on the practice field. This film will be reviewed for 15 minutes with the players [Sunday], just some highlights and lowlights and then you move on," Diaz said of preparing for Virginia. "We'll be out there [Sunday] night working on Virginia. Normally we'd have a Monday off but Monday is now a practice day for us…It all happens fast. Everything gets condense and packaged in tight. That is very challenging against a team like Virginia. Year in and year out, [Cavaliers head coach] Bronco Mendenhall and his staff are one of the harder teams to scheme against…It's going to be a lot to digest for our players. We'll meet as a staff first thing [Sunday] morning, different than a normal Sunday. It's highly urgent right off the jump."