WBB Non-Conference Schedule Announced
CORAL GABLES, Fla. – University of Miami head women's basketball coach Katie Meier announced Friday the team's 2021-22 non-conference schedule. The slate features four NCAA Tournament teams from a season ago, including a pair of Sweet Sixteen opponents in Maryland and Indiana.
The Canes will play 11 total non-conference games, with eight at the Watsco Center.
"There are some tough matchups on this non-conference schedule that will provide us with opportunities to compete with the best in nation and also get us ready for our conference slate," Meier said.
Miami will tip-off the 2021-22 season at home against Jackson State on Nov. 9, marking the second time in three years that Canes will face the Eagles in the season opener.
The Canes remain at the Watsco Center for the next three non-conference tests, taking on a trio of in-state foes in Bethune-Cookman (Nov. 12), Stetson (Nov. 14) and Florida Atlantic (Nov. 18) before the holiday break. Miami boasts a 244-160 record all-time against teams from the state of Florida.
During the week of Thanksgiving, the Canes are headed to Nassau, Bahamas, to participate in the Bahamar Showcase. The field features five Sweet Sixteen teams from a season ago, including a pair of Elite Eight teams in Stanford and Indiana.
This will be Miami's first regular-season tournament played in the Bahamas and the first played outside of American soil. The Hurricanes are scheduled to take on Washington State on Nov. 25, before squaring off with Indiana on Nov. 27.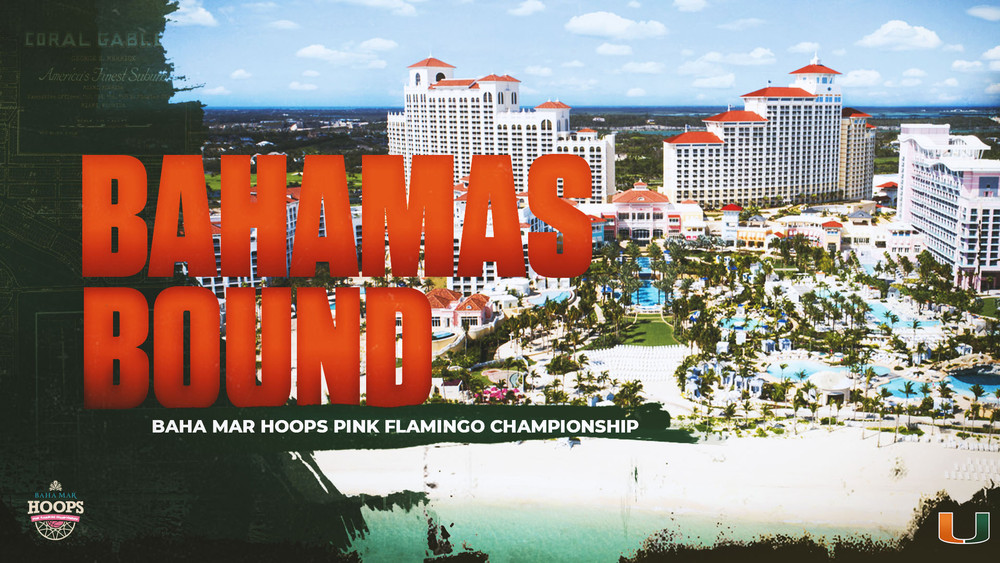 Following the Bahamar Showcase, Miami heads north to College Park, Md., to compete against Maryland in the Big Ten/ACC Challenge on Dec. 2.
Miami is seeking redemption in the challenge this season after falling to Indiana in the Big 10/ACC game in 2019. The Canes will make their 10th consecutive appearance in the challenge in 2021 and hold a 6-5 overall record.
In a quick turnaround, the Canes return home on Dec. 3 to tipoff the Miami Holiday Classic at the Watsco Center. The Canes will host Tulane, Arkansas-Pine Bluff and Georgia State from Dec. 3-6, with each team playing a pair of games.
Miami hosts its two final games in December against Robert Morris (Dec. 12) and North Florida (Dec. 21) to close out the 2021-22 non-conference schedule.
Miami Athletics is planning for fan attendance at the Watsco Center in accordance with campus protocols. Please be advised that these protocols remain subject to change.
Season tickets for the 2021-22 women's basketball season are available for purchase at https://tickets.miamihurricanes.com.