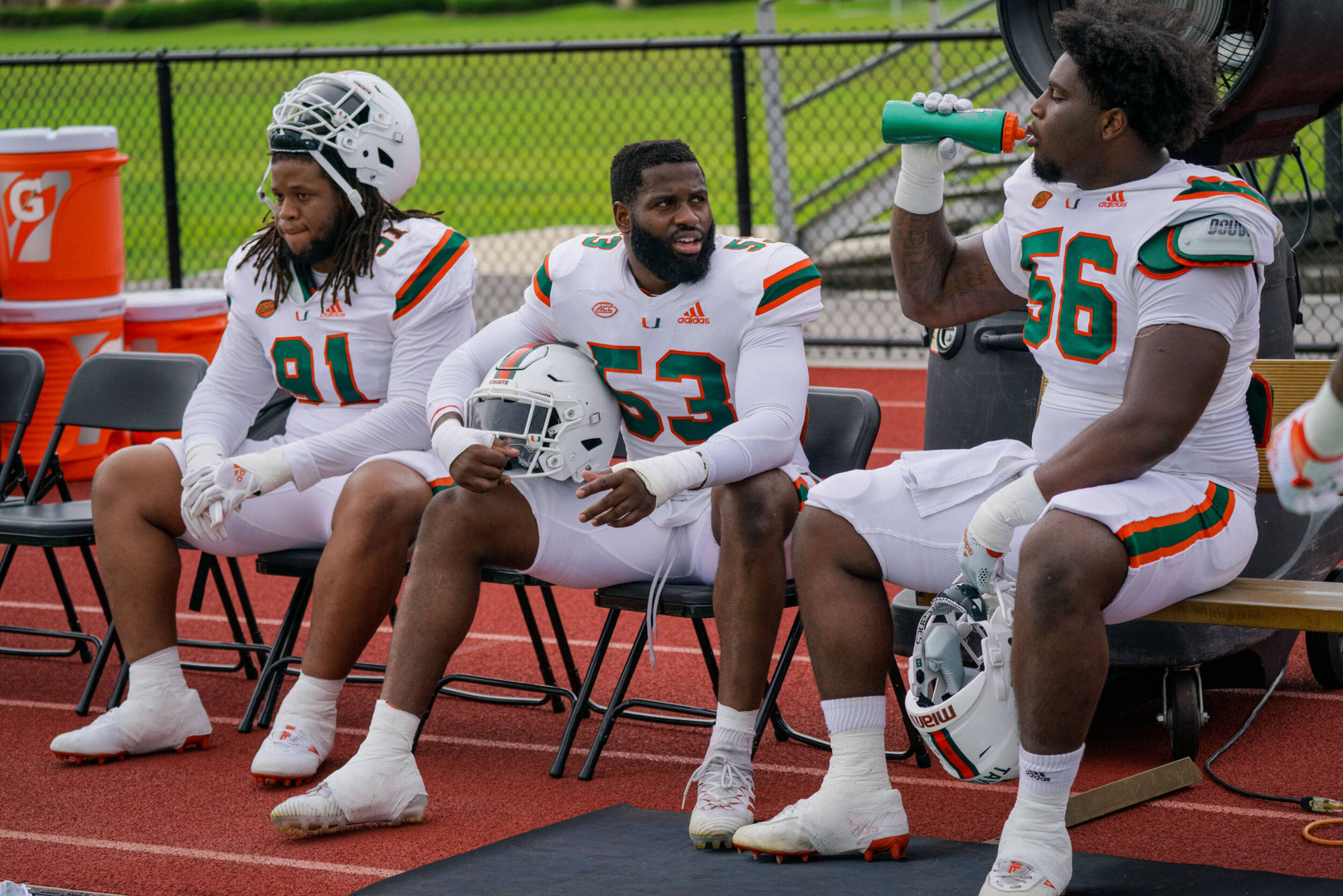 CORAL GABLES, Fla. – Zach McCloud wasn't sure what to expect when he arrived at Miami.
Like most freshmen – particularly those who enroll early – he wondered what it would be like to transition to the college game and how he'd fit in the locker room with his new teammates.
Complicating matters was the fact the Hurricanes had just gone through a significant transition period themselves. The coaching staff had changed. Several of the players he'd met during the recruiting process were gone. Veteran guidance was sometimes hard to find.
When spring practice started, McCloud and fellow freshmen Shaq Quarterman and Mike Pinckney quickly found themselves challenging more experienced players for starting roles.
By September, the trio made history, becoming the first three freshmen linebackers to start together at Miami. It was a source of pride, no doubt. But there were challenges.
Five years later, though, things are markedly different – for both McCloud and the Hurricanes.
As Miami prepares to kick off another season, it does so with veteran players like McCloud, redshirt senior quarterback D'Eriq King, senior receiver Mike Harley, redshirt junior safety Bubba Bolden, junior tight end Will Mallory, redshirt junior center Corey Gaynor, senior striker Amari Carter and junior defensive tackle Nesta Silvera in very visible positions of leadership.
Their experience and their ability to guide their younger teammates, the Hurricanes say, will make a difference both on and off the field this year.
"Some of the older guys, we remind [the younger players] that we didn't really have this same type of structure in the locker room when we were coming up," said McCloud, a redshirt senior who has now transitioned to playing defensive end. "It's a great feeling to be able to provide that for somebody else. I know it takes more than one. You've got to have more than just a few guys out there leading, so it's nice to go out there in practice or even in a game and know that I have a lot of guys out there with me trying to lead the charge."
Added King, "I think this year, as a whole team, we have a lot of older guys that know what we want to do and know the reason we all came back was to win. We're holding that standard and I think that's one of the big differences from last year and this year…We're holding each other accountable. Guys are making sure everyone does all the small things right."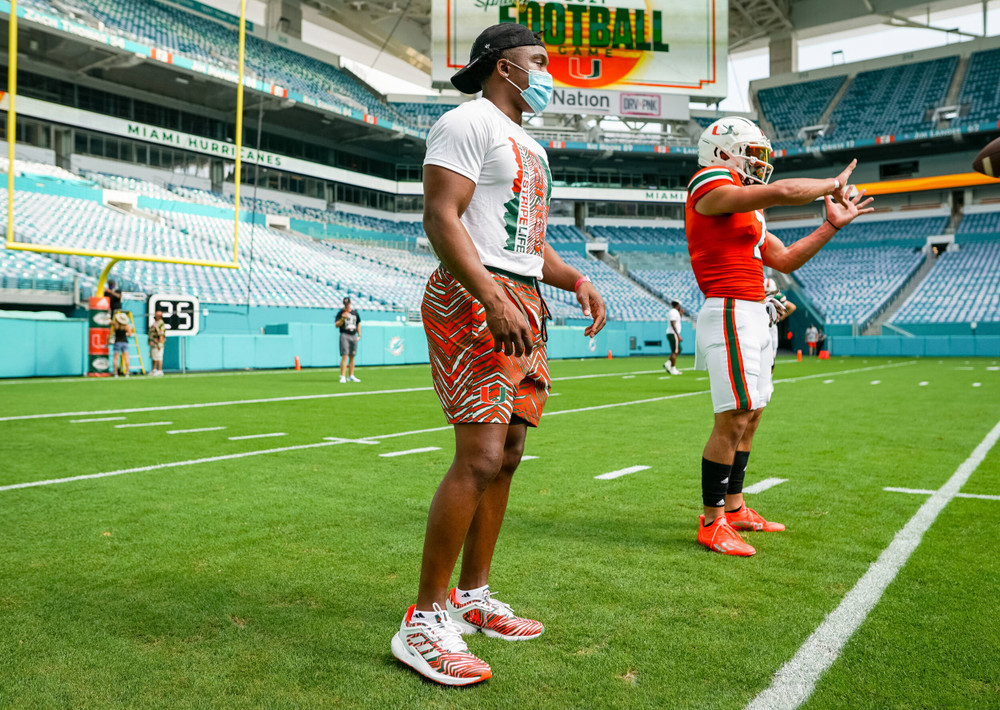 Players aren't the only ones who have noticed a major shift this offseason.
Head coach Manny Diaz has long preached about the need for Miami to be a player-led team. But during his time in Coral Gables – both as a defensive coordinator and now as a head coach – he's seen how sometimes, the Hurricanes simply didn't have the number of veterans in the locker room to make that happen consistently.
This group of juniors and seniors have changed that, especially given how so many of them made the conscious effort to stay at Miami when they could have opted to begin their professional careers instead.
"It's different than anything I've experienced since I've been at Miami, where you have so many guys who chose to come back for their senior year or their super senior year and I think what's more is the 'why' they came back," Diaz said. "We have guys that are back to get better. They're not back just because they could [come back]. They wanted to be here, they wanted to get better and they wanted the team to be better. That's going to inspire their teammates.
"I sat in a meeting with all the older guys and I told them part of their legacy here is to leave their position groups better off than how they were when they got here. A lot of those guys, when they got here, there wasn't great leadership in a lot of those position meeting rooms. They have a chance to impact our program not just this year, but in years to come. I think that is what all those older guys can do."
And more than a few of the veterans who had those conversations with Diaz have taken his message to heart. Even when sidelined while recovering from a knee injury this spring, King made it a point to work as best he could with his fellow quarterbacks, particularly freshmen Tyler Van Dyke and Jake Garcia.
Harley, meanwhile, has made it a priority to mentor all the younger players in Miami's receivers room, particularly freshmen Romello Brinson, Jacolby George and Brashard Smith.
While the trio has earned the nickname "The Three Amigos" from receivers coach Rob Likens and many of their teammates, Harley likes to joke he calls the group "The Three Hyenas," a nod to the characters from Disney's Lion King.
"I feel like I'm Scar," Harley smiled. "I tell them what to do and they listen and they react."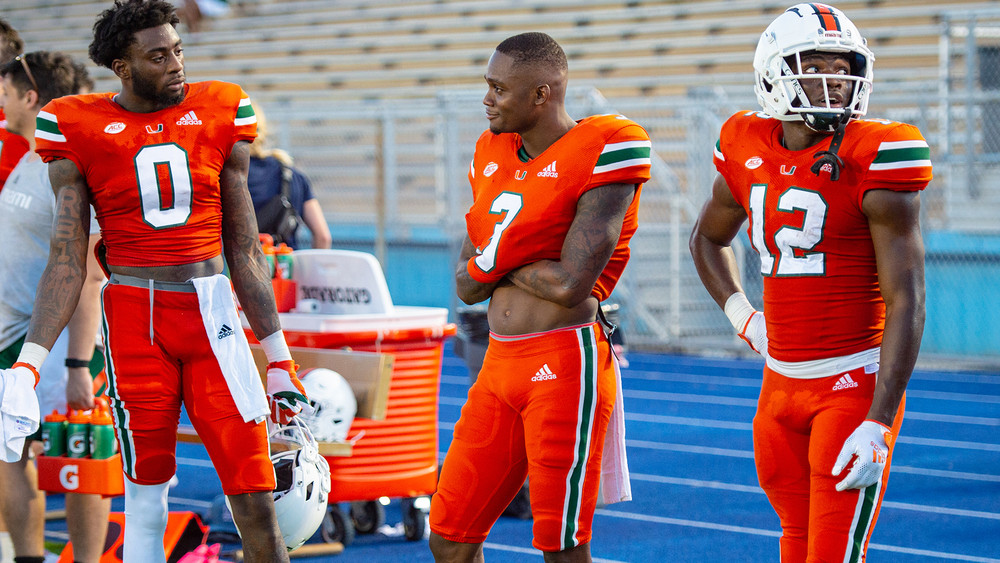 But, Harley notes, there is something more serious on his mind as he prepares to begin his final season as a Hurricane.
One of his goals is to make sure Brinson, George and Smith – along with the rest of Miami's underclassmen – are in position to continue adding to the Hurricanes' tradition at receiver.
"That's part of the reason I came back," he said.
As for some of those mentees, the guidance they say they've received from their veteran teammates has helped make the transition to the college game – and college life – easier.
"It's been great. He's been keeping me under his wing," freshman tight end Elijah Arroyo said of Mallory. "I've been kind of following after him, whether we're talking about plays or getting extra work in or really just hanging out. He's a great person to be around and I hope to be a lot like him someday."
Said George of Harley, "I feel like he definitely took me under his wing. Every time we get ready to run, he wants me to be next to him so we can feed off each other basically and I'm where I'm supposed to be and he's where he's supposed to be. He's a great leader and I'm very thankful to have him on the team and to play with him."