Williams Brings Speed and Energy to The U
CORAL GABLES, Fla. – Freshman Ja'Leah Williams will undoubtedly be the fastest player on the court for the Canes this season and quite possibly the quickest in the entire Atlantic Coast Conference.
Williams' speed is a product of her days as a track star at Blanche Ely High School in Pompano Beach, Fla.
"I didn't get into basketball until I was 12 at the Boys and Girls Club," Williams said. "I was a runner. I ran track at a young age. I didn't know that basketball was my sport until middle school when I started playing with the older girls."
The South Florida native dominated the track in 2021, finishing fourth at the FHSAA 3A Track & Field State Championship to finish out her high school track career on a high note. However, despite her proclivity for running, Williams' passion was for the game of basketball.
"The eagerness I had for basketball is what made me pick it over track," Williams said. "I wanted to play basketball more than I wanted to run track. I progressed more with basketball than with track. I had more wins in basketball than track."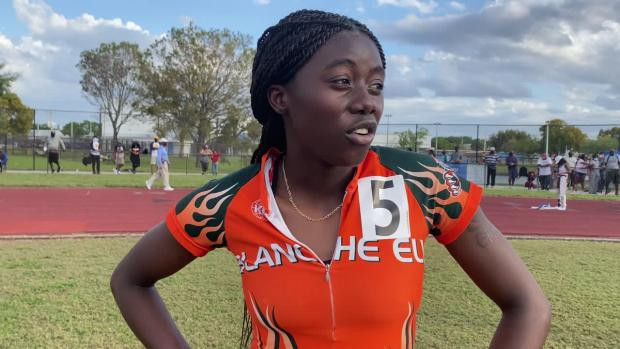 Williams, a four-time Sun-Sentinel all-county first-team selection, averaged 14.7 points, 7.8 rebounds and 6.8 assists during her senior year at Blanche Ely. She was the 2019-20 Sun sentinel Broward County Class 7A-6A Player of the Year and helped the Tigers to their first state championship since 1992 as a junior.
A local product, Williams knew of the University of Miami, but it wasn't until she attended an elite camp in high school that she realized it was someplace she could see herself growing as a player and a person.
"I came to the camp and I saw Coach Katie [Meier]'s energy and just had a great visit," Williams said. "That is when I first became interested in Miami."
Being from South Florida, Williams recognizes the pivotal role she plays in affecting the future generations of basketball players.
"Playing at Miami means a lot because there are younger kids that look up to me and I can show them that, even though we sometimes have a certain image coming from where we're from, we can still make it to a good community," Williams said.
Since the first day she stepped foot on campus for summer workouts, Williams has brought an infectious joy and goofiness to the team. She is always smiling and laughing but knows when she needs to put her head down and work.
The guard has worked hard to make the jump from high school basketball to the college game as smooth as possible, despite the new challenges that she faces.
"The transition has been very different, but I'm prepared for it," Williams said. "Weights has been the hardest part because I wasn't in the weight room in high school like we are at Miami."
On the court, Williams has seen progression in her offensive game, working to improve her mobility and shooting to compete with the high-level talent in the ACC because, ultimately, she wants to be the best of the best.
"I see Coach [Shenise 'Moe' Johnson] everywhere in the halls of the Watsco Center," Williams said. "I want to make All-ACC First Team. I want to be like Coach Moe and have my name brought up for being the best."
 Williams will have the opportunity to compete for the title of the best player in the ACC this upcoming season, but until then, she'll keeping grinding it out in the gym, one skill, one laugh, one day at a time.