Miami Launches First-Of-Its-Kind NFT Platform 'Canes Vault'
CORAL GABLES, Fla. – In partnership with GigLabs, the University of Miami Friday unveiled Canes Vault, a unique NFT marketplace celebrating the rich history of Hurricanes Athletics.
Canes Vault will feature animated illustrations that tell the stories of the University of Miami and its student-athletes.  The University partnered with world-famous studio Black Madre in the creation of the inaugural collections.  An NFT is a one-of-a-kind piece of digital content (such as an image or a video) that is an officially licensed collectible. The NFT's ownership is authenticated and verifiable by blockchain technology.
"Miami's athletics tradition is unmatched, and our fan base is one of the most passionate in all of college sports," Director of Athletics Blake James said. "Canes Vault will enable our fans to own a unique piece of Hurricanes history. We are excited to partner with GigLabs on this cutting-edge venture."
Fans will have the ability to purchase larger quantity packs at a set retail price, bid on low-quantity pieces in an auction format and bid on experiential NFTs that will provide a 1-of 1-NFT that include VIP Hurricanes game day experiences.
Canes Vault will feature several different series of NFTs, including a signature "Game Changers" series that highlights some of the most impactful individual performances in program history. Other NFT series will pay tribute to ProCanes, University of Miami mascots, national championship rings, 2021 commemorative tickets, the Turnover Chains and more.
"We're excited to partner with the University of Miami and launch an innovative new program that elevates the fan experience through NFTs," said GigLabs's CRO and co-founder Jon Parise. "Canes Vault allows Miami Hurricanes fans to truly own digital collectibles of their favorite players, moments and memorabilia."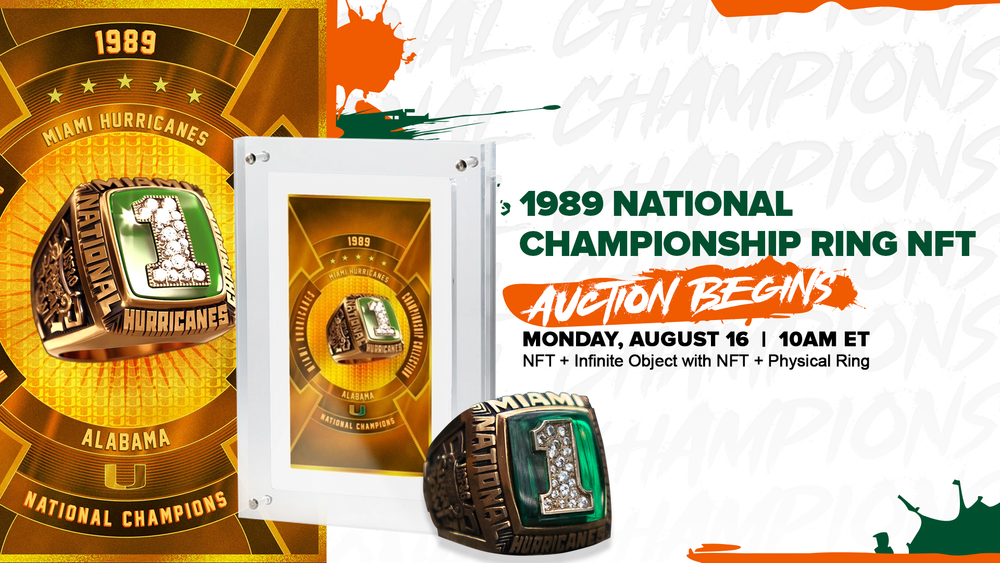 The first NFT offerings through Canes Vault are three versions of the 1989 national championship ring, an homage to a season that culminated in Miami's 33-25 win over Alabama. Fans and collectors will have three options to begin their Miami Hurricanes NFT collection: a 1-of-1 auction that includes a replica physical ring and Infinite Object – permanently treated design objects that play one NFT on loop – a limited edition version that includes an Infinite Object and a version that includes the 1989 animated national championship ring.
Hurricane Club members and season ticket holders receive a variety of year-round benefits including exclusive access to limited edition NFTs as well as select pre-sales to new drops. To learn more about this special NFT marketplace, visit CanesVault.com.
About GigLabs
Founded in 2017, GigLabs is on a mission to empower brands to enhance their intellectual property to generate additional revenue streams, increase customer engagement and offer more value to their fans through the strategic use of non-fungible tokens (NFTs). The company partners with brands, agencies and creators to provide easy-to-use tools for generating, minting, and selling NFTs that can be presented within fully customizable brand experiences.
Built by the GigLabs' team of experienced blockchain developers and NFT enthusiasts, the API-driven NFT Bridge platform delivers flexible and scalable NFT tools that allow any brand to build any NFT experience imaginable.  RareRooms is GigLabs' customizable 3D immersive gallery for showcasing NFTs – digital collectibles, art and more – that's integrated across multiple blockchains. For more information, visit https://www.giglabs.io/
About Black Madre Studio
Black Madre Studio, founded by Andre Maciel, is a studio of fine art, illustration, animation and design, based in São Paulo, Brazil. Since 2009, Black Madre Studio develops artistic projects in different areas such as advertising, fashion, editorial and design. Their creative work is handmade, as a traditional process, which combined with digital tools reaches more possibilities for application and results.
Black Madre studio is a place of fine arts and cultural development that shares experiences coming from different areas of arts, creating a growing dialogue about the artistic process and promoting a horizontal learning with rich content. This relationship gives us a development to work our ideas, which results in the quality of it and our lifestyle.