Atherley Named ACC Field Performer of the Year
CORAL GABLES, Fla. – Michelle Atherley has had one of the most prolific careers in Miami track and field history.
Atherley was named the 2021 ACC Outdoor Field Performer of the Year as announced by the conference Wednesday morning.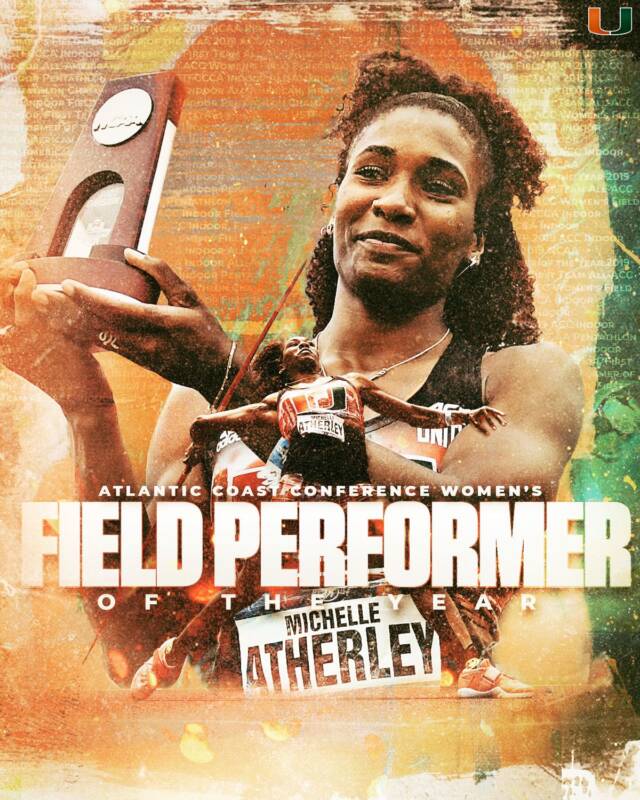 "What an amazing way to cap off my final season as a Miami Hurricane,"Atherley said.  "To win this after a year like 2020 solidifies that the sacrifice has been worth it. It also shows how incredible my support has been from coaches and medical staff, to friends and family. I am very proud of this award and look forward to representing Miami and the ACC at the Olympic Trials."
Despite being away from competition for almost two years due to exhausted indoor eligibility and COVID-19, Atherley jumped right back into top form setting an ACC and Miami record in the heptathlon with 6,100 points.
The North Port, Fla., native traveled to Raleigh, N.C., for the ACC outdoor Championships and claimed the heptathlon title for the third consecutive season with a facility record 6,019 points. Atherley is now one of just three women to claim three consecutive heptathlon gold medals.
She closed out her historic collegiate career as the 2021 NCAA outdoor heptathlon runner up, scoring 6,067 points to earn her sixth First-Team All-America honor.