Katie Meier: 20 Years and Counting
Head women's basketball coach Katie Meier completed her 20th season as a head coach (four years at Charlotte and 16 at Miami) in 2020-21. To commemorate the milestone, 20 people from different phases of her coaching career have shared their best Coach Meier memories. Every Wednesday we will share new stories from people whose lives have been impacted by Coach Meier.
Katie Meier,
Congrats on 20 years as a head coach. Obviously, with 20 years of being a head coach comes a lot of wisdom.
My story from knowing Coach Meier was some words of wisdom she provided when I was a young up and coming AAU and high school coach.
Coach was recruiting one of my players and we had a meeting in her office, and I will never forget Coach Meier's advice to the player:
"Show me your friends and I'll show you your future."
That is something that stuck with that player and that is something that stuck with me as an up-and-coming coach forever.
Coach Meier is a person who is big on people. She says to surround yourself with good people – people who are humble, people who are going to hold you accountable, people with great character. That is something that she represents.
Those were some words of wisdom that she gave to me and a former player that have stuck with me forever.
– Fitz
One of my best Katie Meier stories was when we were playing in the NCAA Tournament at Iowa back in 2015. 
We had a really young team led by Adrienne Motley and Jessica Thomas and, somehow, they upset Kelsey Plum's Washington team in the opening round. 
This setup a matchup with Iowa on their home court in an NCAA Tournament game for the second time in three seasons. Iowa pretty much kicked our butts in the game, and in the press conference afterwards, they asked Katie about playing a true road game in the NCAA Tournament and whether it was fair. 
I can't remember the exact response, but she basically said that you've got to earn the right to host and we haven't done that yet and it's a goal of this team to make it happen. 
Two years later the team, led by Motley and Thomas, hosted the tournament during their senior year.
– Drew 
Congrats Coach Meier on your 20th season as a head coach.
The best moment I've had with you as my coach was during the Syracuse game. With it being my first start, I remember that game and everything that you told me. You always told me to just play my game and always motivated me to play how I know how to play.
It also stuck with me that, every time I came to bench for a sub, you always told me to keep my head up and play as hard as you can because you knew that is when I am most comfortable playing my game.
Thank you Coach and congratulations!
– Des
More than just a great coach, Katie Meier is a great person all around.
The first story that I think of, that really sticks out to me is, during the summer of 2015, my family had the opportunity to go on the foreign tour with the women's basketball program.
Having always seen Katie on the sidelines in a coaching role, that was really the first time I got to see her interact off the court. I saw the genuine person that she is and how much she cared about the young women in our program and the love that she had for them.
At the same time, I saw the structure and expectations she had for them and how they carried themselves. Something that really just stood out to me is how fortunate any young woman that comes through this program will be to have that type of leadership, that type of guidance, that type of competitiveness in their coach.
We are blessed to have Katie Meier as our coach and I look forward to many more great times with her at the University of Miami. Thanks, Kate.
– Blake
What I can say about Katie Meier, and what I keep with me and use now with the girls coming into our program is this:
On my first visit to Miami, I was sitting at her table in her office and the reason why I came to Miami is because, on my previous visits, coaches were telling me what I could do for them and how I was going to change the program and how I had this prolific talent and I was versatile and they could use me one through four and I brought some many different characteristics to the table from a basketball standpoint.
Katie Meier flipped the script on me and it was the first time on an official visit where I had ever been challenged by a head coach. She challenged me by asking me, "Hey Shenise Johnson, what are you going to do for the program? What are you doing to do at the University of Miami?"
At the time, Miami was dead last in the conference, so in my head I was thinking to myself, "How dare she ask me what I am going to do to change the program. I'm a McDonald's All-American. I'm ranked in the country. I have all these accolades, and she's asking me what I'm going to do."
But being the person that she is and that I am, I viewed it as a challenge. When she challenged me like that on my first visit, I knew that I would be challenged like that for the remaining four years, both on and off the basketball court. That is ultimately what made me decide to come to the University of Miami – her asking me those questions – "What  are you going to do to change this program? What are you going to bring to the table? What makes you different?"
She always told me, "Hey, you have the tools. You can paint your own canvas."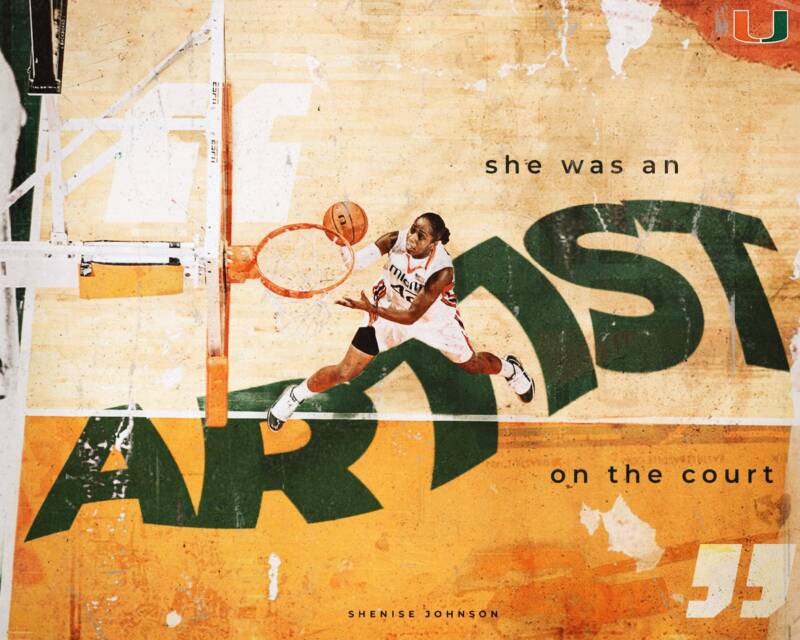 That is something that I stick by and something that I tell the girls when they come into the University of Miami today.
"Hey, you have the paint brush, this is your canvas and at the end of your four years, you get to decide what it is going to look like. Is it going to be Picasso? Is it going to be a life-changing piece of art? Something that evokes emotion or affects change? Or is it going to be something average? Or are you even not going to be in control of your own paintbrush?"
That is still what sticks out to me today – her personality and her tenacity to challenge you and make you better even when you think you are already great.
Shoutout to Katie Meier. One of the reasons I came back to the program was to continue to be challenged and continue to grow as a person.
In my four years at Miami, under her leadership, I was able to do that. What better place to come back to than where it all started?
I love Katie Meier for the things that she instilled in me, not as a basketball player. What I value most is the things she said to me about character, about how you carry yourself, about being reliable, dependable and accountable.
Katie, I love you mama bear. You've always been there for me from day one. Ever since I was a kid in high school and you guys showed up on my doorstep to meet my whole family, you've been a part of my family. For that I will always be in your corner.
Let's continue to change the program together and I love you, Coach.
– Moe
To me Kate is all about making people feel special and making things better and a little bit extra for everybody. She always goes that extra mile and I think that what drew me to the job.
One thing that really stands out to me is that, when we were going to Italy with the women's basketball team in 2019, Katie insisted that we put something in the itinerary that was just going to take the trip over the top for people.
She really wanted to show her appreciation for her staff and wanted it to be all about them for one afternoon. She took us all to a vineyard and we had this tremendous seven-course meal with a wine pairing for each meal.
It was just like Sunday dinner at grandma's house with everybody sitting around the table and we had the best time.
The staff left that meal feeling so special and that was because of Kate. She knew that she wanted to make a once-in-a-lifetime memory on this trip and show her appreciation for our staff.
Kate is so special and one of the reasons that she is so successful is because she is always thinking about others.
– Margie
Katie Meier is a leader in our community. She is a mentor to so many, a wonderful developer of our student-athletes and a friend. She embodies the values of the University of Miami in all she does and has truly set the standard of excellence. Kate loves Miami. She loves her student-athletes and she loves teaching.
My story really centers around who Katie Meier is as a person and on what this university means to her. When Kate, Blake and I had a chance to sit down and discuss a contract extension for Kate, there is no doubt that Miami knew that we had one of the best women's basketball caches in the country and we were truly committed to Kate.
But it was Kate's response that I think blew Blake and I away. It was in that conversation that her character, values and commitment were so apparent.
It was important to her to ensure that we knew how much she appreciated all Miami was doing to develop our female student-athletes. She knew firsthand the difference that makes in the lives of young women. In order to be a leader and to show her appreciation and belief in what Miami was doing, she decided to make a gift to women's athletics. This gift really set the foundation for our building women's champions campaign, and truly represents who Kate is as a person.
When you watch Kate coach, you see the true love she has for her student-athletes and her commitment to developing them as people. Her gift help sets an example of the importance of investing in women and providing the resources needed for Miami to provide a first-class experience for our female student-athletes.
Kate, congratulations on 20 years as a head coach. You've set the standard for what it means to be a head coach at Miami. I am truly thankful to work with you each and every day, and more importantly to call you a friend. Here's to many more fantastic memories at the University of Miami. Thanks for all you do.
– Jenn
Hey Katie,
Congratulations on 20 years. That is a long time!
But you still have a lot of years left, so don't even think about retiring just yet, although it is awesome.
I have such tremendous respect and admiration for you, for a lot of reasons.
First, is because you are so authentic. What you see is what you get, and I love your honesty.
The second thing is, I love how much you care about the women's game. You are somebody who is not interested in what's best for Miami so much as what's good for the game of women's basketball. How can we move it forward? What can we do that's going to make the game better?
You are somebody who is not afraid to use your voice and I hope that you continue to speak out and stand up for us now that I'm gone.
I also really appreciated how you would always reach out to me, especially during my last year which wasn't as successful as I wanted it to be. You always made me laugh, despite the fact that we were in a terrible losing streak.
You always made me laugh. I loved sitting next to you at games in the summer because you were just so fun to be around.
So, best of luck for the next 20 years and congratulations on what you have done so far.
– Muffet
Every year we have to run a fitness test.
It's basically 12 touches, down and back and "guard time" is one minute and five seconds. Then you get a minute break and then have to do it three more times.
People think it's easy when you mention it to them, but when you actually do it, it is 10 times harder than what they think.
After the first one, you passed and are feeling good. Then you make the second one and your legs are a little heavy, but not too heavy.
After you make the first two, you think, "I can't stop now. I have to finish it out, or I have to come back another day and start the whole thing over again."
After the third one, you really feel it and the fourth one is just mental. Your legs feel like they are 50-pound weights that you are dragging.
So, we had our fitness test in August of 2020, right before school started.
We had to be on the court at six, so I was up around 5:30, just trying to get my mind right and get some breakfast. I was trying to get as much energy as possible and drink a lot of water.
I came in here with my shoes tied and ready to go.
I passed the first two and my legs were dead after those. On my last two legs, Coach [Meier] ran the last six with me.
She basically helped me pass the test by motivating me and running beside me and pushing me to finish.
– Mykea
I'm going to share a story about when I learned how important eye contact is!
I was a freshman in college, and I remember going into Coach Meier's office to speak with her, a casual conversation. And she said, "Kel, in order to show respect to others, you must make eye contact."
I was a hard lesson to learn, but I learned it and I appreciated it because it has stuck with me throughout my life.
Knowing Coach Meier, she has the most beautiful eyes, yet scary eyes, but I'm glad that the lesson that she taught me has stuck with me.
I appreciate that, out of all the lessons that she taught me, that eye contact is very important and is needed in order to show respect to others.
– Sakellie
When you talk about family, a family is different for everybody based on their experiences and how they have grown up.
I was fortunate to witness firsthand how close Katie and her family are. From being in her home with her mom and dad's relationships to seeing her nieces and nephews grow up, having those relationships were so valuable.
It is the family part of it that I gained so much knowledge about because of how close her family is and how tight-knit they were. Being able to not only watch how they interacted, but also be a part of it was amazing.
She has been a part of just about every significant part of my growth as a person and a coach. When I was with her at Charlotte, I was just getting started. From me getting married to the birth of my kids, she has been there. She is the godmother of my middle child.
There are a ton of stories about Katie, but when you talk about her overall personality, it is just how she carries herself and how welcoming she was to me and my family.
It's really just her heart.
She is an unbelievable person and I really want to make her proud and show appreciation for everything she has done for me and my family going forward.
– Gibbs
Hey Coach Meier, congratulations on 20 seasons in the head coach's chair. It is absolutely incredible and not a surprise at all.
During your first couple of years at Miami, we didn't win a whole lot of ball games, but I remember showing up every day and working my tail off because I believed in you, and I still do.
I love where you have taken this program and I have loved watching the young women come in and share that same belief.
One of my favorite memories from my time at Miami was on my Senior Day shootaround when you showed up with, of course, the spirit socks. I will never forget you walking into the gym with your energy, and I appreciated that moment so much.
Cheers to you, cheers to 20 more and I am really looking forward to seeing you in the gym again.
– Amy
I think the best moments with Coach Meier are now in my adult years.
Every day I spend with her, I realize NOW why she does it! Times moves so fast when you're a young adult, so I never realized everything she put into me and how much she invested in me.
Not only make does she make us better players, but also better people. I've learned to appreciate it more and I am so glad more time didn't go by before I noticed how great of a coach, a person and a mentor she is and has been to me.
I thank her for everything she has touched in my life!
– Stro
Katie Meier, what to say about Katie Meier.
I have so many stories, but one of my favorites is, when I started coaching [at Miami], Katie started a competition between the coaches where we each had a team of players for academics. We drew them out of a hat and whoever won academically, whoever's team got the best GPA, she would pay for a trip for them.
My team won and I was very excited. I was like, "Okay, she's paying for my trip." My trip was to go to her lake house, and I had never been to her lake house before. So, I get flown out to her lake house and she's got a bunch of weeds that she is going through and is doing all this housework and I am just chilling.
This was my vacation because I won the academic thing, so I was relaxing.
All of a sudden, she was all itchy and I asked her what she did to herself. She said, "I don't know, I think there was poison oak in there or something." Her legs were getting all rash-y and it's time for us to leave and we were driving back to Miami from her lake house in South Carolina.
Because it was my trip, she didn't want me to drive. I was supposed to be relaxing. So, she's got poison oak all over her legs and her arms and we have the dogs in the back seat, and they have to pee every hour and it was a mess. She was just scratching like crazy, but we made it!
It took us about 11 hours to get back, but we made it. And that was my trip that I won from Katie for my academic team having the best GPA.
– Loni