Perez-Somarriba Tabbed as ACC Scholar-Athlete of the Year
CORAL GABLES, Fla. – Estela Perez-Somarriba of the University of Miami women's tennis team is the ACC Scholar-Athlete of the Year in her sport, as announced Tuesday morning.
In addition, Diana Khodan and Isabella Pfennig joined Perez-Somarriba as All-ACC Academic Team selections.
A fifth-year senior, Perez-Somarriba is the fourth women's tennis player in league history to twice claim ACC Scholar-Athlete of Year, as she also won the award in 2019. In addition, she is the 16th individual to earn All-ACC Academic Team status four times, including the second active player, alongside Duke's Meible Chi.
The ITA National Player of the Year and NCAA Singles Championship runner-up, Perez-Somarriba posted a 24-3 singles record this season. She finished her career 165-26, good for the second-most wins in ACC history.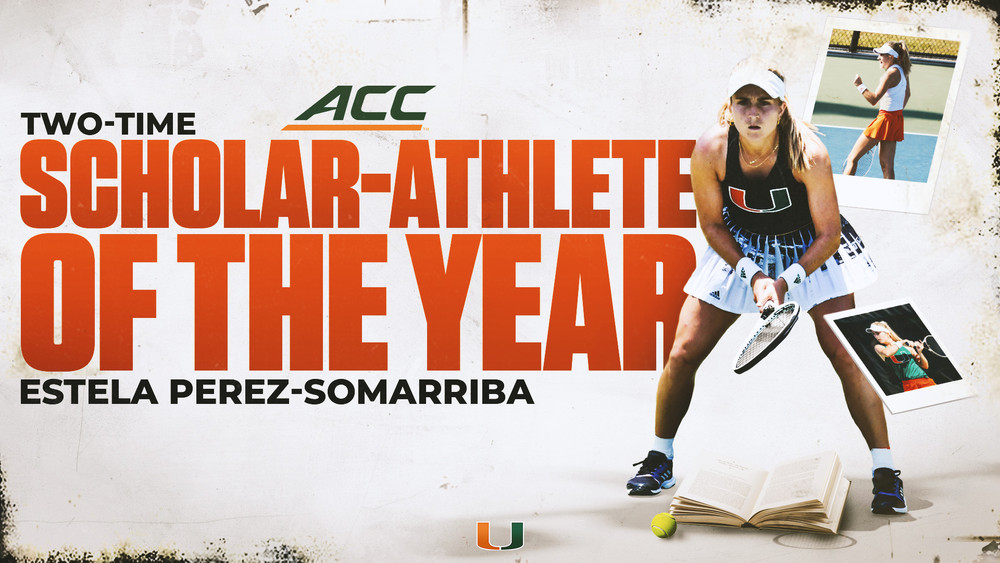 Academically, the Madrid native logged a perfect 4.0 GPA in her sport administration graduate program and earned a master's degree in May 2021. That came after receiving a bachelor's degree in economics in May 2020, finishing with a lofty 3.935 GPA. In six of her 10 overall semesters at Miami, Perez-Somarriba tallied an unblemished GPA.
Khodan and Pfennig also joined Perez-Somarriba in achieving significant success both athletically and academically this year.
A second-year freshman, Khodan went 13-8 in singles, notching a stellar 10-2 mark in ACC competition. She also went 13-8 in doubles, finishing the season ranked No. 19 alongside Maya Tahan after playing in the NCAA Doubles Championship.
The Ivano-Frankivsk, Ukraine, native won ACC Freshman of the Week on April 6. An art major, she notched a superb 3.48 GPA during the spring semester.
Pfennig excelled during her freshman campaign, claiming ITA All-America and Second Team All-ACC distinctions. She went 18-6 in singles and held the No. 26 ranking nationally to end the year after reaching the NCAA Singles Championship Round of 32.
A native of Gauting, Germany, Pfennig also played in the NCAA Doubles Championship with Perez-Somarriba and capped the year ranked No. 26. Academically, she registered a perfect 4.0 GPA as an economics major.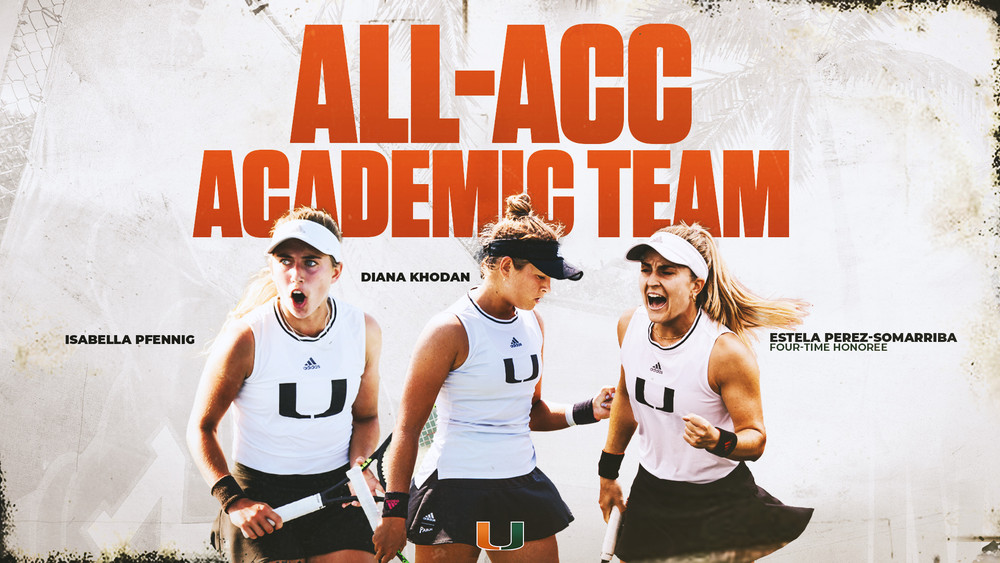 Miami has placed at least one player on the All-ACC Academic Team each year since the honor started in 2006. At least three players have made the cut all but twice.
In addition, a Hurricane has now won six of the 13 all-time ACC Scholar-Athlete of the Year awards, dating back to its inception in 2008. Laura Vallverdu (2009), Bianca Eichkorn (2010 & 2011) and Stephanie Wagner (2015) claimed the other distinctions. No other school has more than two of the 13 honors.
Miami also now has a quintet of four-time All-ACC Academic Team designees, with Perez-Somarriba joining Wagner (2013-16), Lina Lileikite (2012-15), Eichkorn (2008-11) and Vallverdu (2007-10). Only four other schools in the league have even one such individual, with none matching Miami's five.
In order to be eligible for the All-ACC Academic Team, an individual must have at least a 3.0 GPA for the spring semester and for her collegiate tenure as a whole.
To keep up with the University of Miami women's tennis team on social media, follow @CanesWTennis on Twitter, Instagram and Facebook.