Perez-Somarriba Named ITA National Player of the Year
CORAL GABLES, Fla. – Estela Perez-Somarriba of the University of Miami women's tennis team is officially the 2021 ITA National Player of the Year, as announced Monday afternoon.
In addition, the Madrid native picked up a second nation-wide honor, as she received ITA Senior Player of the Year distinction.
"I'm incredibly honored to receive these prestigious awards. It means a great deal to join the select, elite Hurricanes who have preceded me in doing so," Perez-Somarriba said. "I'm blessed to be part of this amazing program at Miami and I'm so grateful to everyone who helped push me to achieve everything I dreamed of during my career. It has been a true team effort."
Perez-Somarriba clinched ITA National Player of the Year accolades by finishing the season as the top-ranked individual in the country. She earned 65.395 ranking points in the computer-generated algorithm, good for a 1.611-point edge over second-place Emma Navarro.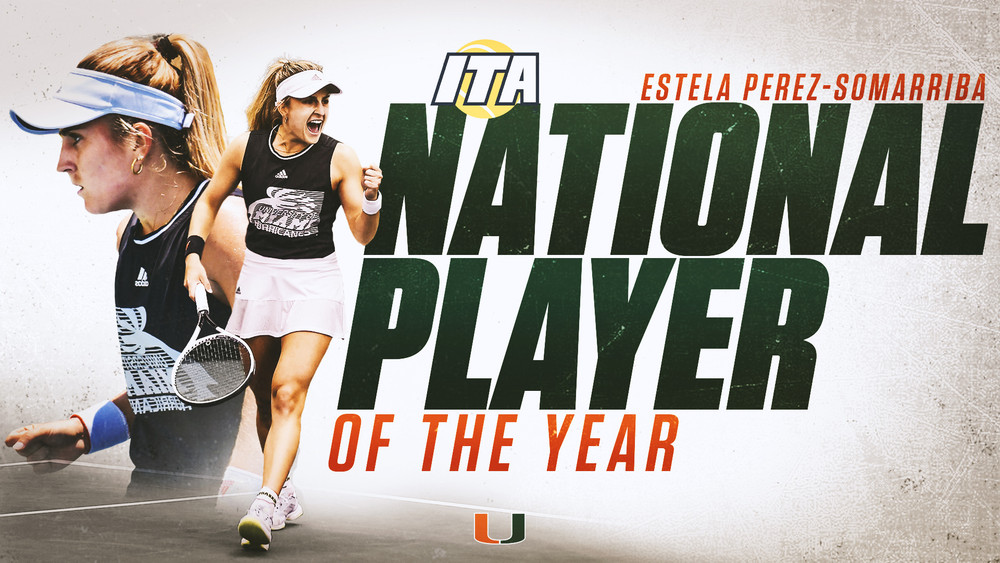 A fifth-year senior, Perez-Somarriba is the third Hurricane—fourth occurrence—to garner ITA National Player of the Year plaudits. All of those recognitions have come under current head coach Paige Yaroshuk-Tews, with Megan Bradley claiming the award in 2005, followed by Audra Cohen doing so in both 2006 and 2007.
While Miami has logged four of the past 16 prestigious honors, only one other school, Georgia Tech, has even tallied two in that stretch.
Past ITA National Player of the Year winners include eventual WTA standouts such as Danielle Collins (2016), Irina Falconi (2010), Laura Granville (2000 & 2001), Lilia Osterloh (1997), Lisa Raymond (1992 & 1993), Patty Fendick (1987) and Gretchen Rush (1984 & 1985), amongst many others.
Perez-Somarriba also joined Bradley, Collins and Fendick on the list of eight individuals to win ITA National Player of the Year and ITA Senior Player of the Year in the same season. The others are Astra Sharma (2018), Robin Anderson (2015), Lauren Embree (2013) and Angela Lettiere (1994).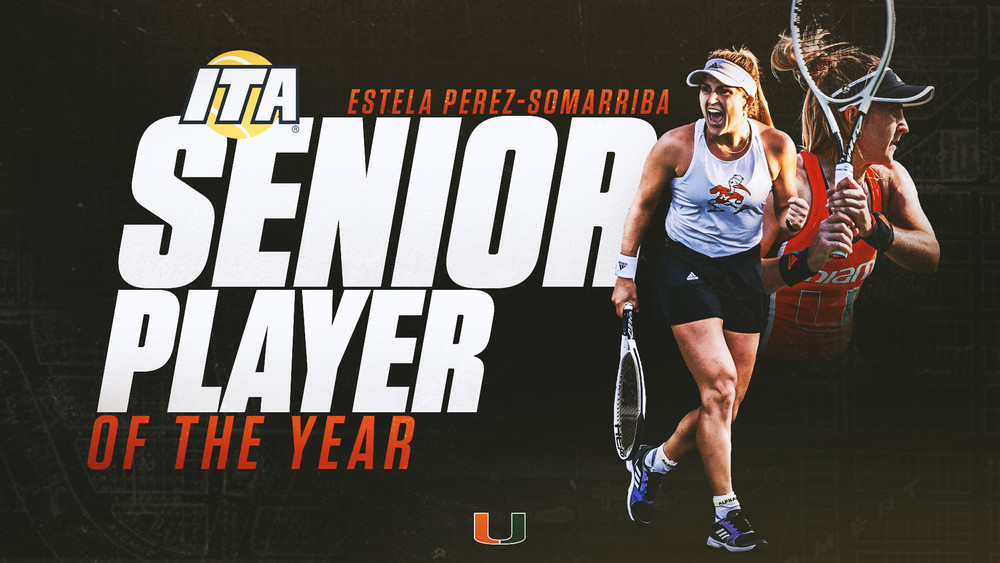 Miami, with Perez-Somarriba and Bradley, is the only school with two players on that list. Another Hurricane, Ronni Reis, also garnered ITA Senior Player of the Year status in 1988.
Perez-Somarriba, one of the most decorated players in collegiate tennis history, posted a 24-3 mark in her final campaign, finishing as the NCAA Singles Championship runner-up. She went 7-2 versus top-10 foes and logged 11 victories over fellow ITA All-America singles honorees.
Additional information on Perez-Somarriba's awards can be found HERE on the ITA website.
To keep up with the University of Miami women's tennis team on social media, follow @CanesWTennis on Twitter, Instagram and Facebook.