Fatherhood, Faith and Football
CORAL GABLES, Fla. – There are moments Soni Likens just steps back and watches with a smile.
When her husband is throwing a football or baseball around with their son. When they shoot hoops together in the pool. When she sees them both laughing and playing with her husband's players, players she and Likens already consider an extension of their family.
But it's when she catches a glimpse of her husband praying in their son's room early in the morning or just before bedtime, reminding 11-year-old Cutter how much he's loved, that Soni's heart feels especially full.
"He deserves to be celebrated because he is just a fantastic dad," Soni Likens said of her husband Rob, the receivers coach at the University of Miami. "I have this photo of him where he's just kind of cradling [Cutter] as a baby and looking at him for the first time and you can see it all over his face. It's been an amazing, life-changing experience. He morphed into this amazing dad like overnight."
She paused before continuing with a laugh.
"He has things that, ah, didn't come as easily to me that he got right away," she quipped.
Like most parents, Soni and Rob Likens have cherished every moment of watching their son grow up. But the couple's journey to becoming parents was challenging and came with its share of heartbreak.
For years, they tried unsuccessfully to have a baby before doctors informed them they'd more than likely need assistance in the form of in-vitro fertilization, a costly, complicated process that isn't always successful.
Still, the Likenses had hope the procedure would work. They relied on their faith to guide them through the process and eventually, they learned Soni was pregnant.
It was a moment more than a decade in the making and needless to say, the couple was thrilled – if still a bit cautious.
"The first thought that came into my head was 'With man, it's impossible but with God, it's possible.' We always continued to believe," Rob Likens said. "We were so excited, but very guarded obviously. We just kind of stayed in that moment for a long time. We were really thankful. We were excited, but you get a little calloused because of the things that had happened in the past. Then towards the end, that's when it starts to settle in and you're like 'This is really happening.'"
Once that reality set in, Likens started trying to come to terms with what fatherhood would mean for him, personally.
The coach – then the offensive coordinator at Central Connecticut State – knew he'd have to try and strike the right balance between his demanding career and being the kind of father he knew he wanted to be, the kind of father he hadn't had himself after his parents' divorced.
Though Likens and his father reconnected and began repairing their relationship by the time Likens was in high school, the coach still remembers how difficult it was not having his father present during his early childhood.
There were times he felt anger, times he was discouraged. He knew he wanted better for his own family one day. His resolve only grew stronger the moment he first saw Cutter.
"When they held him up and he let out the biggest scream in the world – I still have that picture in my mind – that's when it all hit me," Likens said. "The emotions, the feeling. It all just hit me at that moment and now, I don't know if there's a day that goes by before I leave the house that I don't walk into his room while he's sleeping and I pray for him and I whisper in his ear that I love him. Same thing every night before I go to bed. If I'm going to err, it's going to be on the side of telling him that I love him too much."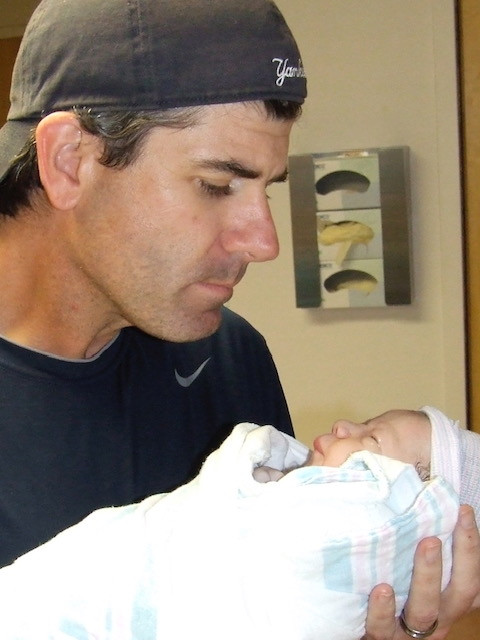 Even his son's name is a tribute to how loved and how precious he is.
A lifelong New York Yankees fan, Rob Likens made a deal with Soni that if they had a son, together they'd decide on their baby's first name but his middle name, well, that would be an ode to the famous pitch thrown by Hall of Fame closer Mariano Rivera.
"The greatest closer of all time and he threw one pitch," Likens said. "One day, he just picked the ball up, it moved drastically and he was like 'What the heck's going on?' And every time everybody asked him about how he found his pitch, he'd say 'God gave it to me. I had nothing to do with it.' That pitch was called the cutter and to make a long story short, that's how I always felt about Cutter. When I look at him, I think 'God orchestrated this whole thing for us to have him.' That's how I came up with it."
These days, Nicolas Cutter and his dad spend hours upon hours together, even if Cutter sometimes rolls his eyes when his dad tries to impart some football or baseball guidance.
But more than once, Likens has relied on his experience as a coach to connect with Cutter. And he believes being a father has made him a better coach to the young men he has mentored over the course of the last decade.
For all of that, and so much more, Likens is grateful – especially on days like Father's Day.
"When I was younger, you'd see a football player and think 'That's a football player over there' and you'd look at a younger version of yourself," Likens said. "Once I had Cutter, I don't look at football players like that anymore. I look at them as older versions of my son and that has changed everything.
"You'd give your life for your kids and what I think makes great coaches great coaches is that they look at their players like their children. They do sacrifice for them. They are long-suffering. They are patient…You spend more time trying to get them to understand things…Being a father has made me a better coach and vice versa. They go hand-in-hand."
Added Soni Likens, "There was a light bulb that flipped on for him when our son was born. You see it when he talks to the parents in recruiting or even current student-athletes he's coaching. You don't understand the love of a child until you have one and so, he really started to understand the magnitude of the responsibility that he has when he's asking these parents to loan him their sons…He views the conversations with his players, everything goes through 'How would I want my son to be coached? What is the example I would want the coach to set for my son?' And it's a whole other different level when you're a father. You have no way of knowing that until you actually become one."