Beth Dunkenberger Joins WBB Staff
CORAL GABLES, Fla. – University of Miami women's basketball coach Katie Meier announced the addition of coaching veteran Beth Dunkenberger to the staff Monday.
Dunkenberger, who will serve as an assistant coach for the Canes, brings 30-plus years of collegiate coaching experience to The U.
"This is a huge hire for our program and the Hurricane family," Meier said. "Beth brings such terrific experience and is an incredible teacher of the game. She knows what it takes to win in the ACC and her upbeat demeanor creates immediate and long-lasting connections with players, recruits and families. I am honored and humbled that she accepted the position and I know this staff is a great mix of coaches."
During her coaching career, Dunkenberger has helped her teams to 13 postseason appearances (seven NCAA Tournaments, six WNIT) and 12 20-win seasons.
With an exceptional track record of player development, Dunkenberger coached 23 all-conference players, six all-freshman team members and two conference most improved players. Five players reached the WNBA under Dunkenberger's tutelage, while three others played professional basketball overseas.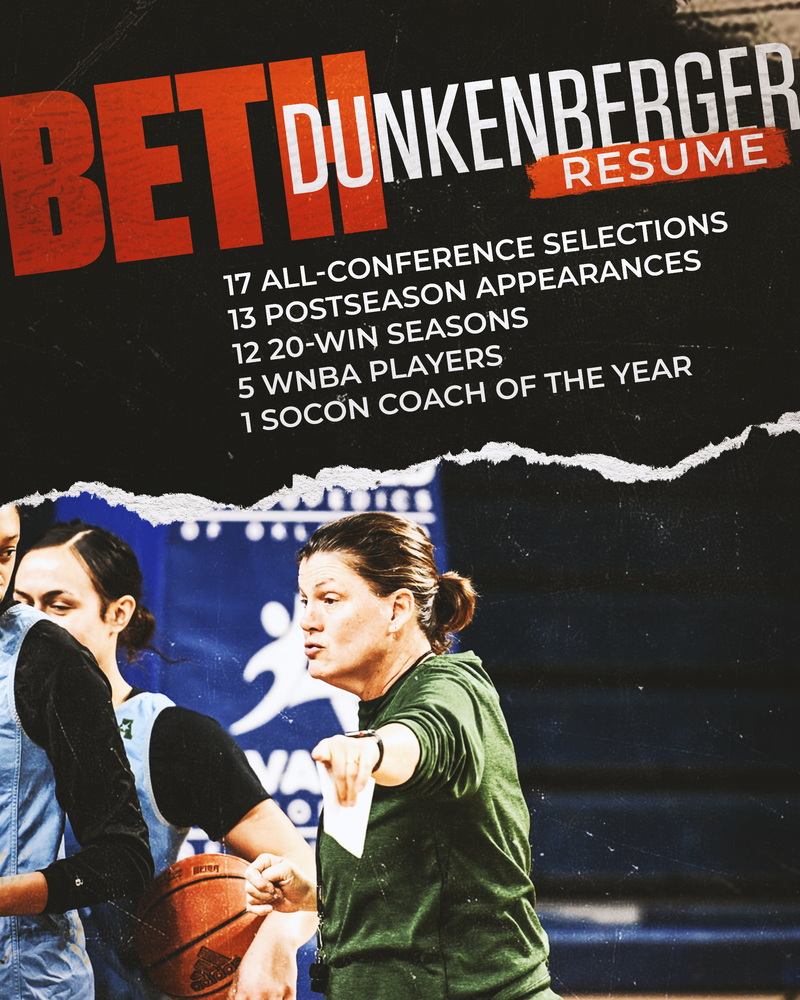 Most recently, Dunkenberger spent nine seasons at Tulane, serving as the Green Wave's director of operations during the 2011-12 season before moving into an assistant coach role in 2012.
The Green Wave made five postseason appearances in Dunkenberger's nine years in New Orleans, including the program's first NCAA Tournament at-large bid since 2003 in 2015. Additionally, Tulane tied its longest run in the WNIT, with a pair of third-round showings in 2016 and 2017.
Prior to her time at Tulane, Dunkenberger spent 11 years as a head coach, four leading the Western Carolina Catamounts (2000-04) and seven at the helm of the Virginia Tech Hokies (2004-11). Dunkenberger posted a 175-154 record as a head coach, with a pair of 20-win seasons and three postseason appearances.
As head coach of the Hokies, Dunkenberger guided her team to .500-or-better records five times, including a 21-10 mark in 2005-06 when Virginia Tech advanced to the second round of the NCAAs. Four Hokies earned All-ACC honors (Kerri Gardin – 2005 & 2006, Kirby Copeland – 2007, Brittany Cook – 2008, Utahya Drye – 2009), while Andrea Barbour was tabbed to the ACC All-Freshman Team in 2008.
Dunkenberger earned her first head coaching job at Western Carolina in 2000 and immediately got to work. In her third season with the Catamounts, Dunkenberger led the team to a 21-7 record, the most wins by Western Carolina since moving to the Division I level in 1981.
Off the court, Dunkenberger has coached four Academic All-Americans, 11 Academic All-District honorees and a pair of American Scholar Athletes of the Year.
A standout on the court, Dunkenberger played basketball at Randolph-Macon College from 1984-88 where she was named an all-conference honoree and an Academic District All-American. She graduated with a bachelor's degree in mathematics in 1988 and completed her master's degree in education at Virginia Tech in 1990.