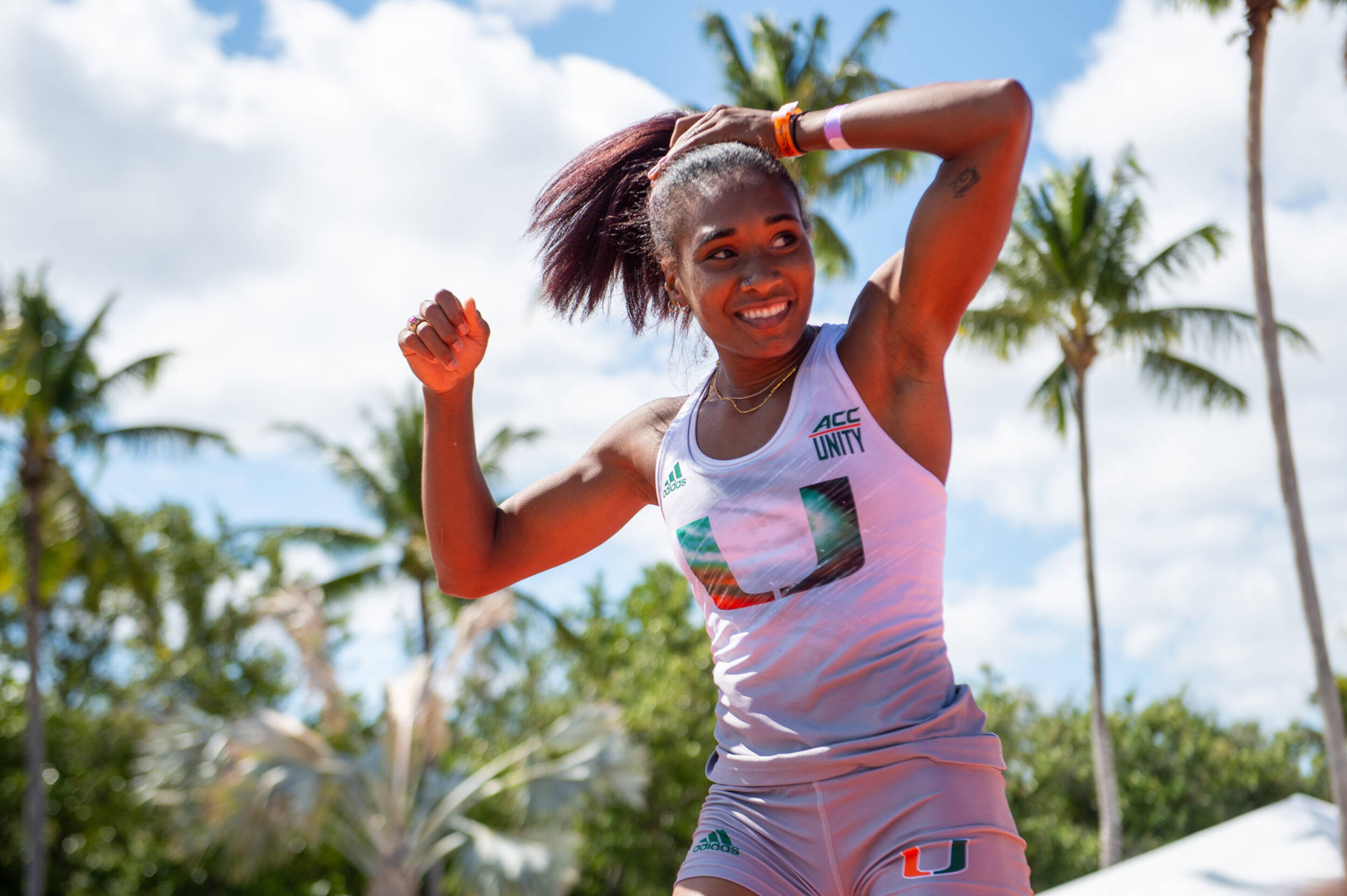 CORAL GABLES, Fla. – For more than a year, they have waited for this moment.
When the COVID-19 pandemic halted college sports in March 2020, the members of Miami's track and field team were left without an outdoor season. There was no chance to compete for ACC and national titles, no opportunity to prove they were among the nation's elite athletes.
Fourteen months later, championship season is finally back.
This week, the Hurricanes will head to Raleigh, North Carolina where they will compete for titles, both as individuals and as a team at the ACC Outdoor Track and Field Championships.
For veterans like Michelle Atherley, the 2019 ACC women's heptathlon champion, and Debbie Ajagbe, the 2020 Indoor ACC Field MVP Performer of the Year, it's time to seize the moment.
"I feel lucky every week that we get to travel and compete and honestly, I've been trying to take as much as I can from this season because I know every single moment, every single day I pass, that I'm never doing this again," said Atherley, a graduate student who returned to Miami for a final season after the NCAA granted student-athletes an extra year of eligibility because of the pandemic. "I feel really lucky to be here and ACCs is always a chance for me to dial it back with my team and come up with a game plan that we can execute together, see how we can strategize and really bring that championship mindset into the season…I'm really excited."
Added Ajagbe, "I feel like for me and for the rest of the team, a lot of us have been sitting down for two years, not being able to compete outdoor and that's a really sore spot for a lot of people, especially because at our last ACCs there were a lot of good performances and I feel like everyone is just ready to get to it and win outdoor ACCs on both the men's and women's sides. I'm really excited to see what everyone can do because it looks like everyone is ready. We're all ready to compete."
Atherley, Ajagbe and sprinter Alfreda Steele will lead a talented women's squad that is ranked No. 14 nationally and is expected to be in contention for another ACC team title.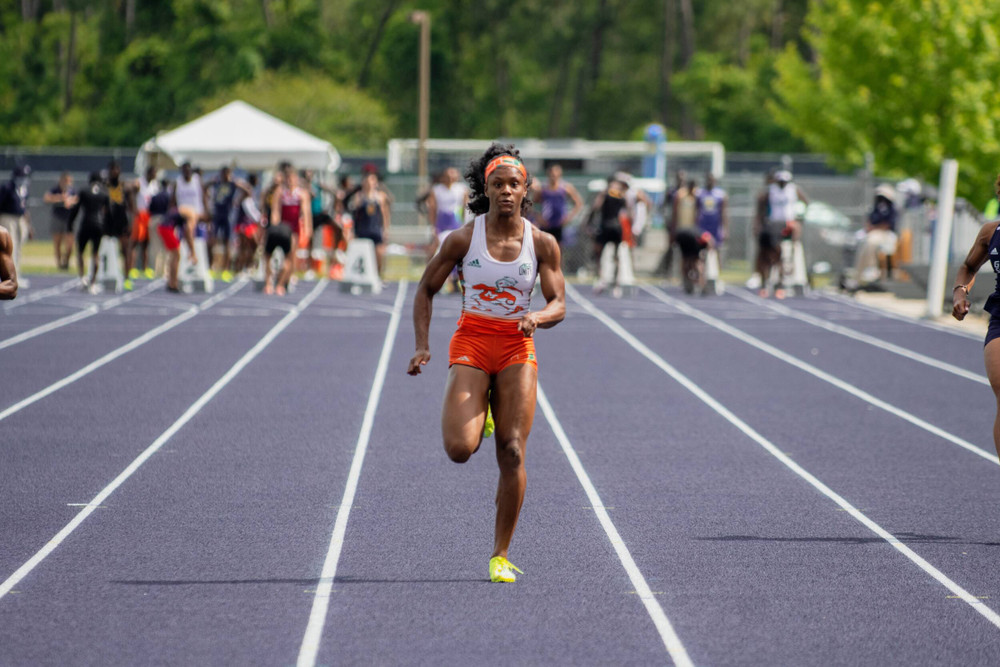 Atherley, who won the indoor NCAA pentathlon championship in 2019, enters the ACC championships currently holding the No. 3 mark nationally and leading the conference in the heptathlon. Last month, she posted 6,100 points in the event, besting her own Miami record.
Ajagbe, meanwhile, is among the top 10 ACC competitors in the shot put, the discus and the hammer throw and this season, Steele has posted a 22.83 in the 200-meter dash, a time that ranks among the top 10 nationally.
With Lauryn Harris, Steele, Jacious Sears and Tiara McMinn, the Miami women also have a 4×100 relay team that is among the nation's best, their time of 43.49 seconds ranking sixth in the NCAA heading into this week's conference championship.
Still, with all those stellar marks Amy Deem – Miami's Director of Track & Field – expects the Hurricanes will be facing some tough competition from ACC rivals Florida State and Duke in the quest for a team title.
She's confident, though, that pressure will bring out the best in the Hurricanes.
"The whole conference is very strong. There's some great kids in a lot of the events, but I think the team title, if we go in and do what we can do, I think we'll be in the hunt," Deem said. "We've got great leadership. Our upperclassmen are doing a tremendous job of pulling the freshmen in and letting them know the expectations of our program and what they're expected to do at ACCs…I've had a lot of great groups, but this group, they're just fun. They're hungry and Covid has done so many things to us, but this group has come together and they're very focused not only on their individual performances, but how their individual performances can lead the team."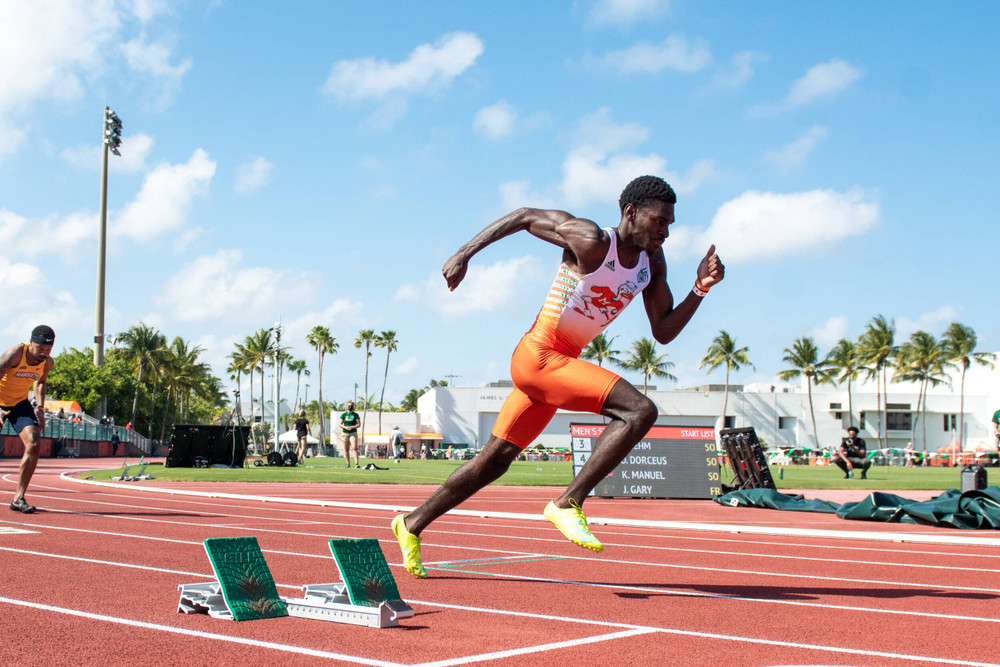 On the men's side, the Hurricanes will – again – look to some of their veterans to help set the tone.
At last month's UNF Invitational, McKinly Brown posted a 50.25 in the 400-meter hurdles, setting a new Miami record in the process. Thrower Kevin Arreaga is looking to replicate some of his success from the indoor season and sprinters Raheem Chambers and Xavier Coakley have been performing well, as have jumpers Isaiah Holmes and Russell Robinson, who earlier this year broke Miami's 28-year program record with a 7.99m in the long jump during his first outdoor collegiate meet.
All of them will be counted on to try and accumulate points – and hopefully, earn themselves individual spots in the upcoming NCAA Championships.
And given how long all of them have waited for this opportunity, the expectation is it could be a big weekend for the Hurricanes all around.
"I feel like everyone is very anxious, especially the people that got it taken away from them last year," Steele said. "I feel like we're ready to just see where we're at and put everything that we've been training for into this meet. I think for the most part we're excited."