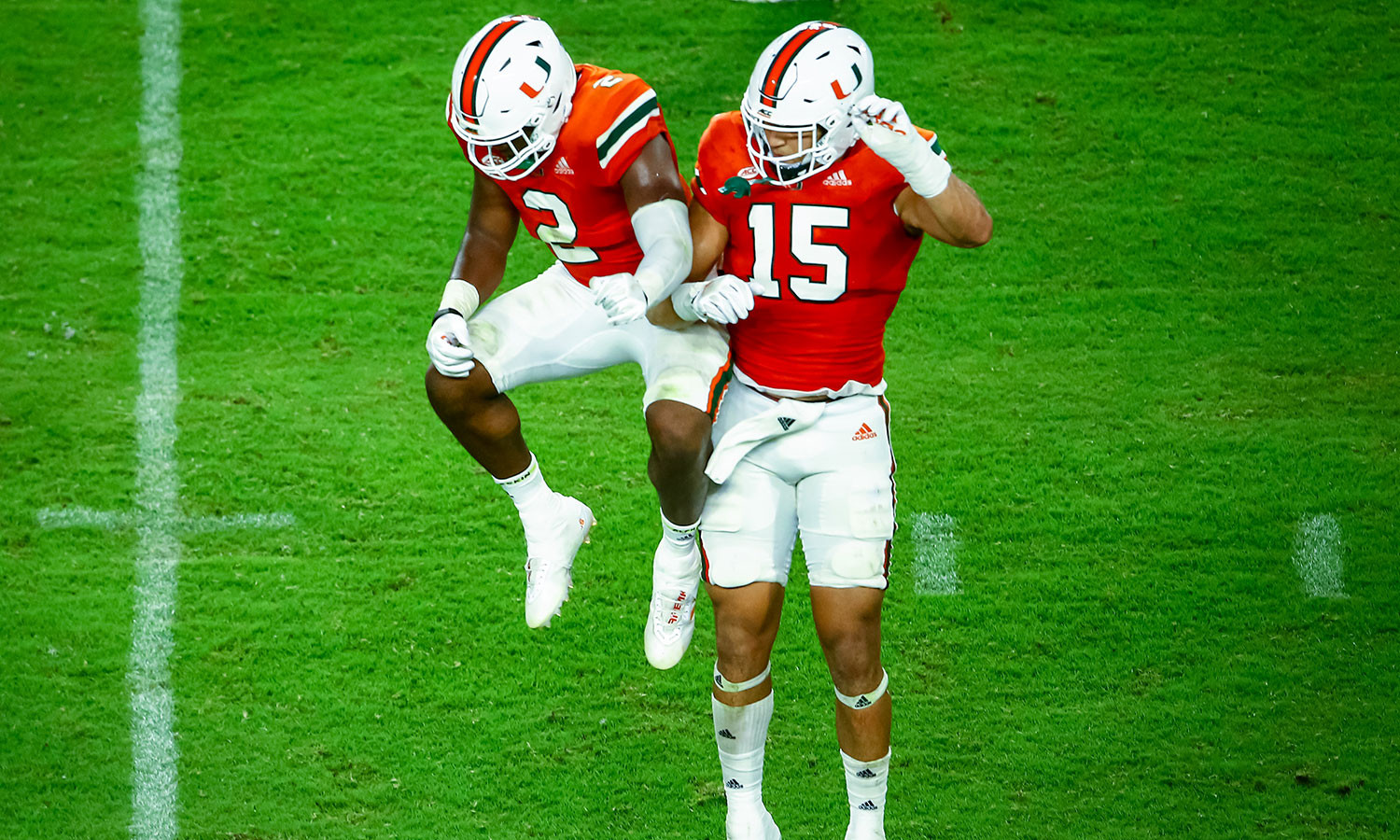 CORAL GABLES, Fla. – Their journeys to Miami, and to this moment, are as different as they are.
Greg Rousseau arrived at Miami as a wide-eyed early enrollee who'd played a variety of positions as a three-star prospect at a small, private South Florida high school.
Jaelan Phillips, the nation's top high school recruit in 2017, moved across the country seeking a fresh start on the football field after an injury-plagued career at UCLA.
And Quincy Roche, the 2019 American Athletic Conference Defensive Player of the Year at Temple, came to Miami as a graduate transfer eager to prove he could more than hold his own at a Power Five program.
Now, the pass-rushing trio is set to add to Miami's rich NFL Draft history.
If Rousseau, Phillips and Roche all hear their names called at some point this week – as most experts expect all will – the Hurricanes will become just the fourth team in the last 10 years to have three defensive ends selected in the same draft along with Ohio State (2018), LSU (2013) and Arizona (2011).
Additionally, if Phillips and Rousseau are both taken in Thursday's first round – a real possibility – it will mark the first time in program history Miami has two defensive ends drafted that high.
The magnitude of all of that isn't lost on any of the talented ends, who'll be watching the draft play out from various places across the country.
They know the next few days could be especially memorable for them – and the Hurricanes.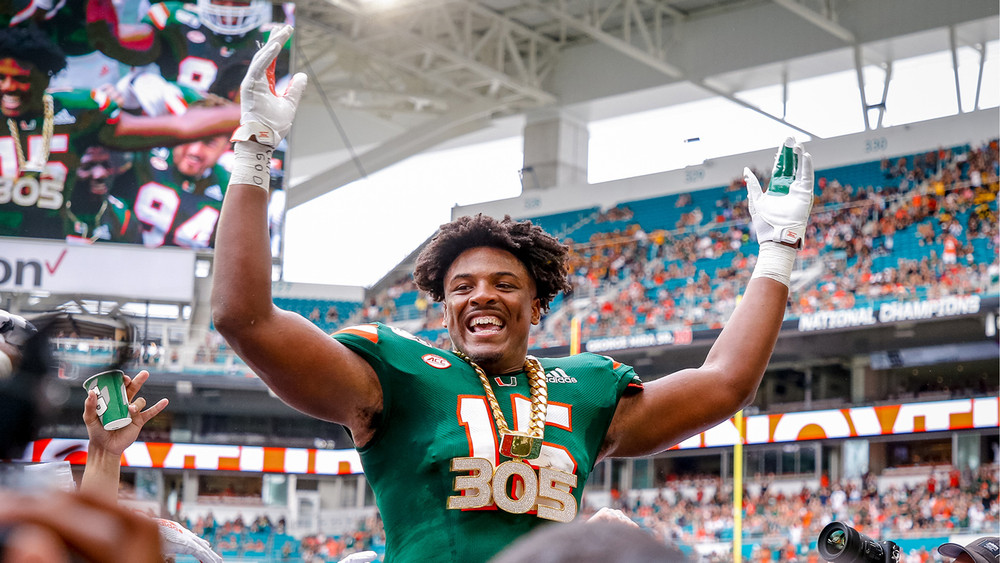 "It's awesome. It's great to bring the defensive line position at The U back to prominence, at least when it comes to high draft picks," Rousseau said. "It's awesome. It's a blessing. I really hope and pray me and Jaelan will go first round because that would be historic…But even more than that, I just pray that we all have long and healthy careers because that's what's important at the end of the day."
Added Roche, "It's really bigger than just us. We're all proud of each other. We know that. But it's really big for Miami, in general. It's big for the school. That can be something they show in recruiting – and it's the truth. There will be three guys coming out this year, they've had [defensive ends] go every year. There's always talent here…and it's something that can motivate the guys on the d-line now. They can look to us as a good example of where they want to be."
In their own ways, each of Miami's draft-eligible defensive ends thrived as Hurricanes.
Phillips is coming off a breakout 2020 campaign in which he started all 10 games of the regular season, finishing with 45 tackles and a team-high 15.5 tackles for loss and eight sacks. He earned first-team All-American honors from the American Football Coaches Association and second-team All-American recognition from the Associated Press and the Football Writers Association of America.
Roche posted similar numbers, with 45 total tackles, 14.5 tackles for loss and 4.5 sacks. He was tied for the ACC lead with three forced fumbles and two fumble recoveries and was twice named the ACC Defensive Lineman of the Week.
Rousseau opted to sit out the 2020 season because of the COVID-19 pandemic, but as a redshirt freshman in 2019, he was named the ACC Defensive Rookie of the Year, a Freshman All-American by several outlets and a first-team All-ACC selection after leading the ACC in both sacks (15.5) and tackles for loss (19.5).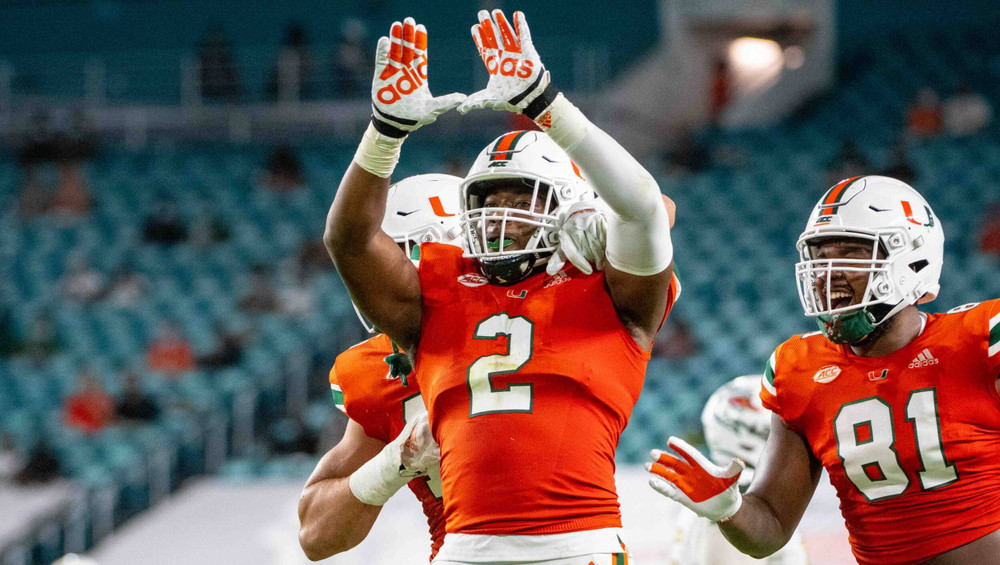 All three brought their individual skill-sets and talent to the field, but the trio certainly appreciates the defensive philosophy instilled by Hurricanes head coach Manny Diaz.
And that, they know, has helped them shine – and raise their draft stock.
"First and foremost, he really just lets us pin our ears back and get after it. He also creates a lot of mismatches for us, putting us in position to win," said Rousseau, who played receiver and safety in high school and credits Diaz with helping him transition to end. "He lets us play a very aggressive style of defense. We're always going forward. We're always attacking. We're never reacting. We're never sitting back. We're always on the go at defensive end. What defensive end wouldn't want to come to Miami? It's a place where you can make plays and to see a d-end, pretty much every single year, go to the NFL and get drafted is amazing."
Now, with their memorable college careers behind them and after going through weeks of pre-draft training and preparation, Miami's three defensive ends can only wait to see what their futures hold.
Will they have the opportunity to make history for the Miami program? That's something they don't know just yet.
What they do know is that their experiences as Hurricanes undoubtedly helped prepare them for this incredible moment and for that, they are grateful.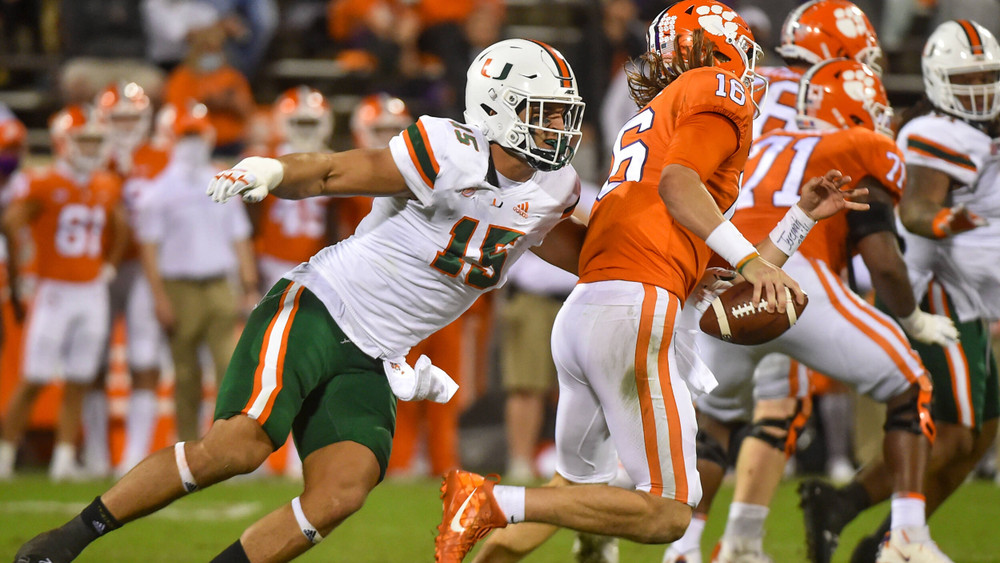 "I just feel grateful. To have my name up there in the rafters and be talked about among the likes of guys like Ed Reed and Ray Lewis, all these guys I grew up watching, it's incredible," Phillips said after his Pro Day performance last month. "I can't believe that I'm in this situation and I'm just so grateful every single day that I am."
Said Roche, "I've grown by leaps and bounds. Not just the player I was, but the person I was before I went [to Miami], I'm way more mature, way more seasoned, way more poised and that's both on and off the field. It helped me find myself a little bit more, moving away from home, all of those things mature you. Definitely I grew and I'm happy with my experience and everything that came out of my time at Miami."